Fashion
Fashion Buzz: Kendall Jenner and Bad Bunny star in Gucci Valigeria campaign, Burberry takes over Seoul, and more
ICYMI
Featured images courtesy of Gucci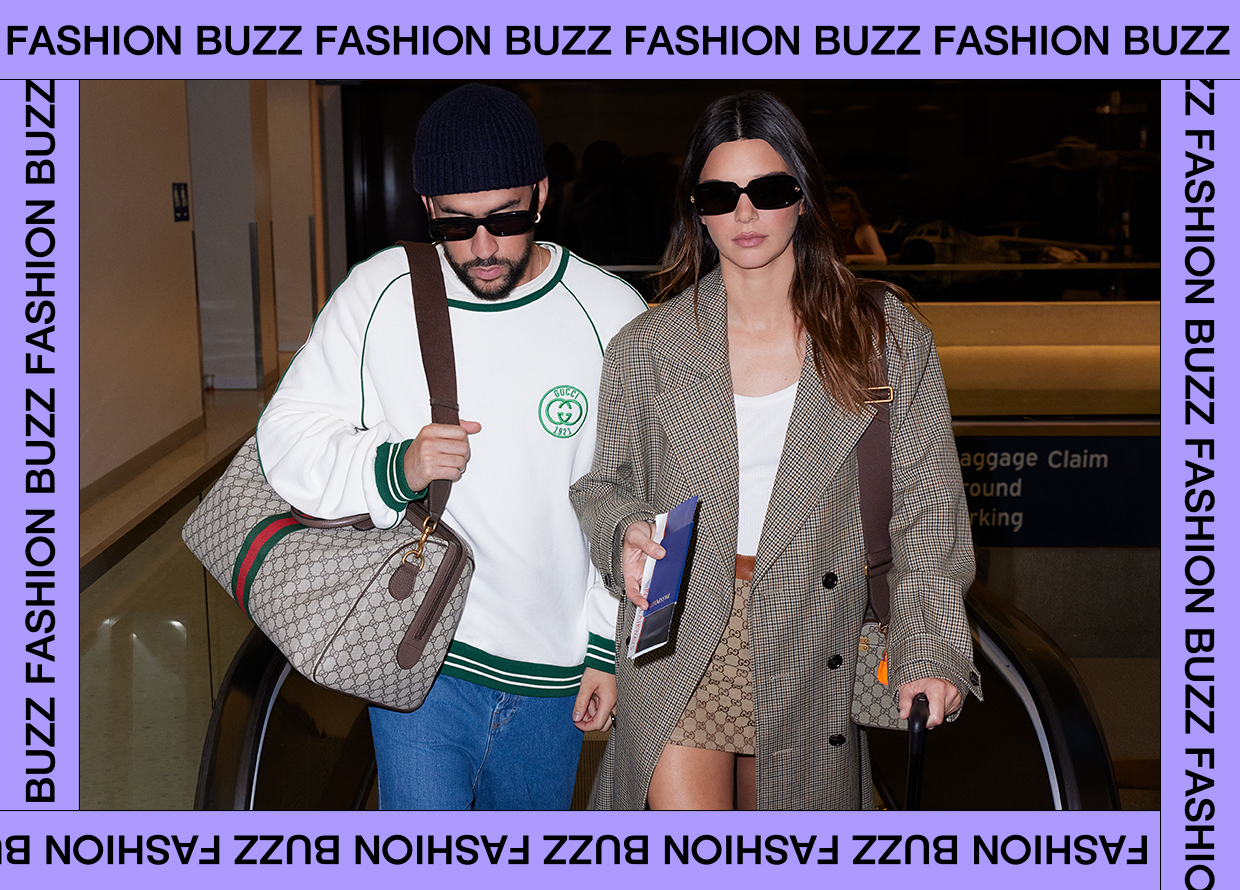 This month's headlines include Burberry's takeover of Seoul, H&M's collaboration with Rabanne, and the announcement of Kendall Jenner and Bad Bunny as Gucci Valigeria's ambassador. 
Kendall Jenner and Bad Bunny are the new faces of Gucci Valigeria
View this post on Instagram
Following the fresh debut of Gucci Ancora at Milan Fashion Week, the It-couple stars in the House's latest campaign, Gucci Valigeria. The visuals nod to the brand's legacy as well as ushering in a new era of adventure and luxury travel that resonates with Sabato De Sarno's vision. Anthony Seklaoui's lens captures the intimacy of travelling together, with the two dressed casually yet sophisticated while carrying pieces from the Gucci Savoy collection. This includes GG Supreme duffle bags, backpacks, sturdy suitcases, and trolleys with the GG monogram and the Web stripe. Additionally, the advertisement showcases new designs marked by bright leather details and embossed GG rubberised leather styles.
Burberry reveals Seongsu Rose in Seoul
View this post on Instagram
After taking over the streets of London last month, Burberry travels to South Korea to unveil the next instalment of Burberry Streets in the bustling district of Seongsu in Seoul. Immersive experiences, installations, and events are in the works to celebrate the brand's hallmarks while bringing contemporary British luxury to life. Not to be missed from the series are the Seongsu Shoe and Seongsu Bottle—two micro pop-ups offering the newest shoes and hot water bottles from the AW23 collection—as well as the Petal Maze, an installation inspired by the English rose. Elsewhere, symbols of the house will be visible around the city, while the purple rose print will appear on flags and buildings in Seongsu. Visitors should also not miss out on Norman's pop-up—a North London cafe known for its British fare. 
The Seongsu Rose is open until November 5, 2023, and bookings can be made here. 
Giorgio Armani's Crossroads series returns for a third season
View this post on Instagram
Giorgio Armani has always supported women, and this year is no different, as the Giorgio Armani Crossroads project returns to the screen with six ladies. Ines Rau, Miriam Leone, Sahel Rosa, Lily Allen, Yao Chen, and Lauren Wasser are the six women who will share their experiences and discuss how they make critical and conscious decisions when pursuing their aspirations. The episodes of the series are scheduled to be broadcast weekly on Giorgio Armani's channels beginning October 11, 2023. 
Swarovski Creators Lab celebrates Puma's 75th anniversary
View this post on Instagram
This year marks the 75th anniversary of Puma, and Swarovski Creators Lab has joined the party with a collection that blurs the lines between athleisure and streetwear. The Austrian jewellery label adds its unique savoir-faire and brilliant luminosity to two of Puma's best-selling goods: the Puma Suede sneakers and the Puma hoodie. The Puma Suede is embellished with rows of green Swarovski crystals and features a thick black sole and an upper in Puma archive green, as well as a subtle update of Puma's 75th-anniversary emblem on the sock liner. The Puma hoodie, on the other hand, comes in a relaxed, oversized fit with multifarious green Swarovski crystal accents on the solid black fabric. 
Shop the collection here. 
H&M taps Rabanne for its latest designer collaboration
View this post on Instagram
In line with its dedication to making high fashion more accessible, H&M has announced its next designer collaboration will be with Rabanne, an influential brand in the French fashion scene. The upcoming collection is anticipated to be a mix of free-spirited energy of the 1970s, Rabanne's optimistic futurism, and a dose of vintage romance.
"As a designer, I've always been interested in exploring hedonism and empowerment. I was very enthusiastic to work with H&M on a collection that will introduce Rabanne's avant-garde energy to a wider audience in a democratic way," says Julien Dossena, Creative Director of Rabanne. The same collection will additionally be expanded to H&M Home Selection, which offers an elegant yet fun take on casual luxury.
The Rabanne H&M collection will be released worldwide in select shops and online on November 9, 2023.  
Berluti's Toile Marbeuf is a must-have for any man who travels
View this post on Instagram
The Toile Marbeuf by Berluti is anchored in exquisite craftsmanship and timeless quality common to luxury and travel today. The freshly released line includes six models like the Cabas tote, the Cartable backpack and the Bagage weekender, which features a new canvas inspired by the exclusive setting of the Rue Marbeuf store. The intertwined pattern mixes the elegant Scritto with the curves seen in staircase balustrades, which is accentuated by grained Venezia Palmelato leather trimmings in the same brown tone as Talbinio Berluti's famed Club chair. Other details include a subtle embossed Berluti logo borrowed from the exterior of the Marbeuf store, leather-covered snaps and aged gold metallic pieces. 
Celine's latest Les Grands Classiques sums up the core of edgy chic
View this post on Instagram
For Celine's Les Grands Classiques Session 07 collection, Creative Director Hedi Slimane captures model Abby amidst the Palazzo Farnes. This is yet another milestone for the label, as it is the first time a couture house has been granted entry to the palace. Among the items featured on the set of stills are the Small 16 bag, Besace cross-body, black tie cashmere overcoat, V-neck sweater and Polly jeans. Each garment oozes rocker chic, which not only boosts your self-esteem but also gets you ready for the season.
Kate Spade launches its first-ever collection for pets
View this post on Instagram
This season, Kate Spade launches a pet collection centred on graphic designs and bold colours with hints of the brand's DNA infused into each piece. The vast collection includes everything from collars and leashes to chew toys and pet-friendly versions of the classic Sam Icon handbag. Expect classic black and white Art Dot, as well as the multi-coloured Adventure Stripe and Racing Stripe, featured throughout the collection. "The debut of our pet collection is an opportunity to blend our customers' love for fashion seamlessly with their love for pets—and we've seen first-hand how much they love pets! The assortment perfectly reflects the playful wit and heritage design elements that are seen across our product categories," says Liz Fraser, CEO and Brand President of Kate Spade New York. 
Shop the collection here. 
Shanghai Tang opens a new store in Bukit Bintang
View this post on Instagram
The new Shanghai Tang store opened its doors in the Lalaport Bukit Bintang City Centre last month. Spanning across 1,256 square feet, the interior is inspired by Shanghai's charming alleyways with silver walls echoing the sheen of silk and floor crafted with a delicate touch of terrazzo. Aside from bespoke tailoring and ready-to-wear, the Hong Kong luxury label offers accessories and homeware that blend contemporary oriental aesthetics with superior workmanship. The AW23 collection and the 'Crane Garden' homeware selection are currently on display at the store.

Address: G-57, Ground Floor, Lalaport, Bukit Bintang, Kuala Lumpur. 
Opening hours: 10AM – 10PM (Monday to Sunday)
For more fashion reads, click here.
| | |
| --- | --- |
| SHARE THE STORY | |
| Explore More | |