Fashion
A first look at Bottega Veneta's cinematic 'Reflections' — with new chapters
Digital-driven and disruptive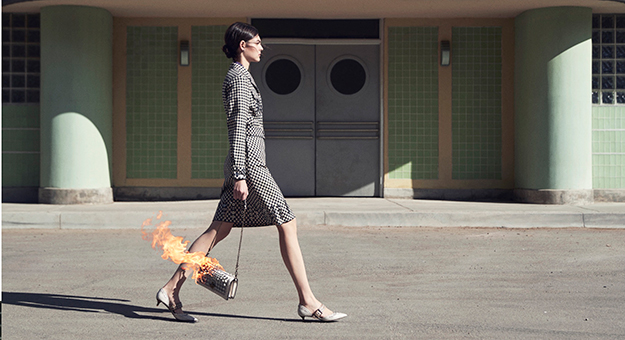 This season, the new chapter of Bottega Veneta's ongoing Art of Collaboration unfolds in an exciting new form with 'Reflections', a series of six cinematic short films that highlights the SS18 collection with elements of Mystery, Sophistication, Architecture, Sensuality and Surrealism—the brand's pillars.
With the modern technology-savvy consumer in mind, the campaign is optimised for digital consumption, ready to engage and inspire at his or her fingertips. "We have always told stories about our products and our brand," says Creative Director Tomas Maier. "The evolution of the Art of Collaboration enables us to reach and have a dialogue on his or her terms."
The first chapter of 'Reflections', Miraggio
Even the corresponding print campaign resembles a storyboard, with still photographs extracted from the films.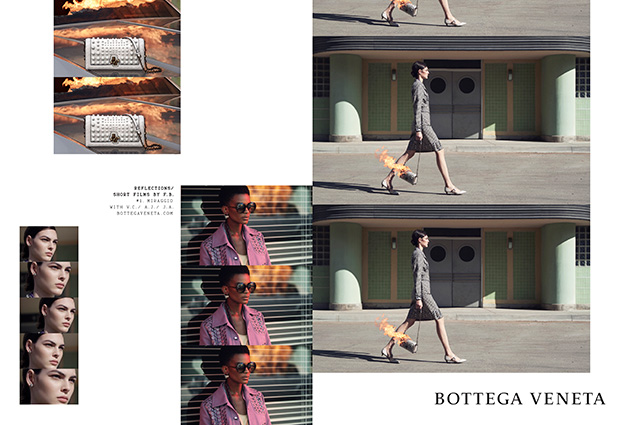 In this new cinematic form, the Art of Collaboration doesn't just involve one single creative voice, but a team of collaborators. Bringing Reflections to life is director Fabien Baron, set designer Stefan Beckman, Academy Award-nominated cinematographer Philippe Le Sourd, and producer-composer Johnny Jewel. Together with Maier, they worked as a dream team to translate the brand story and DNA into the series of short yet stirring chapters.
The second chapter of 'Reflections', 196.6 MHz
[UPDATED] The third and fourth chapters, titled Utopia and Rebirth respectively, have been unveiled. Take a look at them here:
Here, director Fabien Baron sheds light on the process and inspiration of Bottega Veneta's new and unique campaign:
How did you come to the decision to make moving images the core of Bottega Veneta's new campaign?
"First, we felt that it was important for a brand like Bottega Veneta to be more narrative. Second, the moving image has grown more significant lately, and with the new generation not caring much about still images, film was the best way to communicate the brand message. So everything came from the film instead of the traditional campaign, with a print element, a film element and digital element. We took the stills for the print campaign from the film. There was no photographer"
That's quite an unconventional move: a fashion ad campaign without a photographer.
"This is the first time I've worked on big campaign without a photographer. But we had a director of photography instead since it was film. And the rest of the team: hair and makeup, a stylist. But no photographer. We didn't have that brand asset that most companies want-to be able to say my campaign was shot by such-and-such. I ended up being the director on set, but only because I compare the work I do with the director of photography very similar to the work I usually do with a photographer anyway- ultimately protecting the brand message and Tomas's work."
You directed the films and you also carefully selected the team of collaborators. Can you talk about that process?
"I chose Philippe Le Sourd as the director of photography. He worked on Wong Kar-Wai's "The Grandmaster" and Sofia Coppola's film "The Beguiled." His lighting is very cinematic, which suited Reflections but he also understands style and fashion. I have worked with him many times before and it felt like a natural fit. He understands color and the flow of fabrics well. All of these things make a difference. The set designer Stefan Beckman has an amazing taste level, and he got into what we were trying to say for the brand. The models were also considered collaborators. Tomas and I both loved Vittoria Ceretti. We liked that she's Italian but also when you look at her, she embodies luxury"
Where does the print campaign fit into the new media landscape?
"Even with the world moving toward digital, you do still need a print campaign. But I think of it more to entice people. It's almost the advertisement for the films. The layout is also unique. It's not something you've seen before. The repetition of images gives you that cinematic vibe. It has a different rhythm and look. I think it's going to get noticed, because it's unique. And people will know immediately that it's Bottega Veneta."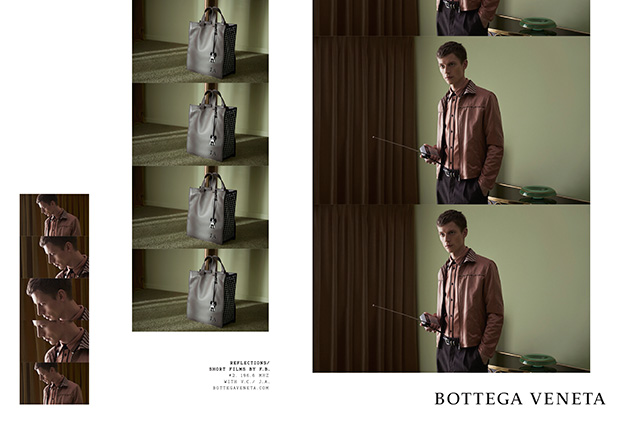 You've spoken before about the need for luxury brands to keep their digital content elevated. Was that a consideration in the format of this campaign, which provides exciting new content throughout the season?
"Oh definitely. Digital is supposed to be quicker and faster but you still need to represent the brand and what it stands for: high-quality luxury. You have your story at a certain level, and you have your visuals at a certain level. That's the way it was with print. Then digital came in and everything was permitted. Now we can show the backdoor of everything. That's okay but you still need the dream factor. I think the films of Reflections are at the level of a feature movie-in product, talent and special effects-but there are layers. You can consume it in different ways."
This campaign is a continuation of the Art of Collaboration. How has the meaning of collaboration evolved?
"I think the Art of Collaboration concept is alive but in a different way. As an agency, we made sure to establish a vocabulary that represents what the brand stands for and that the talent that come and join the collaboration support it and don't reinvent the vocabulary. At the end, we are talking about Bottega Veneta. That's why we also kept everyone's names only as initials."
What drove the inspiration of the films?
"It really evolved over time. We were thinking about how to translate the brand values of Mystery and Surrealism in storytelling through the lens of Tomas's vision. There's a tension in what Tomas does, that's probably why there's tension in the films. We want people to feel something when they see the films. It's not a sensation that you usually have when you look at something fashion."
How did you come to the name Reflections?
"I think of reflecting in terms of pausing. Thinking about things differently. And if you look at the films, you feel there's different sides to things. Different reflections. Different aspects. It's about being able to take one step back to look at what you have. And to move forward from there."
What does the future look like for digital-minded campaigns based on moving images?
"We're pushing the bar. A few other brands are pushing the bar. But it's just the beginning. In four or five years, people are going to do amazing things digitally. I'm sure we're going to see people doing really creative stuff in the near future. This moving image moment reminds me of when MTV started. When you had the first videos it was like, "Oh this is cool. Oh my god there's five girls on camera. Oh my god, they're dancing." And then on and on. Then music videos became incredibly produced and visual commentaries of the time. I think this will happen with fashion and film; brands and I think everyone involved will take it up a notch every season."
The following chapters of 'Reflections' will unfold in the months to come. Stay tuned.
| | |
| --- | --- |
| SHARE THE STORY | |
| Explore More | |