From the OG candy-pink tulle Molly Goddard dress that catapulted the designer to fame to the endless array of tailoring that defines power-dressing, Villanelle's outfits make the life of an assassin look like the most glamorous job on earth.
Great costume design extends a character's persona and the small screen has had its fair share of iconic fashion moments, from the yellow Dolce & Gabbana plaid set donned by Alicia Silverstone's Cher in cult favourite Clueless to Blair Waldorf's hairband accessorising to augment her Queen B status in Gossip Girl.
But if looks could truly kill, then Killing Eve's Villanelle has already murdered us a thousand times over—and that's not just because she's a highly-trained psychopathic serial killer. 
As season three of the BBC hit thriller returns this April, we're keeping an excited eye out for more beautifully outrageous and seriously stylish outfits from Villanelle's closet. If you're not familiar with the series, it's about time you get caught up. With its twisting plots and quick-witted dialogue, its no wonder that the slick, dark and hilarious series already accumulated cult following since making its debut just two years ago.
Originally adapted from Luke Jenning's Codename Villanelle novels, the series follows Jodie Comer who plays fashion's favourite assassin as she faces off against American detective Eve (Sandra Oh) in a game of cat-and-mouse across Europe. With a penchant for designer clothes, Villanelle is a fashion exhibitionist (best exemplified by the nine costume changes in the entirety of episode five in season two) and subverts the style of a typical femme fatale villain—trading out cliched camouflage and catsuits for more creative, designer choices.
Fashion has always been about escapism and no one relishes in the joyful act of dressing up more than Villanelle. Through her love of clothes, she's learnt to skilfully weaponise her femininity, aware of the effects she can create in order to blend in,  stand out and embody different personas to help her make her kills and finish the job. After all, it is a highly-paid job so why shouldn't she spend it on designer clothes that make her feel fabulous? 
It's no surprise she has zero consistency due to her psychopathic tendencies, but when it comes to clothes, Villanelle can do no wrong. Scroll on to see some of the best fashion moments of TV's best-dressed serial killer. 
The candy-pink Molly Goddard frock that broke the internet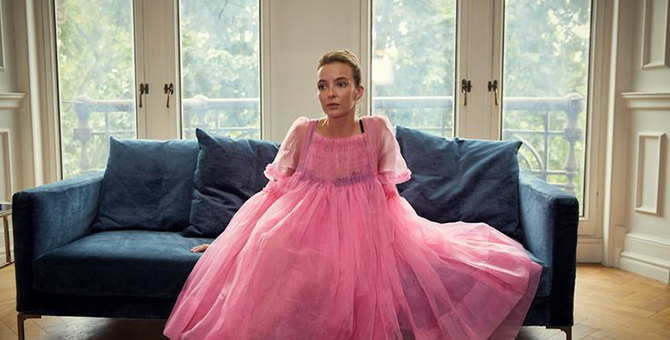 This frothy tulle dress, now nearly synonymous with the flamboyant villainess herself, made headlines when it made its appearance near the end of season one. It subsequently went on to take over Halloween costumes in 2018 and even boosted the designer's career IRL. Worn with the right amount of flair and nonchalance, Villanelle showed how impractical, ridiculous and twistedly humorous her character can be when she wore it for a psychiatric evaluation with her handlers. A stark contrast to the dark subject of her ability to murder, the dress sent the message that Villanelle wasn't about to take any of it seriously anytime soon, and showed how fashion can drastically change up the mood in a room with the right context. 
Collegiate cool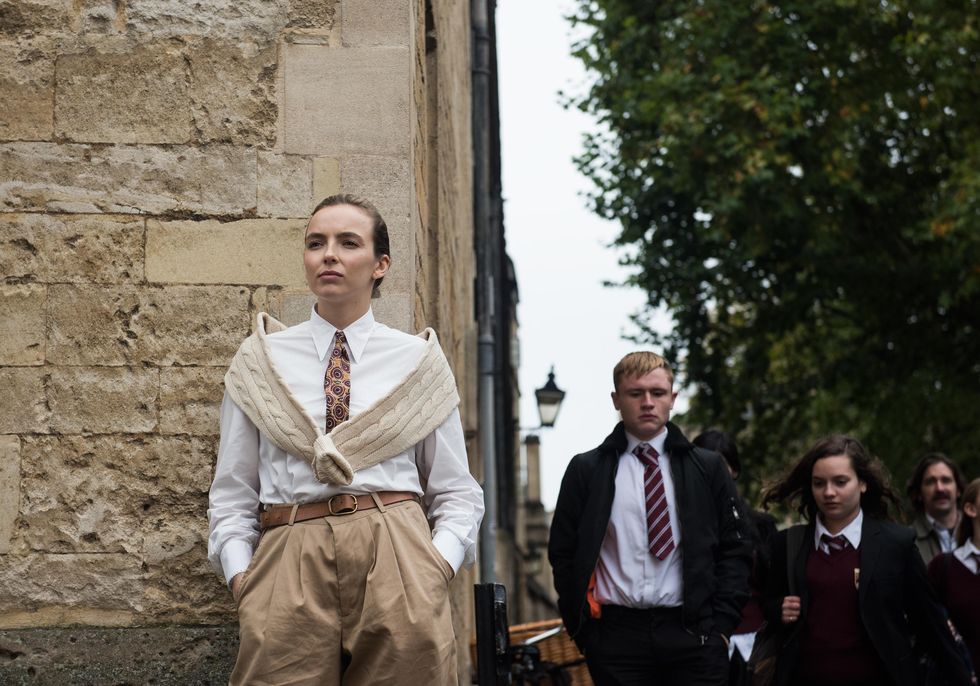 While tailing Eve's husband in Oxford, Villanelle opts for a classy jumper worn over the shoulder paired with beige Raey trousers to effortlessly blend into the collegiate crowd. She rocks the androgynous look with a sense of sophisticated stoicness, turning what could have been a frumpy professor fit into something 10 times more chic.
Sensual in silk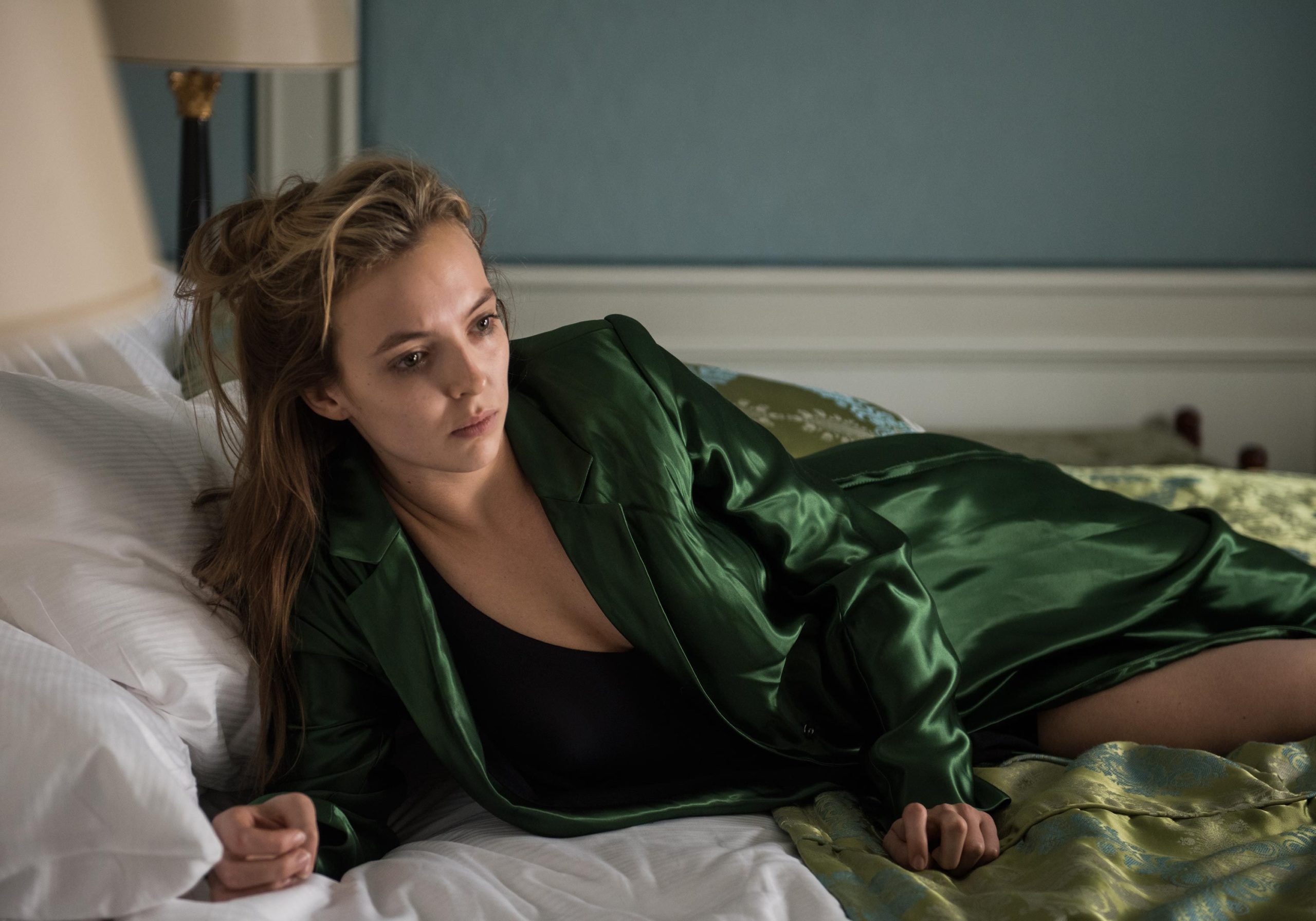 It's no secret that Villanelle loves to swan around in silk pyjamas during her downtime, but this Jason Wu silk duster took her luxurious sense of sensuality to the next level when she wore it on a night out in Amsterdam. Paired with boots and a matching slip underneath, the dress exemplified her self-indulgence as she slunk around the darkness of a club before going on to beat someone's ass in line for the bathroom. 
Black swan drama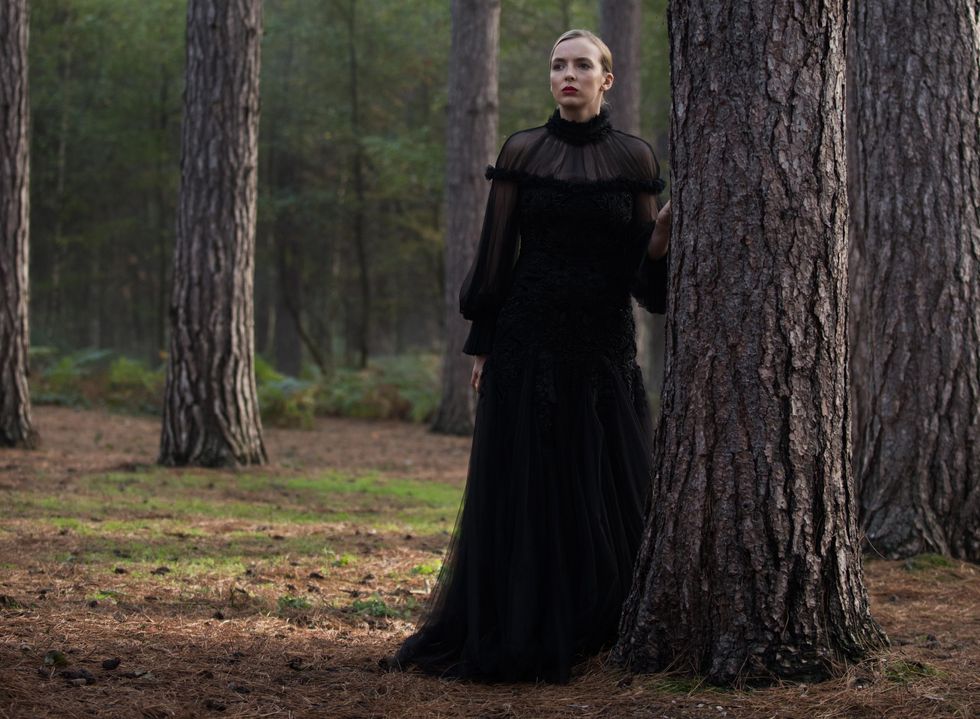 To play the part of a grieving widow, Villanelle went all out with this Victorian-like vintage couture gown. The jet-black dress was a piece from the early archives of Sarah Burton's McQueen and transformed Villanelle into a black swan, culminating in a dramatic and picturesque scene in an eerie woodlands location. 
Stealth mode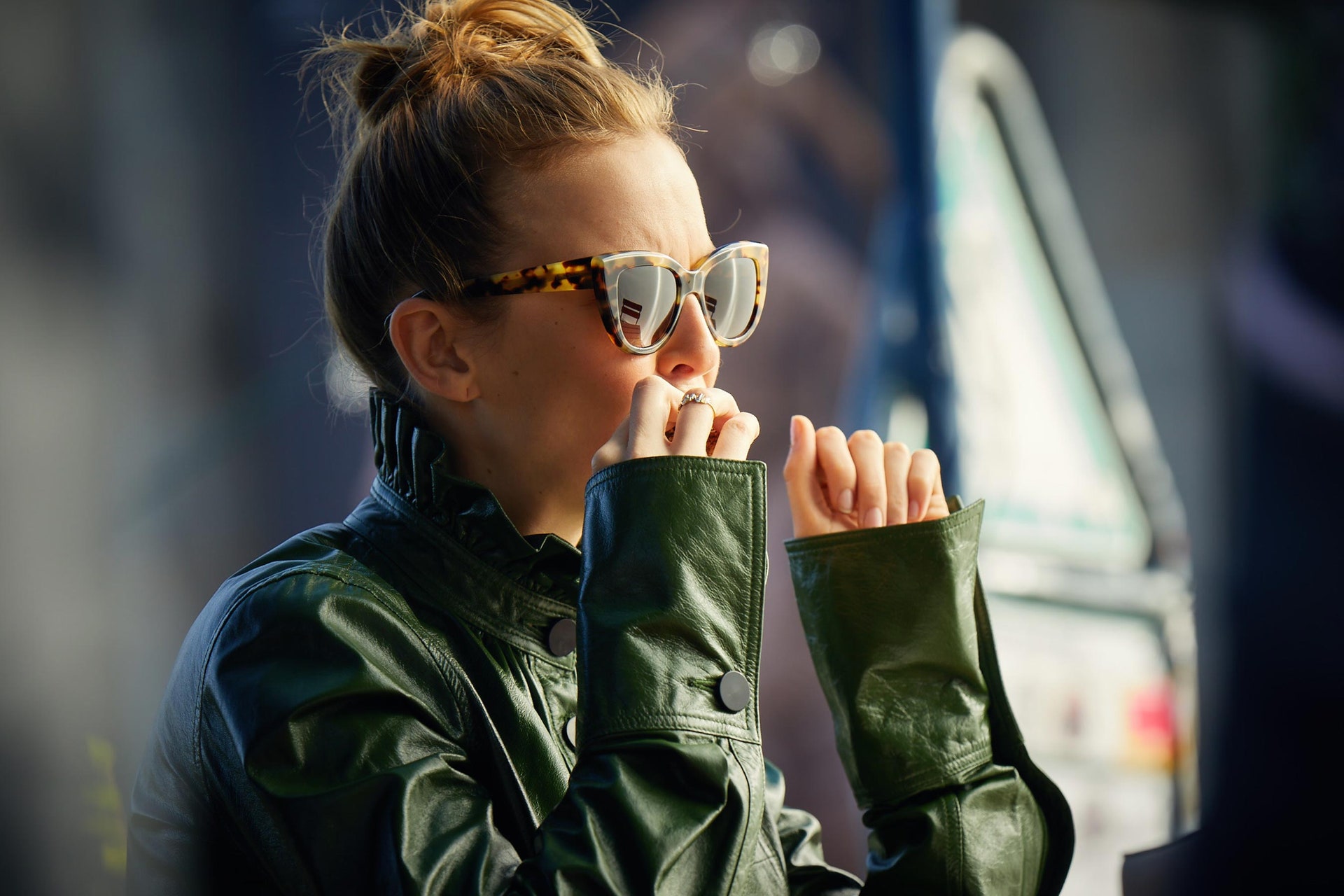 Villanelle goes incognito in a ruffled leather JW Anderson blouse, which makes for a stylish stealth disguise while she's tailing Eve in season one. Paired with tortoiseshell cat-eyed sunnies and a messy bun, she shows that you don't need to go unnoticeable when you want to go understated. 
Power suits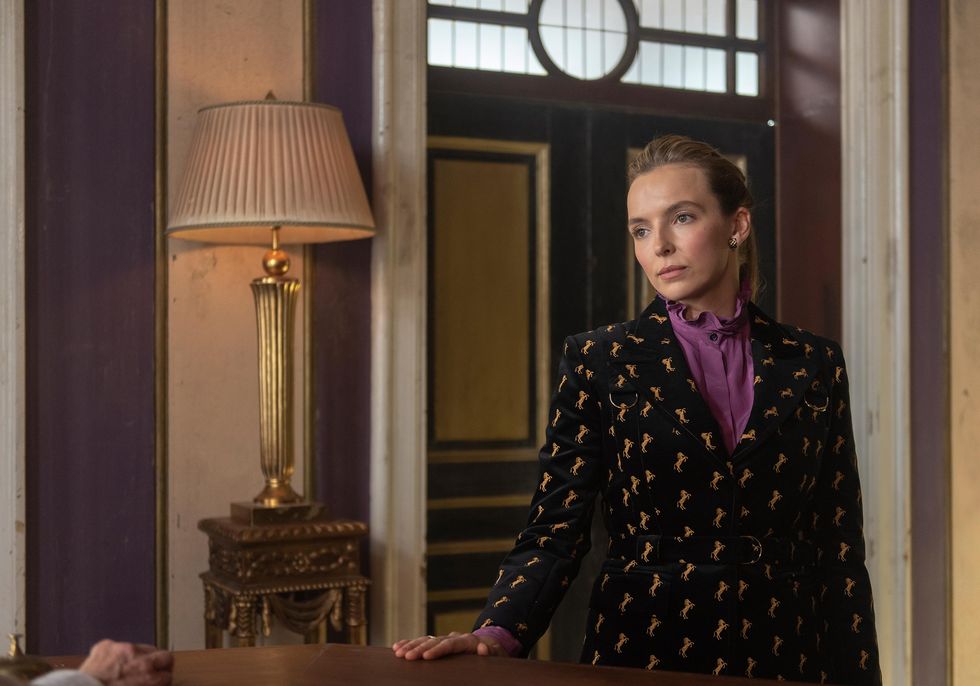 A fan of tailoring, Villanelle often opts for a fitted suit when someone's about to die like that brocade Dries Van Noten set worn to take out an undercover agent in season one. After spending the early episodes of season two wearing clothes nicked from other people out of necessity, Villanelle was fully back in business after she put on this equestrian-printed Chloé blazer, paired with a regal high-neck blouse and silver Isabel Marant trousers. Eclectic but cool, the outfit's strong colours and masculine silhouette showed power dressing at its best, and that the only rule is that there are no fashion rules but your own.
The unfortunate ice cream date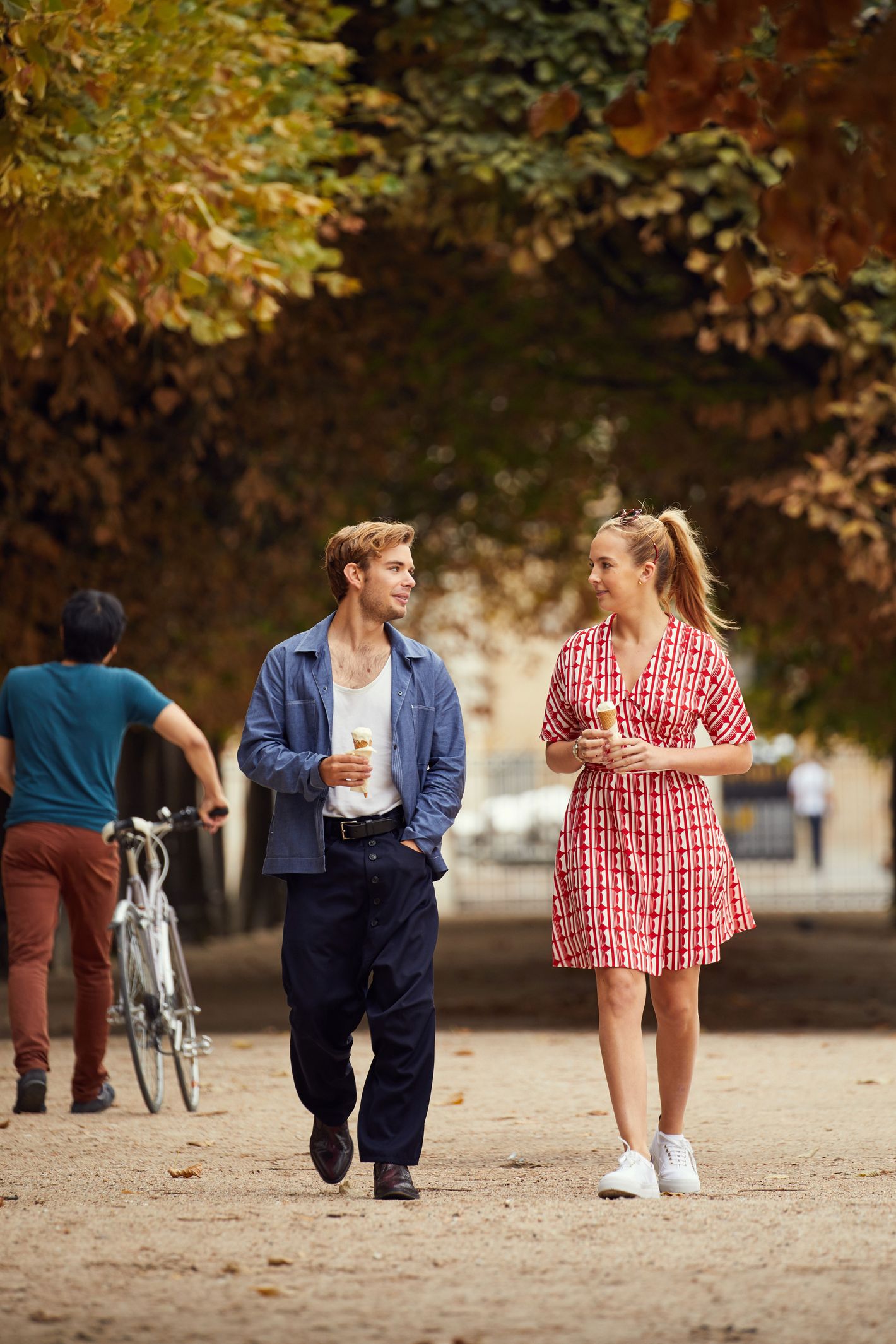 This Miu Miu dress and tennis shoes was the ideal outfit for a casual spring date along the Champs-Élysées in Paris, but normal is something Villanelle can't do, even when she tries. A rare moment of socialising on the show, Villanelle puts on this look after her handler advises her to "do something normal". Unfortunately for her neighbour, Sebastian, what started off as a sweet ice cream stroll ended in his unwarranted demise. 
Killer bride-to-be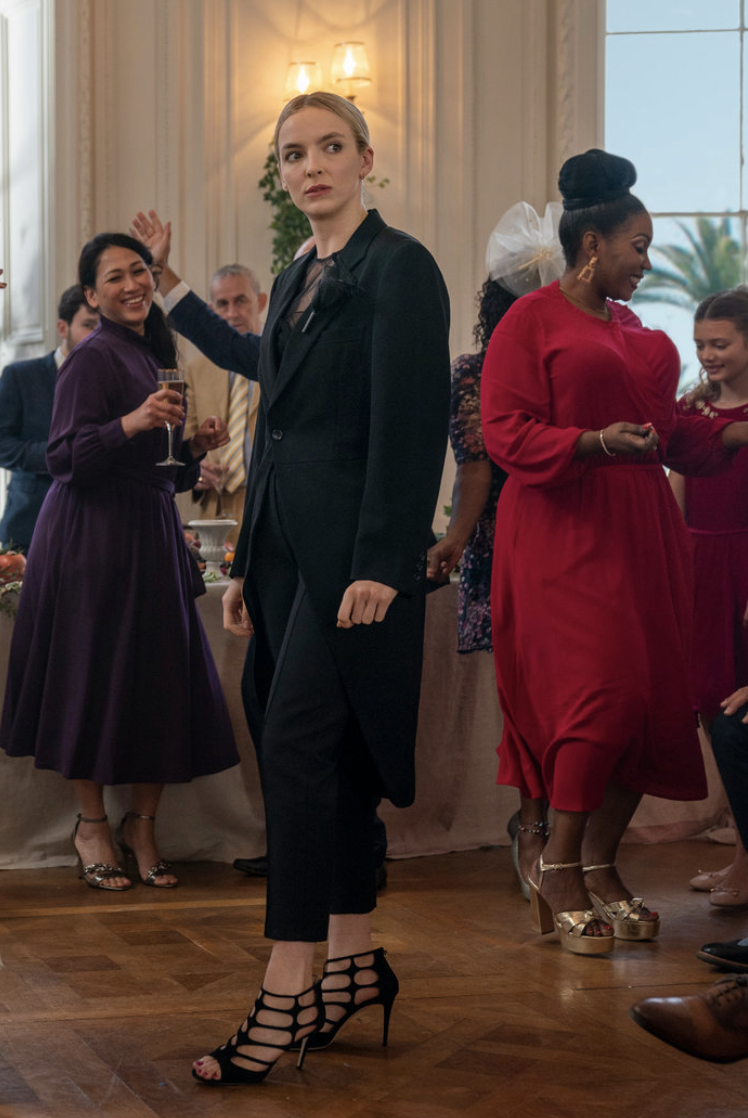 What better way to prove you're over your ex than becoming the ultimate bride in this striking black tuxedo ensemble? The opening scene of season three showed Villanelle in a Comme des Garçons jacket styled with a sheer blouse and featured Loewe brooch, exhibiting an effortless blend of suave glamour. Showing that she means business, her Jimmy Choos kept her alert and ready to rumble just as the cheery wedding reception swiftly descended into the most chaotic and random brawl ever.
Luxe retro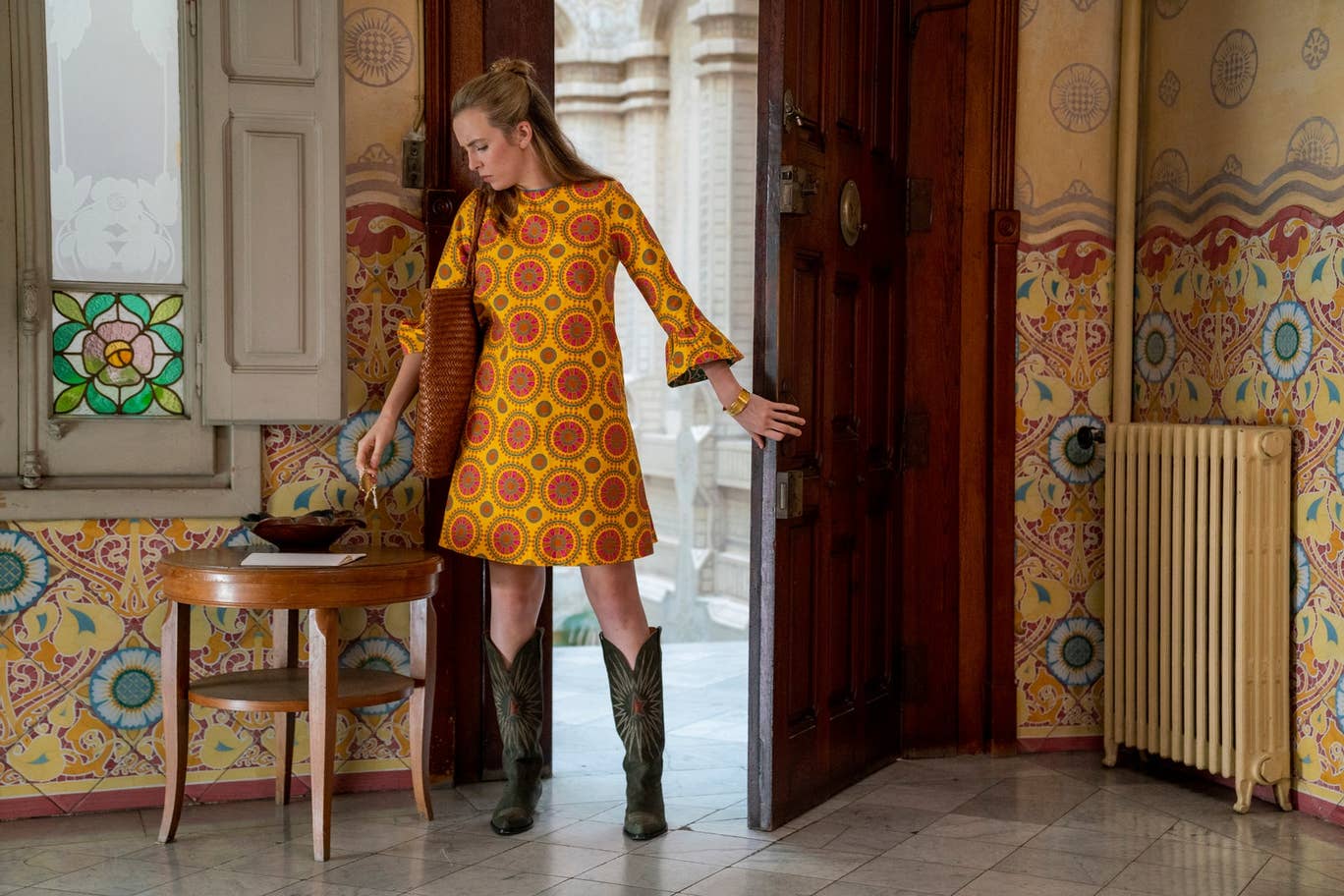 An instant scene-stealer from season three, this psychedelic mod-inspired mini with flared sleeves by Double J was a memorable introduction to Villanelle's move to Barcelona, where she's set to make a fresh start working under her new handler, Dasha. Pairing it with Golden Goose boots, she went full retro topped off with 60s appeal, easily assimilating into the colourful Spanish setting.