Glam-boho Hollywood starlet Kate Hudson dishes on her favourites from Jimmy Choo's A/W'15 collection, along with how ballet shaped her work ethic and freedom for self-expression.
Known for her Golden Globe award-winning breakthrough role as Penny Lane from Almost Famous, Kate Hudson is one of the rarer Hollywood veterans whose effortless vintage-boho style has been both emulated and lauded. In this exclusive interview and photo diary with Jimmy Choo, she shares her earliest fashion memories and her picks from the photoshoot that caught her eye:
Describe your style and any eras, icons or influences you have?
I would say that my style sort of depends on my mood, but comfort is definitely the common denominator, which means a lot of pieces that are flowy and light. I've always been attracted to the 70s—sexy, with a lot of freedom in the overall aesthetic. My fashion icons are Julie Christie, Anita Pallenberg, Kate Moss and Cher.
The Jimmy Choo A/W'15 collection is inspired by ballet—how does the discipline affect your approach to fitness?
I grew up dancing. My mom put me in dance classes since I was three years old and I did ballet up until 12 before she allowed me to take more types of dance, like lyrical. I wasn't allowed to skip class, I just knew I had to go. If you have that kind of discipline as a kid it sort of translates to everything. Dancing really connected me to my body in terms of understanding what my body needs. The beautiful thing about dance is you have this intense discipline and once you have that foundation, you can feel free and let go. It applies to everything, even acting—you rehearse and get connected to the character in order to let go and get inside who that person is.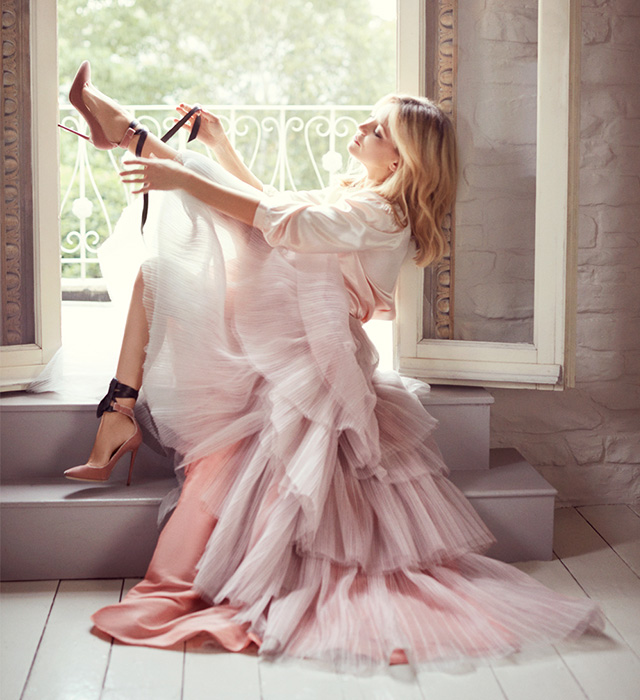 Favourite Jimmy Choo style from the Jimmy Choo shoot today? Why do you like it and where would you wear it?
I think my favourite look was the pink velvet ballet heels with the big skirt we shot in the window. The whole look had a vintage Oscar de la Renta vibe to it—it was so ethereal and relaxed. Those shoes are beautiful and the colour of the shoes made the black dress feel like something so special.
What is your earliest fashion memory?
I was a little girl and I went with my mom to a fitting with Bob Mackie for a special she was working on. She was in his studio and there was fabric and sequins everywhere. I was in awe, it was like being in a little fashion dream! I remember he made me a package of little sequin bow pins, in all different colours. There were about ten in the package he made me, and it was a moment I will never forget because I was so excited.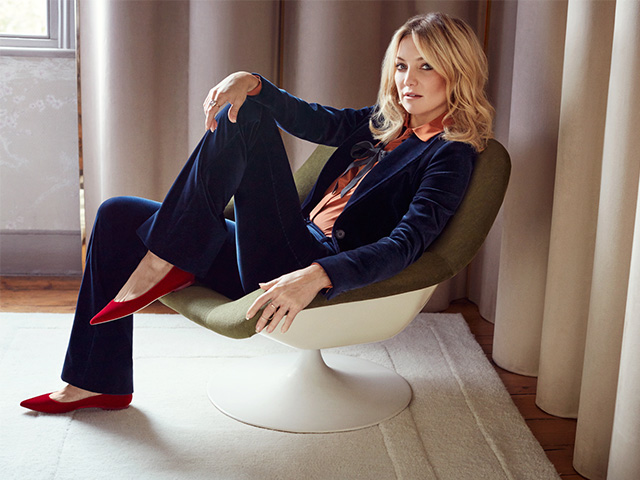 What motto or life rules do you live by?
I have a couple of them. I think it starts with authenticity. For me it is something I really struggle with because if I feel like I'm letting people down if I'm trying to conform to what others think I should be. To be authentic and truthful is truly the most important thing for me. It can be scary because not everyone will like your truth but I find when I'm in that space, I'm a lot happier in my life and I feel less pressure and less concerned.
Also, the idea that you only live once. The idea of living each day as if it might be the last makes you want to be present and enjoy. Your eyes open up and really see things. I just want to make the most of it while I'm here.
Shop for Kate's look here on Jimmy Choo.