Actress Dakota Fanning brings the Jimmy Choo SS17 collection to life in a beautiful shoot set in the City of Stars
By that we mean Los Angeles, of course. But it's not the city's bright lights and glitzy streets that we see in the campaign—to capture the essence of the collection, which was inspired by nature, Jimmy Choo took to The Los Angeles County Arboretum and Botanic Gardens. There, the environment's natural beauty provided an ethereal setting for Dakota to showcase the her quirky, romantic style as she mixes her favourite Jimmy Choo accessories with a feminine wardrobe.
"Dakota has such a nuanced and sophisticated understanding of fashion," says Sandra Choi, Creative Director of Jimmy Choo. "Unafraid to push boundaries and wear something unexpected. Her style is bold yet classic and her experimentation with colour and pattern suited her perfectly to the Spring/Summer collection. The botanic gardens as a backdrop made the collection come to life and envelope you in their natural beauty."
The photoshoot also provided the perfect opportunity to catch up with the young accomplished actress. Here, Dakota talks about her personal style, as well as career highlights and aspirations:
What is your earliest fashion memory?
"My earliest fashion memory is clomping around in my aunt's heels, while visiting her in Miami. I was probably around two years old, and apparently insisted on wearing them absolutely everywhere the entire trip."

Having gone through so many outfits in your career, which have been your most memorable and why?
"Recently I wore a Miu Miu dress to the Venice Film Festival. It looked like a mermaid's tail, and it was truly my dream dress. I felt absolutely magical in it and taking it off was really hard... That dress, combined with such a glamorous location, was a very special moment for me."

And what is your earliest red carpet memory—do you remember what you wore? Do you ever look back and cringe or is there more a sense of nostalgia?
"My first red carpet memory is the I am Sam premiere. It was my first film, therefore my first premiere. I wore a satin champagne coloured dress with capped sleeves. I had a purse that was black patent and shaped like a present, which I thought was very chic. I am sure I still have it somewhere. I do not really look back and cringe too much, definitely more of a warm nostalgia."

How would you put your personal aesthetic into words?
"I do not know if I can actually. It really changes all the time. I think I usually have a vibe in mind when I am getting ready and try to execute that as best as I can. I am more traditional than not, but I also like to surprise people, so I try to throw something untraditional into my wardrobe just to keep people on their toes!"

Are you meticulous about organising your closet or is it more of a floor-drobe situation?
"I am more on the meticulous side, but I must confess it could be more organised in there at the moment."

What are the go-to shoes in your wardrobe and why? Are you more of a flats or heels girl?
"I am more a flats girl when I am in New York because there is so much walking involved when you live in the city. There is a grounded agility that a flat can bring that just cannot be accomplished in heels, no matter how well you walk in them! But with that being said, I love heels of all kinds. Chunky platforms in particular."
Which areas of New York do you love? Are you more of an uptown or downtown woman? Do you have any favourite restaurants or spots you share with friends when they come in from out of town?
"I am most certainly a downtown girl. I love Nolita, the East Village and the Lower East Side."
From your shoot with Jimmy Choo, which were your favourite shoes and why?
"There was a pristine white sneaker that I absolutely adored. Very practical, and I love a slightly dirty white sneaker so I wouldn't mind if the city stuck to them after a while. There was also a beautiful strappy heel with metallic purples and greens. The straps were like the vines of the flower that unfolded across the toes."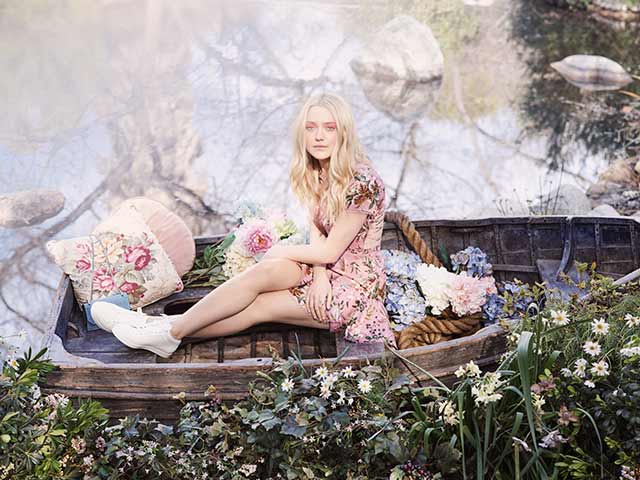 Do you have any poignant memories about wearing Jimmy Choo either on or off the red carpet? What does the brand stand for to you?
"To me the brand is absolutely iconic. I have worn Jimmy Choo's too many times to count, because they are able to make a statement, but also seamlessly fit with many different looks."
The Jimmy Choo collection is inspired by the beauty of nature—are you inspired by the outdoors? Do you get out of the city to be amongst nature often? Is it something that's important to you and if so where do you like to go? 
"I would question anyone who said that nature was not important to them! I do not get out into it as often as I would like, but I daydream about all the places I want to visit when I have time! One of my favourite places I have ever been is Tulum. There are the most beautiful beaches, as well as jungles that are transfixing. "
How does a typical Sunday run at your home?
"Depends on what happened Saturday night! (Laughs) Sunday is always a down day for me. Whether friends come over or I have some alone time, there is nothing major ever on the books."

And what about peers—you've taken on a lead and producing role beside Kristen Dunst for her directorial debut The Bell Jar—do you have a supportive network in the industry? Are you ever concerned about being a role model?
"I have been so lucky to have worked with so many talented and deeply good people thus far in my career. So, yes, I think I have a supportive network for sure. As for being a role model, I try to live my life in a way that I can be proud of and that my family and friends can be proud of."

Many of your roles have included physical endurance and are not always in the most glamorous environments. Do those challenges appeal to you more than the glossier leading lady roles?
"I do not think that really has ever made a difference when I have been in the process of choosing a role. I would definitely not mind playing a glamorous role! But there is a sort of adrenaline high that comes with pushing yourself physically for a role that I definitely do enjoy."

When it comes to career aspirations what are the most important aspects you look for in projects now? Would you like to do television or theatre?
"I am about to do a television series for the first time, and I could not be more excited. I watch so much television and am so inspired by the subject matter that is being tackled. It is such an incredible opportunity to be able to develop a character over a long period of time. As for theatre, that is something I have yet to do, but absolutely want to. I know that will be a challenge unlike any other, and I am also very excited for that."

And outside of your work what do you most aspire to achieve?
"The basics: being a good person, creating meaningful relationships, enjoying life and not rushing through time."
Related stories:
Buro 24/7 Exclusive: Aimee Song on travelling with Jimmy Choo
Buro 24/7 Exclusive: An interview with Sandra Choi of Jimmy Choo
You can now personalise your very own pair of Jimmy Choo heels