Uniqlo and Marimekko's collaboration has been a match made in heaven since the beginning. The former is known for its no-frills designs that redefine functionality, while the latter is synonymous with bold and vibrant prints and colours. Combine both brand's expertise together and you'll get a collection that strikes the perfect balance between style and function.
Spring/Summer 2020 marks the brand's third partnership, and like its previous collections, the line-up includes relaxed silhouettes that are emblazoned with an array of graphic prints. Inspired by a Finnish summer, Uniqlo and Marimekko made sure the joyful feeling can be radiated from head to toe, as you can find pieces from clothing (tops, dresses, and trousers) to accessories (including hats, bags, and shoes). For those of you who'd like to go matchy-matchy with your little ones, there are designs for children (young girls, toddlers, and newborn) too.
Ahead of its release tomorrow, we speak to Uniqlo's creative director, Rebekka Bay, and Marimekko's Director of Home Products and Prints Design, Minna Kemell-Kutvonen, on the brands' ongoing collaboration and what to expect from the Spring/Summer 2020 collection:
Rebekka Bay, creative director of Uniqlo
This marks the third collaborative collection between Uniqlo and Marimekko. Let's go back to the start—how did the partnership come about?
We are constantly seeking to partner with designers and companies that share our philosophy on making clothes. We decided to collaborate with Marimekko because its principles are in line with our LifeWear concept. LifeWear is our commitment to creating high-quality clothing that is functional and affordable to suit everyone's daily lifestyles. We felt a close affinity towards Marimekko's mission to empower people to be happy as they are and to bring joy to everyday lives through bold prints and vibrant colors.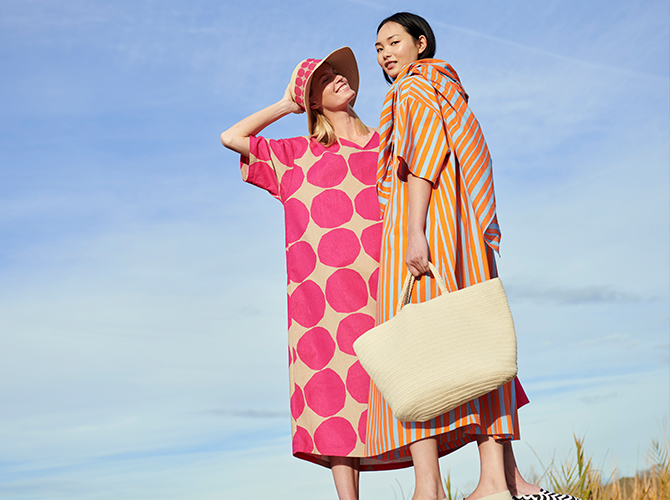 How's the design process like? Does Uniqlo select the design of the pieces while Marimekko work on the prints?
The Marimekko and Uniqlo collaboration is a true partnership. We identify the categories, fabrications and styles that we would like to utilise together, and redevelop or redesign them to form the perfect canvas for the Marimekko prints. Marimekko will then propose their collection of both iconic and newly developed prints based on their knowledge and experience in the art of print-making, and together, we then determine whether those motifs will appeal to our Uniqlo customer and make the final selections.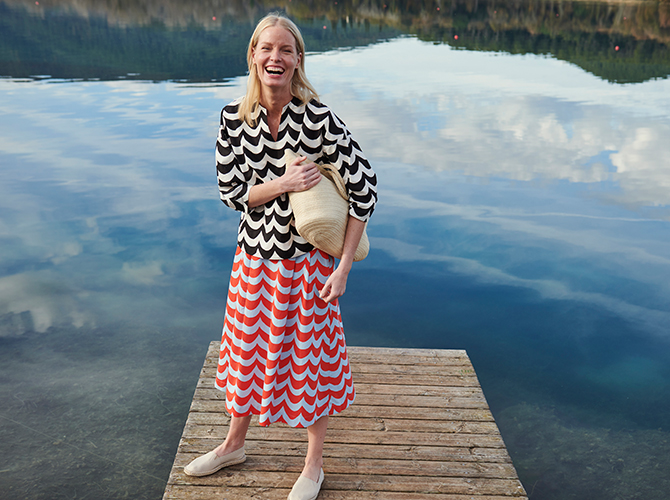 You hail from Denmark, while Marimekko's a Finnish brand. How does their design aesthetic speak to you?
Marimekko's aesthetic is unique yet very familiar to me. I find the colour harmony, the storytelling, and the joyful prints artistic and very 'Finnish', whereas the craftsmanship, the simplicity, and the references to nature close to my Danish design heritage.
Aside from being Uniqlo's creative director, you're also a member of the board at Marimekko. Tell us more about your roles.
I feel very fortunate to be involved with two so different and yet still very similar brands—different in aesthetic but similar in values. My role at Uniqlo is obviously being involved in every aspect of the product development and product communication, from concept development to seasonal colour palettes, item and assortment building, styling and storytelling. Whereas my role as a member of the Marimekko Board of Directors is skewed towards the "health" of the Marimekko brand, reviewing and confirming operating plans and budgets.
Aside from the collaboration, Uniqlo's pieces are mostly in plain solid colors. Are there any plans to introduce more prints into the mix in the future?
We're continuously reviewing the balance between solid colours and prints. As much as we adore the injection of beautiful prints, we also believe that it's important to always offer a great selection of beautiful solid colours.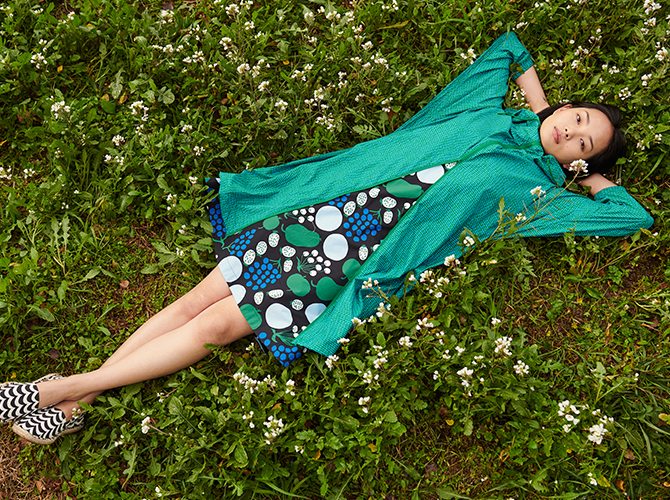 You've been with Uniqlo for almost three years now. How has it been for you?
It has been challenging, rewarding, humbling, and eye-opening, but most of all, it has been a steep learning curve. I had to figure out how to balance seasonality with timelessness, newness with consistency, and innovation with craft.
How has the current COVID-19 pandemic affected the brand?
We are very fortunate to be a brand of utmost relevance—a brand that favours timelessness over fast fashion, and quality over throw-away fashion.
What's next for Uniqlo? 
You can always expect new and exciting design collaborations from Uniqlo!
---
Minna Kemell-Kutvonen, Director of Home Products and Prints Design at Marimekko
Tell us more about the inspiration behind the Spring/Summer 2020 prints.
The collection features our archive prints by two legendary Marimekko designers Maija Isola and Annika Rimala. The colour palette of the collection represents the fresh atmosphere of the Finnish summer and the infinite charm of our white nights. The Papajo, Laine, Kukka, and Raide prints by Annika Rimala and the Kivet and Tori prints by Maija Isola tell stories of summertime joy and capture the essence of Finnish summer living, spending time at markets or at home by the lake. This is the atmosphere the Finnish people long for and recognise. We wanted to project this theme into this season's line-up through a particular selection of prints.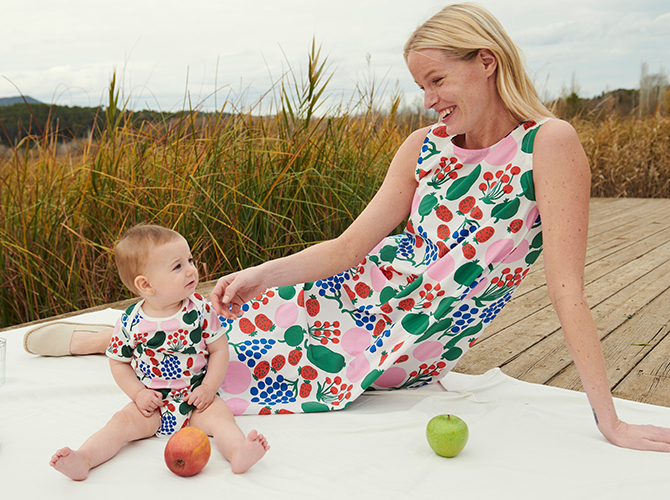 How do you decide on the prints that will make it to the collection each season?
The overall theme of the collection always provides us the guidelines for the prints, after which we'll make sure that the entity has a good balance of organic and graphic patterns, as well as enough scale diversity in the prints.
Which is your favourite piece from the collection?
I'll definitely enjoy the easiness of wearing the collection's black-and-white Kivet maxi dress that combines my two favourite non-colours.
If there could only be one print in this world, what would it be?     
Raita (stripe), reminiscent of a horizon that's always good to look at.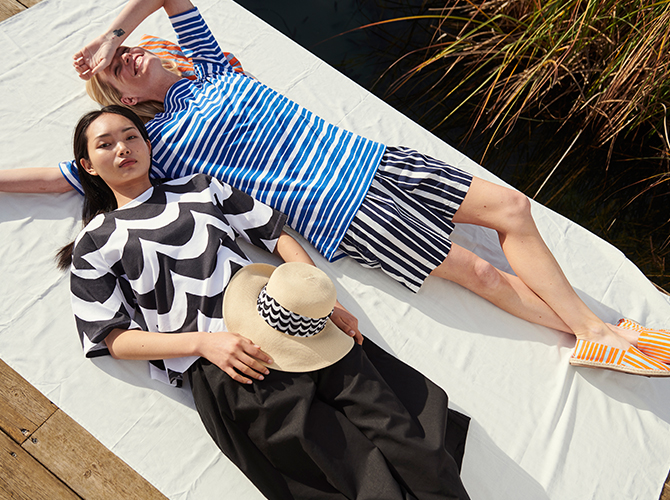 You've been with Marimekko for 28 years! How different was print-designing back then and now?
The core idea has always remained the same—relying on a strong human touch through a spontaneous and original expression. The key change is that today we use a wider range of techniques and materials, and we get to "play" with pattern scales.
How do you feel about the current pandemic?
Marimekko's mission is to bring joy to everyday life with our bold prints and colours. And right now, our mission feels more important than ever.
View this post on Instagram
How do you see Marimekko evolving, and what's next for the brand?
Marimekko turns 70 in 2021. We're very excited for everything that's too come!
The Uniqlo x Marimekko Spring/Summer 2020 collection will be available in all Uniqlo stores and on its website on May 22, 2020.
| | |
| --- | --- |
| SHARE THE STORY | |
| Explore More | |