If there is one trait that Japanese retailer Uniqlo is known for, it is likely consistency. Season after season, the fast fashion manufacturer never fails to deliver, whether in terms of exciting collaborations (the latest one is none other than Irish fashion designer J.W Anderson) or innovative technology incorporated in its apparel. Earlier this March in New York City, we sat down with Yuki Katsuta, Head of Research and Design at Uniqlo, and Shu Hung, Global Creative Director of LifeWear to find out what's in store for the Fall/Winter 2017 season.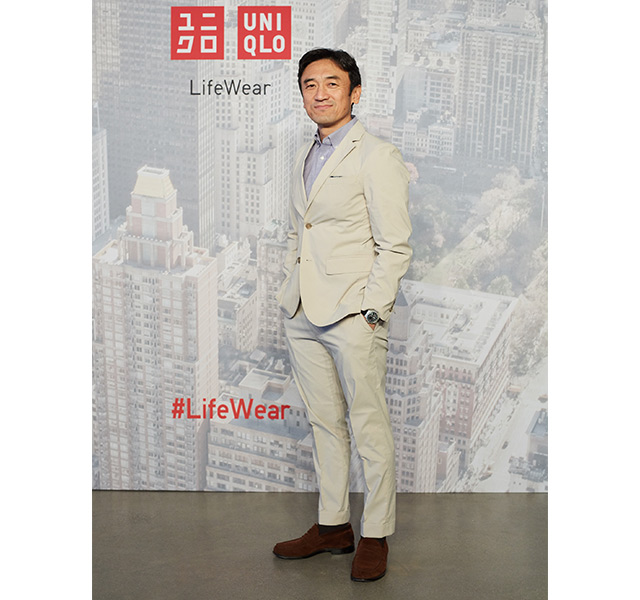 On Uniqlo's upcoming collaboration with J.W Anderson:
Yukihiro Katsuta: "We wanted consumers to focus at our LifeWear range, and so we thought of using the concept of the origin and history of clothing. We did some research and wanted to add something new to those traditional forms of clothing. For example, fisherman sweaters are something that everyone is doing now. But if we want to do it, why not go all the way and do something different?"
"So we thought of having someone from Britain to design it while using our technology—British heritage meets Japanese technology, essentially. Jonathan is actually Irish, but he is from Britain and is proud of his country. I met him for the first time last October and surprisingly, the process came about very quickly. I thought it would be difficult because of his position at LVMH, but it turns out that he was okay with it. I was very happy to see two different companies coming together—how times have changed!"
On the importance of fittings:
YK: "It takes a lot of time and labour into materialising our lines. The prices are affordable, but the process is luxury—that is how I put it. We spent a lot of time developing material. We've already start researching on materials for 2019! We do at least three fittings for one item. When we think about clothing, just 1mm of a difference has a major impact. Fitting is very important for us."
"I learned it from Jil Sanders, who drove me crazy at the beginning [of our collaboration back in 2009] because we did so many fittings. She'd come to Tokyo and stay for two weeks, and we'll be doing fittings on the weekends too. I am not a technical person so I don't have to be there for the fittings, but since Jil is there, I have to be there! I knew it was important but after working with her, I realised the true importance of it. It is a real asset."
On technology as a true innovation of today:
YK: "We focus on so much of our technologies for this season. But we have two pillars—one is technology and the other is natural materials such as cashmere and merino. When we have collaborations with designers, it is not required for them to use certain technologies. With Christophe [Lemaire], he likes to use natural fabrics and ultra-light materials. We give them freedom to use whatever they like for their collaborations."
"But design may be more important than technology in some cases. Our philosophy is that our clothing doesn't have to give one specific message, but the individual consumer is the one who creates the message. We like consumers to use our clothing as a tool to express themselves. Our LifeWear is simple and high quality yet you can wear it for a long time."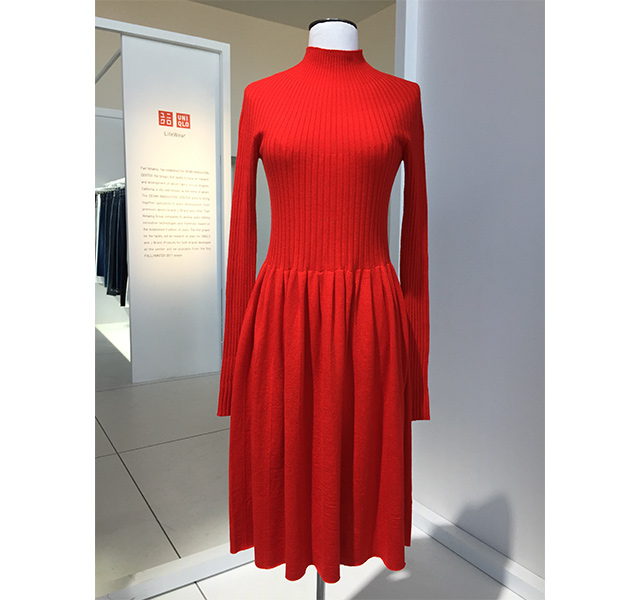 On seamless 3D U-Knits that were unveiled this FW17:
YK: "There are certain things that 3D machines can only produce, including draping and A-line silhouettes. But when we are talking about creating a perfect knit, using 3D is almost a must. The company we worked with is Shima Seiki Manufacturing, a knitting machine production technology leader that is the world's number one knit manufacturer—90% of the world's knits come from there. We were able to form a strategic partnership and launched a joint venture called the Innovation Factory. We purchased the knit machines and produce 3D products everyday there. In the future, customising will probably be available for 3D apparel too. I cannot say when, but we are looking forward to that."
On Uniqlo's denim innovation:
YK: "What I am most proud of (as a company) is the way we work on our denim from scratch. We own all the machines and every single piece of denim is under our full control. Of course, other denim manufacturers own their own machines too but we make very different products, so it costs us a lot of money because we don't only manufacture denim. If you compare our denim to 50-year old denim from elsewhere, you probably can't tell the difference because ours is that good. The advantage to having our own machines is that we don't have to pay a third party to carry out the finishing for us—and in some cases, they might compromise on the quality."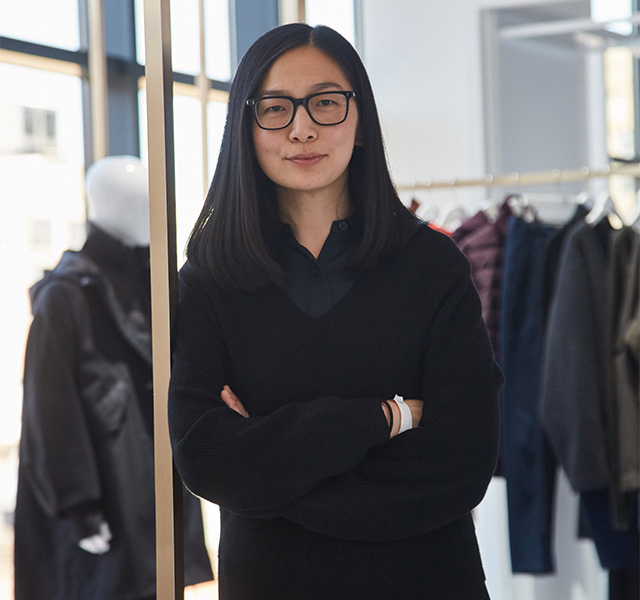 What can we expect from Uniqlo U's Fall/Winter 2017 collection?
Shu Hung: "This will be the third season of Uniqlo U and what's exciting is the colour palette—from bright blues to reds. This was something that Christophe was experimenting, but the silhouette is one of the biggest things. It is oversized and there's a lot of volume and draping. It's quite flattering despite the longer hemlines, and that's something he wanted to emphasise on. There's also a lot of technology involved this season, including the denim from our Denim Innovation Center in Los Angeles, and also great knitwear from our factory. This collection is very confident—every single item is very strong."
What is the role of Uniqlo U at Uniqlo?
SH: "It's an experimental thing for us. The range comes from the Paris R&D Center, so I would say that this is where we try new materials, shapes, types of production methods, and we put it out there to see how consumers react. You might see some of those silhouettes trickle down to the main lines. We work a few rounds where we look at every item and figure out if it would resonate with the consumer, or if there is a story to tell."
Uniqlo U seems like a favourite with fashion crowd. How do you find the middle ground between that range and the other lines for the rest of the consumers?
SH: "Uniqlo U is coming from Paris R&D and Christophe Lemaire, who is a fashion designer. So a lot of experiments come from the fashion point of view. A fashionable mindset will adapt to that much better, but when you look at the product, it's rather wearable across many mindsets. There's nothing too crazy with the knits, and that's something we also thought about. We're very aware of that, and at the same time we want to make sure it's experimental enough to make sure it puts Uniqlo in a new place."
Styling wise, how does Uniqlo offer options to customers?
SH: "Five years ago there weren't many mannequins in store. But now there's a Uniqlo point of view with the way you can style each item. It is how customers can take these building blocks and build something out of it. There is a strong styling hand involved with the mannequins and lookbooks, which shows the versatility of each item. We want to show as many possibilities as we can to the consumer."
Uniqlo LifeWear FW17 is now available at all Uniqlo stores nationwide.
Related stories:
How to style the Uniqlo by JW Anderson line as JW Anderson would
Uniqlo FW17 makes it easy breezy to elevate your weekend essentials
| | |
| --- | --- |
| SHARE THE STORY | |
| Explore More | |