Features
Recap: Nelissa Hilman on the Everyday Heroes initiative and her nostalgic Raya 2020 collection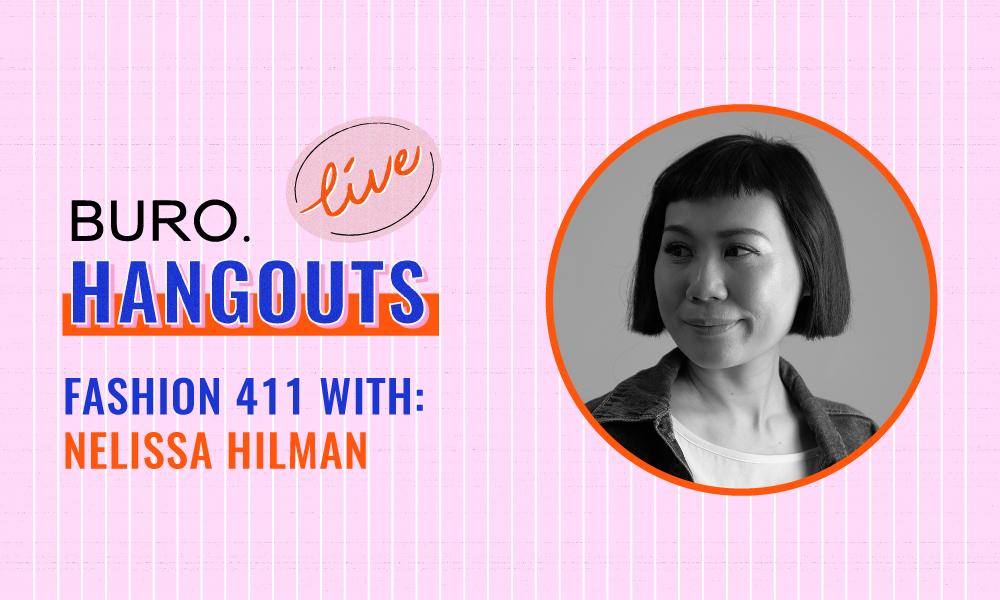 Nelissa Hilman has come along way from her corporate beginnings. Previously a chemist, she shuffled into the footwear scene with her namesake label that bears a playful, irreverent style and supreme comfort. Today, Hilman is recognised as one of Malaysia's sought-after shoe designers.
The COVID-19 pandemic definitely didn't stop the designer from marching forward. Earlier this month, Hilman launched her Raya 2020 collection that encapsulated the colourful charms of the '80s Raya spirit. With the sudden change in the retail landscape, we spoke to Hilman on BURO. Hangouts: Live to find out how she's pulling through, her Everyday Heroes initiative, and the future of her brand.
What is a regular MCO day in your household?
"Kids running around mostly, nothing out of the ordinary. I've been doing a lot of cooking, it's actually nice to have home-cooked meals with the family—lots and lots of soup for my picky eaters. And Zoom calls—definitely a lot of those too. Yet, I still haven't had the time to look at Instagram Live sessions, [so I'm] looking forward to doing so."
Congratulations on the new baby! How is juggling two kids so far?
"Navigating two kids can be tricky—you have more to do and less time to do it. It seems that someone always needs something. But then you have those moments when they have the cutest conversations (and, yes, sometimes arguments). Watching their dynamic is so fun."
We saw that you have fun alternative activities for Ezra at home? How did that come up?
"Actually, those are things that I personally want to do myself. I have a collection of activities saved on Instagram that I figured might be fun to try and get Ezra to hop along. Anything water-related keeps Ezra going! This also means longer bath times, and I get to settle things around the household while he is occupied with that."
It's already difficult as it's balancing work and mummy duties, but with the MCO keeping us home, how do you draw the line to get some me-time?
"Don't get me wrong, I love my kids but my me-time means that I get to take a break from them. I get to step away for a bit, do my own thing… like wash my hair for instance. Getting some time to snooze is great too—you just don't get much sleep when you have children. So more naps, please?"
You just released your Raya '20 collection #kotaRAYA—what was the inspiration behind it?
"The collection is very much inspired by the nostalgia of the '80s. It's also a homage to the point of time where I first get to understand the true meaning of Hari Raya and how those experiences pave ways to my fond appreciation for the littlest things in life.
"Movies like Ali Setan and the infamous pink Bas Mini are pivotal figures that contributed to the look and feel of #kotaRAYA. No pattern pairing was too loud, and no curly perm hairstyle was too puffy. And there was no limit in terms of the colours and patterns we could combine."
We see some pieces making a comeback in this collection, like the classic Norah and Seroja heels. What made you decide to bring them back?
"They're our bestsellers and many people have been asking for them, so we decided to bring them back, but this time in different colours."
How is your production affected by the COVID-19?
"Production has come to a halt, so we've only managed to produce around 40% of our Raya designs. Many people have been asking for it but we are telling them to be patient. Our factories are not running yet, or else I'd be spending a lot of time there."
We love that your kad raya is keeping the Raya tradition alive. Tell us more about it
"Since we couldn't shoot our Raya campaign this year, the team and I figured that we should consider giving illustration a go. This way, we can still translate our campaign ideas across our platforms. We got Balkis, of melowkis to illustrate our concept in a series of lovely, nostalgic '80s-inspired kad raya. We wanted to print them out actually, but because of the MCO, production had to be stalled so we opted for the e-cards instead.
"It gives an opportunity for us to connect with our loved ones. That nostalgic feeling of giving and receiving cards is something that we'd like to reignite, especially during these tough times."
Tell us a bit more about the Everyday Heroes initiative.
"I was inspired by MODA's Melinda Looi—I decided that since I can't sew really well, I figured why not contribute to the cause through my shoe brand. That's how the Everyday Heroes initiative started. It's our way to show appreciation and give back to our front liners, who've been at the forefront during this pandemic. It's definitely a rewarding feeling for us at Nelissa Hilman."
What has been the biggest motivating factor that is keeping you going despite the uncertainties right now?
"I have a team who needs to be taken care of. I want to be able to push things through although I don't know what is going to happen next… I just want to be able to launch things, and as long as things are moving I won't be so worried.
"Sales will be slow, I think there won't be a lot of people coming to the stores—as expected. I'm just happy that we are able to slowly come back to work in the new normal and continue doing whatever that we've been doing—making and designing shoes."
Will you be open to including more prints in the future?
"Yes, prints and maybe designs from artists, special prints, limited editions… more handwork and beading perhaps. We look forward to bringing that on the table and getting more people to be interested in shoe-making. We also want to do a live artisanal session where you can experience sifus making shoes. We're planning for that as soon as the factory is fully opened."
Are they any other measures that you've taken to improve the brand's sustainability?
"We've recently upgraded to biodegradable tote bags, which can be buried in soil and decompose in 30 days or so. In terms of production, we are looking into materials that are easily recycled as there are a lot of components in shoes that people cannot see. You can see the exterior part of it, but the outsole and midsole (some of it at least) can actually be recycled.
"We work with factories that have policies to recycle those items. When I say 'recycle', it does not mean it goes back to the shoe-making process—I think they are recycled into something else.
"We're also trying to source from more sustainable materials, including vegetables and plant-based materials. It is slightly costlier and I'm not sure if it's tough enough to be used for shoes. I'd love to work with a company or a university to help develop material based on palm fibre (since we have an abundance of those in Malaysia). We've been looking for a while now—it's just that it has not been cost-effective for us."
What do you hope to bring to the fashion industry with your brand, after this pandemic?
"As of this year, we had a few things planned and wanted to work on something special artisanal collaborations. I've been wanting to do that for years, so we might just push this forward for the next season or so.
"We're definitely keen on bringing one of a kind pieces or special collections in the future. Perhaps we will try to do something different from what we've been doing. We're still brainstorming on how to entice people back to the stores and how to change the retail landscape as it has definitely changed. I guess we'll have to figure that out as we go along."
Finally, are you on team Raya KL or team balik kampung?
"For the past few years, it has been team Raya KL for me because the family is here, I don't think we have a 'kampung' anymore, but I'd love to go back to just enjoy the suasana kampung."
Catch more of BURO Hangouts Live here.
| | |
| --- | --- |
| SHARE THE STORY | |
| Explore More | |