Features
5 Most expensive sneakers of all time
The Birkins of streetwear
Images courtesy of Sotheby's and @msenna on Instagram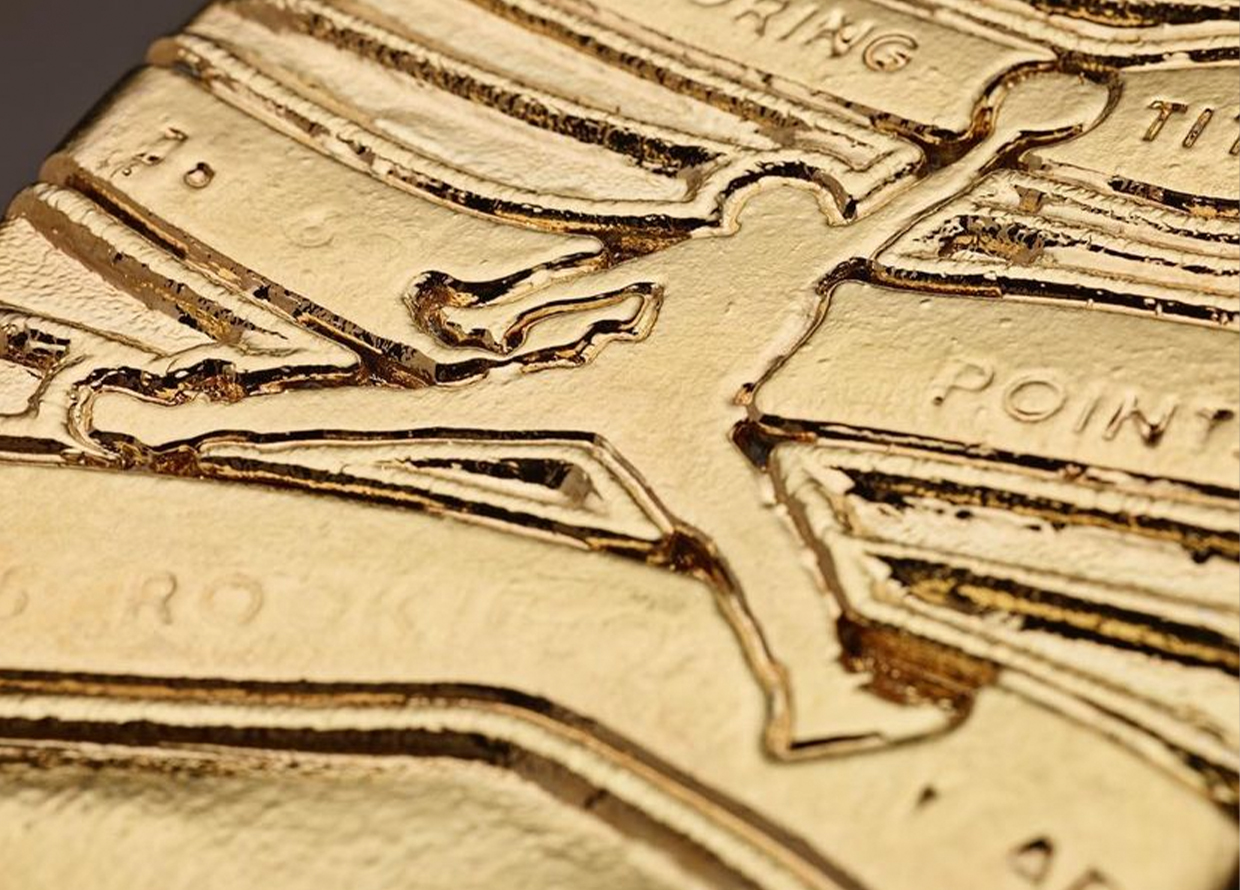 In the world of streetwear, pop culture, and sports, there is one thing that's collectively worshipped as supreme fashion royalty: sneakers. From prestigious red carpets to high fashion runways; regular neighbourhood streets to museums, sneakers are everywhere. You wear them, we wear them, your favourite megastar athlete wears them, A-list celebrities wear them—you get the gist.
Needless to say, sneakers are wardrobe staples for people from all walks of life. However, beyond being wardrobe staples, some of these coveted kicks are symbolic pieces of cultural history, making them extremely valuable investment items that can go up to unimaginable prices. Throughout the past few decades, sneaker culture has grown into a multi-billion-dollar industry, and there is a legion of sneakerheads from all around the globe that have shelled out bewildering sums of money on just a single pair—but not just any pair.
So, what are some of these precious sneakers, and why do they cost the earth? Read on for our roundup of the five most expensive pairs ever sold and the significance they carry that make them such valuable treasures.  
1972 Nike Waffle Racing Flat 'Moon Shoe'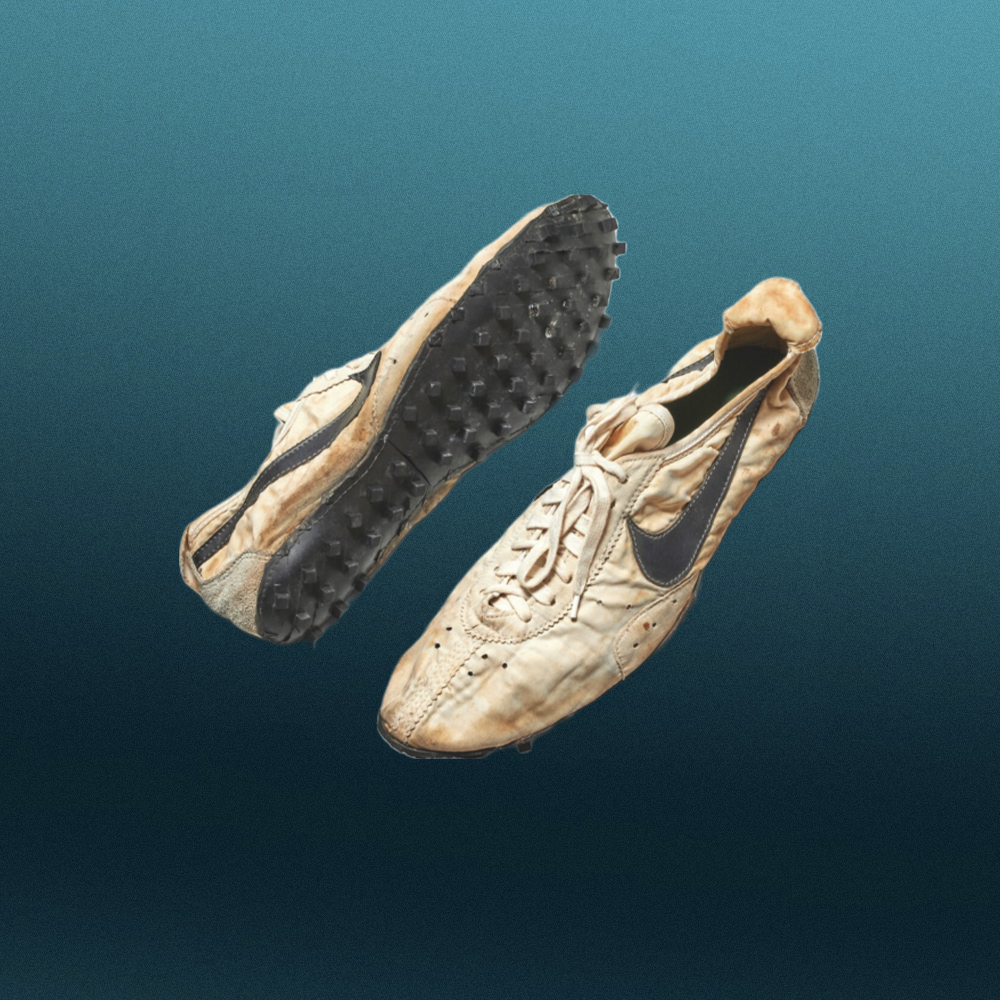 Unlike the other kicks on this list that are treasured for the renowned icon they're associated with, this particular pair is a significant artefact in sneaker history because of the hands that brought them to life. With only 12 pairs ever made, the extraordinary Nike Waffle Racing Flat 'Moon Shoe' was designed in 1972 by Nike's co-founder and legendary track coach Bill Bowerman, and hand-cobbled by one of the brand's first employees, Geoff Hollister.
Known as Nike's first major innovation, Bowerman had an ingenious idea of pouring rubber into the mould of his wife's waffle maker to create the shoe's groundbreaking waffle-pattern soles, which provided better grip and cushion than any other running shoes at the time. In 2019, Sotheby's sold the only unworn pair of the iconic shoes known to exist for a whopping 437,500 USD, successfully marking the auction house's first venture into the world of collectable sneakers.
Air Jordan 3/8 Retro 'Kobe Pack'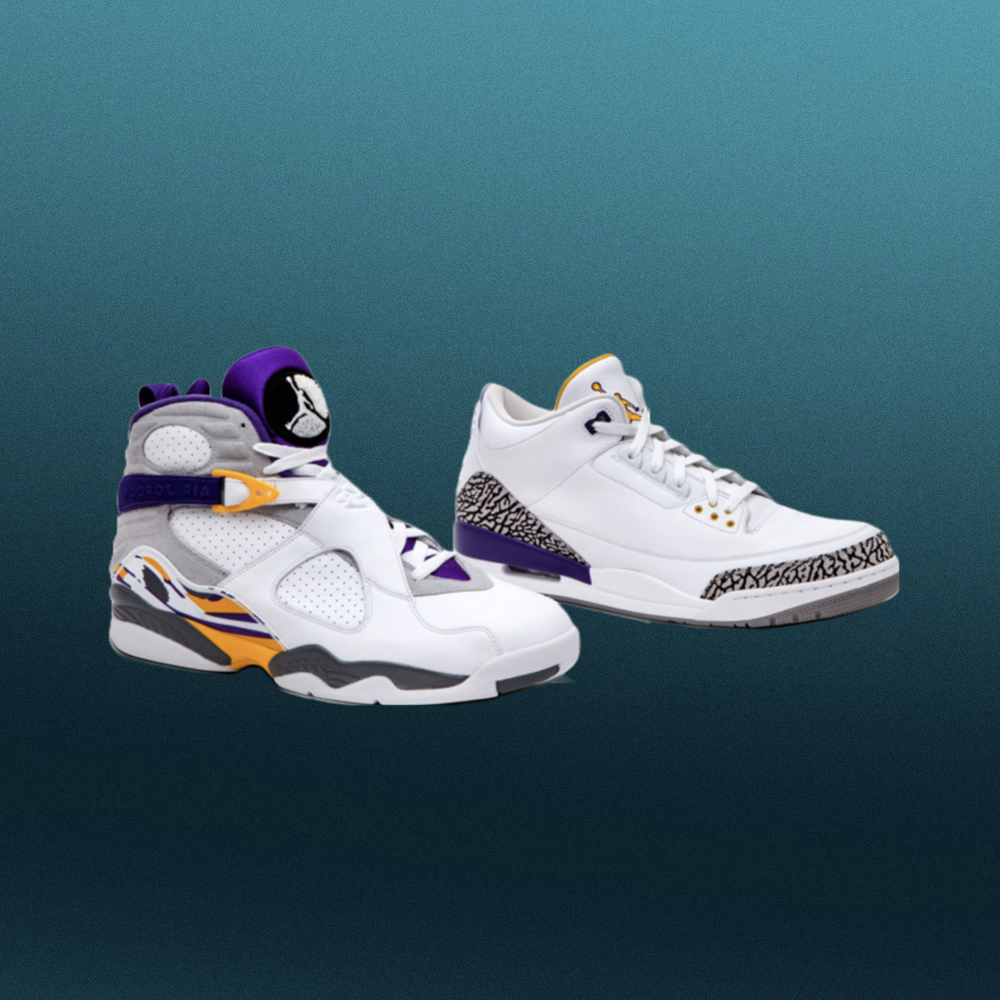 To commemorate Kobe Bryant's glorious 20-year career of dominating the NBA court in 2016, the Jordan Brand (owned by Nike) created the highly-exclusive Air Jordan 3/8 Retro 'Kobe Pack', which included replicas of its two classics, the Air Jordan 3 and Air Jordan 8. Strictly distributed to the superstar player's family and friends as celebratory gifts, both pairs were decorated in the Los Angeles Lakers' identifying colours with gold and purple accents, not forgetting the ever-iconic Jumpman logo on each shoe.
As it was never released to the public, you can only imagine how rare it is to come across a single pair from the pack, let alone both pairs—but it's not impossible. If you're lucky enough to get your hands on these special trainers, you can expect to pay around 800,000 USD for the full set, and its market value is only going unimaginably higher by the day. After all, it's the Kobe Bryant!
Michael Jordan's Game-worn Nike Air Ship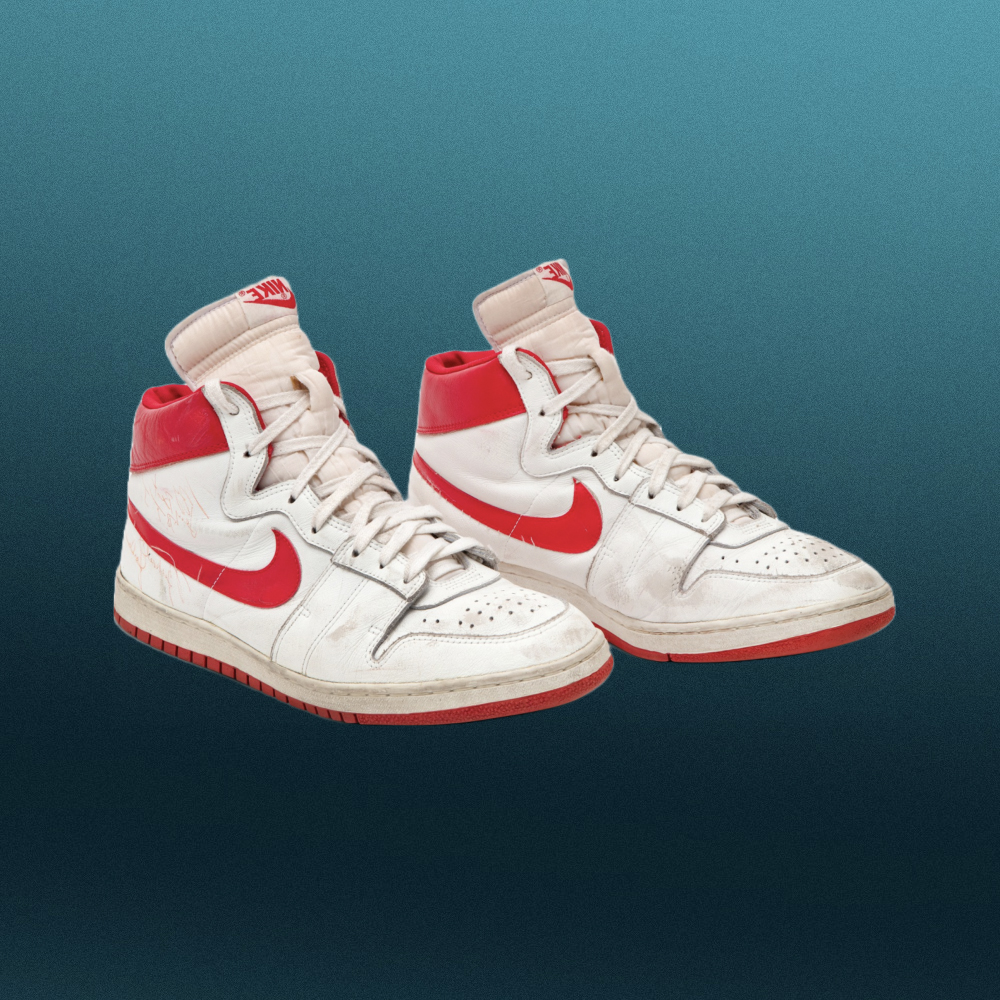 Michael Jordan, one of the greatest NBA players who ever lived, has had plenty of his worn shoes put up for auction and acquired for hundreds of thousands of dollars—but none has ever come close to the jaw-dropping price of his legendary Nike Air Ship sneakers.
Known as one of the most expensive worn sneakers ever sold, the historic shoes were worn by MJ during his fifth NBA game back in 1984, before the first Air Jordan was even launched. Fast forward to 2021, trading card collector Nick Fiorella fetched the autographed Air Ship sneakers at a Sotheby's auction for a staggering 1.47 million USD.
Kanye West's Grammy-worn Nike Air Yeezy 1 Prototype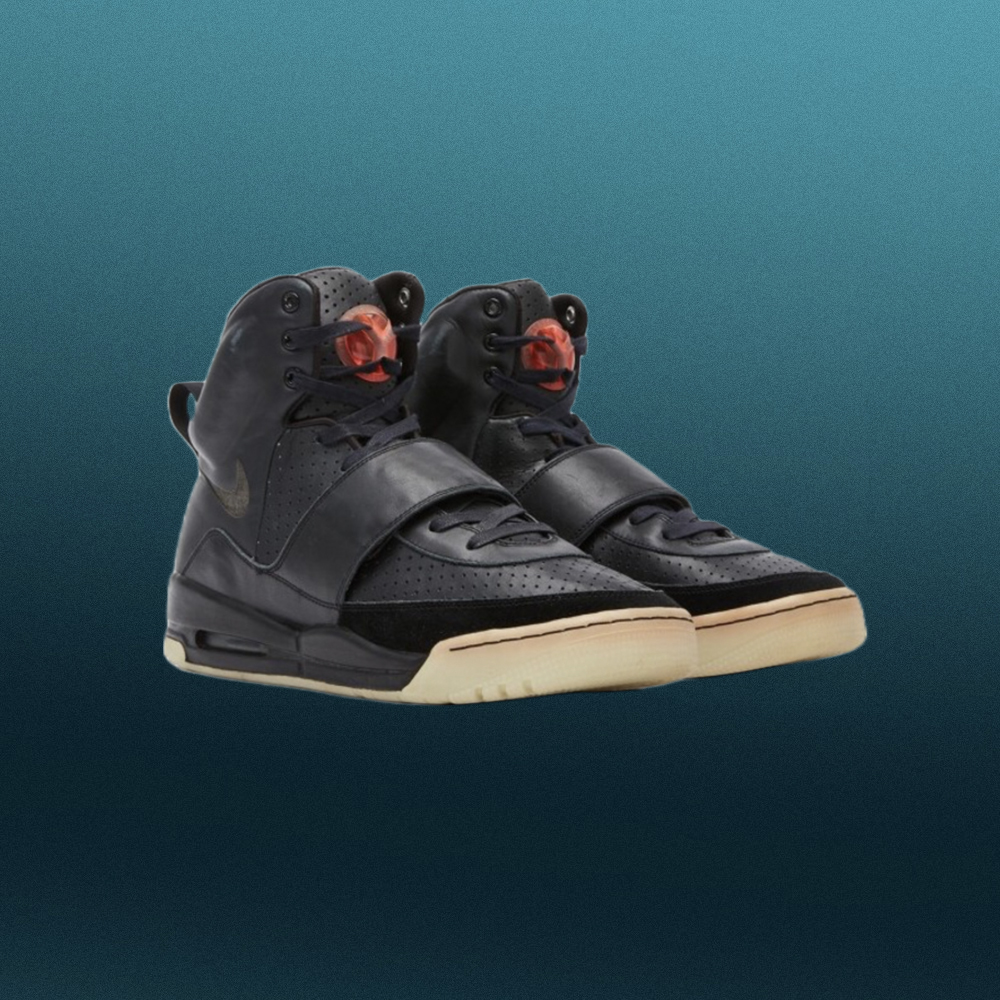 As for the most expensive worn sneakers ever sold, the title goes to none other than Kanye West's (otherwise known as Ye) Nike Air Yeezy 1 Prototype. After rumours had been circling around for over a year that the star might be dropping his very own sneaker line, the top-secret project was finally confirmed at the 50th Grammy Awards in 2008—and best believe the world went absolutely crazy.
In one of the most memorable Grammy Awards shows to date, West unveiled his self-designed samples on stage while delivering an unforgettable performance. The black leather high-tops were the first introduction to his famed Yeezy brand, and they were unlike anything the sneaker world had seen before. In 2021, the iconic pair was sold in a private sale at Sotheby's for a record-breaking 1.8 million USD to a sneaker investment platform, Rares.
Solid Gold Ovo x Air Jordans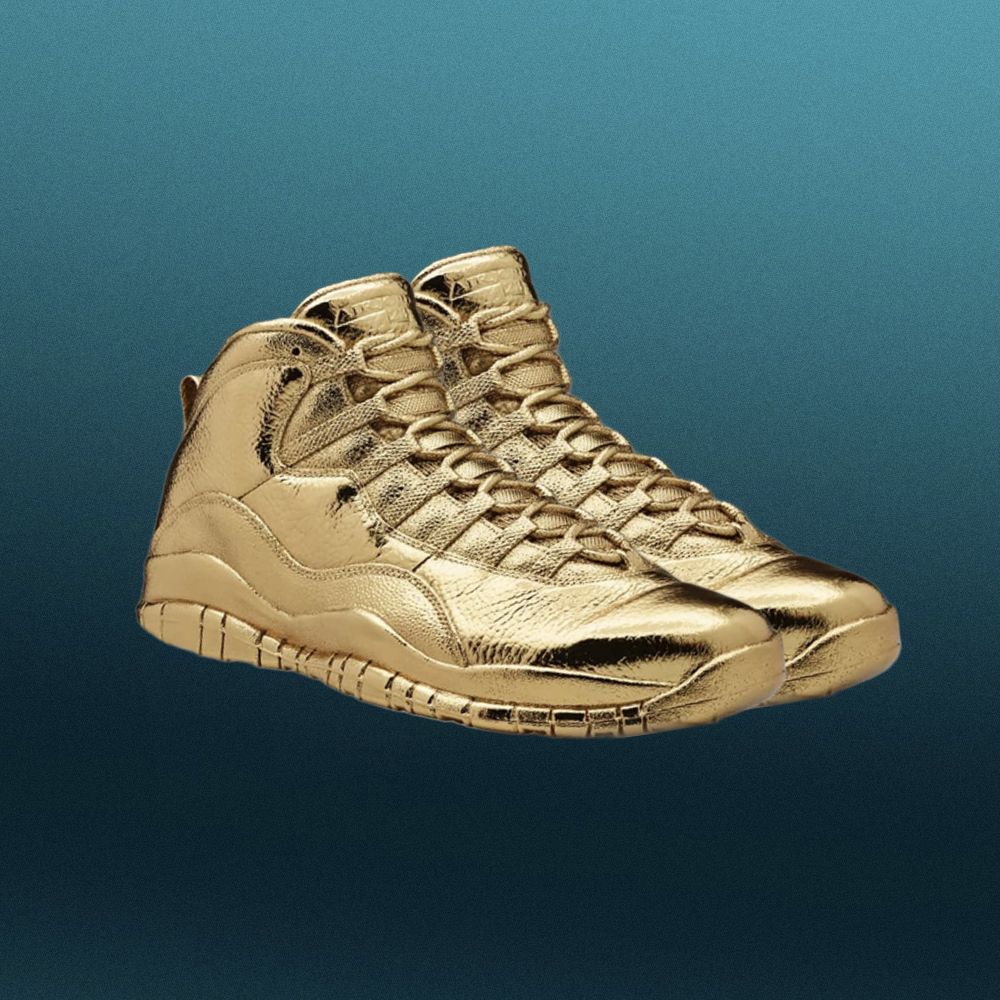 Saving the best for last, the Solid Gold Ovo x Air Jordans take the throne as the most expensive pair of sneakers ever made. From the limited information that was shared, rapper and singer Drake had presumably commissioned renowned artist Matthew Senna to create a pair of one-of-one custom sneakers, inspired by his coveted Ovo x Air Jordan capsule collection with Nike. The result? A pair of Air Jordan 10s entirely covered in 24K gold with the weight of over 22 kilogrammes for each shoe.
While the sneakers' exact price tag has never been revealed, GQ did the math and estimated an astronomical 1.9 million USD just for the gold alone, excluding god knows how much the rapper had to pay Senna to craft them. Nevertheless, at the end of the day, we're sure these special kicks are priceless treasures in the eyes of Champagne Papi.
For more fashion reads, click here.
| | |
| --- | --- |
| SHARE THE STORY | |
| Explore More | |