Features
Sarawakian designer Kesya Fatin on balancing her eponymous label with motherhood
Sarawak's pride
Featured images courtesy of Kesya Fatin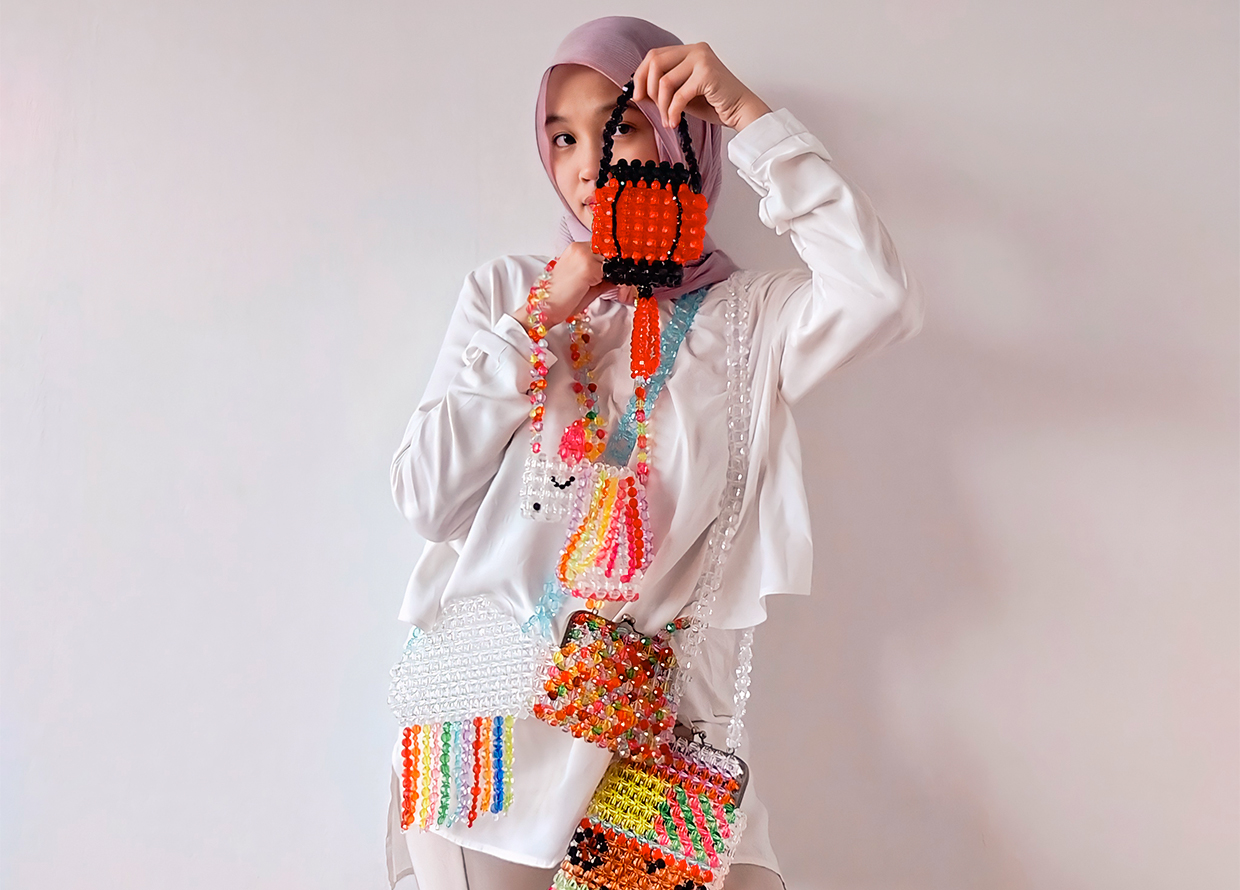 The allure of a bustling metropolis like Kuala Lumpur is so compelling that many local fashion designers have relocated and established their businesses there. That said, some designers prefer to manage their labels in their hometowns. Kesya Fatin, for instance, is based in Kuching, Sarawak, and runs her brand that centres on beaded bags and accessories. In light of Sarawak Day, we spoke with the up-and-coming designer about her namesake label and how she juggles it with motherhood.
View this post on Instagram
How did you get started as a designer and what inspired you to launch the brand?
"I've always been interested in arts and crafts since I was young, but I only started the business three years ago during the pandemic. Prior to that, I was making beaded bags for fun and had no intention of turning it into a career. I set up an Instagram account for it once I was confident enough in the quality of the bags, and it got the attention of others, so I guess that's how it started. It's not an overnight process for sure, and making a living out of it is still pretty surreal to me."
Who have been some of your role models or inspirations, and why?
"I think what inspires me the most are my clients. They sometimes send me the sweetest messages online like, "Your work makes me happy," or "I really love your bags, and I get so many compliments when I wear them out" or "I'm going through a hard time and your bag just makes me smile". These compliments get my creative juices going and inspire me to design more gorgeous things. Other than that, I am my own source of inspiration. I am a mompreneur; I run my business while taking care of my three children. It's not easy to pursue your passion while also being the best mum in the world, but I know I can, and I'm always impressed by my own strengths."
What is the biggest lesson that you have learned since you started your own label?
"To have faith in myself! Trying to grow a business while raising children is a challenging task that may seem impossible at times. However, I've learnt to trust my instincts and have confidence in my skills because if you can do that, you can accomplish anything!"
View this post on Instagram
What advice would you give to someone who wants to start their label?
"I'm not sure whether I'm qualified to offer advice, but I suggest that you start the business because you enjoy it rather than for the money. You can earn a lot of money as a designer, but it calls for a lot of hard work, and who wants to work hard on something they don't enjoy?"
Can you tell us about your experience collaborating with Alia Bastamam for KLFW 2022?
"What I love about working with Alia Bastamam is that they trust my creative vision throughout the whole process. They let me design the bags, beaded tops, and accessories, and I was given pretty much free rein, which is unexpected because I've worked with people before, and usually there are all these parameters and controls, but with Alia Bastamam, it was a very fun process, and everything worked out really well. Also, knowing that my work will be featured at KLFW 2022 adds an extra dimension of fun and creativity. This partnership was a dream come true for me, and I will be eternally grateful for the opportunity. I will treasure these memories for the rest of my life!"
View this post on Instagram
What was your first memory of fashion?
"I remember seeing my uncle's fashion sketches when I was a kid. He's a talented fashion designer, and I remember always trying to draw a fashion model sketch like his."  
How would you describe your style?
"Although I design bold, colourful pattern bags and accessories, I feel the most comfortable and lovely when I'm wearing an outfit in a neutral shade. I believe that people look their best when they are at ease, so yes, I prefer simple looks with pops of colour from the bags."
What's your favourite piece you designed and how will you style them?
"My favourite piece changes from time to time. Every time I create a new design, it quickly becomes my favourite thing ever, so I have a lot of favourites, but the Saddle bag is one that I keep coming back to. It works with anything and brightens up any look!"
View this post on Instagram
What hopes do you have for the brand in the years to come?
"I would love to see more people across the world support my brand. It will be a 'pinch-me' moment when people tag our Instagram page with photos of them carrying the bag."
What are your hopes for the fashion industry in Sarawak?
"I hope the fashion industry in Sarawak continues to thrive. I hope that local designers and fashion entrepreneurs continue to be brave and ambitious in their work so that our unique cultures can be recognised worldwide, putting our fashion tourism on the global stage."
View this post on Instagram
What is your dream collaboration?
"I would love to collaborate with any fun home decor brand to create a beaded homewares line!"
What would you be if you were not a designer?
"I would probably be a stay-at-home mom if I wasn't doing what I'm doing now. I enjoy being a mother, but being a mompreneur is an absolute blast!"
For more fashion reads, click here. 
| | |
| --- | --- |
| SHARE THE STORY | |
| Explore More | |