Features
Josephine Yap on the challenges and rewards of starting clothing brand, Fondest
Learning curves
Photos courtesy of Josephine Yap and Fondest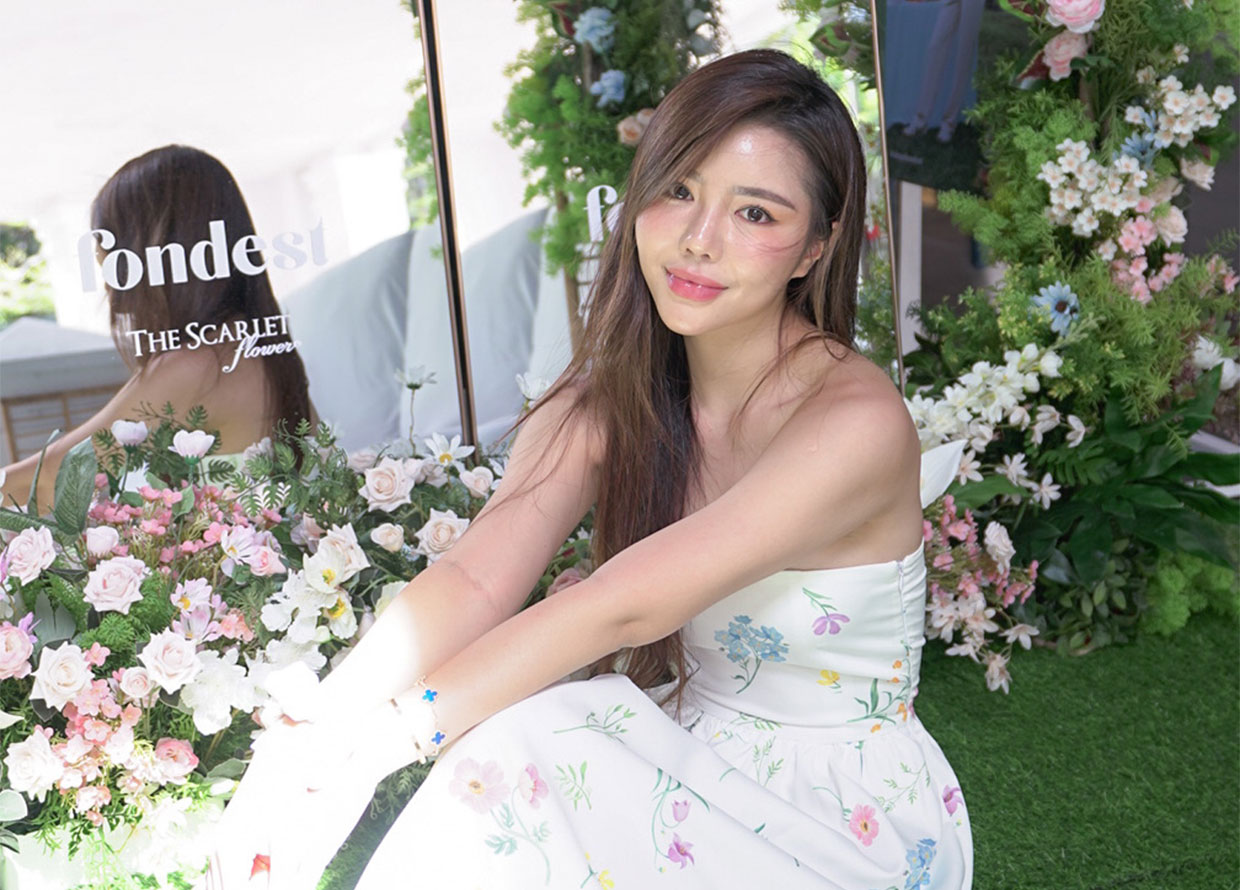 Bubbly, charming and down-to-earth, Josephine Yap is one of the sweetest darlings you'll meet in the Malaysian fashion startup industry. Some may recognise her from her days as a YouTube star at JinnyBoyTV, which led to her becoming a social media personality. However, her struggle with social anxiety—coupled with an aspiration to fill a gap in the local market—sparked her decision to start a clothing brand in 2020. 
Known today as Fondest, the brand prides itself on figure-friendly designs made with social and environmental impact in mind. Each piece is produced in limited quantities from carefully selected materials to minimise waste. Further, Fondest has also collaborated with organisations such as the Malaysian Mental Health Association (MMHA) and Free Tree Society to do their part for notable causes. 
Ahead, we speak to the 28-year-old on her journey as a fashion entrepreneur, as well as the milestones and lessons she has picked up since founding Fondest.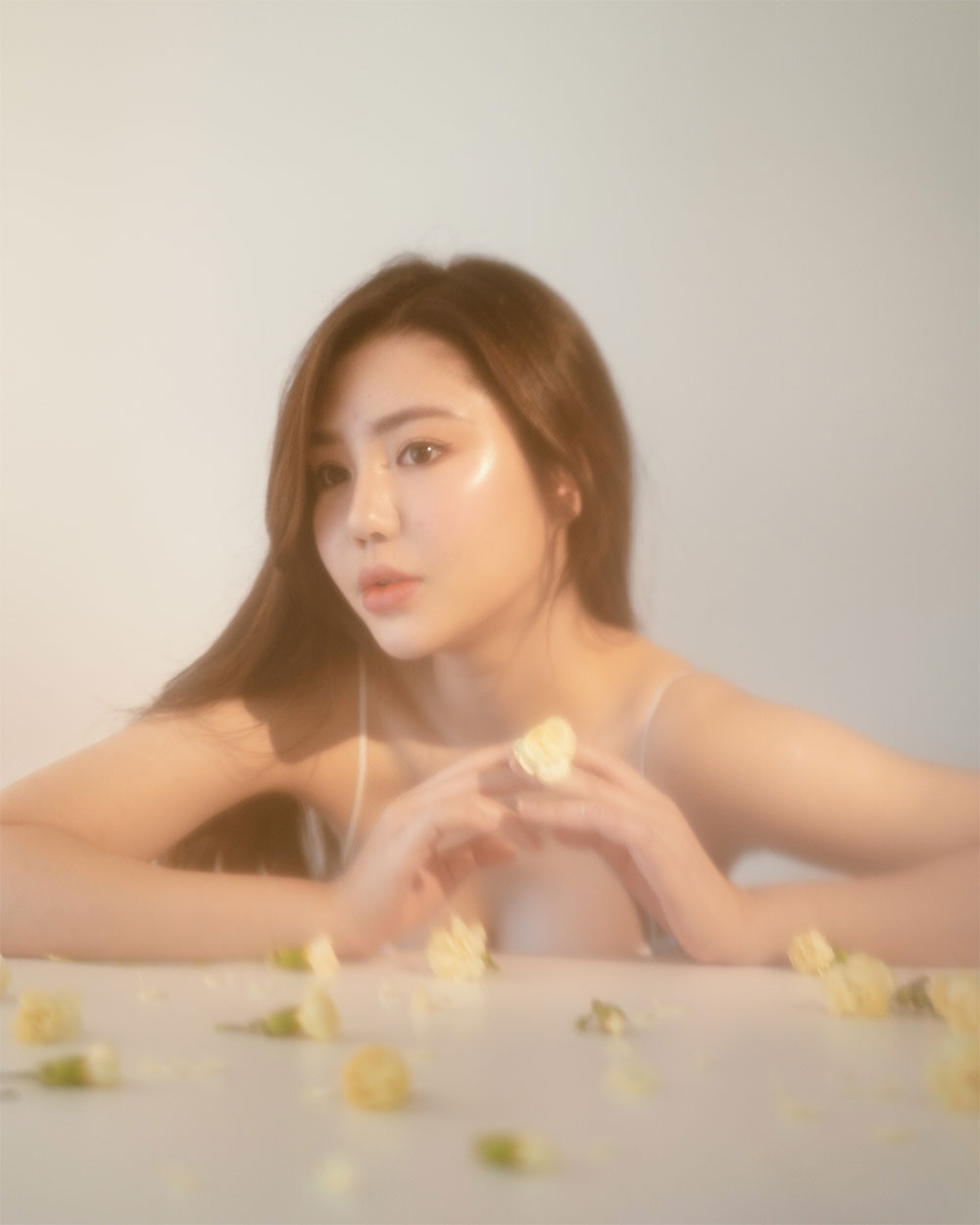 BURO: Hi Josephine! Tell us about your relationship with fashion.
J: If I have to sum it all up in one word, it would be: comforting. I don't really follow what's trending. I personally love casual clothing that fits my body type and personality. Putting Fondest and business aside, I find that fashion can be a way to express how I'm feeling on a particular day without verbally speaking or letting anyone know how I truly feel.
My mum used to bring up how she thought she would have so much fun dressing her daughter up. But even at the age of one to two years old, I would remove what she put on me and pick my own clothes instead. Hence, I would say I have loved fashion from a very young age.
BURO: You first made a name for yourself as a content creator. What inspired you to dabble in the world of fashion with Fondest in 2020?
J: I was an extreme introvert and my closest friends saw how much I grew out of my comfort zone as a content creator. But I have always felt a very strong conflict in being a social media personality. I do believe in pushing myself out of my comfort zone in order to grow, but after four to five years, I still felt like what I was doing simply wasn't right. 
So, I thought, "Why not try creating a product that helps to solve a problem that I have encountered for many years?" I knew the market was lacking clothing that flatters curvier women, especially ones with larger bottoms. I was only 25 and I thought it would be the best time to just give it a go!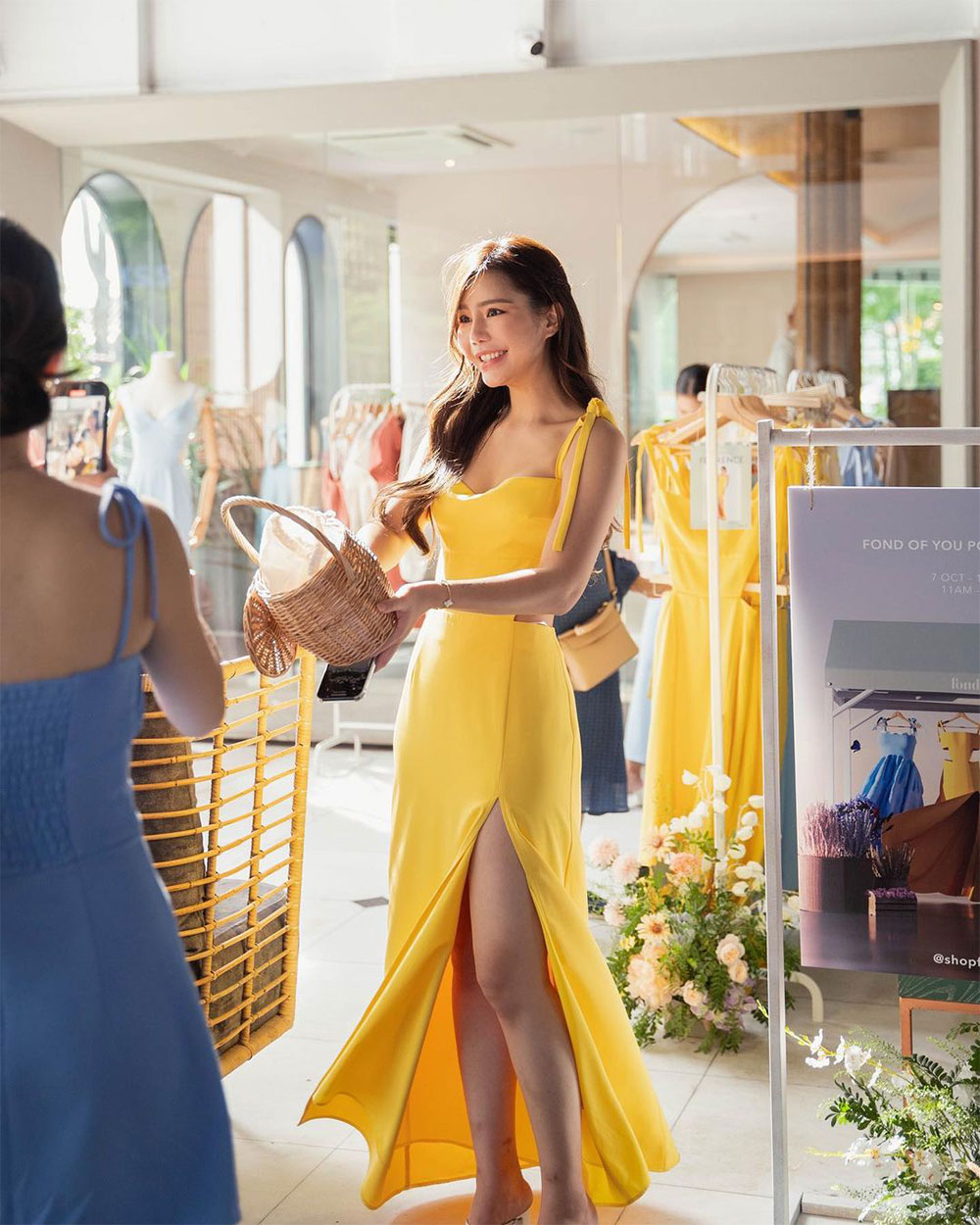 BURO: Describe what Fondest is all about.
J: 'Figure-friendly fits for your Booty-ful curves! Oh, while at it, let's minimise waste.' That's our tagline.
Fondest is a startup brand created for curvier women, particularly for those with larger hips and thighs. We also emphasise reducing waste, such as not using plastic packaging for our products. We pay more for packaging by providing complimentary cute and limited edition tote bags. We also look out for defective or deadstock fabrics. All the fabrics from our previous drops are ready stocks in the market—we purchase what is available instead of ordering a new fabric lot. (However, our latest unique floral print collection illustrated by Marianne Tan did require us to order print a new lot of fabrics.)
We also try our best to support local businesses even though it cost at least double times more to produce. We work with a local manufacturer that employs 70 per cent local workers. Approximately 80 to 85 per cent of our tote bags, labels, and hang tags are printed locally too!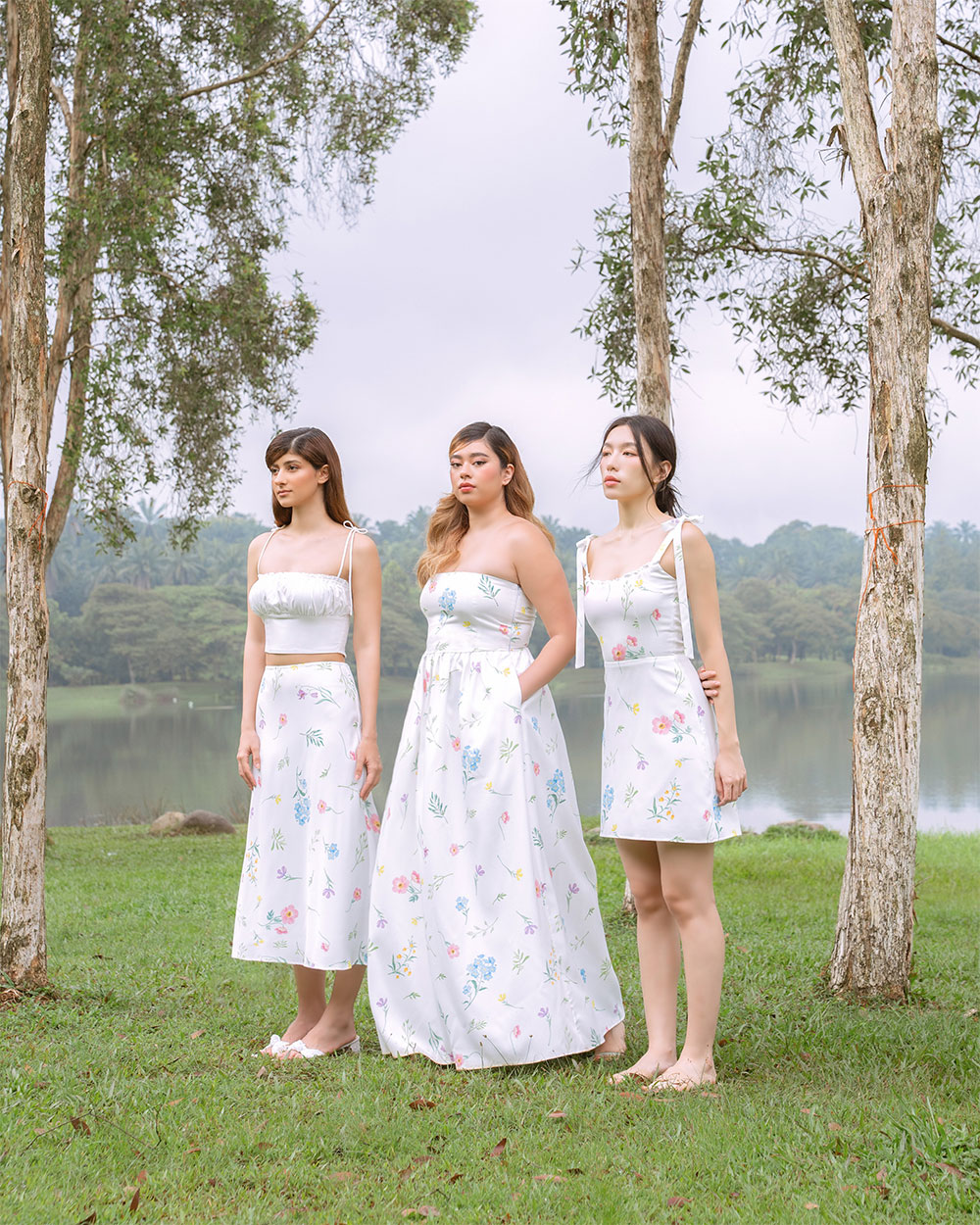 BURO: 2020 was a difficult year to start a business due to the pandemic. How did that affect your journey as a budding entrepreneur from then until now?
J: In terms of operations and production, it was difficult to deal with last-minute restrictions. However, when it comes to sales, it was a lot better during the pandemic. This came as a shock to many of my friends when I brought it up. I think during the pandemic, people had more disposable income. Our usual travel budget would be used to spend on premium products and we spent more locally since we couldn't travel. Nonetheless, both pandemic and post-pandemic times have brought interesting challenges.
BURO: In just over two years, Fondest has amassed over 44k followers on Instagram (as of the time of writing). What would you attribute to this significant growth?
J: When it comes to Fondest's Instagram follower growth, it has been 100 per cent organic. We have not purchased any ads in the past two and a half years. Many mistakenly think that it's simply about creating content. [But] I think the two most important factors would be knowing what your audience wants to see and what's the current algorithm. It's a very fast-paced environment that takes up a lot of time to plan, coordinate, shoot, and edit but you also want to ride on the current trend and algorithm. You'll also need to be consistent. If you're inconsistent, your followers will engage with you less and that's when Instagram stops showing your post to your followers, so it can be a very stressful role.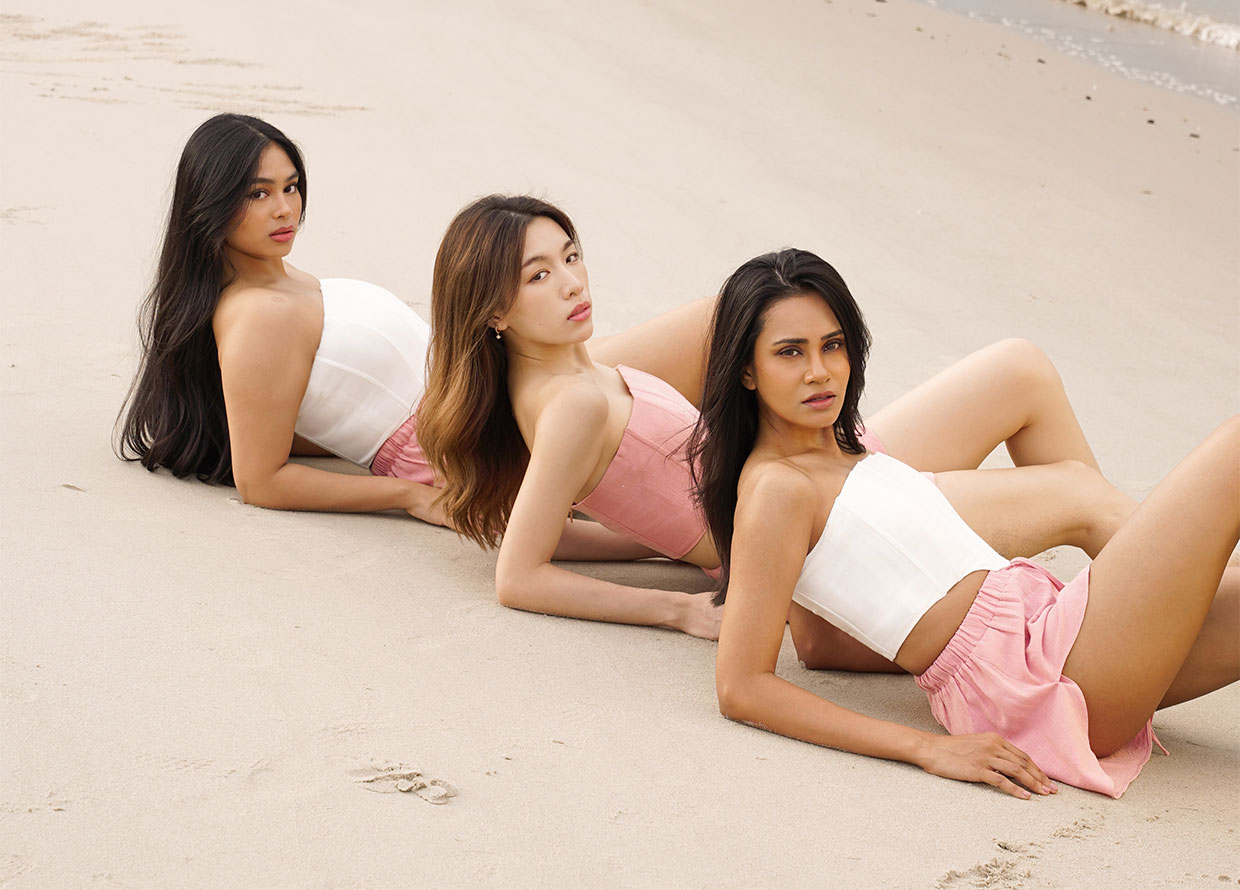 BURO: Beyond fashion, Fondest has also used its platforms to advocate for causes such as mental health and environmental awareness. Tell us more about these initiatives.
J: Mental health and environmental awareness are two causes that are incredibly close to my heart. I believe that mental health should be taken seriously and that everyone should have access to the resources and support they need to be healthy and happy. I personally struggled with it a few years ago and I completely understand that depression and anxiety can cause someone to feel extreme loneliness and so much more. I thought bringing awareness about it would help others to realise they can seek out professional help without feeling like it's taboo, but rather just like any basic physical checkup or treatment. 
As for the environment, I believe it's something that we should all be working to protect because it is our responsibility to ensure that the planet is healthy and thriving for generations to come. I want to be a part of the solution and I want to help create a better world for everyone. [With that said], I firmly believe in making gradual changes that suit your lifestyle. It's impossible to change all at once. For example, before I buy something, I'll usually ask myself, "How long will I keep this?" and "Will I reuse or rewear this?" I wouldn't call myself an environmentally-friendly person but I try my best to minimise waste whenever I can.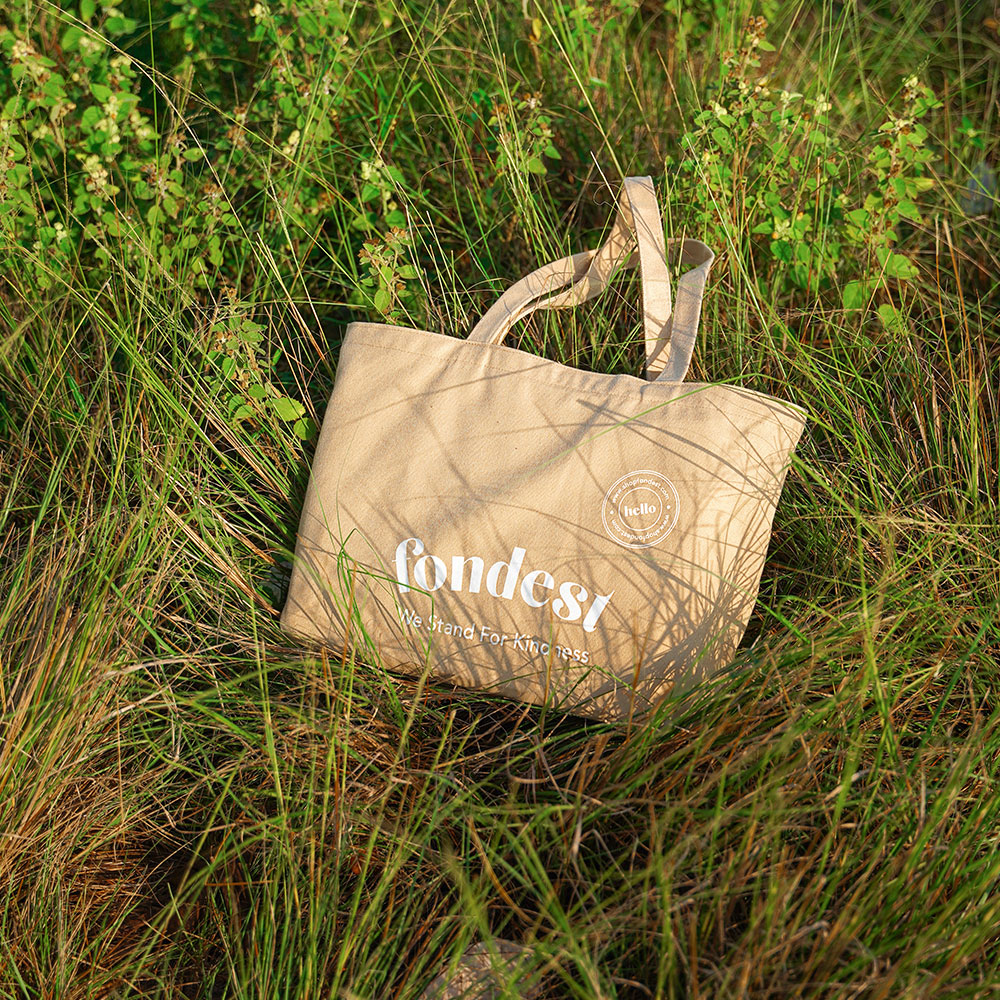 BURO: What are some fashion/business lessons you have learned since starting Fondest?
J: I wasn't a fashion student so I guess I have learned a lot when it comes to fabrics and cuttings. More importantly, I learned how moderately weighted fabrics truly allow me to create clothing that fits women with a higher bottom while also fitting slender women. In terms of business, I have learned so much. To be honest, I only have two to three years of experience of building a brand without partners. So, those in the same shoes should watch out for: 
1) If you have a budget of RM100 for your business, work with RM70 as you start getting things in place, you'll make mistakes or learn that you'll need more to get things you didn't expect.  
2) Get a partner or trustworthy team members with strengths that complement your weaknesses. This is crucial! I wished I knew this earlier cause building a brand truly requires it. You're not selling a product and service that simply requires a salesperson to push your stuff out there. You need someone who has almost the same vision of what the brand is all about—someone who understands the aesthetic, the essence, and the emotional appeal of your brand. 
3) The biggest struggle I have would be taking proper breaks. Even when I'm on vacation, I'll be working on the next thing or sorting out current problems. You kind of have to expect and understand that because nobody understands the brand as well as you do and you have to constantly learn how to grow it. Your team will require you to provide constant guidance every day and every hour, so your personal life would be pretty much impossible if you don't have no. 2 or have high overheads.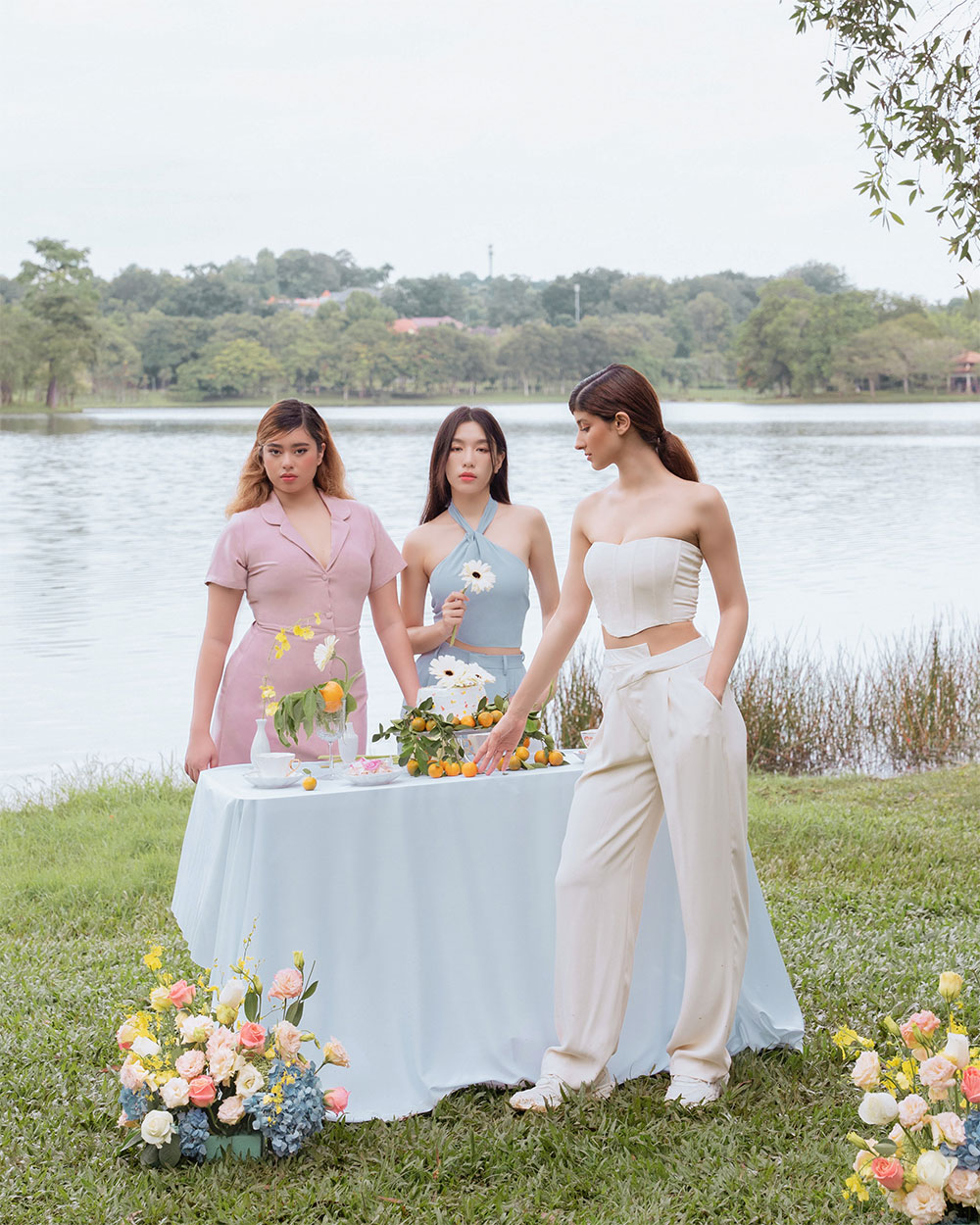 BURO: What is your ultimate goal with Fondest?
J: During our first and second pop-ups, I realised what kept me going was seeing individuals with bigger bodies trying on my clothes and letting me know that it is either their first time purchasing fitted clothes or wearing one. I truly felt like I helped solve a problem and made a little impact in their life and that was truly fulfilling. 
I guess I'm really looking forward to seeing more curvier girls fitting into my clothes this year. I personally avoid thinking of an ultimate goal cause I tend to get anxious and feel like that goal seems unattainable, so I prefer to focus on a clear yearly goal to keep me motivated. 
Shop Fondest on the brand's website here. Follow Fondest on Instagram @shopfondest. 
Read more fashion interviews like this here. 
| | |
| --- | --- |
| SHARE THE STORY | |
| Explore More | |