Features
Fashion Insider: Designer Nazifi Nasri on how to kick off a fashion label
The rising star
Featured images: @nazifinsri/Instagram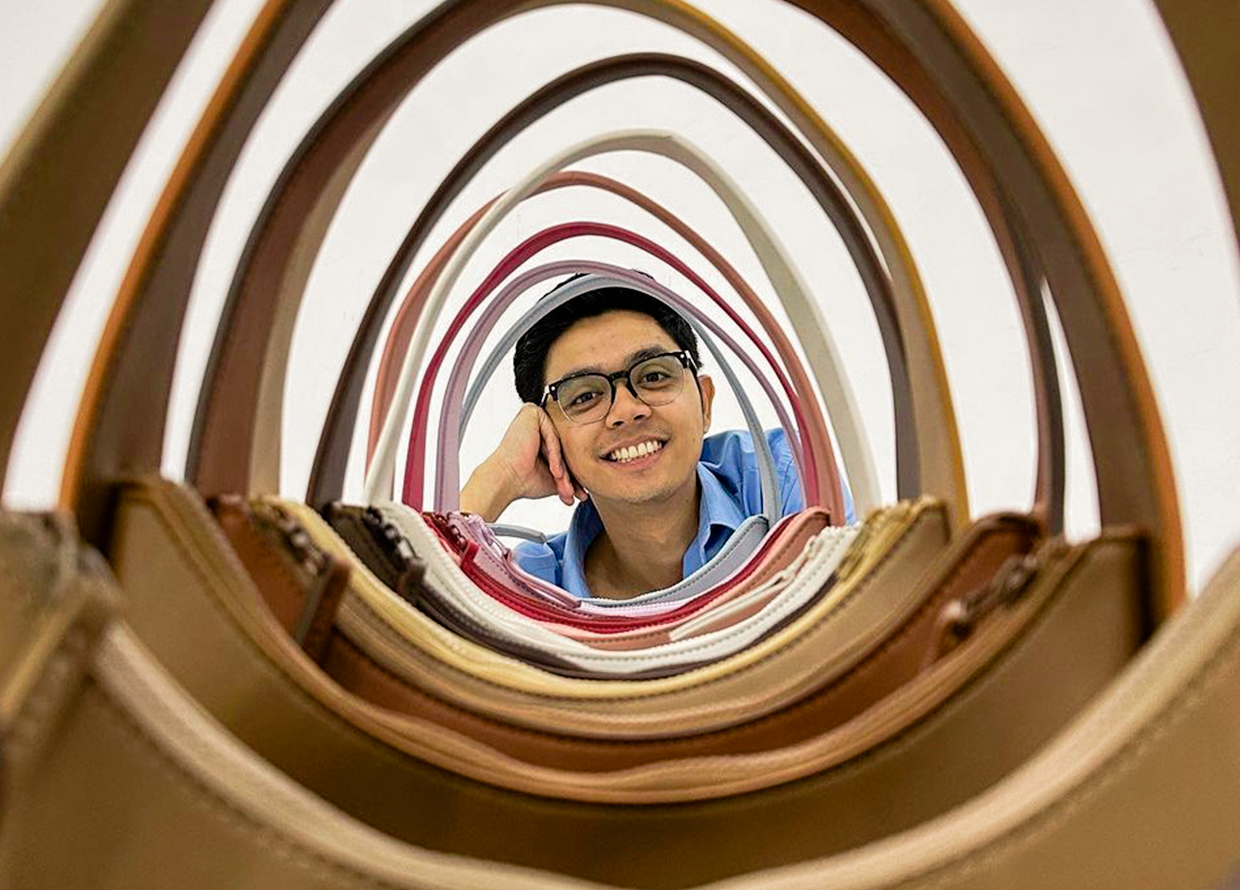 A hint of leather to any look undoubtedly elevates one's sense of style. Whether it's an arm candy or a pair of boots, this fabric offers an attractive finish that brings together toughness with elegance and comfort. After all, high-quality leather lasts a long time and just gets better with time. Luckily, the local leather goods industry is thriving, especially in recent years, as more brands produce stylish pieces that are comfortable enough to wear all day. 
One that piqued our interest is Nazifi Nasri—yes, the label that became viral last Raya thanks to its most coveted piece, the mini Oked bag. Let us not forget how it literally caused pandemonium at this year's Riuh Raya as shoppers eagerly waited in line to secure the goods.
If you haven't heard, Nazifi Nasri is an eponymous brand founded in 2014 with an emphasis on leather products. Despite having little background in fashion, the Johor-born designer persevered and eventually built a name for itself in the local fashion market.
Ahead, we caught up with the designer on the excitement surrounding the Oked bag and how he navigates the local fashion scene. 
View this post on Instagram
What is your first memory of leather craft?
"My first memory of leather craft has to be the debut of my first collection of leather sandals in 2014."
Who have been some of your role models or inspirations, and why?
"I am inspired by people. I love to observe them on the streets, how they act, and their sense of style. My current inspiration, though, is the rising generation—Gen Z! I admire how they dress up as if no one cares, and understanding their interest and attitude towards fashion allows me to design things that speak to them and stand out in the crowd."
How did you get started as a leather goods designer and what inspired you to launch the brand? 
"I enjoy creating something that will last a long time, and leather is the perfect material to use since it is extremely durable and could last for decades if properly cared for. It does not tear or fade easily, making it a flexible fabric that is great for making bags, wallets, and footwear. At the moment, I mix genuine leather and PU leather in my creations. Having a passion for fashion, especially footwear and bags, additionally drove me to launch my own brand."
View this post on Instagram
The famous, now-sold-out Oked bag sparked a wave of excitement among its fans recently. What was the inspiration behind it?
"The Oked bag was inspired by the Y2K-style moon-shaped shoulder bag. We hopped on the Y2K trend after it made a comeback in the last few years, but we reinvented the bag to look more minimal and streamlined with fewer frills, such as metal chains, just to stay loyal to our brand's concept. Also, the bag was named after my mother, Orked, minus the letter 'r'."
Do you think the ever-increasing amount of overseas brands coming to our shores is a threat to local designers?
"I don't think so. These days, more and more consumers have become conscious of how local products are better compared to various fast fashion labels. I have met several clients who always wear local goods because they love how we—the local talents—bring our distinct ideas and customs to the table."
What's your favourite piece you designed and how will you style them? 
"I personally love the men's sandals and the mini Oked bag as I can wear them to any occasion, from formal gatherings to holiday trips. I will style them with oversized trousers or ankle pants before slipping on a basic shirt."
What is your dream collaboration?
"My dream collaboration right now would be for my bags to be sold at major retail stores such as Selfridges, Neiman Marcus, or Bergdorf Goodman. I'm hoping it happens soon!"  
View this post on Instagram
What is the biggest lesson that you have learned since you started your own label?
"Stay true to who you are and what your brand stands for, but at the same time, be flexible and adaptive to shifting trends and consumer needs. With passion, creativity, and an in-depth understanding of your target audience, you can build a lucrative business that empowers and motivates individuals through fashion."
What advice would you give someone who wants to start their own label?
"Prepare to work hard and always be true to yourself. Starting your own label requires perseverance, passion, and resilience. Expect to put in a lot of hours and effort into your business, along with patience, while you build your brand and client base. I started this in 2014, and it wasn't until recently that it became the buzz of the town—it took me nine years to get to this point."
What hopes do you have for the brand in the years to come?
"I hope to expand the manufacturing of my products so that everyone can possess a pair or a piece from Nazifi Nasri."
What would you be if you were not a designer of leather goods?
"I would most likely find myself working in the procurement or purchasing departments of a company! [laughs]"
For more fashion reads, click here. 
| | |
| --- | --- |
| SHARE THE STORY | |
| Explore More | |