Features
BURO Does Basics: Sarah Hobbs on the timeless tank, her "Renaissance aunty" style and Polydextrous Studios
Fashion reset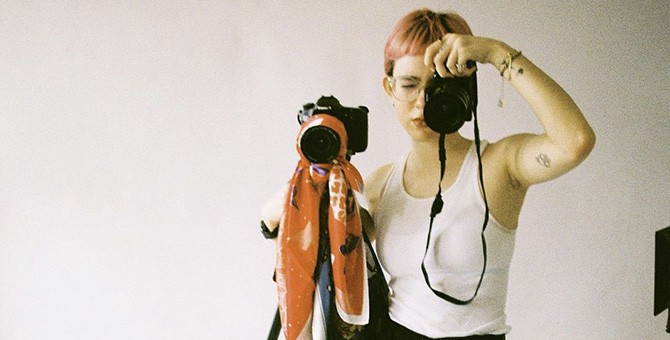 In the never-ending fashion cycle of novelty, there's something to be said about going back to basics. Just head over to the recent Autumn/Winter 2022 runways, where the humble white tank took centerstage from Bottega Veneta to Acne Studios and Sacai––not to mention as part of a definitive closing look on Hunter Schaefer at Prada.
In an era of cut-outs, power-suits and unabashed Y2K resurgence, this main character of a garment lies effortlessly in the middle of it all as reset: a return to staples and a statement in modern practicality, sexiness and chicness that proposes an interesting direction for what's next in fashion. Endlessly versatile yet often overlooked, the white tank signifies a palette cleanser, with its varying cultural associations, pop culture symbolisms of gender tropes, and legacy in the queer community, and is bringing with it a spirit of fluidity that's being felt across wider society.
Who better than Sarah Hobbs––who's self-described style as a "Renaissance aunty" elevates the basic white tank to various differing heights––to dish out her thoughts on the wardrobe staple? Ahead, we caught up with the local photographer, director, fellow BURO collaborator (she lensed our digital cover story in February with Anna Jobling) and founder of production house and agency Polydextrous Studios on her relationship with fashion, and what it's like running an all-inclusive, gender non-specific collaborative space for the young creative community in KL.
BURO: What was your first fashion memory?
Sarah: "My first fashion memory was realistically in high school when I tried my hand at making my own clothes out of scraps of fabric my grandmother had left me. I still keep everything in a suit case, those projects never really got to see the light, but I've retained a liking to DIY clothing, and collecting vintage garments since then."
View this post on Instagram
BURO: How would you describe your personal style?
Sarah: "My personal style fluctuates in a venn diagram of vintage, cosy, & eclectic. I used to always describe my style as Renaissance aunty."
BURO: The humble white tank is a true-and-tested wardrobe basic. How would you style it for a girl's night out on the town, as opposed to a long working day in the studio? 
Sarah: "The white tank for me is a staple; peek into one of my drawers and you'd find about seven variations of a white tank. Some cut-up, some branded, some bodysuits. On a night out, I'd typically style a white tank with a flowing, vintage textured skirt, and lots of layered jewellery around the neck, including bright gemstone earrings. However, on a typical day in the studio, you can find me relaxing in a white tank, my eight eyelet Docs, and a pair of Motherchuckers shorts."
View this post on Instagram
BURO: How did you get your start in the creative industry?
Sarah: "A lot of test shoots with friends, testing out concepts and posting it on Instagram. I reached out a lot to my favourite brands with kind messages & a portfolio, and talked about being a photographer a lot with the people in my vicinity."
BURO: How did the idea for Polydextrous Studio come about, and what was your motivation behind starting a collaborative creative space in KL?
Sarah: "Polydextrous was my safe space to start experimenting different art forms. I think my vision for it was to have everyone be able to access a space where creativity is celebrating and nourished. Through educational workshops, discussion groups, music events, drag shows and art performances, I feel like we are able to provide a safe space for expression, and togetherness of communities."
View this post on Instagram
"It was important for me to have a gender non-specific, inclusive environment and to be vocal about it. I think queer people in the arts industry deserve to be celebrated and to have opportunities that support them holistically. Through production, we work with many SMEs as well as creatives from all walks of life via a diverse and loving team. We're close-knit and excited to be expanding our team!"
BURO: What have been some of the highlights and challenges in running your own business?
Sarah: "Growing as an artist is hard to manage when you're following rules all the time. I think my hardest challenge is allocating time to experiment and have fun with photography, and not reserving the right to pick up a camera for my commercial work."
View this post on Instagram
BURO: What are some of your favourite local brands at the moment?
Sarah: "I'm loving Caro Chia, and for vintage shopping––Fifth for sure!"
BURO: From your experience as a model and photographer in the fashion industry, is there anything about it that you'd like to change?
Sarah: "To start unapologetically, verbally, monetary and virtually appreciating and complimenting artists and the art that's being made. And to improve how models/actors are being treated on set. I also hope to see an improvement on how generally people reach out to agencies, speak to creatives and communicate their ideas."
View this post on Instagram
BURO: What are your hopes for the future of Malaysian fashion, and what goals do you have for yourself?
Sarah: "I think Malaysian fashion is unraveling beautifully. I want to have no expectations and predictions. I'm excited to grow up in a country where the creative scene is kicking off now more than ever, and to be able to see people get political, unexpected and fearless in fashion."
Read more style features here.
| | |
| --- | --- |
| SHARE THE STORY | |
| Explore More | |