Before we head to Milan, here's what we loved from London Collections Men Spring 2017
London Collections Men Spring 2017 came to a close rather quickly this year, notably due to the change in brand strategy this season. While mixed gender shows continue to be the next popular show format, the see-now buy-now model has also been implemented by a number of brands as of late, and Coach 1941 is one of them.
One thing that creative director Stuart Vevers has is a knack for predicting what's going to fly off the racks (or virtual shelves), and he makes sure that every collection is well-executed to a T. Vevers looked to American classics and pop culture this season, teaming up with artist Gary Baseman again to give the collection a touch of punk rebel. The artist personally handpainted leather, bomber and varsity jackets alongside customising 10 totes and 10 jackets that went live on Coach.com the morning itself. Rife were the 1950s inspiration such as narrow-cut low-slung pants and plenty of intense embellishment—this collection is made for the too cool for school, rockstar to-be with rebellion coursing through his veins, pretty much the new-age James Dean.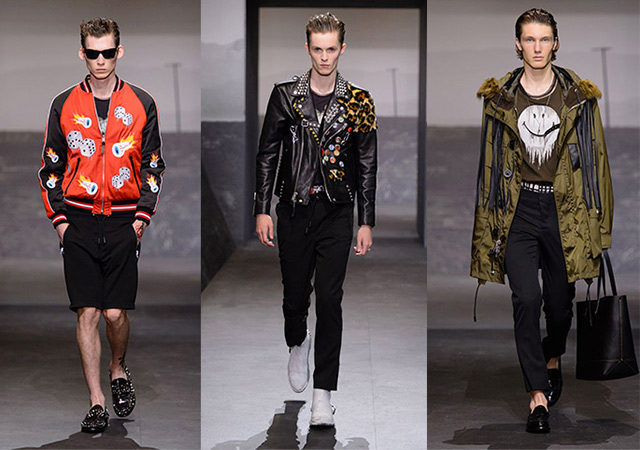 But a day before that, Jonathan Anderson continued to break boundaries while exploring artistic themes, this time in the form of Antoine de Saint-Exupéry's The Little Prince. The palette was kept mostly in neutral shades with ocassional pops of colour, but normalcy went as far as that. Shrunken satin trenchcoats, linen spray-painted caftans and goggles that look like aviators were just a few fascinating details from his experimental collection, while other baffling elements include dual-tone floor-grazing sweater sleeves and patchworked and bibbed shirts. Will it work for everyday? Perhaps not, but we wouldn't be surprised if we saw the same details in seasons to come, given Anderson's trendblazing tendencies.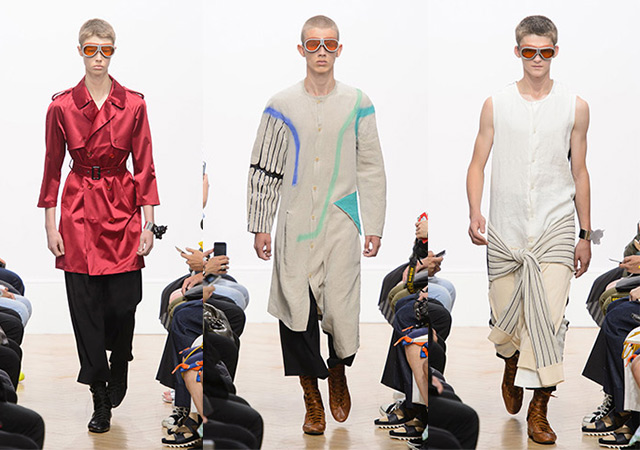 We could tell that Patrick Grant was very taken with high waisted bottoms this spring, noted at E. Tautz where short-shorts and chinos that sat high on the waist reigned, coupled with shirts tucked in. Androgyny took its turn in the form of Mary Janes (which we're still reeling from), but we were more excited about the plethora of stripes and various shades of blue on most pieces. It was chic casualwear at best, peppered with slightly retro silhouettes that wouldn't actually reduce you to resembling your grandpa circa the 1950s.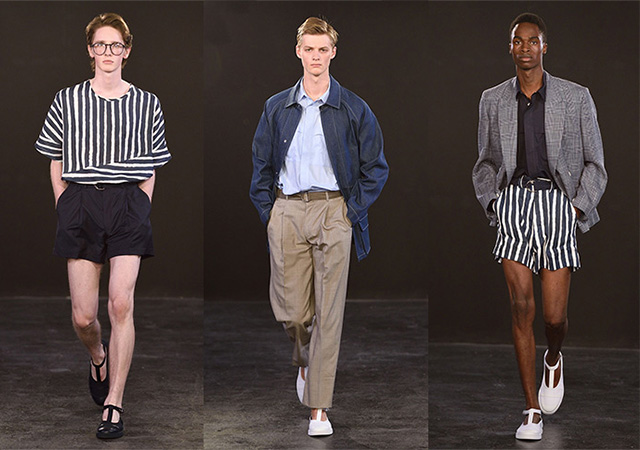 But if you were looking for quirkiness juxtaposed with Brit-chic, Margaret Howell's collection had all the makings of a smart (read: nerdy) Englishman who enjoys dressing up without making a loud entrance. As always, it was a restrained collection in neutrals a dash of mustard, but there was the 1950s sentiment echoed throughout (perhaps this season's biggest trend?) via high waisted pants, knit cardigans, and boxy uniform-like shirts worn with a tie. Those we love include all the coats—practically made for a Londoner, along with those charmingly awkward, long socks worn with white oxfords.