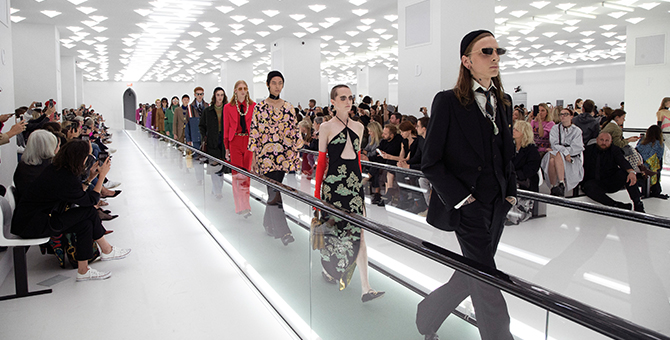 The showspace for Boss' first co-ed show in Milan
Its SS20 show kickstarted with a series of all-white looks which are tailored to perfection
The collection was all about quiet elegance
Colour combinations were nailed to perfection this season
The soft yellow was possibly our favourite colour in the line-up
Such as this grey, sky blue, black, and soft yellow ensemble that still gives off a chic flair
And this combo that plays with different textures
Pantsuits were, of course, the highlight for the German brand
And the only prints in the collection include the graphic print...
...and stripes in the same hues
There were pops of vivid red towards the end of the show
And camel tones in utilitarian separates
The pared down finale look was a good end to the sartorial collection
Chief Brand Officer Ingo Wilts
Gucci's SS20 showspace at the Gucci Hub was lit in red before the white lights were turned on as the show started
Models in utilitarian uniforms (including straitjackets) were sent down the travelator. The looks "represent how through fashion, power is exercised over life, to eliminate self-expression."
Chunky glasses chains heavily accessorised the collection
Although hints of his usual OTT aesthetic can still be found in the collection
The looks were comparably pared down this season with an emphasis on texture play
There was also a heightened sense of sensual allure, where slip dresses...
...and sheer silk tops with nothing worn under were unveiled
Highly wearable looks were injected with a dose of '70s...
Extravagant accessories were replaced with simple leather chokers
We spy with our little eye...this season's new bag
In pictures: Milan Fashion Week SS20 Day 5 feat. Boss and Gucci
Great finale