Chanel kicked off the Cruise 2018 season with a Grecian-inspired spectacle
1. The theme of the day was 'The Modernity of Antiquity', and creative director Karl Lagerfeld brought the audience to his version of Cape Sounion's Temple of Poseidon—but at the Grand Palais in Paris. The space was transformed to mimic the historical site, replete with pillars of ruins and a backdrop of what seemed like a Mediterranean sunrise. From the sandy ground to the scattered foliage, no detail was left unnoticed at the movie-like setting of the show.
2. Naturally, the clothes echoed the themed sentiment. Toga dresses, drape jersey gowns, and motifs adopted from Greek terracotta pottery were rife throughout, while the colour palette remained subdued in shades of white, earth and a hint of black. Tweed was given a summery update by way of zipped-up dresses clinched at the waist and sleeveless skirt-suits, while languid silhouettes came in the form of billowing chiffon capes emblazoned with a gold laurel pattern.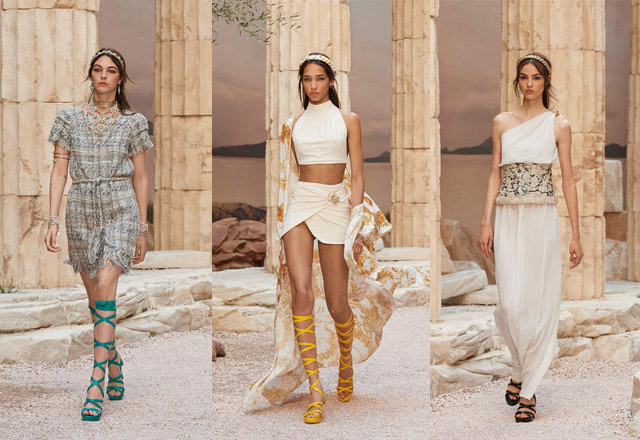 3. When it came to footwear options, Lagerfeld went with the obvious to complement the Grecian theme. Strappy, high-heeled gladiator sandals stole the show especially in spunky colours of yellow, cyan, turquoise and red, complementing the pale tones of the collection to a tee.
4. What we love were the Greek goddess-esque head accessories, including floral gilded crowns, braided headbands, and a few iridescent hair bands that resemble the colour of the ocean waves reflecting the sunray (perhaps an ode to Poseidon, the Greek god of the Sea). Fringed arm cuffs, gold chokers, and leaf-embellished, oversized sunnies made up the rest of the armoury.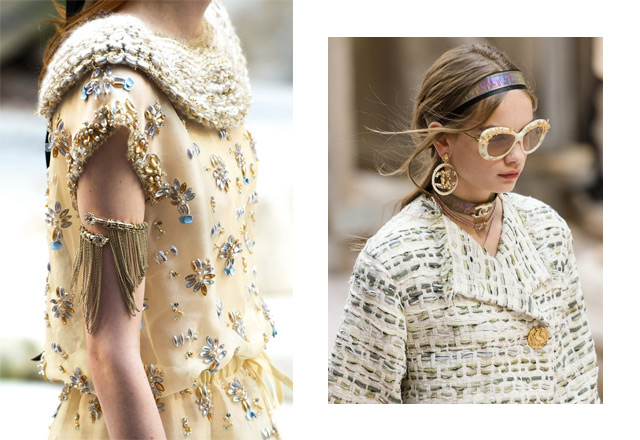 5. Lagerfeld's go-to muses (including K-Stew, Pharrell, Cara Delevingne) were absent at the show, although we spotted Caroline de Maigret (incidentally also the face of Chanel Gabrielle), Keira Knightley and Liu Wen at the #FROW. The creative director then closed the show hand in hand with his eight-year old godson Hudson Kroenig.
Related stories:
Editor's Diary: Chanel's Gabrielle Handbag at Paris Fashion Week
Chanel celebrates the Year of Gabrielle with new bag style and fragrance