Find out what it will mean to suit up come Fall 2017 as we decode the lineups showcased at Paris Men's Fashion Week Autumn/Winter 2017
"It's not that the suit is over. We haven't maybe just given them the right suit."
- Kris Van Assche 
It would seem that the runways of Paris Men's Fashion Week were united on the same front of reworking the gentleman's uniform. So, we followed suit and condensed the week's offerings into our favourite shows to unpack the latest menswear propositions:
Balenciaga
Banking on Wall Street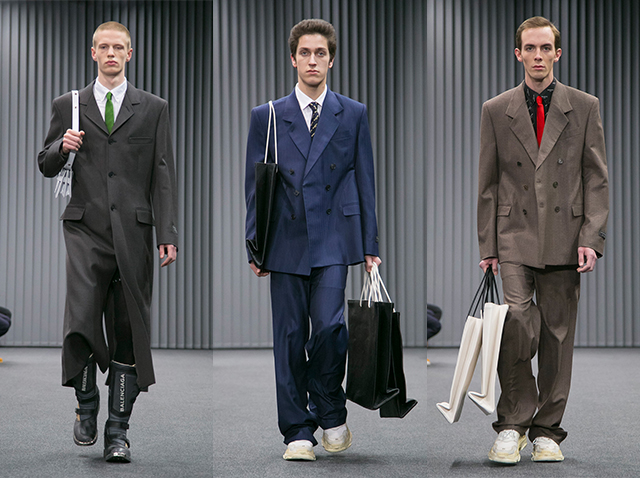 As per the movement that is Vetements, the streets are an obvious influence on Demna Gvasalia. At Balenciaga, Wall Street corporatism was the running commentary this season. Within Gvasalia's narrative of the working man, the white collared elite were offered a sombre amplification of the suit. Edges remained razor straight, proportions were stretched out, lapels and welts were kept classic and bar the broadened shoulder or two, individuality was masked by corporate identity.
Dior Homme
Constructing from deconstruction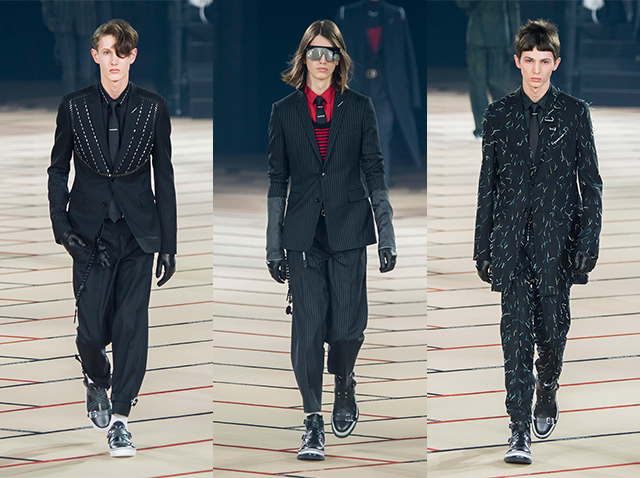 Kris Van Assche's Dior Homme lineup is a siren's call to fresh faced lads. An attempt to construct tailoring that wins millennials produced slim fitting jackets with three quarter sleeves above roomy trousers, tapered slightly and cropped at the ankle. Teetering on edgy, several looks tipped hats to the adage of deconstruction by way of exposed stitching, pops of flouro tangerine, raver stylings, and all-over sprouting threads.
Hermes
Between a rock and a heart place
Understated glamour was the theme at Hermes. Under Véronique Nichanian's direction, the collection spun a "Rock-mantic" record. While the leather pieces fulfilled the "rock" portion of the equation, dusty velvet suits in monochromatic ensembles and 'Byron-ic' double breasted suit jackets accompanied ultra plush cashmere and sheepskin offerings to spell swoon-worthy romanticism.
Dries van Noten
Ticks all the (collapsible) boxes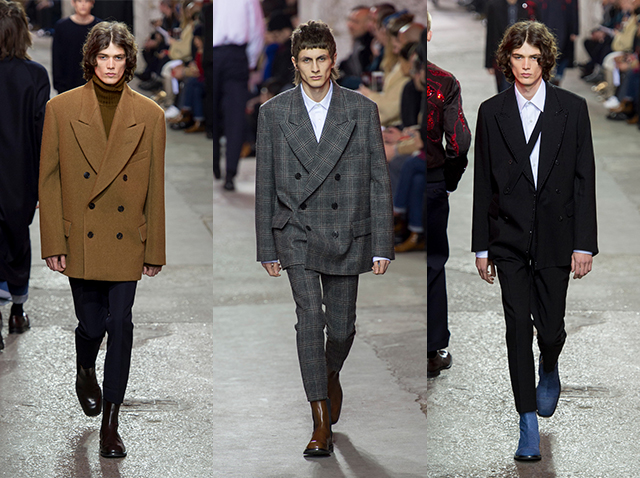 An archival redux in conjunction with Dries van Noten's 99th show spawned menswear archetypes with a riff on classic proportions. Wide lapels reminisce the '60s while tapered ankle grazers echo the modish inspiration. Jackets of worsted wool held their generously boxy shape but slightly collapsed shoulders drew a relaxed silhouette despite the exaggeration. 
Givenchy
The curious case of beautiful buttons
The play on proportions followed a different set of rules at Riccardo Tisci's Givenchy. Instead of reworking the silhouette, Tisci played up the details to conceptualise a new suit for a new crowd. With his notorious goth leanings amiss, the suits that walked down the runway exemplified polished tailoring with the exception of aligned sets of giant buttons. Some were plainly brown and round, others came in families of four - each non-identical and so exquisite, they're almost brooch-like.
Louis Vuitton
Comfort reigns Supreme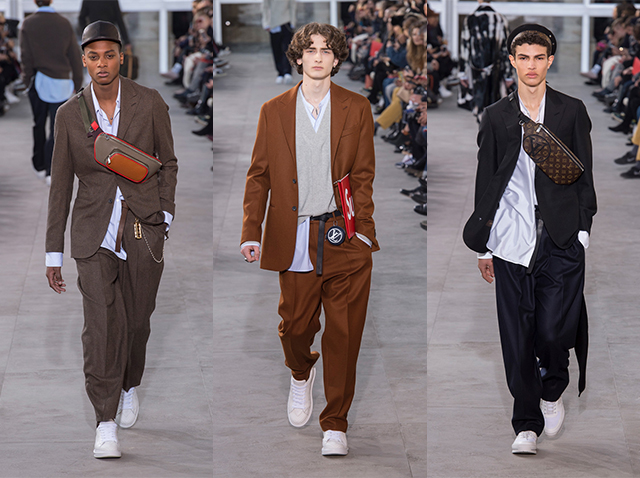 If the collaboration with Supreme is not enough to allude to informality, the relaxed cuts of the clothes are a perfect underscore. Kim Jones sent a slew of loose fits with volume drafted into the patterns down the LV runway. The new laid-back cool: languid coats, slouchy shirts, and wide-legged slacks with added pleats that veer on baggy.
Valentino
Sherlock tomes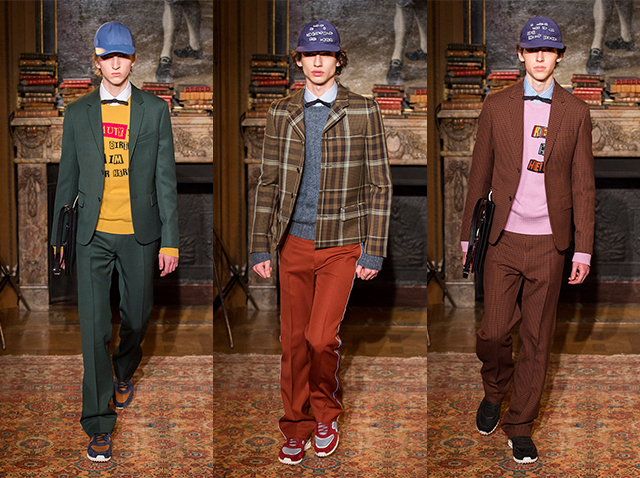 Walking in front of a mantle stacked with scholarly tomes, Pierpaolo Piccioli's baseball-capped team sported woolen jumpers, skinny bowties and tweedy jackets in gingham and plaid. A palette we'd dub 'old-cabin-in-the-woods' was revived with a surprising dab of mint and powder pink between every five looks. Patchwork slogans courtesy of the Sex Pistol's Liverpudlian graphic designer made for the quintessential nod to Brit wit and matched perfectly with the trend du jour. 
Related stories:
50 shades of green at Paris Men's Fashion Week AW17
10 Items we want to own from the Louis Vuitton x Supreme collaboration