Topshop September 2017 had a wild night out in Soho planned for their guests but first they travelled back in time to the '90s. Kate Moss a muse from the period and a stalwart of that scene, graced the front row with 14-year-old daughter, Lila Grace, beside her. The clothes, a heady reimagination of disco garb, coalesced with current favourites of streetwear derivatives, mannish cuts and minimalist sensibilities. Thus hatched tracksuit bottoms of satin make, the polar pairing of discoball and beige, shimmering turtlenecks atop tailored pants, daytime chemise dresses cross boudoir and board, and furry coats that evoke neither prudence nor pomp. All looks you see now, are available to buy now.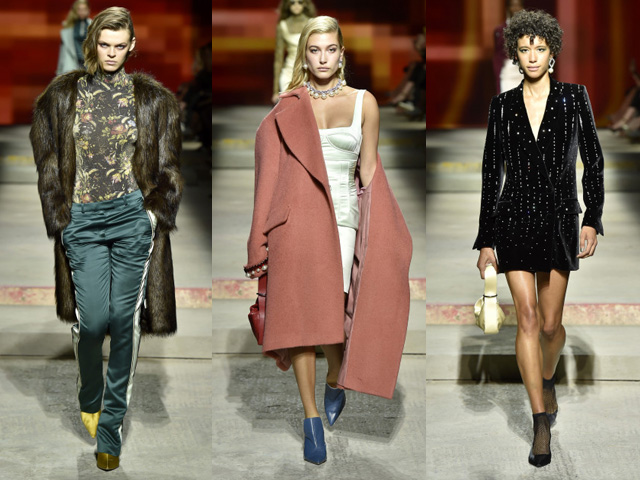 For Spring, Anya Hindmarch devoted her show's real estate to building a model of suburbia in cloth. Out from the notion that within each suburban cookie-cutter home, there lies a completely individual story, a collection replete with twists on homey soft furnishings and housewife-y aesthetics was born. Wallpaper prints in pastel matellasé, smocked sleeves, and ample Peter Pan collars gave button-down frocks and anoraks a kitschy yet cosy quality that would make the pieces perfect for a sleepy Sunday saunter. The accessories brought it home with wooly rugs turned into cushy slides, spiral quilting on circular bags akin to grandma's footstool pouf, dimpled Chesterfield couches referenced in tubular carriers, and the cat lady's favourite feline face plastered on weekend totes.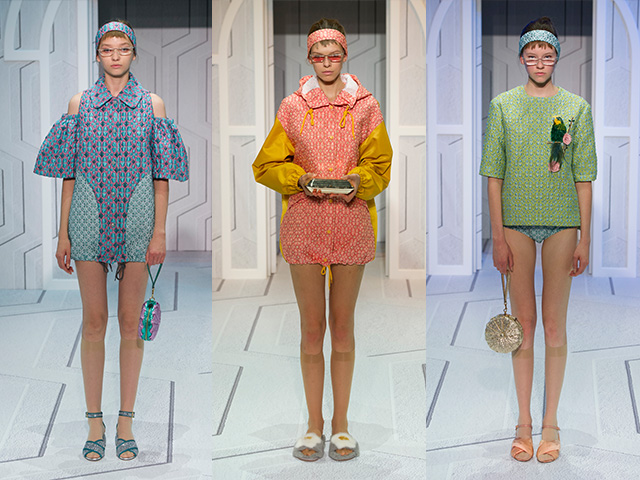 A dive into the archives and a throwback to the nineties resulted in a Versus Versace collection that collaged the brand's past into a neoteric but nostalgia-tinged line tailored to millennial preferences. Out marched street-bent looks spliced with articles of glen plaid and spiked with flashes of lime, mint and cherry. The mandatory Versace dose of sensuality came in two forms: peeking out as tiny two-piece suits from beneath mesh sheaths and clothing the body in a slinky foulard reprisal from yesteryear. As for the cut-and-paste treatment that ran through the exits, it was revealed that Donatella Versace had actually asked her design team to cut the pieces up and restitch—we suppose it really was collage in its true sense.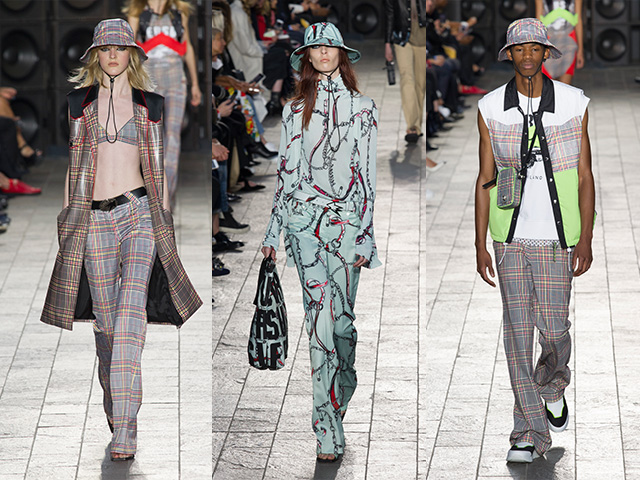 It has been eleven years since Armani has staged a show in the British capital. But this timely return to London was orchestrated to coincide with the unveiling of Bond Street's Emporio Armani flagship facelift. Between the 114 looks—that included playful prints, candy stripes, girly frills, sorbet hues alongside optic whites, iridescent bombers and metallic trousers—the Italian maestro seems to have cooked up an outfit for every occasion. Although this spectrum of colour is rather out of character for "the King of Beige," it was well-noted that Mr. Armani's signature sharp tailoring and nipped waists were not amiss.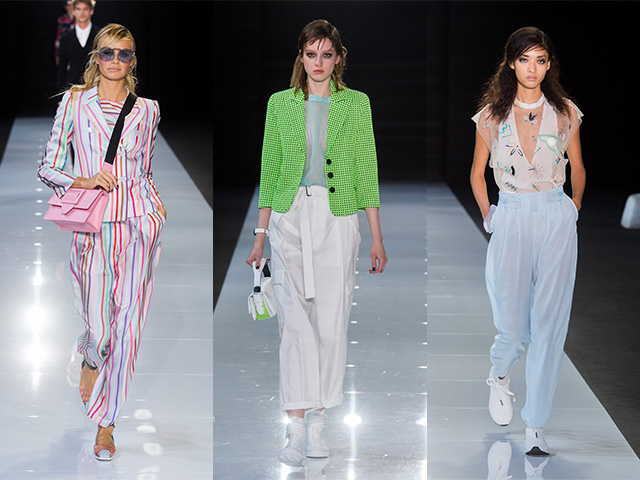 Related stories:
London Fashion Week SS18: Highlights of Day 2
| | |
| --- | --- |
| SHARE THE STORY | |
| Explore More | |