Fashion Editor Joan and Fashion Writer Stephanie think they know each other's style, but do they really?
We get it, defining the Pre-Fall season can be confusing. There's no organised schedule, and the collections consist of pieces that are great for summer, and some, to prepare you for the impending autumn. But what we know for sure, is that it has that buy-now factor, thanks to the tried-and-proven trends from the existing hits we cannot (and should not) get enough of. The three trends we're shining a spotlight on in this video aren't exactly new, but as we said, this season is where familiar styles and prints make a comeback, proving that they're not going anywhere anytime soon.
Tie-dye
A continuation from Spring 2019, tie-dye proved that its revival is one that we should all take note of. We understand that it's a daunting trend to work with—yes, we remember those oversized rainbow T-shirt back in the '90s—but trust us when we say that elevation is key. From the combination of colours to silhouettes that are much more polished, rocking tie-dye this season can be chic and sophisticated too.
On Steph:

#1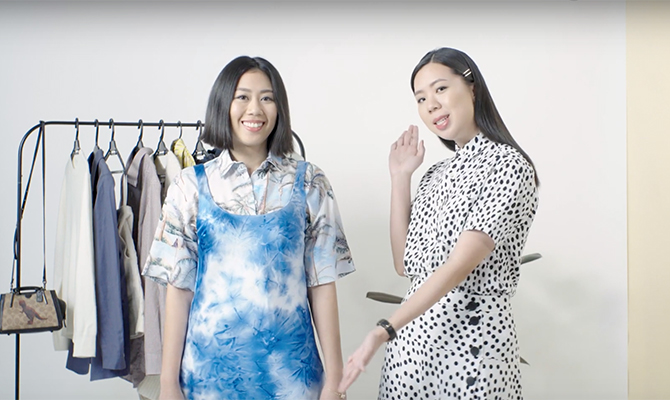 Caption: Shirt, Topshop. Dress, Topshop. Bracelet, Swarovski. Sneakers, stylist's own.
Tip: Don't be afraid to go print-on-print. Incorporate your favourite print (in Steph's case, Hawaiian motif) into your look to give the tie-dye an interesting contrast, but keep it in softer shades to avoid looking OTT.
#2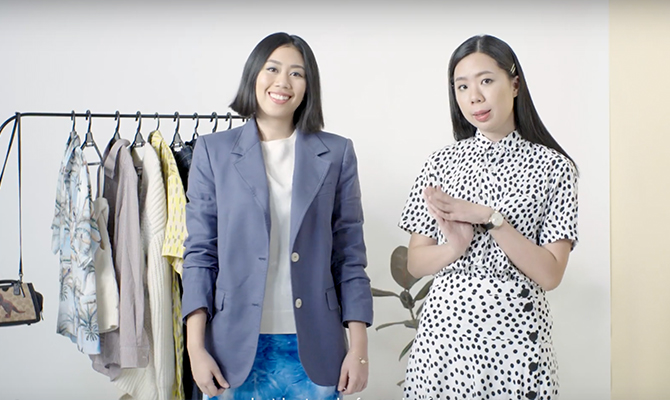 Caption: Blazer, stylist's own. Sweater, Uniqlo. Dress, Topshop.
Tip: Tie-dye can look polished too. Just throw on a blazer and a sweater in tonal hues and you're good to go.
On Joan:
#1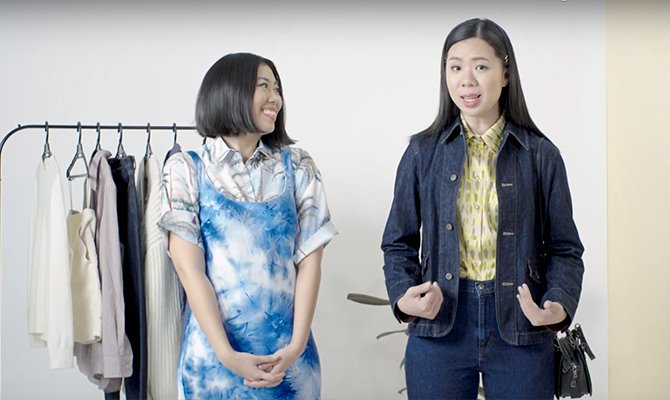 Caption: Denim jacket, Uniqlo. Shirt, Topshop. Jeans, Uniqlo. Bag, Coach. Hairpins, stylist's own.
Tip: If the typical tie-dye is still intimidating, test the waters with other options such as this shirt in an orderly print that adds a vibrant touch to the simplest of looks.
#2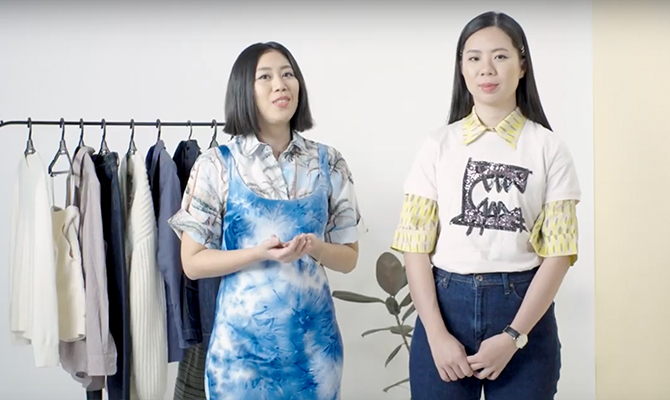 Caption: T-shirt and boots, both Coach. Shirt, Topshop. Jeans, Uniqlo. Watch, stylist's own.
Tip: To take it one step further, throw on more colours (in this case: a girly powder pink T-shirt) to tune up the style ante.
Plaid
The classic print will always have a special place in our heart, but this Pre-Fall, it's one of the top trends to note. Typically associated with preppy back-to-school looks, we've styled plaid in two ways to highlight its versatility. One, a casual-cool outfit in plaid head-to-toe that's great for Casual Fridays, and the other, a schoolgirl-inspired ensemble with a cool-girl twist. There's a style to suit every taste.
On Steph:
#1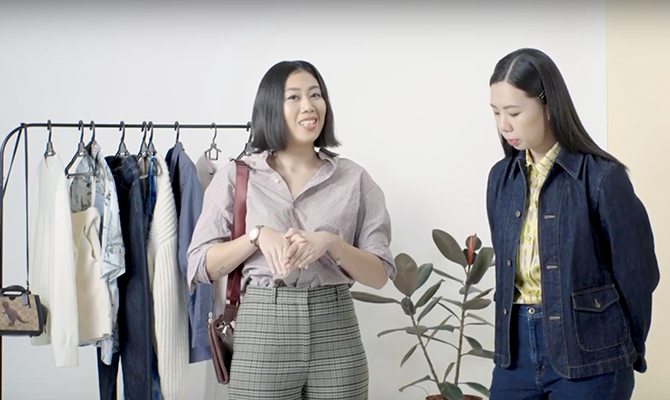 Caption: Shirt, Uniqlo. Pants, Michael Kors Collection. Bag and heels, both Cos. Watch, Swarovski.
Tip: On Casual Fridays, rock an oversized shirt that's messily tucked into a pair of matching trousers, and to seal it with a feminine finish, rich maroon accessories will pull the look together nicely.
#2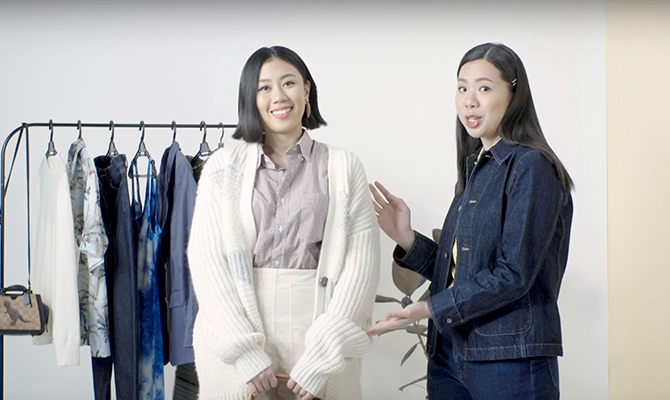 Caption: Cardigan and booties, both Coach. Shirt and skirt, both Uniqlo. Bag, Tory Burch.
Tip: We love to go preppy once in a while, and you can count on a knitted cardigan and an A-line skirt to do the trick. The colourful tote uplifts the mood, and the pair of black booties add that bit of cool edge.
Boiler suit
One of the main reasons why we're obsessed with boiler suits? They make dressing up ridiculously easy. Relaxed yet statement-making, the utilitarian trend has been making their rounds on the sidewalks since SS19, but we're not ready to let it go just yet. If you have a petite frame and worried about your proportion, fret not. Opt for a piece with cropped hems, and always remember to finish your look with a pair of heels.
On Joan:
#1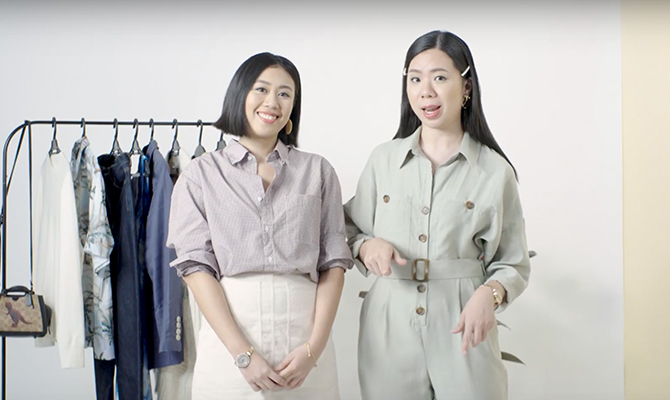 Caption: Boiler suit, Topshop. Watch, Swarovski. Pearl hairpins, earrings and loafers, all stylist's own.
Tip: Give the workwear uniform a sophisticated update with some bling and luxe leather loafers. Result? An outfit that can be worn from day to night.
#2

Caption: Boiler-suit, Topshop. Maxi skirt, Cos. Necklace, Swarovski. Pearl hairpins and heels, both stylist's own
Tip: Think boiler suit can't be worn two ways? Think again. A maxi skirt that sways with every move is an ideal pick to give the jumpsuit an added silhouette.
Credits:
Videography: Shepherd Pictures
Styling and coordination: Joan Kong and Stephanie Boey
Art direction: Yi Suen Chong
Hair and makeup: Gan Chu Fan and Ling Chong