Just in time for Raya 2019, MINI Malaysia has an exclusive offer to cater to all your travelling needs
Tick tock, #Raya2019 is just around the corner! If you've been keeping a close eye on our Instagram, you probably already have a prepared mental wishlist of your ideal outfits from our Buro Raya Edit. Proudly Malaysian symbols, motifs and silhouettes brought a touch of tradition to the modern 'baju raya' with a fresh colour palette to boot. Malaysian designers appear to agree on one thing: The future is bright, so let's dress for it.
This cheerful optimism is the perfect #mood and #vibe to enter #Raya2019. As we are in the festive season, take it one notch higher in deep jewel tones that are rich in hue and brilliance for a luxurious sheen. If you're the type to match your OOTD to your accessories...and your wheels, you'll love the New MINI Cooper S Countryman Pure in deep British Racing Green. With its classic bonnet stripes, elegant black roof and the new 18" Black Spin spoke rims, this four-wheeled beauty is an icon of its own.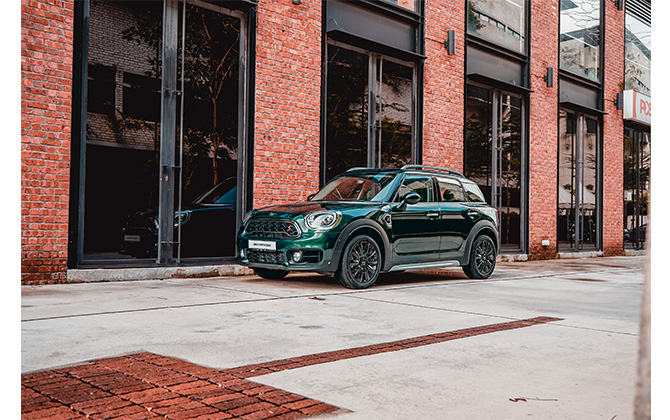 When it comes to long distance journeys, a comfortable and smooth ride is key. The ample leg room and electronic seats lined in smooth Carbon Black upholstery with a sporty Leather Cross Punch design promises an enjoyable ride. Easing into the modern classic interiors during your balik kampung ride will be a cinch.
The New MINI Cooper S Countryman Pure is not just a pretty face. Its TwinPower Turbo 4-cylinder petrol engine provides a powerful yet controlled speed to make sure you reach your destination on schedule, and most importantly safe and sound. If your New Year's resolution was to reduce your carbon footprint, you're in luck! The New MINI Cooper S Countryman Pure is able to deliver its maximum output while only consuming an average of 6.5 litres per 100km.
The intelligent MINI Connected system consists of built-in 4G SIM technology for the upmost connectivity and convenience, which will come in handy during the upcoming festive season. Making it to all your 'rumah terbuka' appointments with the luxury of being on time will need careful planning and refuelling schedules. Have the power to manage your car remotely by downloading the MINI app to sync your car to your mobile device. Handy features include being able to conveniently check up on your fuel and access accurate map directions to where your MINI is parked to make sure you don't lose precious minutes searching. And finally, time to put that Raya playlist on blast to hype up your Eid. Control the deck with the 6.5-inch Touch Screen Display with its easy-to-operate interface. Not one for distractions? Keep your hands on the wheel and let the voice-operated system lend you a helping hand.
Purchase the New MINI Cooper S Countryman Pure now to receive 4 + 1 extra year of MINI warranty and free scheduled service*, and at a competitive 1.88% interest rate, plus a special Raya surprise!
*Terms and conditions apply.
Head to your nearest MINI Authorised Dealer to get started on your new set of wheels in time for the festivities. For more information, please visit MINI Malaysia's official website.