Culture
The cast of 'To All The Boys I've Loved Before' on playing high-schoolers in their 20s, their innate chemistry, and spoilers for the upcoming finale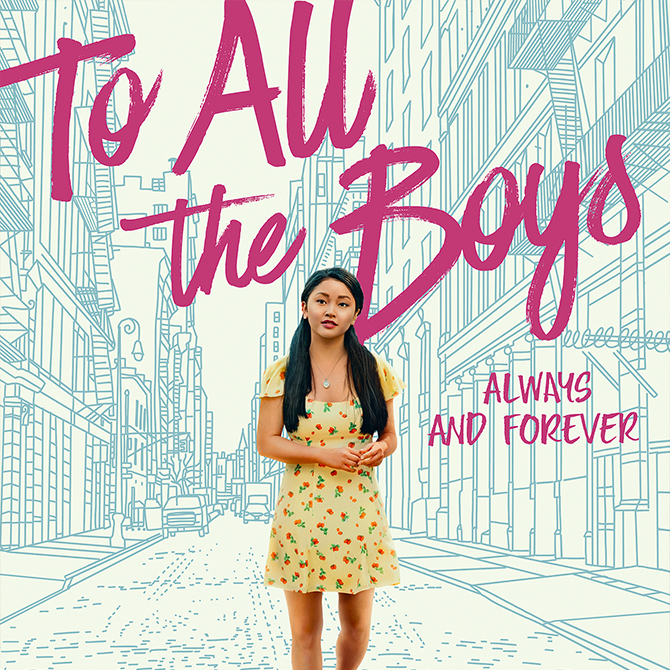 In case you missed it: One of Netflix's major power couples is getting yet another sequel. That's right—To All The Boys: Always and Forever is on its way, and we've had a sit down with stars Lana Condor, Noah Centineo, and Ross Butler to dig up some much-anticipated details on the trilogy's finale.
The dynamic trio make for extremely endearing conversational partners—Condor's refreshingly enthusiastic disposition is the perfect complement to Centineo's eclectic mix of thoughtful introspection and easy-going humour and Butler's chaotic, no-filter approach to interviews. (Writer's note: You'll see what I mean, but here's a quote to give you a taste—with no provocation mid-interview, Butler bafflingly—but comically—declared: "I hate iPhones. If you know me, you'll know that I hate Apple as a company… anyway, let's not open that can of worms (laughs)".).
On that note, find out what the cast had to say about the upcoming finale and their personal plans moving forward ahead:
Watch the trailer for the film here:
Always & Forever is the finale to the To All The Boys trilogy and the ending of the movie leaves things pretty open. Where do you personally see your characters in five years time?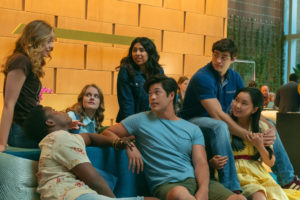 RB: I see Trevor coaching a kid's baseball team. I see him as a good coach. I'd say he'd be a good dad, but five years is definitely not long enough for that—then again… I also completely see him having kids at 23. That feels like a Trevor thing, no? Hmm, actually, I'm going to take back what I said about kids, but not about the baseball team. He's coaching a baseball team (laughs).
NC: Uh, a question for Jenny Han. I'm not sure, you know. I think he's either a professional lacrosse player, or he's a retired professional lacrosse player. Or maybe he got injured and he stopped playing lacrosse and let himself go. Or maybe he works at some corporate job. Honestly, I couldn't tell you! I have no idea.
LC: We leave [Lara Jean] in the third movie very much ready to step into the world. I hope that she's in publishing or some sort of literature media, just because I know how much of her life has been spent just absolutely loving books and writing. I also just know that Peter and Lara Jean will be endgame. I believe in my heart that they will be together, get married and they will be each other's person. Now, they might have to go on their separate ways to grow and find themselves as individuals first, but I know they'll come back to each other.
To Noah and Lana: You've worked with one another for three movies now and, obviously, in that time your character's relationships have evolved and matured. How has your relationship evolved over the last three movies together off-screen?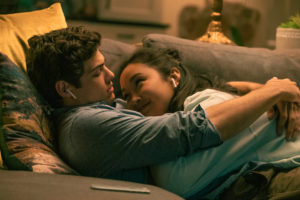 NC: Oh man, I think we're like a married couple now (laughs). You know, we're very familiar with each other, very comfortable, we can pick up on each other's cues, and we can communicate without really saying things to each other. I feel extremely fortunate knowing that I have her in my life as someone that has my back as much as I have her's.
LC: We always joke about being very happy that we still love each other even after these movies (laughs). We speak the same language, we think the same way and we've always felt comfortable around each other. I'm sure [our relationship] grown, but it's always been pretty good—we have always gotten along really well and we've always had great chemistry.
What were your biggest takeaways from the To All The Boys series, having grown up with your characters? Specifically, how much has the experience changed you as a person?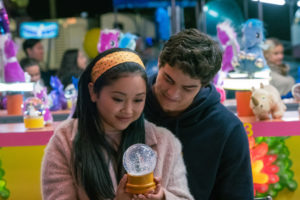 LC: These films have changed my life completely for the better—it has been truly such a blessing and I love these films. I love Lara Jean, and I put so much of my heart into the character and [from her] I've learned that I should live in the moment more and not try to skip all the little things. I don't want to wish my life away—I mean, as far as I know, we only have the one, so I just really want to squeeze every ounce out of it.
NC: It's great. I feel like every time you work it prepares you for the next project. You get more experience with lighting, more experience with cues, more experience with cinematography or memorising or learning—whatever it is. I am just compounding experience in them, which is fantastic.
How do you see yourself in your characters?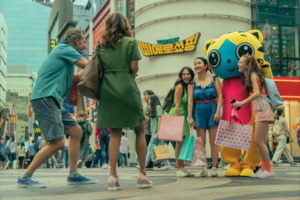 RB: To be completely honest, I think I was literally just brought on to… be myself (laughs). I've played a lot of jocks before, and I have a lot of different types of jocks that live within me… That sounds like a weird sentence to say out loud but yeah—you can quote me on that. So, I have these characters that I've already come up with but Trevor is probably the most like me out of all the characters I've played.
NC: I think we're both romantics. I also think that we both kind of hold it together for other people until we suddenly reach a tipping point where we just meltdown. There are definitely [similar] qualities there.
LC: We went to Korea to show Lara Jean and her family actively retracing her mother's footsteps, which has really helped to sculpt her identity. Likewise, in my own personal life, right after we wrapped in Korea, my adoptive family and I actually went to Vietnam for the first time and retraced our own steps, where my parents found my brother and me at the orphanage. It was very parallelled; Lara Jean going back to her roots and myself also having that same experience. I could go on and on about the ways I feel connected to Lara Jean but I think that one of the most major things was that trip of self-discovery.
If you could bring one thing from your character's life into yours, what would it be?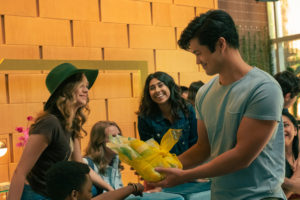 LC: I wish that I could be as stylish as [Lara Jean]. My life is sweat pants, and that's about it (laughs).
RB: The problem with that question is that I'm very much like Trevor just naturally—I'm kind of just a weird dude that happens to play sports (laughs). I think Trevor's persistence is something that I like that I don't have. He has no problem with rejection, and he kind of just goes after what he wants and doesn't care if it doesn't go well. I'm a little bit more neurotic than that so I think that's a quality of Trevor's that I would instil in myself.
NC: It would probably be [Peter's] ability to play lacrosse. I am so horrible at lacrosse and he's obviously really good—I mean, he got a full ride to college. I would love to be able to play lacrosse like that. That would be cool.
What are you most looking forward to in your future, career-wise?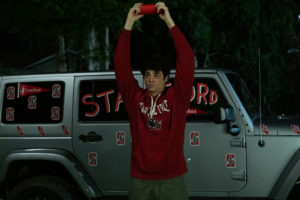 RB: Anything that is not set in high school. Honestly, I'll take anything (laughs). Nah, there are two things that I want to do: An action-comedy, and something indie and artsy; something that I'd have to dig a little deeper for. I might be doing a role where I have to play a serial killer in the '50s in America which would be really interesting—though it's a dark comedy, so still a comedy. Actually, you know what? The one answer is a dark comedy. I would love to do a dark comedy.
NC: Well, the first thing that I'm doing next, hopefully, is Marvel's Black Adam. That will come before the year ends so I am very excited about that. I mean, to work with Dwayne Johnson? What a legend! I am also really, really excited to produce; to locate stories that I want to tell and then find talent to tell them. I'm looking forward to stepping back from acting in certain stories—I mean, I'm definitely going to continue acting and I don't intend to stop, but in many projects as an actor, you'll find yourself telling other people's stories (and I love doing that, it is so fulfilling), but I also do want to tell my own stories, you know? Things that resonate with me. So, it's an exciting new chapter that I have not been able to experience yet.
So, Ross, you definitely know you've been typecast for much younger roles despite being a fully-grown, 30-year-old adult. What would you say is the most challenging thing about playing a high schooler?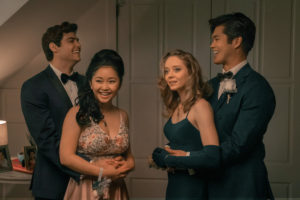 RB: Probably the prom and dance scenes, to be completely honest, for a number of reasons: Firstly, this is probably my sixth or seventh dance scene as a highschooler, so trying to relive that same "Wow, homecoming!" or "Wow, prom!" is just like beating a dead horse at this point (laughs). Secondly, as an adult, it's kind of weird to be at a dance. I mean, like what's the adult parallel of a dance? Like a club? I don't go to clubs!
So, you've played your charming characters for the last three-ish years now. How does it feel saying goodbye to such a beloved universe?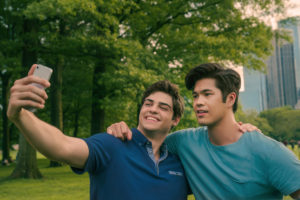 NC: Bittersweet is definitely a good word to describe it, but I feel content. Of all the ways to say goodbye to a character, I think the way we've done it in the third film feels good to me. We poured everything that we had into this universe and I don't think there's much left. I just hope that the fans who brought [the film] to where it is today are happy with it, because we made it for them! It's not really ours. It's theirs.
LC: It's a very emotional experience having this be the final instalment. In fact, it's quite overwhelming. But I will say that I am very, very happy with the Lara Jean that we are left off with. If you look at the Lara Jean from the first movie, [and compare her to] the Lara Jean in the finale, I think that baby Lara Jean would be very proud of her. It's really cool to see her grow up in that way and to see her leave as this excited young woman looking to start her life on her own.
RB: In the movie, there is a montage of [the cast] sightseeing in New York. I've kind of dedicated my 20s to my work and to establishing my career, so I feel like I've missed out on many opportunities to travel with friends. So, I am grateful for being able to live vicariously through the film—it was really emotional and special.
To All the Boys I've Loved Before: Always and Forever will hit Netflix on February 12th, 2021.
This interview has been edited for length and clarity. Find more stories like this here.
| | |
| --- | --- |
| SHARE THE STORY | |
| Explore More | |