The 2015 Sundance Channel Short Film Contest wrapped up just last month, and we witnessed three compelling short films by local talents who were vying for the grand prize of a trip the prestigious 2016 Sundance Film Festival in Utah, America.
Budding filmmaker Keshvan Sugumaran took home the grand prize, for his thriller titled The Return, that takes on the uncomfortable subject of domestic violence. Shot in a flat, the short film is devoid of dialogue, but filled with intensity as an unlikely hero steps into the picture, giving the desperate victim a dose of much-needed courage. We shan't give too much away as the winning short films are scheduled to premiere on the Sundance Channel HD (Astro b.yond Channel 438) later this year.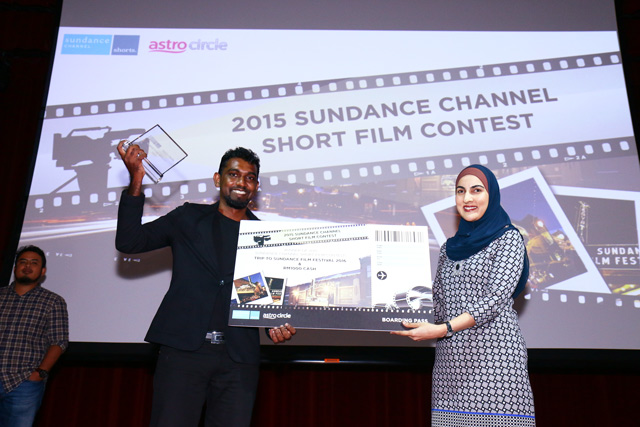 As we were highly intrigued by the simplicity and intensity of Keshvan's production, we caught up with the director to find out more about him, what inspired his film, and from where he draws inspiration:
Tell us a little about yourself.
I was born and raised in Sungai Siput (U), Perak. After my STPM, I furthered my studies in filmmaking at UNIMAS, Sarawak in 2005. Then, I started my career at a TV station as a production assistant and eventually became freelancer, mostly as a video editor and cameraman for small production houses. After 4 years, I took a break from filming and switched to a more relaxing job as a film lecturer at Segi University, this allowed me to do some film research at the same time. I lectured for about 3 years, and then, again bored with the job, lead me to quit my job earlier this year. I'm now back in the filmmaking industry, spending more time in research, writing and directing.
Your film for the Sundance Channel competition is about domestic abuse – what inspired the story?
Actually, I got the idea about two years ago. It was an incident my friend and I witnessed at a roadside food stall in Taman Sri Sentosa. There was a couple where the husband was clearly drunk and beating his wife. Everyone seemed to just ignore what was happening, including my friend and myself. The incident became a disturbing memory for me – I started to have this inner dilemma, realising what a coward I was. It became one of my few ideas to be made into film. When I saw the Astro and Sundance Channel Short Film Contest this year, it was an opportunity so I pitched a few ideas to my team and they all liked this one.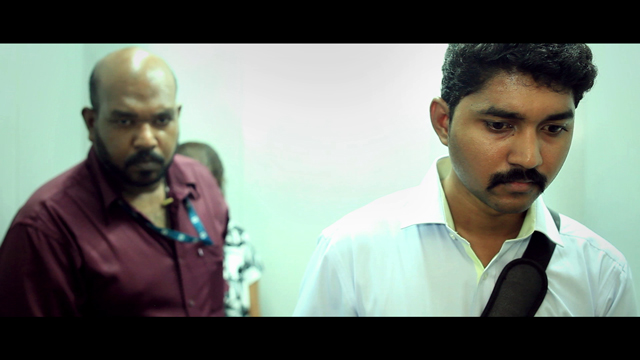 What was the inspiration behind the heroic main character?
The main character was created based on the inspired event I mentioned earlier, when no one was willing to help the victim. I created my own character who attempts to save the victim from an aggressive and violent partner, which for sure is not a safe idea. But through that character, in the situation he was in, I wanted to portray how you could do something good and surely get something in return for it. And at the same time it shows how a victim in desperation can be affected by this kind of help. In a way, he became a character to motivate the concept of karma through what he did and received.
What were your biggest challenges when making this film? And how did you get the actors to get so intense in their roles?

I had a few challenges in making this short. First was the time constraint, where I saw details of the competition posted up just three weeks before the deadline. So, I didn't have much time to prepare for it. Second was the budget. I didn't have the budget to make a professional high-end production short, I had to use what I had, which introduced us to the minimalist concept in filmmaking. All the actors, and most of my crew members are quite new to the film industry. They agreed to work without a budget as all of them needed recognition and exposure too. I just needed to set aside budget for some equipment rentals and buying a few props. I also had to set aside time to train the actors as they were new to this. Prior to the actual shoot day, we spent a few days discussing their characterisation, rehearsal and improvisation sessions, and blocking with camera unit.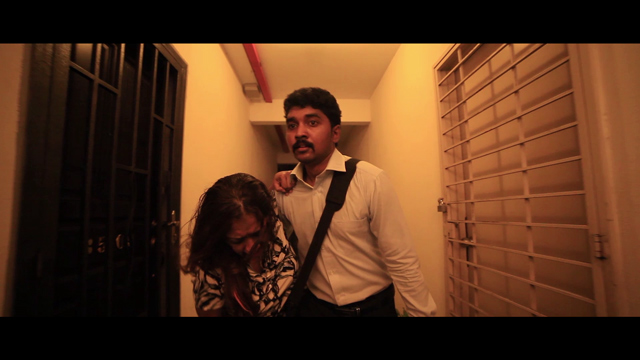 When and how did you start having an interest in filmmaking?

When I was 15, I saw an article about M. Night Shyamalan's The Sixth Sense. The story was about how the film was a horror and thriller which intrigued me to rent the movie from a DVD shop. That's the first movie I rented in my life. I watched a new style of film and it was a brilliant piece; just imagine, after only being exposed to Indian masala with fancy dances! I began watching more Hollywood movies, and I liked their styles. In 2003, I came across another article about Pang Brothers' The Eye, a Hong Kong horror flick. The movie was really mind-blowing. I started to like Eastern movies. And from there, my passion in movies grew more and more, which lead me to study filmmaking in UNIMAS.
Tell us more about your other filmmaking projects.

After I graduated, I started working as part of a technical crew, spending 7 years in editing, VFX artist, and camera jobs. None of those jobs gave me satisfaction, I needed to work for other people's ideas which most of the time disrupted my personal interests in filmmaking. This year, I quit all my jobs and with only my savings in hand, I spent more time writing my own screenplays. I'm in the midst of writing a feature film script, hoping to finish it in a few more weeks. When that's done, my next job of finding producers will start!
You'll be heading to the U.S for the actual Sundance Film Festival – what are you most looking forward to when you're there?

I used to watch a lot of festival movies so I'm excited to catch the exclusive screenings at Sundance Festival itself! I think it'll be great exposure for me to watch international films at Sundance. On top of that, I would also like to meet new teams, production units, get their contacts with hopes of pitching my script to them.
In the future, do you see yourself ever attempting to enter the Sundance Film Festival?

Definitely. Sundance is a great opportunity and exposure for filmmakers like myself and others trying to break in the film industry with the limited resources we have. Hopefully I'll get inspiration from attending the Sundance Festival to make a new film for it, let's hope for the best!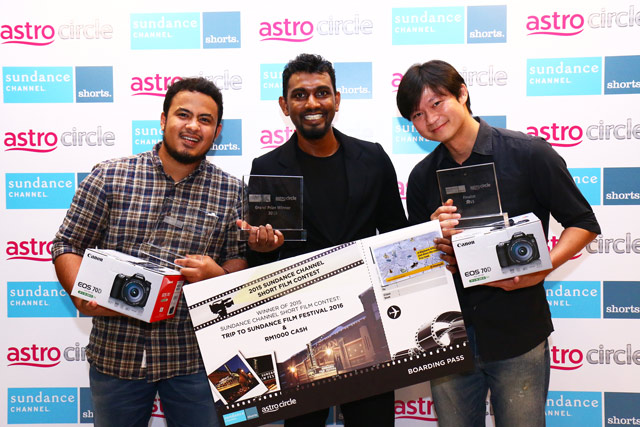 In conjunction with the announcement of the winners, Sundance Channel also presented an exclusive masterclass with the filmmakers of the documentary The Chinese Mayor, which took home a Special Jury Award at the 2015 Sundance Film Festival.
The documentary premieres on Sundance Channel HD (Astro b.yond Channel 438) on 22 January at 10pm. This premiere is part of '10 Days of Sundance,' a special programme which has some of the very best films that the world renowned Sundance Film Festival has to offer.
Related stories:
Watch A-listers do their best impressions of 'Gone with the Wind'
Upcoming movie remakes that are in the works
| | |
| --- | --- |
| SHARE THE STORY | |
| Explore More | |