Vogue Singapore continues to make its mark in the metaverse with the introduction of contributing metaverse editors and NFTs with every issue in 2022
Following Vogue Singapore's success with its first NFT issue and cover back in September 2021—which included an exclusive digital-only Balmain dress—the publication is continuing its stride down into the metaverse in 2022. With the goal of bridging the gap between fashion and innovation, Vogue Singapore will be launching a new section on both its print and digital platforms where every month will see a contributing metaverse editor, along with recommended NFT artworks.
Kickstarting this initiative is Krista Kim, the person behind the world's first 3D virtual home 'Mars House'. To tie in nicely with Vogue Singapore's January/February 2022 theme of 'Grace' is NFT artist Luna Ikuta, who was recommended by Kim, and who has not only created one but 12 NFTs featuring ethereal floral bouquets for the issue.
Titled the '12 Months of Afterlife' NFT collection, Ikuta's distinctive style combines bioengineering and aquascaping, stripping away the pigments and chlorophyll that are otherwise found in plant compounds. The project also marks Ikuta's first dance with colour in the LA-based artist's practice.
"For this inaugural collaboration with Vogue, I was inspired by the theme of 'Grace' and created 12 unique pieces with one flower representing each month of the new year. I took this opportunity to introduce colour to my work in a way that I have never done before," says Ikuta.
"Through the combination of colourful and transparent flora in each bouquet, an alluring contrast was created and I am so excited about this new combination that was both foreign and familiar."
From the 12 artworks come a 13th NFT, combining all 12 with an otherworldly soundscape that serves as the digital cover for Vogue Singapore. However, all 13 artworks will be auctioned as one-of-one NFTs—in the form of looped videos—on SuperRare over two drops.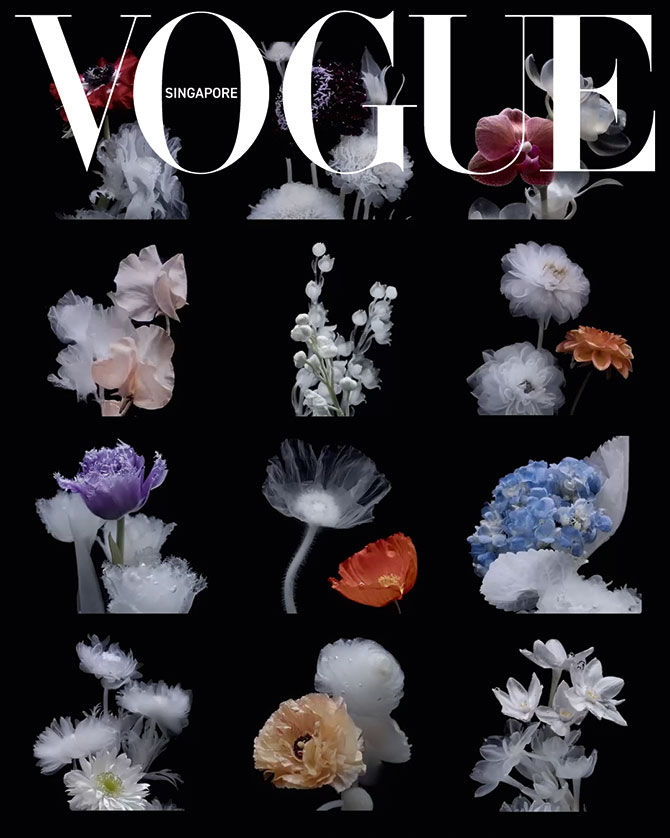 The first drop, featuring '12 Months of Afterlife' will be available on SuperRare via Vogue Singapore as of 9pm SGT/8am EST on 31 January 2022.
The rest of the 12 NFTs will dropped on SuperRare beginning 9pm SGT/8am EST, 8 February 2022.
With the purchase of each NFT, the collector will also receive a physical Vogue Singapore x Luna Ikuta calendar signed by Ikuta featuring the collection.
You can also learn more about the collection and artworks on Twitter Spaces via an upcoming session hosted by @SuperRare with Vogue Singapore and Luna Ikuta at 11pm SGT/10am EST on 31 January 2022.