Art + Design
8 Must-see artworks at The Doraemon Exhibition Singapore 2022
From manga to masterpiece
Featured Images: National Museum of Singapore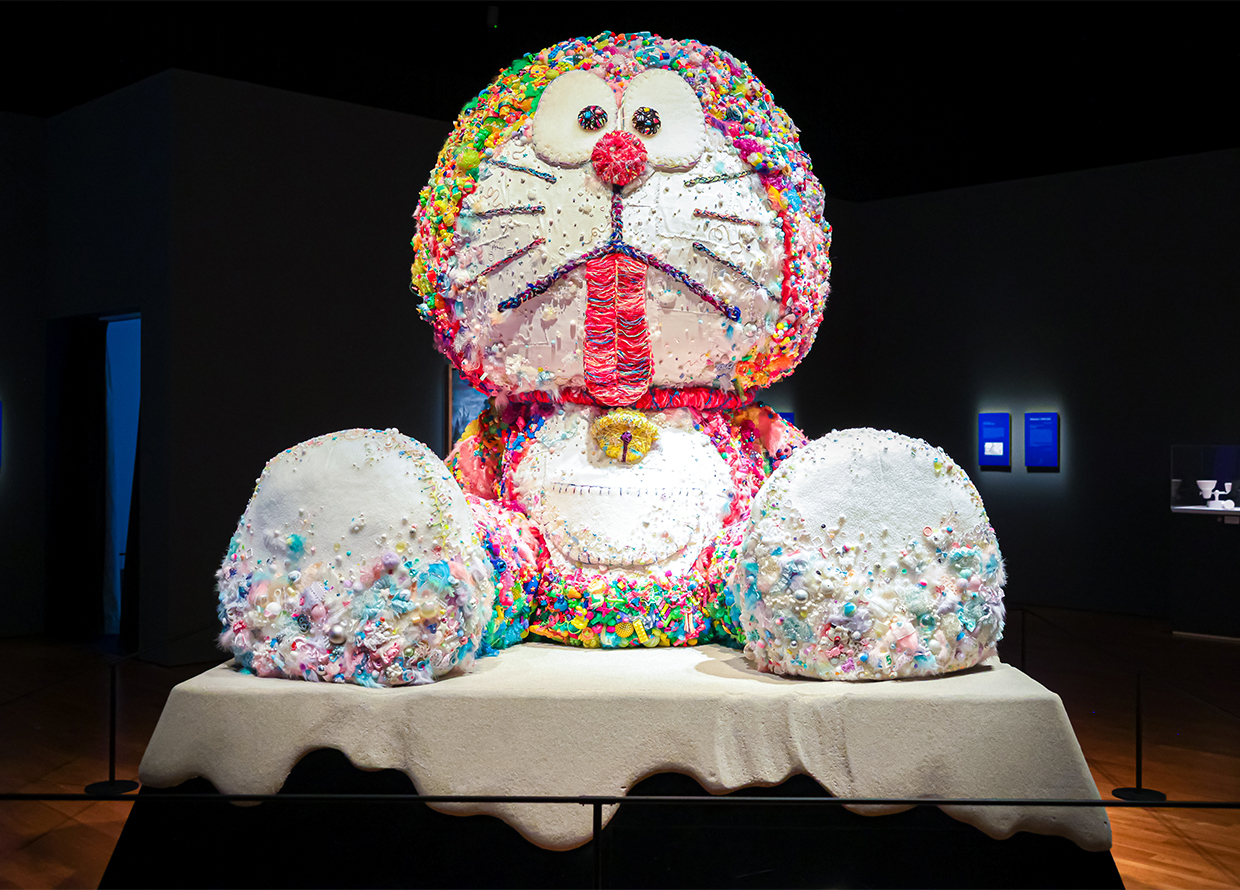 Grew up watching the popular Japanese manga and animation, Doraemon? Then this exhibition is one you shouldn't miss! Held for the first time outside of Japan, the Doraemon Exhibition takes over the National Museum of Singapore with its familiar yet innovative recreations of the futuristic blue cat. Exploring the past, present, and future of Doraemon, the exhibition offers a contemporary art show, a showcase of original drawings and sketches by its creator, a Doraemon-themed cafe, and limited edition merchandise. 
Ubiquitous in Japanese culture, the iconic character is beloved by many and represents so many things to different people, from children to senior citizens. This makes it even more exciting to see how Japanese and Singaporean artists have reinterpreted Doraemon through their own lens given the prompt 'Create Your Own Original Doraemon'. From futuristic three-eyed reimaginings to a glittery kawaii sculpture, it's Doraemon like you've never seen before.
We had the opportunity to visit the exhibition before its official opening on November 5 and learn from some of the artists about what their piece represents. Ahead, here are eight Doraemon-inspired artworks, installations, and sculptures you have to see in real life. 

Wouldn't It Be Nice If We Could Do Such a Thing by Takashi Murakami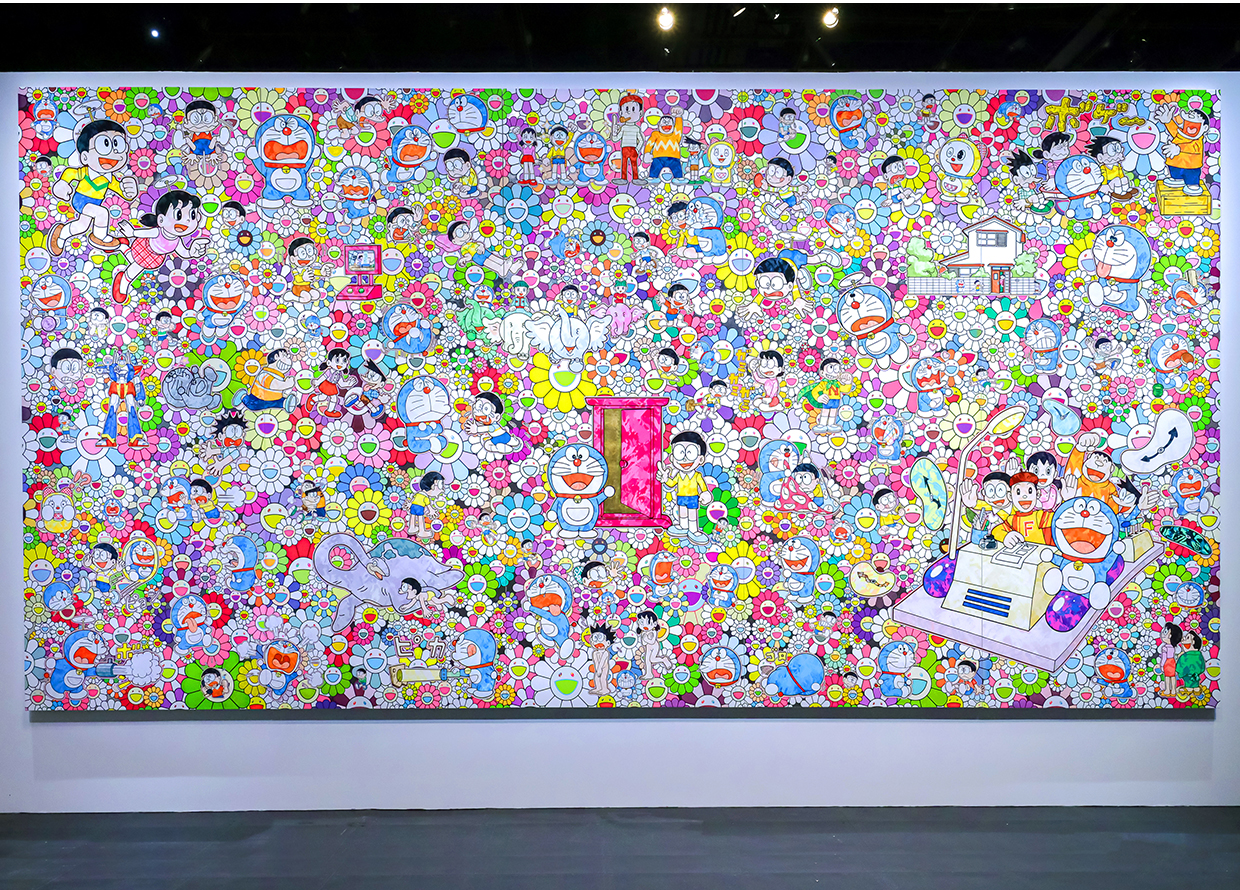 Starting off the list is an artwork by one of Japan's most famed contemporary artists, Takashi Murakami, who is best known for his style of blending pop art aesthetics and high art. Visitors will immediately be awestruck by the sheer amount of printed Doraemons, Nobitas, and his famous smiling flowers that take up the aluminium canvas. A huge fan of manga himself, Murakami was interested in the development of manga in Japan after the Second World War, and how its transformation as an art form proliferated around the world. Forming a unique part of Japanese culture, Murakami viewed Doraemon creator Fujiko F. Fujio as 'the key' to the red door seen in the middle of the artwork that opened the world to a new wave of cultural exchange in the form of manga. You will get the full effect by seeing it in person, as Murakami intended visitors to feel the depth and rich history of manga as an art form.
Final Weapon by Sebastian Masuda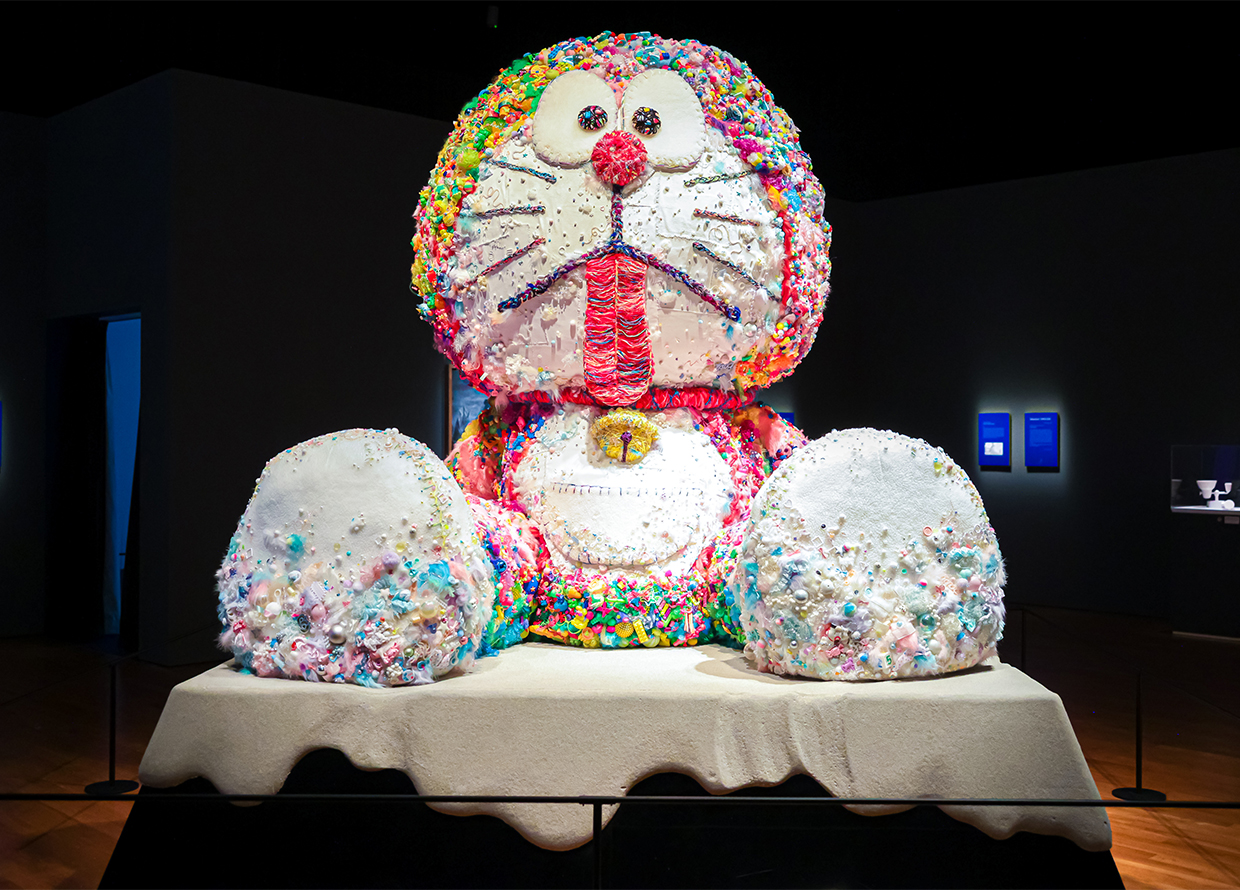 This next piece by Sebastian Masuda is the definition of gasp-worthy. As you enter the gallery, you will immediately see a giant 10-feet tall Doraemon that is made of fluffy pink yarn and adorned with over 10,000 individual pieces of children's toys, hair clips, beads, and all things shiny. According to Masuda, the reason behind kawaii-fying the blue cat was due to the artist's own interpretation of the character, who he believes is meant to bring happiness to society. In his mind, Doraemon is one that is pink, adorable, and even has its tongue out all the time. To complete it, Masuda visited over 100 local markets around the world to collect pieces and he took over six months to bring it to life. You have to see it for yourself to appreciate all the details!
Intergalactic Voyagers and Teleportation Art: Series 1 & 2 by Jahan Loh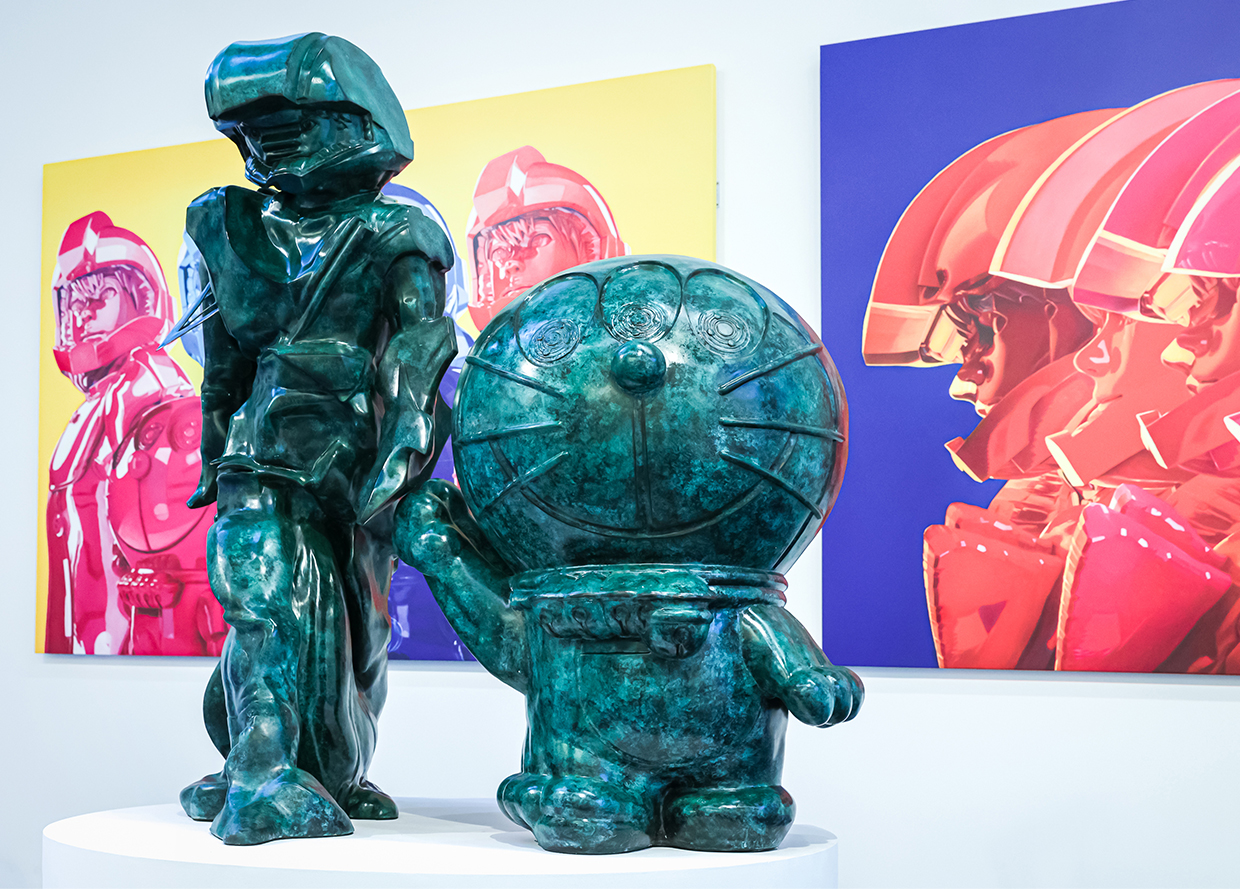 Jahan Loh is one of only two Singaporean artists that were commissioned by the National Museum of Singapore to create his own version of Doraemon. For his pieces, Loh leaned heavily on the time-travel aspect of Doraemon. For Intergalactic Voyagers, the brass structure features a spaceman (representing Loh) hand in hand with a three-eyed Doraemon that symbolises the past, present, and future. For his second piece, Loh's street art style is apparent in Teleportation Art: Series 1 & 2 as he takes Doraemon's magical gadgets as inspiration to create stunning artworks that "harness the power of art, science, and technology".
Time DORAvel by Nozomi Watanabe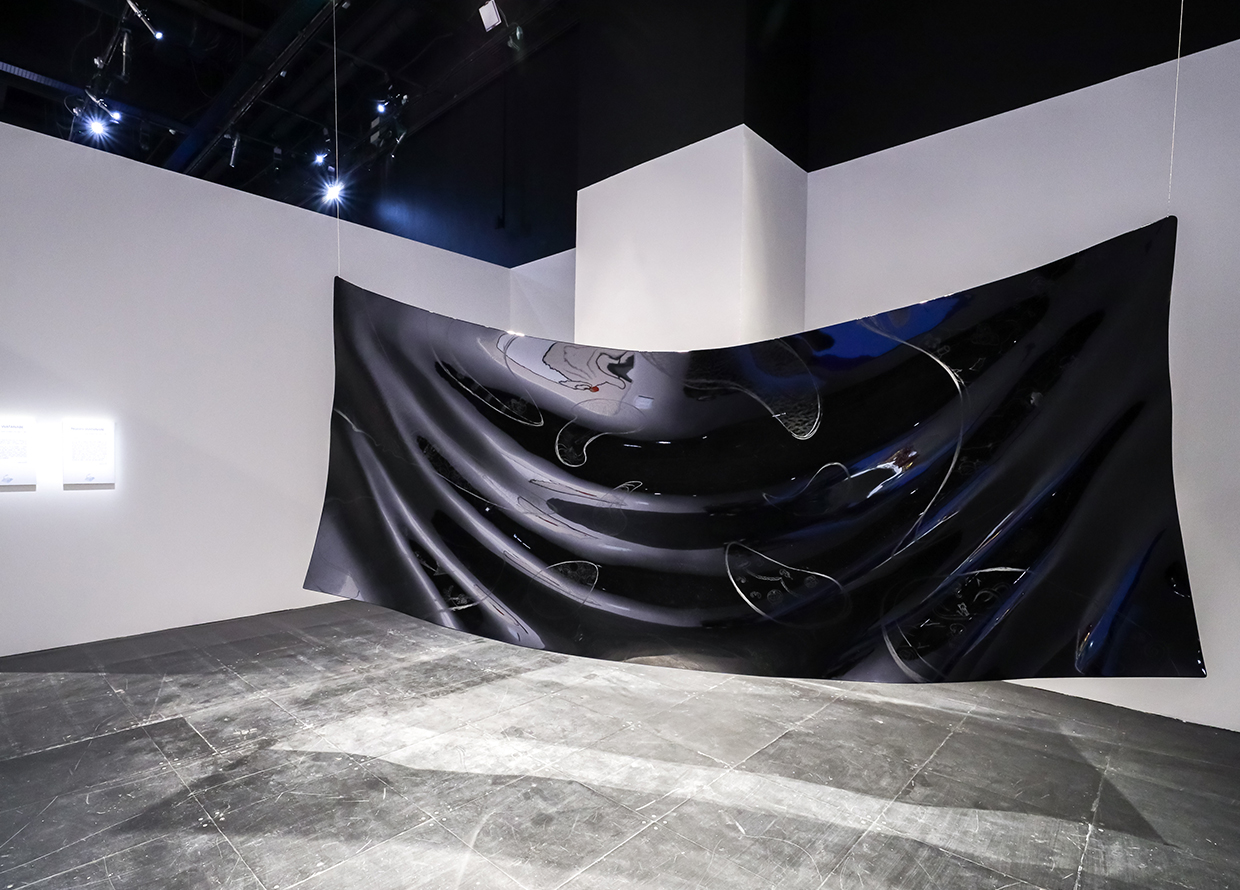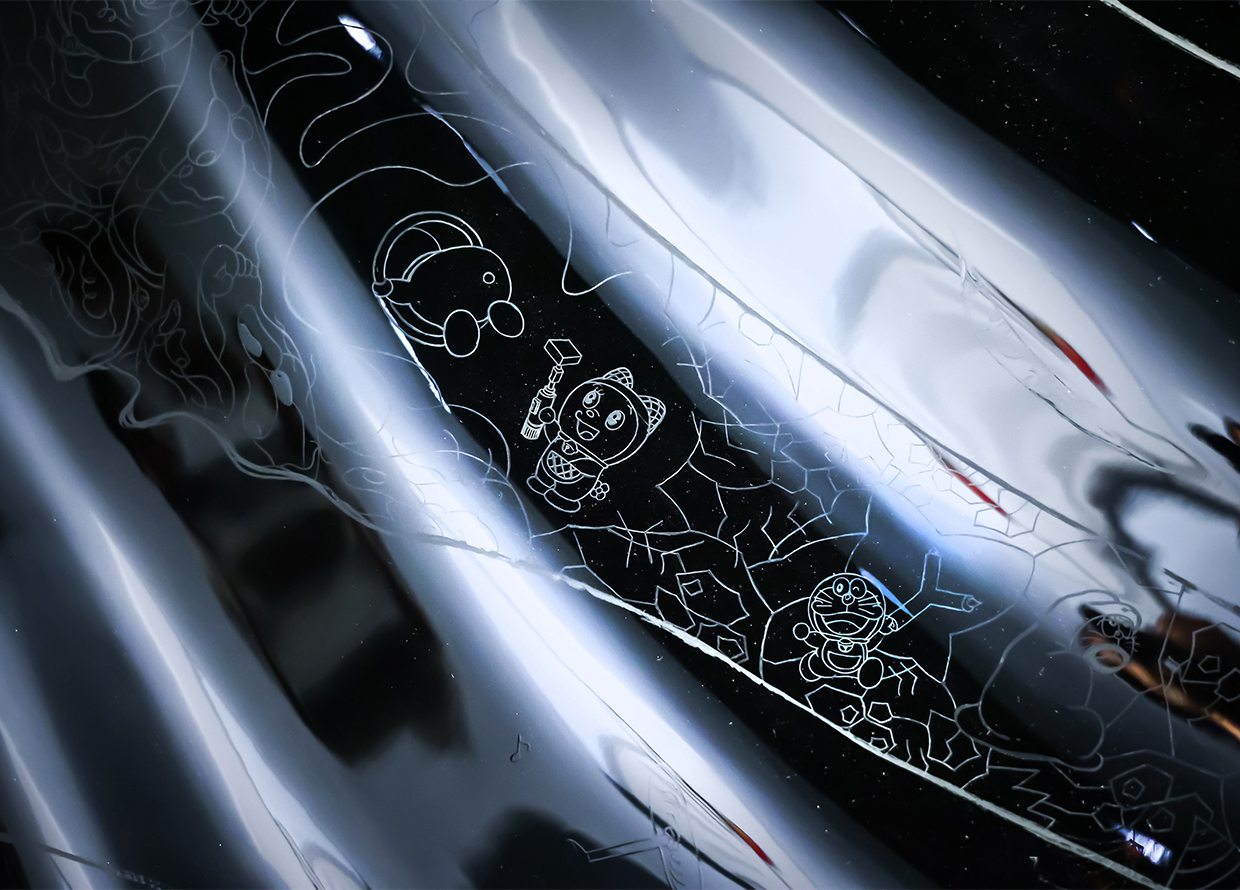 This is one installation you have to see in real life simply because the drawings inside it will only present themselves if you look at them a certain way. With its mysterious silhouette, Watanabe's piece looks like it belongs in another dimension. Inspired by the use of the Time Machine by Doraemon and friends, the artist used shikkoku (read: jet black lacquer) to "create a deep and glossy blackness that masks a surface's contours, forcing us to discern it by its outline alone, and generating the illusion of being sucked inside." As you get closer, the drawings of Doraemon will become more apparent as the artwork hits the light.
Imagine by Leslie Kee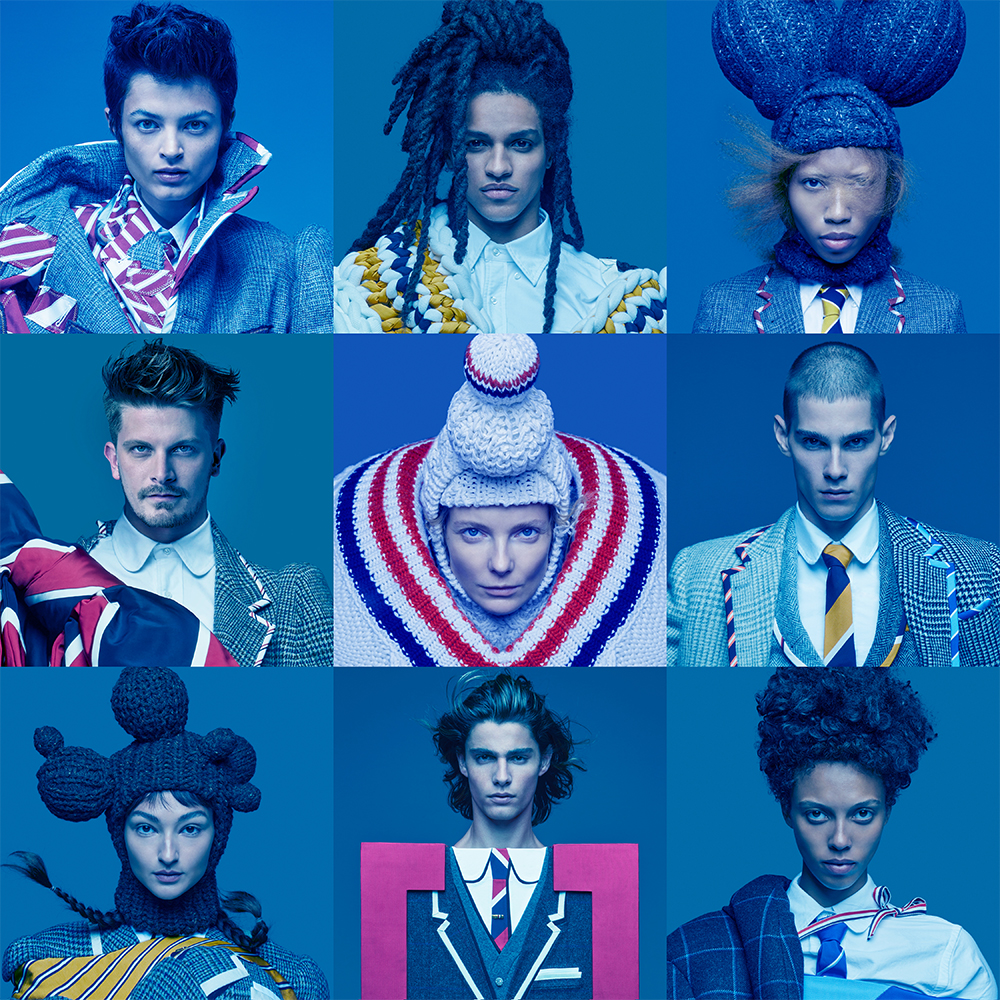 The other Singaporean artist commissioned by the National Museum of Singapore is none other than Leslie Kee, who is one of the most renowned photographers and film directors currently based in Japan. As the only photographer in a lineup of sculptors and painters, Kee brought his version of Doraemon through what he knows best: portraits. Simply titled, Imagine, the giant framed collage features nine models of different racial backgrounds in blue-tinted portraits that envision a world of 'Love, Peace, One, You, Me, Doraemon'. Interestingly, each blue tint is different from each other, symbolising Kee's message that whilst we may all look different, we are still united as one human race. 
Shizuka's Cave by Tomoko Konoike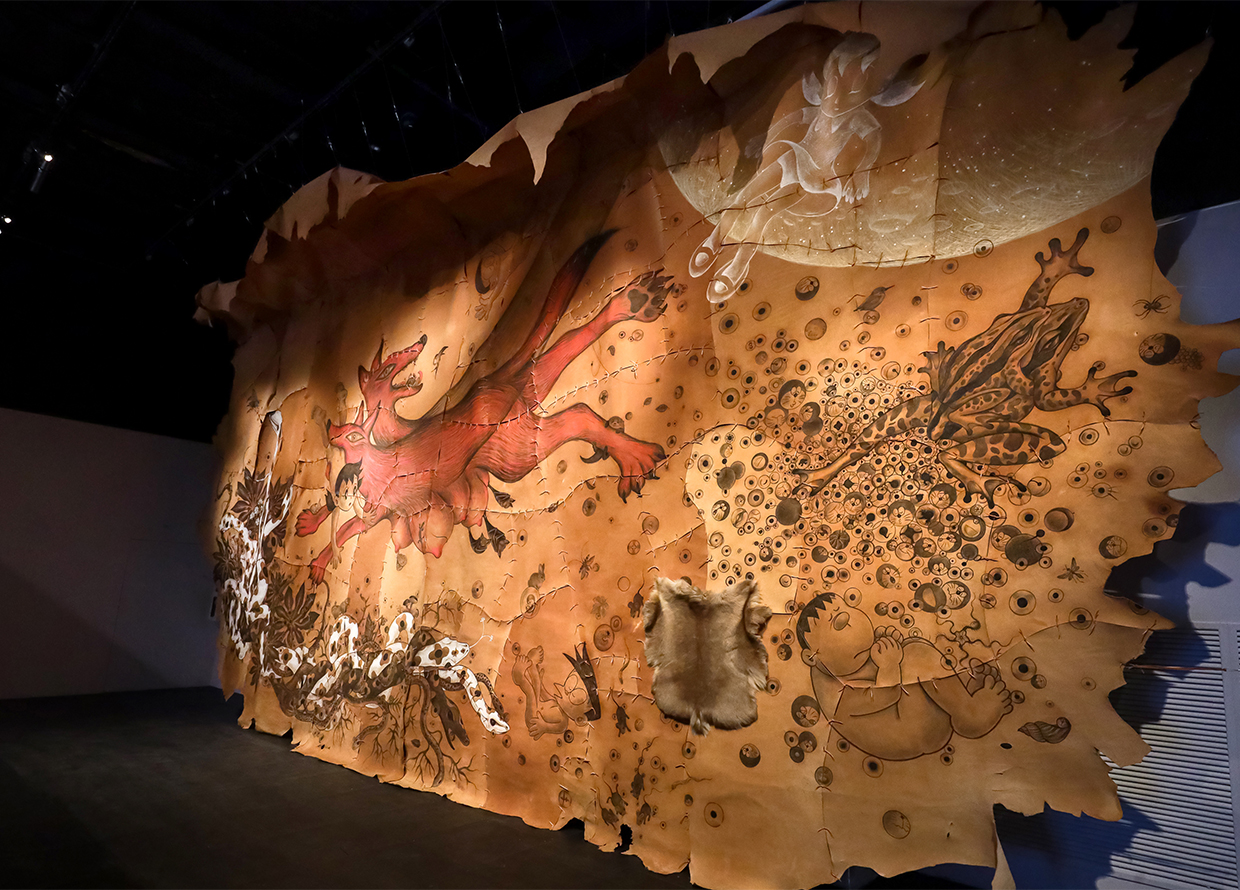 It is jaw-dropping how enormous this piece actually is (at this point, we've lost count of how many times we gasped out loud). Made out of leather and fur, Konoike's installation is deeply inspired by Shizuka's cave. Almost reminiscent of a giant mammoth skin used as parchment or old cave drawings, the prehistoric feel of this art piece conveys the deep history of Doraemon that might have been dug up at an archeological site if the character was real.
Determination by RenaRena (real name Rena Nakajima)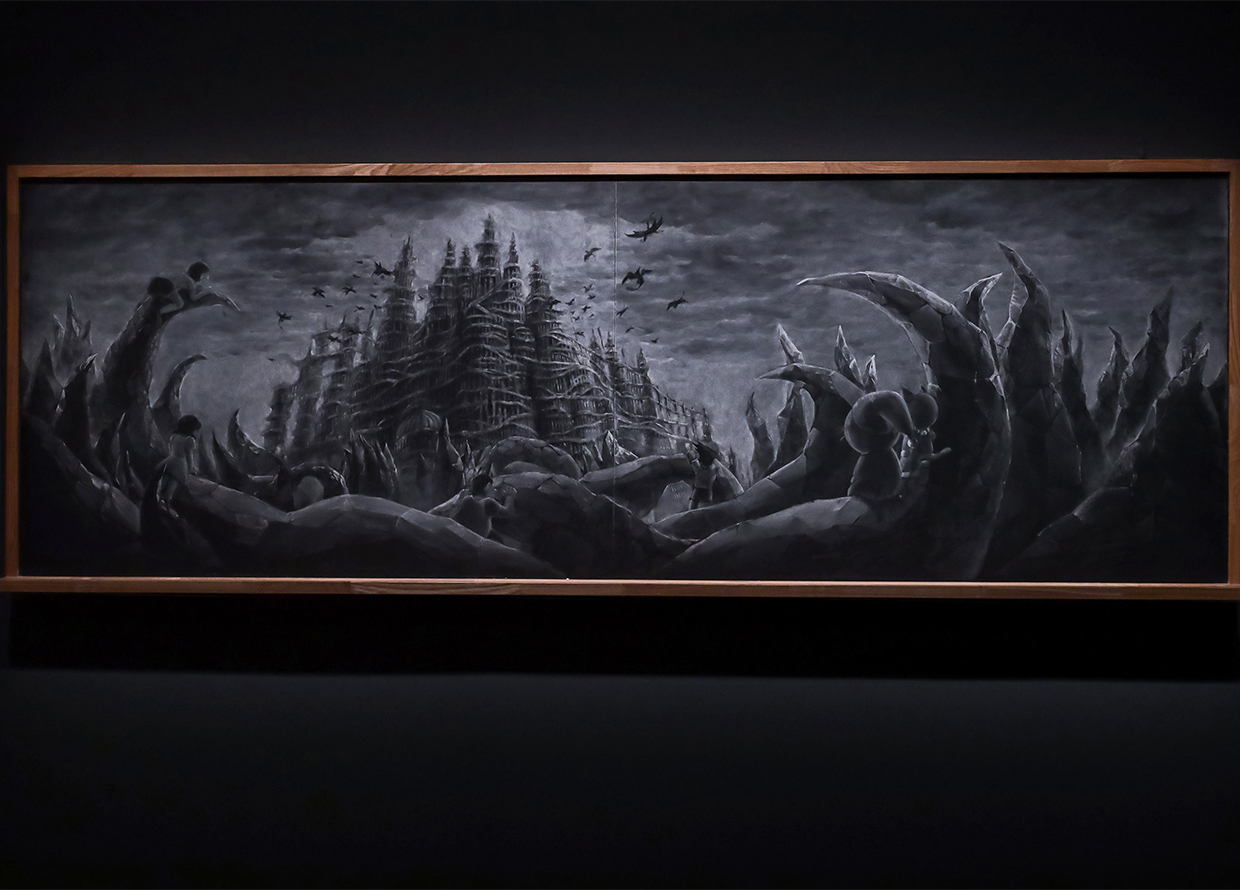 In the midst of bright colours and giant builds, Nakajima pulls it back with just a chalk and a chalkboard that still captures your eyes nonetheless. Taking Doraemon the Movie: The New Nobita's Great Adventure into the Underworld as reference, Nakajima focuses more on the backdrop rather than its characters to set the tone of her landscape painting. Nakajima's artistry is apparent and captures many details that will leave you in awe of what a chalk can do. For instance, she uses the sfumato technique to create smoke-like textures and shading. Reimagining her version of the underworld, she hopes that visitors can "re-experience something that they've already seen in a different way…or to look more carefully at the world around them."
The Manga Doraemon Original Drawings Exhibition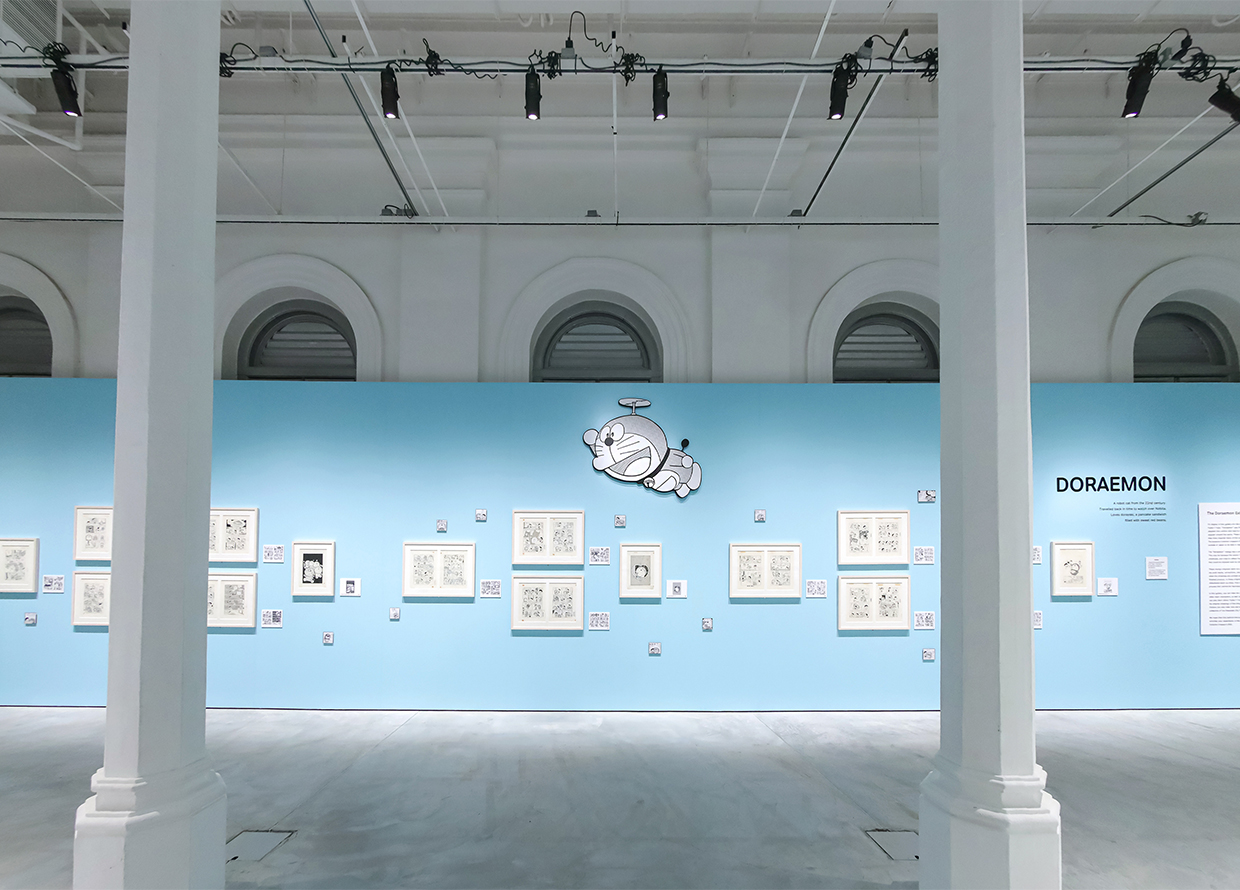 Whilst this is not a specific sculpture or installation, the pieces in The Manga Doraemon Original Drawings Exhibition are definitely a must-see for any manga enthusiast. The exhibition features 127 panels of drawings and sketches, on loan from the Fujiko F. Fujio Museum in Japan. There is also a section that features a rare case display of three original early edition drawings by Fujio himself. This marks the first public showcase of Fujio's works outside of Japan, giving Doraemon fans the chance to properly learn about his inventive and formative illustrations. 
Bonus: While you're there, drop by The Doraemon Cafe!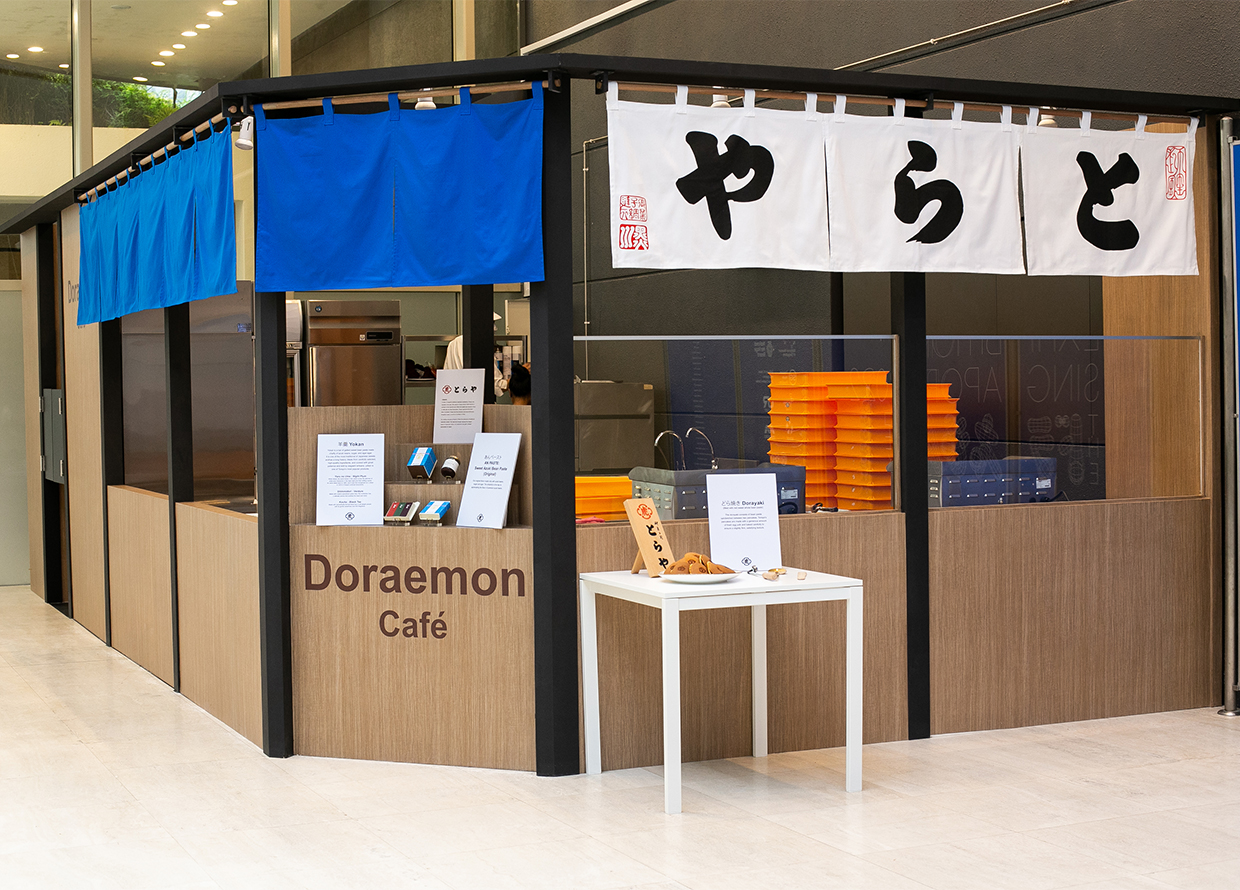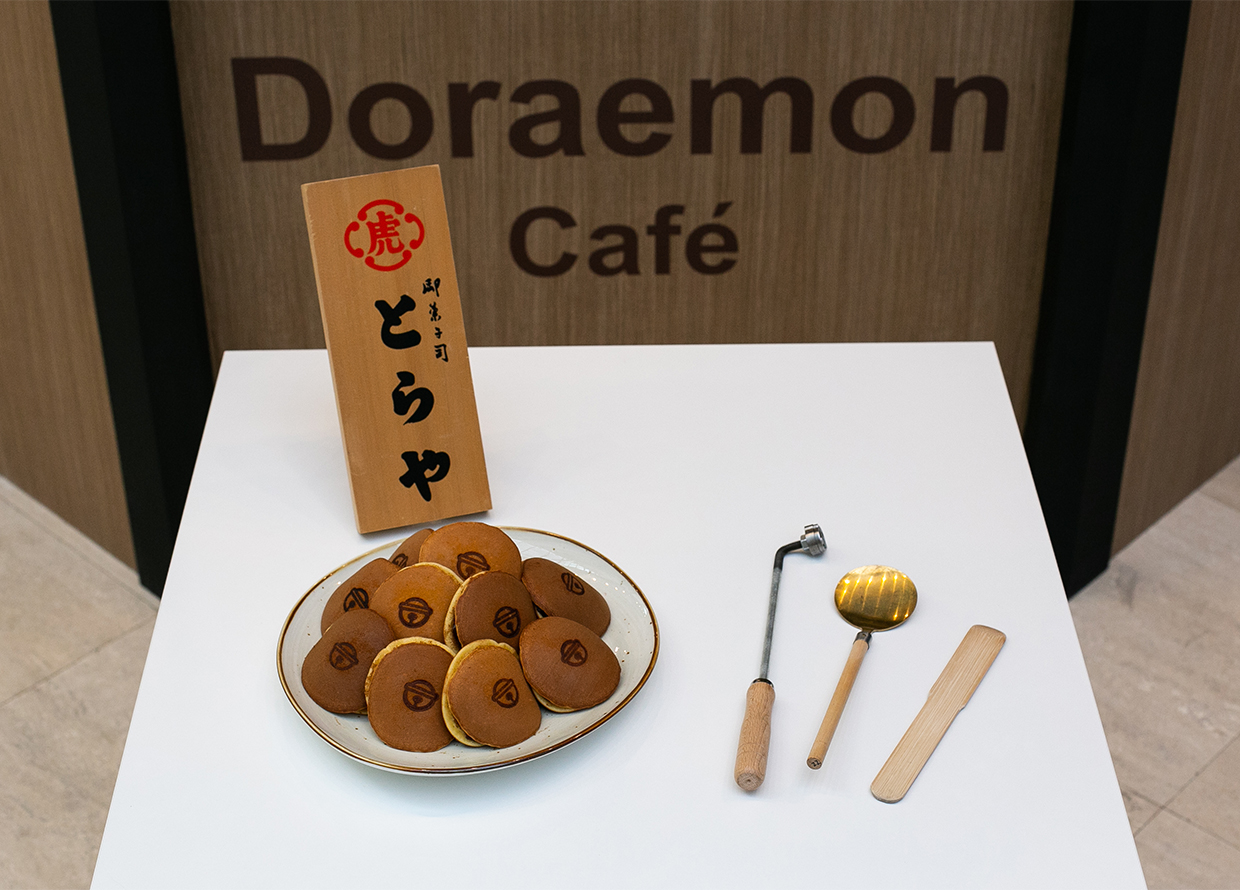 Take a break by heading to the Doraemon Cafe where you can get special complementary offerings of Singapore-exclusive Dorayaki! They are made in collaboration with Toraya, an esteemed wagashi (traditional Japanese confections) maker with a history of close to 500 years. 
The Doraemon Exhibition Singapore is open to the public at the National Museum of Singapore from 5 November 2022 to 5 February 2023, 10am to 7pm daily, with the last admissions at 6:30pm. 
To purchase your tickets, head here. For more information about the exhibition, visit the National Museum of Singapore's website. 
Click here for more art-related reads.
| | |
| --- | --- |
| SHARE THE STORY | |
| Explore More | |