Music
10 of Rihanna's most iconic pop culture moments that live rent-free in our heads
Unapologetically her
FEATURED IMAGES: @robynsfentty / Twitter | @saintduchess / Twitter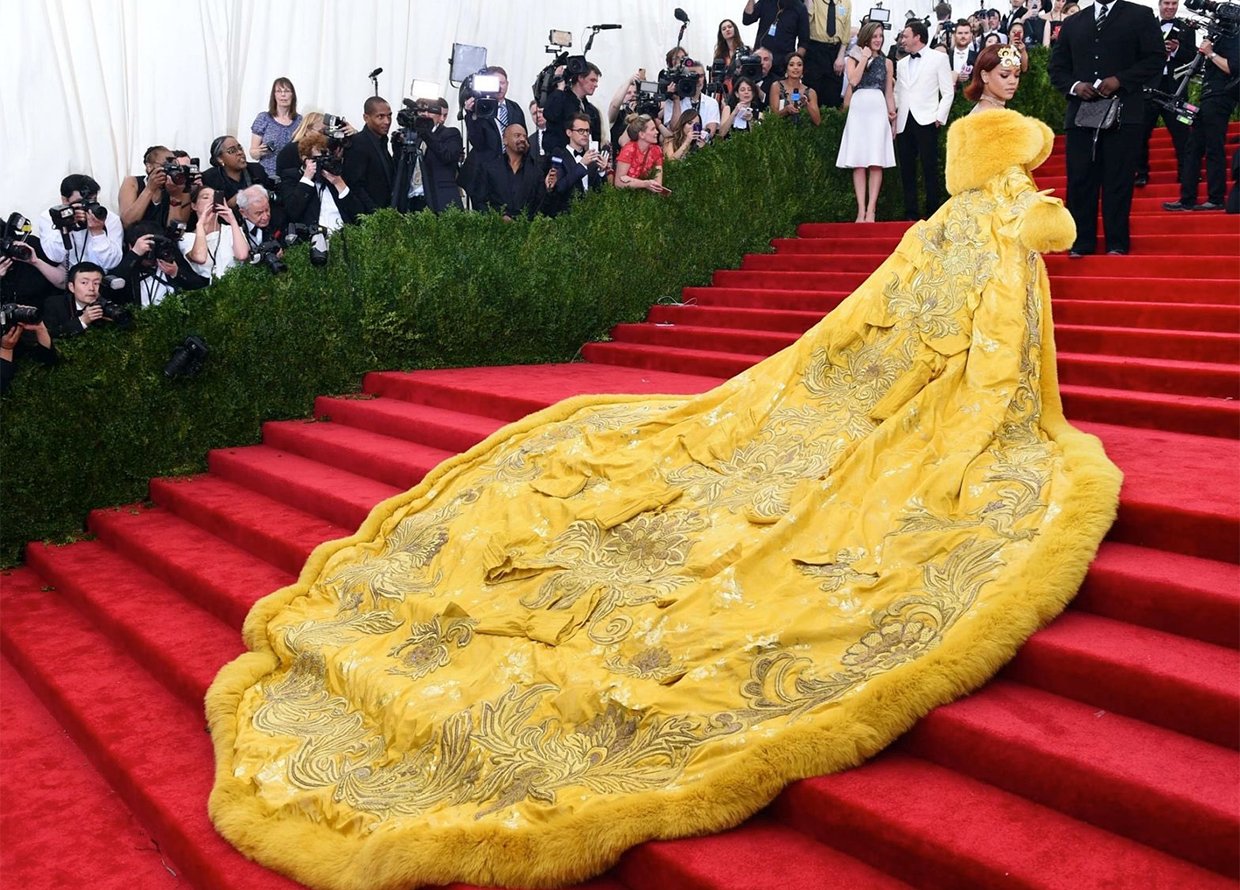 Entrepreneur. Trendsetter. Humanitarian. Icon. These are just some of the words used to describe Rihanna, the multi-talented artist from Barbados. At only 17 years old, Rihanna achieved mainstream success with her debut single Pon de Replay and her path to worldwide stardom was only beginning. Fast-forward, Rihanna turns 35 today, and she has many impressive accolades under her belt—being Billboard Pop Songs Chart's most successful artist of all time, owning a multi-billion dollar beauty brand, and winning nine Grammy Awards are just the tip of the diamond-encrusted iceberg. 
Apart from being mega-successful, the Lift Me Up singer is known for her incredible stage presence, flawless fashion style and signature IDGAF energy. A true queen never has to try too hard, and we live for Rihanna's blasé attitude that makes whatever she does all the more effortless and easy. 
In celebration of the Bardados Babe's birthday (yes, that is one of her nicknames), we take a look back at 12 of her most iconic moments in pop culture history that encapsulates her Bad Gal Riri persona.
When Rihanna rolled a blunt on her bodyguard's head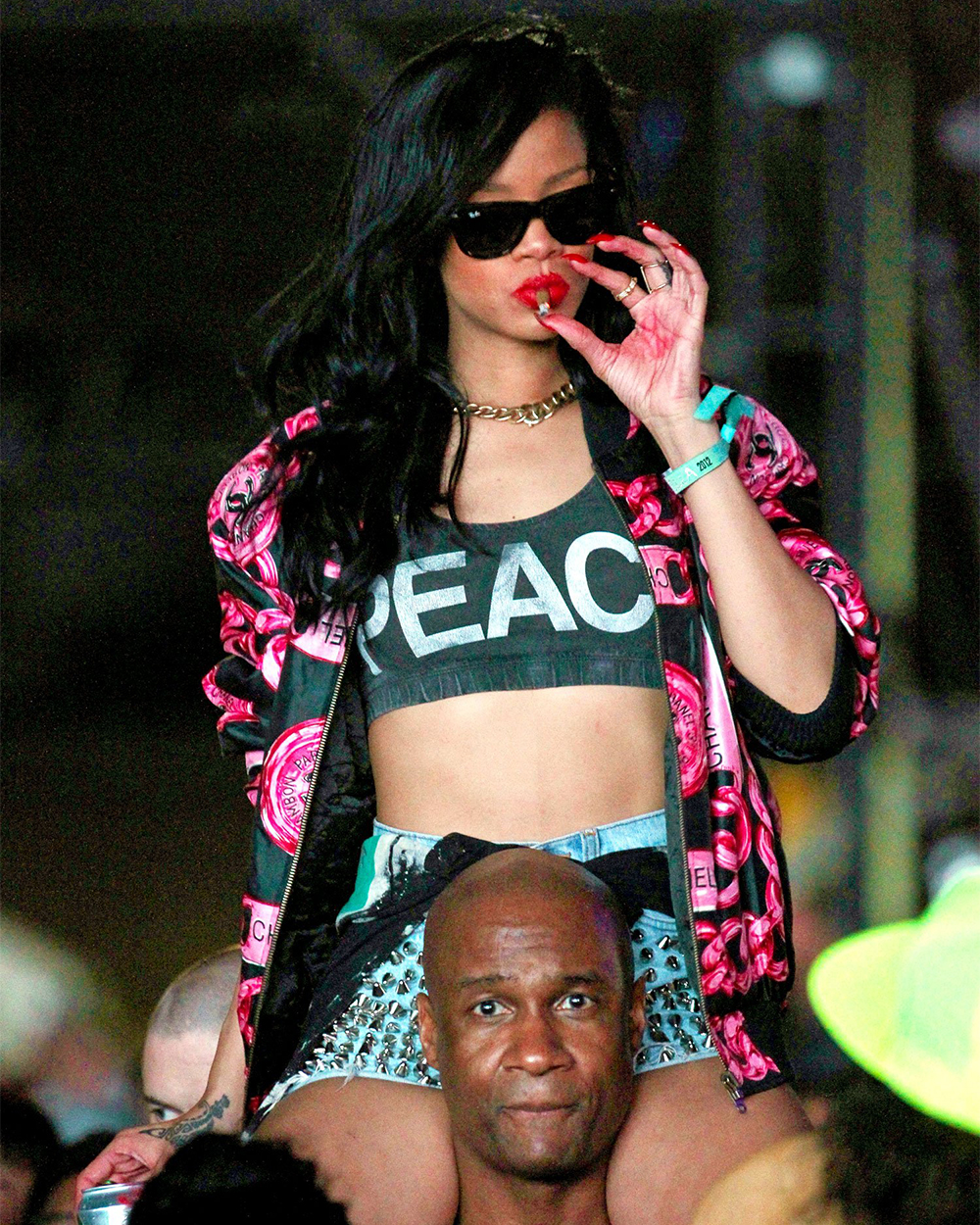 Yes, you read that absolutely right. A truly legendary moment, Rihanna caused a stir at the 2012 Coachella for showing her resourceful nature. While perched atop her bodyguard's shoulders, she used his shiny, smooth dome to roll out a fat one.
It started off so well…
Rihanna is a lot of things, but a fool ain't one of them! Promoting her big-screen debut, the singer-turned-actress surely expected better questions during the press junket tour for Battleship. She was clearly disappointed by the reporter's journalistic integrity and effectively shut down her private questions in a classy yet tough act!
Not one to take any BS from the paparazzi
Known to speak her mind, Rihanna has always drawn a clear line with the paparazzi who ask her intrusive and ridiculous questions. From telling them to kindly "move outta the way motherf***er" to the iconic "free tickets these nuts", her no-BS attitude makes her all the more relatable. In fact, many of her famous memes come from such moments!
That one yellow dress that broke the Internet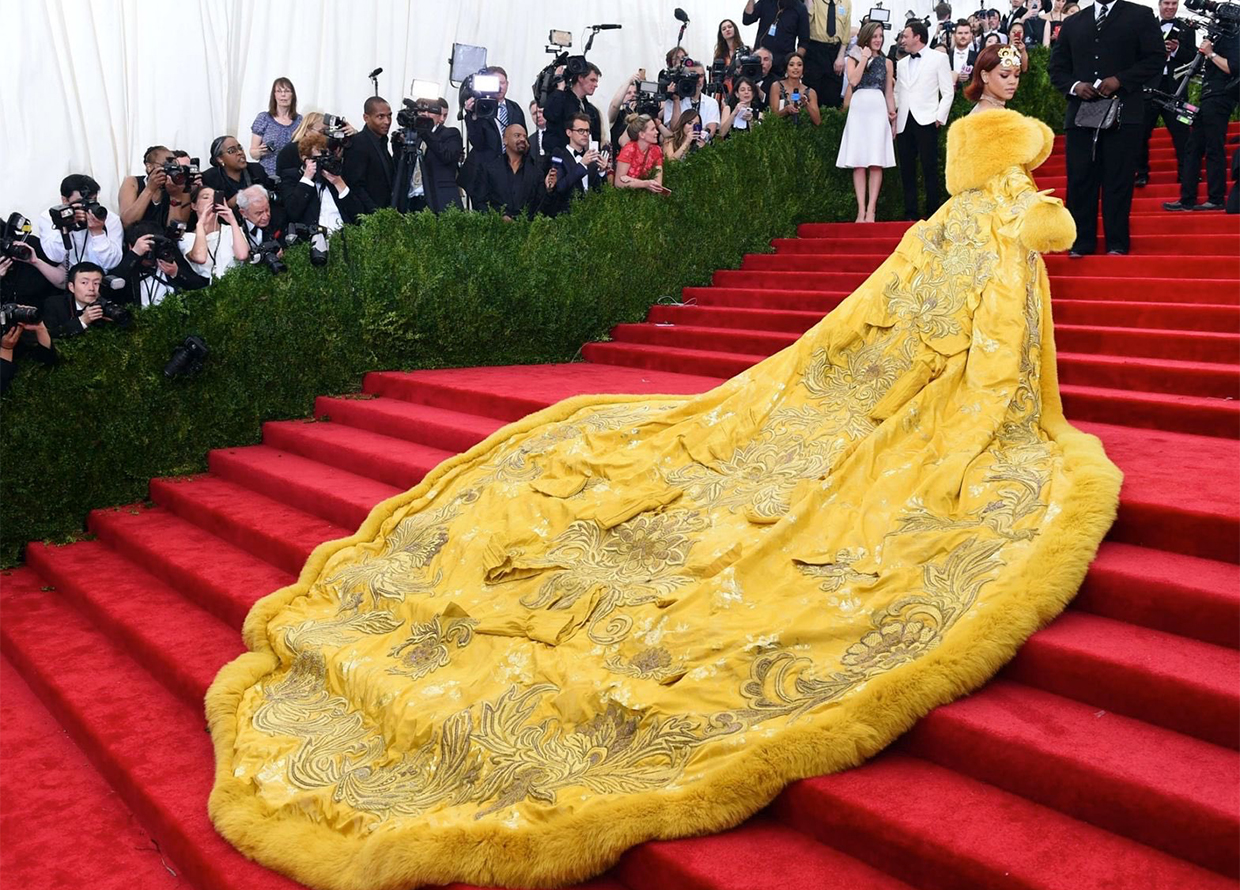 The Caribbean Queen (again, one of her many nicknames) is known for her impeccable fashion style. At the 2015 Met Gala, the singer came dressed in a bright yellow haute couture cape gown and the world stopped for a moment. The beautiful piece took 50,000 hours of hand embroidery, weighed 25 kilograms and took two years to make. Seeing that the theme was China: Through the Looking Glass, Rihanna chose to wear a design by Chinese designer Guo Pei who shot to worldwide fame after this moment. Vogue named it one of the top 25 best Met Gala looks of all time, Harper's Bazaar US crowned it the most memorable fashion moment of the decade, and the internet immortalised the look with many memes. Clearly, Rihanna understood the assignment.
Miss her with that kiss
At the 2016 MTV Video Music Awards, Riri watched Drake confess to being in love with her since he was 22 years old. While it was sort of cute, no still means no and the singer famously swerved Drake's impending kiss when she came onto the stage to accept her Video Vanguard Award. Cold but it had to be done!
That time she made a speech at Harvard University 
Despite being a multi-billionaire superstar, Rihanna has always remembered her roots and humble beginnings. Coming from an abusive household and a father addicted to drugs, the singer understood how important it was to support underprivileged children and provide them with opportunities to lift them out of poverty and oppression. The artist founded the Clara Lionel Foundation Global Scholarship Program in 2012 to fund students from Caribbean countries going to college in the US. In March 2017, the Harvard University Foundation presented Rihanna with its Humanitarian of the Year award in recognition of her efforts. Her speech was inspiring, heartfelt and, of course, meme-worthy! 
Rihanna finds the perfect response to body shamers
View this post on Instagram
When there was online buzz about how Rihanna may have put on some weight (ah, don't you just love body-policing?), the Baddie Ree—not an official nickname, but we think it should be—brought out an old but classic meme to take control of the narrative and shut the rumours up. Just like her, we also agree a meme is the best way to end any sort of argument. 
When she decided to shake up the beauty world  
View this post on Instagram
2017 was also an iconic year for Rihanna due to the launch of her makeup brand Fenty Beauty on 8 September. Dubbed the "Fenty Effect", Rihanna started a new wave of inclusivity and representation in the beauty world due to her 40-shade foundation line that also catered to different undertones. Since then, many brands have come out with more inclusive shades for POCs. Talk about shaking up the established makeup world!
Her love language: cuss words and middle fingers 
View this post on Instagram
The Umbrella singer constantly goes viral on social media for her facial expressions, particularly her annoyed and irritated RBFs. Turns out, this also translates to when she's giving people love. In a viral clip, Rihanna is seen putting up both middle fingers and mouthing "f*** you, b****" to Michell'e Saint Laurent at the 2019 Porcelain Ball competition. If you're so beautiful that it makes Rihanna cuss, you're a winner in our books!
Performing the 2023 Super Bowl Halftime show while pregnant
View this post on Instagram
Her latest gift to the pop culture history books was nothing short of spectacular. This was her first live performance in the last five years, meaning fans had high expectations. Safe to say, Rihanna showed that she was anything but rusty and worked the stage with a 12-song set while pregnant with her second child! We would classify that as legends-only behaviour. 
For more pop culture reads, head here.
| | |
| --- | --- |
| SHARE THE STORY | |
| Explore More | |