Film, TV + Theatre
BURO TV Guide August 2022: 'The Sandman', 'Lightyear', 'The Screaming Sky', and more
Your monthly streaming guide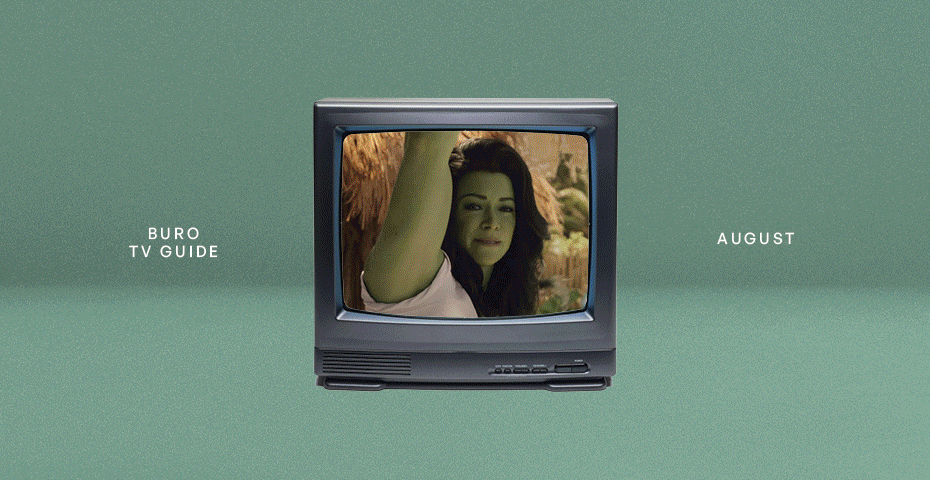 This August, the cinematic world brings us a variety of exciting international and western films to keep us entertained all month long. From embarking on a cosmic adventure with Buzz Lightyear to surviving an alien apocalypse with paranoia clouding our minds—you'll want to add these seven shows to your watchlist:
The Sandman
When and where: 5 August 2022 on Netflix
Watch if: You're a fan of DC comics
Starring: Tom Sturridge, Gwendoline Christie, Vivienne Acheampong, Boyd Holbrook, Kirby Howell-Baptiste, and Mason Alexander Park
Adapted from Neil Gaiman's award-winning DC comic series, The Sandman tells a dark mythical story of the many-sided Morpheus, the Lord of Dreams (AKA Sandman) and one of the seven powerful beings of Endless. He takes control of the Dreaming, a metaphysical plane we travel to in our deepest slumber where he gives shape to our biggest fears and fantasies. But what happens when he is unexpectedly captured and held prisoner for over a century?
Watch here.
She-Hulk: Attorney at Law
When and where: 17 August 2022 on Netflix
Watch if: You're a fan of Marvel
Starring: Tatiana Maslany, Jameela Jamil, Mark Ruffalo, Ginger Gonzaga, Tim Roth, and Benedict Wong
Debuting as the thirteenth installment of Marvel Cinematic Universe's Phase Four, She-Hulk: Attorney at Law follows Jennifer Sue Walters—an attorney specialising in superhuman-oriented legal cases—as she navigates through the complexities of single life at 30-something years of age. Oh, and she also happens to be a green six-foot-seven-inch superpowered hulk.
Watch here.
Read: The entire Marvel Cinematic Universe Phase Five timeline, explained
See Season 3
When and where: 26 August 2022
Watch if: You enjoy action-packed thrillers
Starring: Jason Momoa, Sylvia Hoeks, Hera Hilmar, and Dave Bautista, Yadira Guevara-Prip
Set in a post-apocalyptic dystopia, Jason Momoa stars as Baba Voss—fearless warrior, leader of the Alkenny Tribe, and adopted father of Kofun and Haniwa, who had been gifted with the mythical ability of sight in a sightless world. Returning for its third and final season with stakes higher than ever, Season Three takes off a year since Voss had ventured out to live remotely in the forest after brutally defeating his ultimate nemesis and brother, Edo. But his peace will soon come to an abrupt end when a Trivantian scientist invents a new form of sighted weaponry that could lead to the downfall of humankind, leaving him with no other choice but to return to society and protect his tribe.
Watch here.
Lightyear
When and where: 3 August 2022 on Disney+
Watch if: You were disappointed with the ban in June
Starring: Chris Evans, Keke Palmer, Peter Sohn, Taika Waititi, and Peter Sohn
Although the release of Lightyear was met with a disappointing ban in Malaysian theatres, Disney+ has our back. Starring Chris Evans as the voice of the titular character, Lightyear follows the iconic space ranger as he embarks on an intergalactic adventure to explore the habitable planet, T'Kani Prime, alongside his ambitious crew. After discovering that the planet hosts hostile lifeforms, teamwork is vital for their survival against Zurg and his ruthless army of robots.
Watch here.
Gordon Ramsay's Future Food Stars
When and where: 22 August 2022 on BBC or Astro Channel 717
Watch if: You're a fan of Gordon Ramsay
Starring: Gordon Ramsay and twelve contestants
Gordon Ramsay presents us with yet another culinary competitive series, Gordon Ramsay's Future Food Stars, with 12 up-and-coming food and drink entrepreneurs competing for the big prize—Ramsay's whopping £150,000 investment. Like any of Ramsay's competitions, the contenders are in for a series of gruelling challenges designed to test their character and skills.
READ: Review: Gordon Ramsay Bar & Grill brings the chef's British classics to Malaysia
Bad Sisters
When and where: 12 August 2022 on Apple TV+
Watch if: You enjoy thrillers with dark comedy
Starring: Sharon Horgan, Anne-Marie Duff, Eva Birthistle, Sarah Greene, and Eve Hewson
Based on Malin-Sarah Gozin's Clan, Bad Sisters promises a "delicious blend of both dark comedy and thriller" with a familial murder mystery involving the five early-orphaned Garvey sisters. Forever bound together by a promise to always protect each other, their sisterly bond manifests in the form of revenge murder against their violent and possessive brother-in-law, making them the subject of an investigation filed by his life insurers.
The Screaming Sky / Ceroboh
When and where: 31 August 2022 on Netflix
Watch if: You'd like to support local talents
Starring: Mia Sara Shauki, Nia Atasha, Grace Ng, Charles Roberts, Syazani Zikry, and Sasidaran
What better time to support our local talents than in the month (and specific date) that commemorates Malaysia's independence? On that note, may we suggest the upcoming supernatural thriller titled The Screaming Sky, starring actress Mia Sara Shauki as the leading role alongside model Nia Atasha. In a world overrun by mind-controlling aliens known as Sky Beasts, The Screaming Sky follows six people seeking refuge in an abandoned building. But when one of them falls victim to the aliens, paranoia among the group becomes just as deadly as any threat from the sky.
| | |
| --- | --- |
| SHARE THE STORY | |
| Explore More | |