Film, TV + Theatre
BURO TV Guide January 2022: 'Euphoria Season 2', 'Snowpiercer: Season 3', 'The Afterparty' and more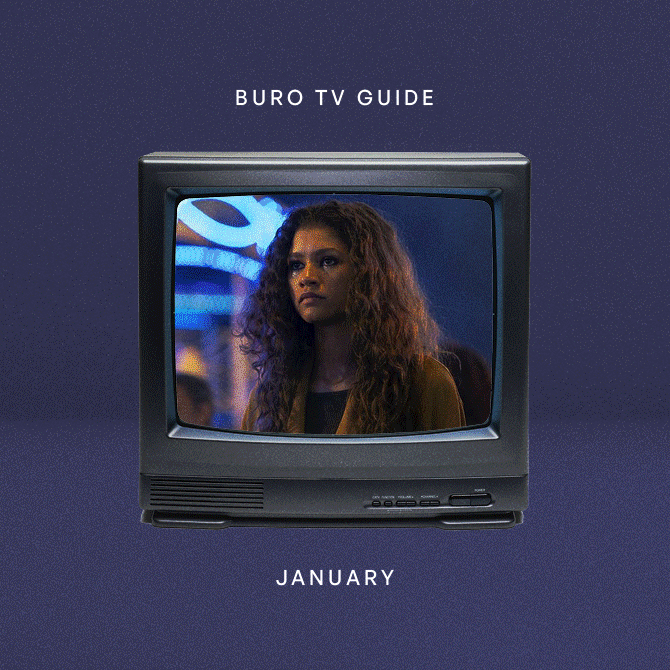 New year, new watchlist. January's new releases are the perfect way to start 2022. From solving mysteries to surviving a dystopian Ice Age—this month's must-watch programs will have you on the right track for an amazing year.
1) Euphoria Season 2
When and where: 9 January 2022 on HBO GO
Who's in it: Zendaya, Hunter Schafer, Jacob Elordi
Watch if: You're ready for the glittery eye-makeup trend to invade our lives for a second time
Get ready to break out the glittery makeup and skin-baring clothing again this January—the talented cast of hit HBO series Euphoria is returning for a second angsty, drug-fueled journey. Picking up after last year's two special bridge episodes where Rue (Zendaya) survives her relapse but still struggles with her addiction, and Jules (Hunter Schafer) recounts her hardships with her transition as well as online dating, the new season reels in the stories of show's other characters, who are bound for another complicated trip with double the asinine teenage exploits and heart-wrenchingly emotional moments. Euphoria's second bout at the rodeo promises more unique coming-of-age stories as the main characters we all know and love confront, and navigate, their complicated lives.
2) Photocopier
When and where: 13 January 2022 on Netflix
Who's in it: Shenina Cinnamon, Chicco Kurniawan, Jerome Kurnia
Watch if: You love mystery dramas
In Wregas Bhanuteja's directorial debut, freshman student Sur (Shenina Cinnamon) is a volunteer web designer for a university theatre group on track for a prestigious scholarship. When her theatre group's production achieves huge success, she's invited to a celebratory party and coaxed into drinking for the first time. After blacking out, Sur wakes up late for her scholarship meeting, and when pictures of her drunk at the party the night before surface across social media, she loses her scholarship. With little to no memory of what happened at the party and determined to unearth the truth, Sur pairs with her childhood friend and photocopy worker, Amin (Chicco Kurniawan), to find out what really happened.
3) Midnight Asia: Eat. Dance. Dream
When and where: 20 January 2022 on Netflix
Watch if: You're a nightlife enthusiast, and miss travelling
Filled with bustling metropolises, Asia has been known to offer some of the best, one-of-a-kind nightlife experiences in the world. From Bangkok to Tokyo, Seoul to Mumbai, cities across Asia are said to come alive when the sun goes down. This documentary lures you in on a journey to discover the extravagant, the hidden, the strange, and the unforgettable. You name it, Asia has it all and then some. The continent is a well-known melting pot of culinary delicacies, unique music, entrancing dances, and absolutely no shortage of rich cultures to learn about and experience. Been feeling a bit blue due to the international travel restrictions this past couple of years? Satiate your feelings of wanderlust and live vicariously through this new documentary that'll introduce you to a whole new side of Asia.
4) Ozark: Season 4 Part 1
When and where: 21 January 2022 on Netflix
Who's in it: Jason Bateman, Laura Linney, Sofia Hublitz
Watch if: You've always wondered what life as a criminal would be like
Set in the heart of the Missouri Ozarks, the fourth season of critically acclaimed Ozark brings the Byrd family's professional and personal drama back to screens. Deceitfully normal on the outside, the Byrd family is anything but—having relocated to the Ozarks after uprooting from their previous home, the head of the family, Marty Byrd (Jason Bateman) is the money launderer for one of Mexico's most prominent drug cartels. Marty and his wife (and literal partner in crime), Wendy (Laura Linney), have faced many dangerous obstacles in their path to find a way out of the Ozarks with their family, but will the Byrd family's previous sins come back to haunt them? Make sure to tune in to the new season of Ozark to find out.
5) Snowpiercer: Season 3
When and where: 25 January 2022 on Netflix
Who's in it: Daveed Diggs, Sean Bean, Rowan Blanchard
Watch if: You've been dying to find out what happens next to the crew aboard The Eternal Engine
Return to the caste system of the perpetually moving Eternal Engine, with more intense train politics and icy blizzards to come. After Season 2's finale saw Melanie (Jennifer Conelly) walk off into the snowstorm never to be seen again, the rest of Andre Layton's (Daveed Diggs) and Mr Wilford's (Sean Bean)'s crews are left hanging in the balance as they continue to look into the signs of a now-thawing Earth and what the warming of the planet could mean for the future of humanity. With many things uncertain, and hostile situations awaiting them both inside and outside the train, the remnants of humanity will have to brace themselves for the unexpected and possibly the worst. It's all aboard Snowpiercer this month, so tune in to find out if this thrilling train ride is destined to become a train wreck.
6) The Orbital Children 
When and where: 28 January 2022 on Netflix
Who's in it: Natsumi Fujiwara, Azumi Waki, Kensho Ono
Watch if: Charming yet exciting sci-fi shows are a niche interest of yours
Set in the year 2045, The Orbital Children introduces a world where space travel is a regular, everyday affair and underage children who are not born on Earth are housed in a special hotel. In a world of advanced technology where the future is right in the palm of your hand, two children born on the moon and three children from Earth band together to survive after an accident on their space station leaves them stranded. It's not just the harsh environment of space that threatens their safety, however, as social media and propaganda in space present a different challenge to the young space children. Brought to life by the creators of shows like Neon Genesis Evangelion, Cowboy Bebop, and Attack on Titan, mark your calendars for this new anime series that will immerse you in a space adventure unlike any other before.
7) The Afterparty
When and where: 28 January 2022 on Apple TV+
Who's in it: Tiffany Haddish, Sam Richardson, Dave Franco
Watch if: You love crime mysteries with a dash of comedy and a Rashomon Effect twist
High school reunions are typically reasons for excitement or pure dread, but seldom do they entail the fear of murder. Coming from the makers of 21 Jump Street and The Lego Movie, The Afterparty sets up the investigation into the murder of celebrity Xavier (Dave Franco) who is killed at the high school reunion he hosts for his indignant former classmates. Under the scrutiny of Detective Danner (Tiffany Haddish), the events of the night unfold through the varying accounts of multiple people who were there that night. Each character's retelling is embellished by different film genres and unique visuals that open a window not just into what really happened before the murder, but also into the eclectic personalities of the group. Will the killer be found and brought to justice? Remember to tune in and see if you can unravel the mystery before the show does.
| | |
| --- | --- |
| SHARE THE STORY | |
| Explore More | |