Film, TV + Theatre
BURO TV Guide December 2021: 'Money Heist Season 5 Volume 2', 'Emily in Paris Season 2', 'Don't Look Up' and more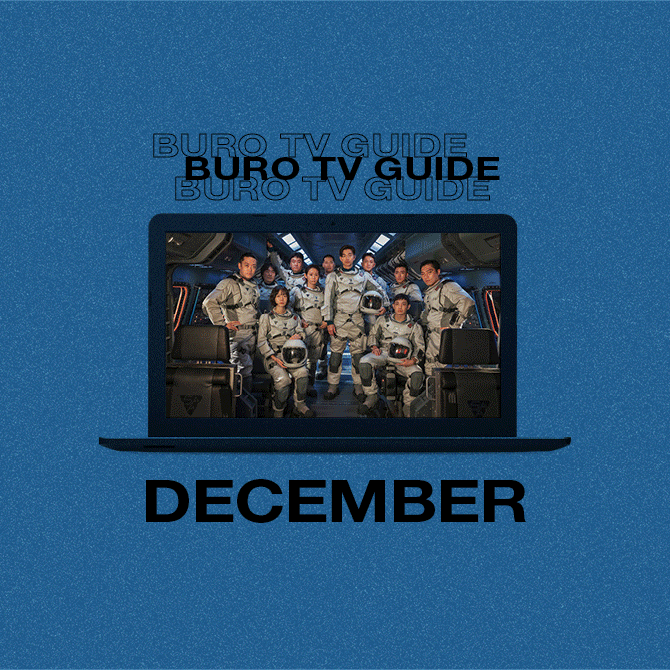 December's new releases promise plenty of variety for all tastes and preferences. From grim dramas to comedy, fantasy and action—here are the top picks for your viewing pleasure:
1) The Power of the Dog
When and where: 1 December 2021 on Netflix
Who's in it: Benedict Cumberbatch, Kirsten Dunst, Jesse Plemons
Watch if: Slow-burn psychodramas are your favourite kind of movies
Directed by Jane Campion and based on the 1967 novel of the same name by Thomas Savage, this Western gothic drama stars some of Hollywood's best. Set in the 1920s, the Burbank brothers run a profitable ranch in Montana. Phil (Benedict Cumberbatch) is charismatic but uncouth, while his brother George (Jesse Plemons) has a taste for the finer things in life and aspires towards a higher social standing. Phil picks on his brother, seemingly enraptured by the idea that George is incompetant and dependent on him, while in truth he is no different from most bullies and is actually concealing his reliance on his brother instead. When George marries widow Rose (Kirsten Dunst) and she and her teenage son Peter move into the house, Phil takes it upon himself to harass and abuse her while taking a gradual and strange liking to Peter. Containing stellar performances from the cast and brilliant cinematography, this is a must-watch for the movie buffs.
2) Money Heist Season 5 Volume 2
When and where: 3 December 2021 on Netflix
Who's in it: Álvaro Morte, Itziar Ituño, Pedro Alonso
Watch if: You've watched and loved earlier seasons of Money Heist
All good things must come to an end, but that doesn't have to mean all is bad. Part two of Money Heist's final season brings back beloved characters and tons of thrilling twists. Volume 1 left off on a high note (quite literally for Stockholm, who injected herself with morphine in Volume 1), with a huge sacrifice from Tokyo (played by Ursula Corbero) that will undoubtedly set the tone for the series finale. With Tokyo out of the picture, our favourite gang of robbers are left in their most vulnerable position yet. With the enemy still in the building and dead set on taking the gang down, our remaining robbers will face their greatest challenge yet, but will The Professor's mistake in the last episode of Volume 1 spell doom for the gang's heist? Return to the Bank of Spain for the final five episodes of Money Heist to find out if the gang gets the gold and makes it out in one piece.
3) The Unforgivable
When and where: 10 December 2021 on Netflix
Who's in it: Sandra Bullock, Viola Davis, Vincent D'Onofrio
Watch if: Redemption stories are your bread and butter
In this Americanised adaptation of the 2009 British mini series Unforgiven, Sandra Bullock plays Ruth Slater, an ex-con released from prison after serving 20 years for violent crime. Set in the rainy city of Seattle, USA, the movie follows Ruth as she readjusts to society in a world that is hostile and unwilling to accept her back into its folds. Ruth goes on a search for her long-lost younger sister and comes across lawyers Jon and Liz Ingram (Vincent D'Onofrio and Viola Davis), who offer her legal aid. As Ruth's past and the details behind her crime surface, it seems that isolation and helplessness can be as torturous in the outside world as it is behind bars. The Unforgivable promises grim storytelling and complex characters, brought to life by a star-studded and honestly overqualified cast. If you're up for a gripping tale of perseverance and vindication, this movie will be one of your top new releases of the month.
4) The Witcher Season 2
When and where: 17 December 2021 on Netflix
Who's in it: Henry Cavill, Freya Allan, Anya Chalotra
Watch if: You've seen Season 1 and count yourself a fan of The Witcher franchise
Everyone's favourite white-haired monster hunter is back for a highly anticipated second spin, with more magic, monsters and madness to ensue. Henry Cavill returns to his role as Geralt of Rivia, one of several monster hunters with supernatural abilities known as witchers, along with Princess Ciri (Freya Allan) and sorceress Yennefer (Anya Chalotra). The last fans saw of Geralt in season one, he and Ciri were battling a wicked Nilfgaardian army. Season two deepens the relationships between the show's main characters, with an expected focus on Geralt and Ciri as he brings her to Kaer Morhen, his childhood home. As Geralt helps train Ciri in her journey as an aspiring witcher, dangerous discoveries are sure to cause mayhem and adventure. With countless fans to impress and a reportedly bigger production budget, The Witcher: Season 2 is bound to have you fully immersed in a phenomenal fantasy realm full of exciting quests and riveting stories.
5) Emily in Paris Season 2
When and where: 22 December 2021 on Netflix
Who's in it: Lily Collins, Ashley Park, Phillippine Leroy-Beaulieu
Watch if: You've seen Season 1, and love outrageous fashion
The sophomore season of Emmy-nominated comedy-drama Emily in Paris brings the perpetually fumbling marketing executive Emily Cooper (Lily Collins) back to our screens. Following Emily as she stumbles through Parisian life and navigates the workplace, friendships and romance, the story will reportedly pick up from where the first season left off—Emily is under the impression that her downstairs neighbour and new love interest, Gabriel, is leaving for Normandy to pursue his dreams of opening a restaurant. But when Emily's Savoir client, Antoine, offers to help him finance a restaurant in Paris, Gabriel's stay in the City of Lights means that everything is now more complicated than ever before. With Emily planning a trip to Saint Tropez with Love Interest #2, Mathieu, drama is just around the corner for our wildly dressed protagonist. Will Emily finally get the hang of life in Paris, and find real love? You'll have to tune in to season two to find out.
6) Don't Look Up
When and where: 24 December 2021 on Netflix
Who's in it: Jennifer Lawrence, Leonardo DiCaprio, Meryl Streep
Watch if: You like political satires, and you're a fan of literally any of the stars here
Have time for another hit film this December? Adam McKay's Don't Look Up contains a super star-studded cast and promises layers of dense comedy infused with alarming reminders of how destructive human beings can be. Oscar winners Leonardo DiCaprio and Jennifer Lawrence star as astronomers Dr. Randall Mindy and Kate Dibiasky, who are on a frantic mission to warn the public about an incoming comet that threatens to collide into Planet Earth and destroy life as we know it if swift action isn't taken. The pair become increasingly desperate as their warnings are ignored, even by President Jamey Orlean (Meryl Streep) and her antagonistic administration. The movie uses satire to deliver a serious message about climate change, serving as an entertaining but urgently grave note on modern society's way of life. With early reviews for the film predicting double-digit award nominations, Don't Look Up could very well become one of your favourite movies of 2021.
7) The Silent Sea
When and where: 24 December 2021 on Netflix
Who's in it: Gong Yoo, Bae Doo-Na, Lee Joon
Watch if: You love sci-fi thrillers and/or you're a Gong Yoo stan
What better way to close out the year than with a dystopian mystery series starring some of your favourite Korean actors? Gong Yoo and Bae Doo-Na take the lead in this series as Han Yoon-Jae, team leader of an elite group of space soldiers and specialists, and Song Ji-An, an astrobiologist. When extreme desertification razes the Earth and threatens human life, the team is tasked with the critical mission of going to the moon in search of means for mankind's survival. Their goal is to reach the abandoned Balhae Lunar Research Station on the moon and secure a mysterious sample, but technical issues and the unpredictability of outer space will prove to be as perilous as the dire circumstances back home. With the fate of mankind hanging in the balance, the team will be pushed to their limits as they risk their lives in the deafening silence of space. The Silent Sea may be the last show on your streaming list for the year, but it will certainly not be the least.
8) Lost Treasures of Egypt Season 3
When and where: Premieres 9 December 2021 with new episodes weekly on National Geographic (Astro Ch 551)
Who's in it: Rick Robles, Julian Barratt, John Ward
Watch if: You're obsessed with Ancient Egypt
Uncover secrets from the past in the new season of the National Geographic series Lost Treasures of Egypt. This season will take you back on an immersive journey to Egypt to unearth some of history's greatest mysteries. Dive into the fascinating details about the rulers of one of history's greatest civilisations, as well as the ways of life of the people who lived in this empire. Narrated by Rick Robles and Julian Baratt, and featuring experts in the fields of archaeology and Egyptology, this series promises an engaging journey that will not only enlighten your mind, but also awaken a sense of curiosity and intrigue.
| | |
| --- | --- |
| SHARE THE STORY | |
| Explore More | |