Film, TV + Theatre
BURO TV Guide February 2023: 'Sharper', 'You: Season 4', and more
For your viewing pleasure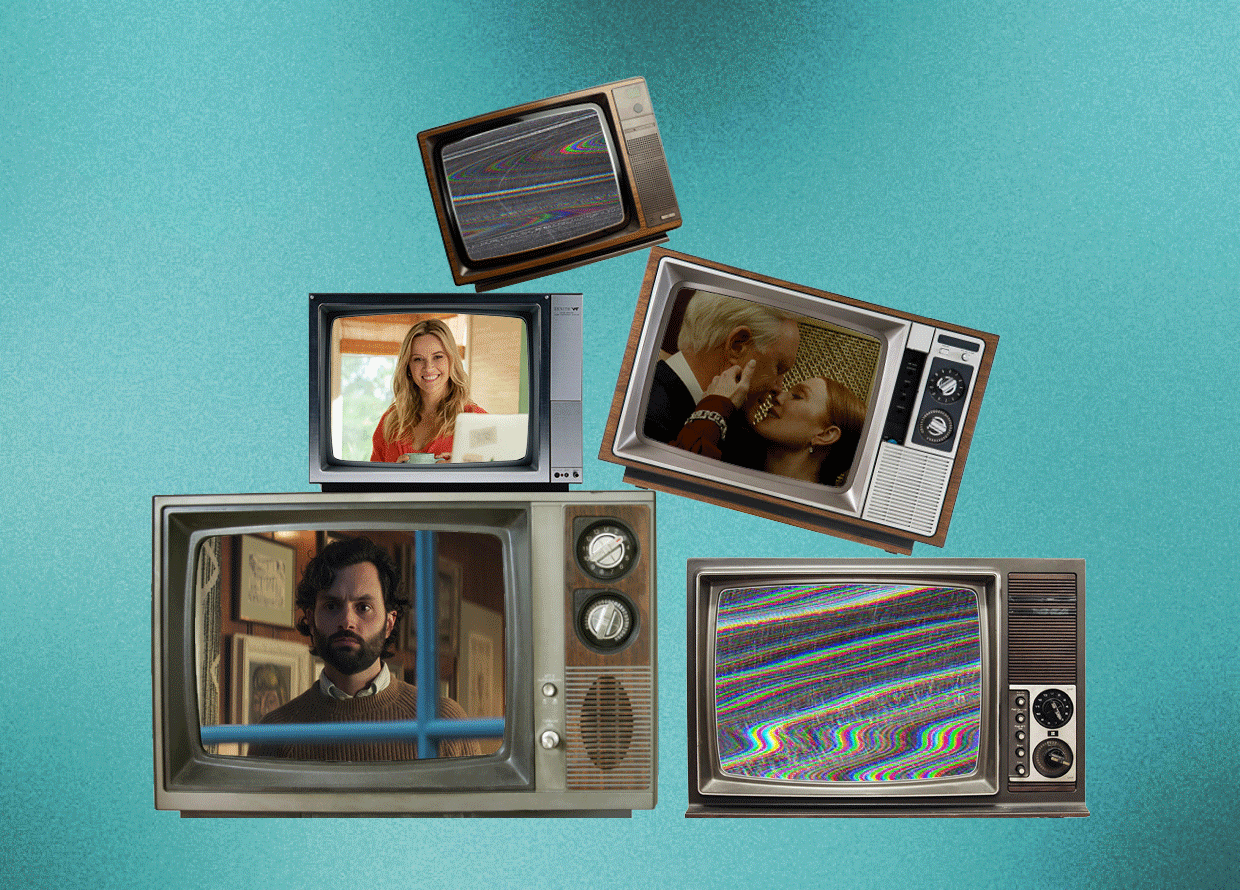 It's the month of love and February promises some sweet and romantic love stories. If that's not your thing, not to worry, as this month also sees spine-chilling horrors, conspiracy plots, fun comedies and more!
Dear Edward 
When and where: 3 February 2023 on Apple TV+
Watch if: You want your heart broken and fixed together again at one go
Starring: Taylor Schilling, Connie Britton, Amy Forsyth, Anna Uzele, Audrey Corsa, Brittany S. Hall, Carter Hudson, Dario Ladani Sanchez, Douglas M. Griffin, Eva Ariel Binder
When Edward Adler gets on a plane, he doesn't know that it will be the last time he ever sees the rest of his family again as a devastating plane crash kills everyone on the flight, including his family. As Edward tries to make sense of life after the accident, unexpected friendships, romances and communities are formed. Based on Ann Napolitano's bestselling acclaimed novel, Dear Edward is a heartbreaking and heartwarming story of survival, grief, resilience, connection and an exploration of the human condition.
Watch it here.
The Responder  
When and where: 3 February 2023 on Astro Go, UnifiTV Channel 481 and BBC Player
Watch if: You don't mind heavy and gritty content 
Starring: Martin Freeman, Adelayo Adedayo, Ian Hart, Emily Fairn, Warren Brown, MyAnna Buring 
This police procedural follows Chris, (Freeman) an urgent response officer who has been tasked with a series of night shifts on his beat around Liverpool. The stakes of this high-pressure job get even higher when he's forced to take on a new rookie partner whilst struggling with his own personal demons. As he struggles to keep a grip on his mental health and the increasingly tense night shifts, Chris encounters a young heroin addict trapped in a deadly dilemma. If he can save her, he might save himself and rediscover what it means to be a police officer in the process. 
Watch it here.
You: Season 4 Part 1 
When and where: 9 February 2023 on Netflix 
Watch if: You have a thing for guys who are walking red flags 
Starring: Penn Badgley, Tati Gabrielle, Marienne Bellamy, Lukas Gage, Charlotte Ritchie, Tilly Keeper, Amy-Leigh Hickman, Ed Speleers
Everyone's favourite serial killer is back, and this time, Joe is starting fresh in London. Vowing to bury the past and be on his best behaviour, he is now a university professor. However, old habits die hard and Joe's road to redemption becomes rocky as a new obsession starts to form. 
Watch it here.
Your Place or Mine 
When and where: 10 February 2023 on Netflix
Watch if: You want to watch a good 'ol rom-com
Starring: Reese Witherspoon, Ashton Kutcher, Jesse Williams, Zoe Chao, Tig Notaro, Wesley Kimmel 
Debbie and Peter are best friends…and total opposites. While she craves routine with her son in LA, he thrives on change in New York. When they decide to swap homes for a week, they get a peek into each other's lives that could open the door to love in this sweet romantic comedy.
Watch it here.
Sharper 
When and where: 17 February 2023 on Apple TV+
Watch if: You love secrets. The more, the better
Starring: Julianne Moore, Sebastian Stan, Justice Smith, Brianna Middleton, Darren Goldstein, John Lithgow
Featuring a star-studded lineup, Sharper unfolds in New York City, from the penthouses of Fifth Avenue to the shadowy underbelly of Queens. Nothing is as it seems, as characters turn on each other in the pursuit of money and opulence. Trust no one.  
Watch it here.
J-hope In the Box 
When and where: 17 February 2023 on Disney+
Watch if: You're an ARMY 
Starring: BTS' J-hope 
ARMYs, this is one you don't want to miss! In this special behind-the-scenes documentary, J-hope In The Box will draw back the curtains on the famous rapper's creative process while working on his first solo album. Expect never-before-seen footage of the challenges J-hope faced during the album preparation process and front-row seats to his highly anticipated 2022 Lollapalooza headlining act and the album's listening party featuring the BTS members and other familiar faces.
Watch it here. 
Unlocked 
When and where: 17 February 2023 on Netflix 
Watch if: The thought of losing your phone is your worst nightmare 
Starring: Chun Woo-hee, Yim Si-wan, Kim Hie-won
Everyone knows their mobile phone is important. Just how important? Na-mi finds out after losing her smartphone on her way home from work. Her life is quickly turned upside-down when a dangerous man gets a hold of it and hacks it to get ahold of her personal details and track her every move. With the backdrop of a murder going on at the same time, Na-mi may have unknowingly started a game with a cold-blooded killer.
Watch it here.
Call It Love 
When and where: 22 February 2023 on Disney+
Watch if: You want The Glory but romantic
Starring: Lee Sung-kyung, Kim Young-kwang, Sung Joon, Kim Ye-won, Hani
The line between love and revenge blur in Disney+'s upcoming South Korean melodrama. If you enjoyed the vengeance plot in The Glory, Call It Love could be your next favourite K-drama. The series follows Woojoo's downward spiral after discovering her father's infidelity. After he unexpectedly dies and she's kicked out of the family home, Woojoo swears for revenge. However, things take a turn when she falls in love with a man that turns out to be the mistress's son.
Watch it here.
We Have a Ghost 
When and where: 24 February 2023 on Netflix 
Watch if: You are looking for a friendly ghost
Starring: Anthony Mackie, David Harbour, Jahi Winston, Tig Notaro, Jennifer Coolidge, Isabella Russo, Niles Fitch
What's it like to live with a ghost in your home? Teenager Kevin finds a ghostly Earnest in his new home and their family turns into an overnight social media sensation. But what seems to be all fun and games turns into something more when they become the target of the CIA. What is Ernest's past and what happened to him? Catch this upcoming adventure comedy to find out the answers.
Watch it here.
The Reluctant Traveller
When and where: 24 February 2023 on Apple TV+
Watch if: You want a travel show with a funny twist 
Starring: Eugene Levy 
Hosted by Emmy Award winner Eugene Levy (Schitt's Creek), the new globe-trotting travel series sees the actor visiting some of the world's most beautiful destinations in Costa Rica, Maldives, Japan, Finland, and more. Self-confessedly not your typical travel show host well-versed in globe-trotting, Levy brings a level of relatability and humour to the eight-episode series by literally going out of his comfort zone and confronting some of his long-held fears during this adventure. 
Watch it here.
Teluh Darah 
When and where: 25 February 2023 on Disney+
Watch if: You feel like getting s***-scared
Starring: Mikha Tambayong, Deva Mahenra, Lukman Sardi, Imelda Therinne, Justin Adiwinata, Maryam Supraba, Shenina Cinnamon, Taskya Namya
Following its Global Premiere at the Busan International Film Festival's On Screen program, Teluh Darah will be coming to the small screens to frighten daring viewers. Directed by thriller and horror specialist Kimo Stamboel, the 10-part series follows two young people from different families whose lives collide after a black magic attack. In order to lift the curse and protect their families, both of them must come together to find out the perpetrator.
Watch it here.
For more ideas on what to watch, head here. 
| | |
| --- | --- |
| SHARE THE STORY | |
| Explore More | |