Never be behind on your favourite shows and films ever again!
Ever saw a trailer of a movie and made a mental note to watch it only to remember after it finishes its theatrical run? Or how about losing track of which Masterchef Australia episode you're currently bingeing on? (The cooking show has 61 episodes per season, it's bound to happen.) #beentheredonethat
I, for one, watch too much TV. From drama series such as Law & Order: Special Victims Unit to reality TV dating game shows like The Bachelor, there's always something I need to catch up on when I finally get home from work. As for movies, I personally prefer having a catalogue of all the films I've ever watched in my life. That, and the option of keeping an official watch list for future reference.
Fortunately, thanks to technology, there's an app for just about anything today — even ones to keep our entertainment calendar in check. So if you too enjoy having things in order, then this list is definitely for you!
1. TV Time (App available on both iOS and Android)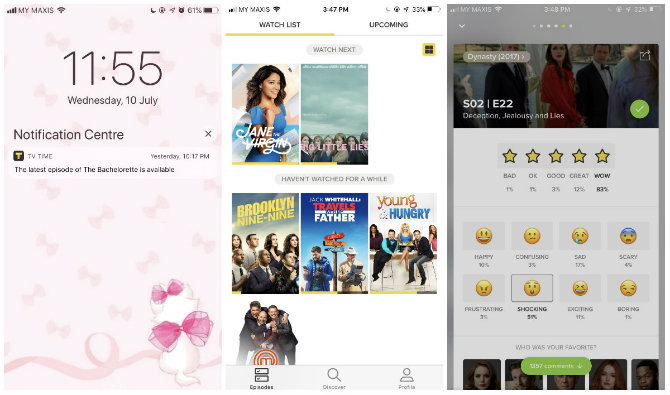 This app is first on the list because it's my holy grail. I use it pratically every day as it's the perfect tool for me to keep track of all the TV series I'm currently on or are going to watch. I love how the app notifies me when a new episode comes on or when a new season returns after a long hiatus, regardless of which platform / cable network it is airing on. Hey, sometimes life gets in the way and it's a great reminder that there's something to look forward to.
Why we love it: The option to join in on episode discussions with other users when you're done watching.
2. SideReel (Website)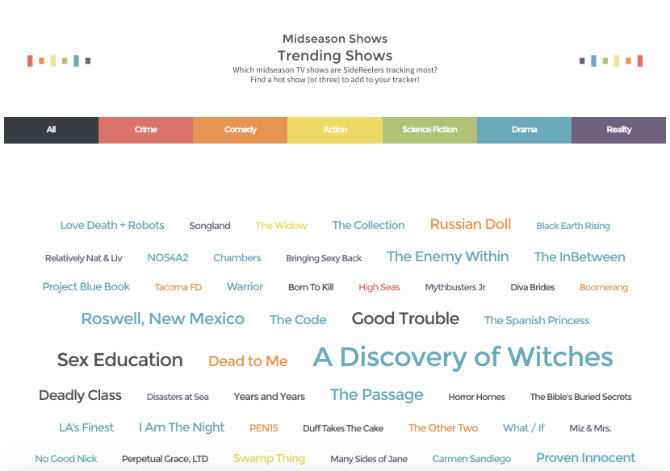 This website used to be my go-to before the app was discontinued. That said, I still use it when I'm on my desktop because the calendar interface is still the easiest to navigate by far. SideReel helps users like you and I by giving us accurate and real-time updates on all the shows we're watching. So if you don't like using your phone to keep track of your TV catalogue, then this is probably the next best option.
Why we love it: The 'What's Trending Now?' page that allows users to see what the most talked about shows are worldwide. It's a cool way to pick which new series you should dive into next.
3. CineTrack (App available on both iOS and Android)
Now this app serves the best of both worlds. Not only does it track your TV shows, it allows users to manage their movie watch lists as well. Besides being able to read user and critic reviews along with access to IMDB and Rotten Tomatoes, its beautiful interface also gives you the option to create reminders and countdowns of when your favourite content is releasing.
Why we love it: Movie-holics will love how CineTrack informs you of how many movies you've seen and how many times you've seen each movie.
4. Letterboxd (App)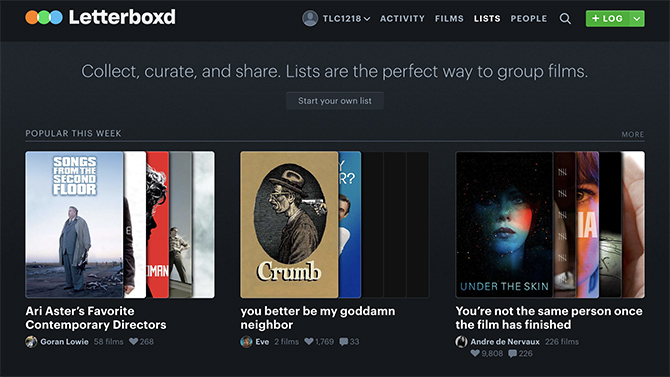 Now this social network for film discovery is one you'll need if you prefer to keep your shows and movies separate. Just like the rest, you can add movies to your watch list and save those that you plan to watch later in your 'diary'. What's more, once you're done watching, you can choose to add a rating and attach a review to help others decide if they should spend time on it.
Why we love it: Letterboxd allows users to create lists and collections of movies based on different themes. This is a great way to find new movie suggestions based on your fave genre, director or franchise.