She's a host, an actress, National Director of Miss Universe Malaysia Organization, a qualified lawyer, a wife, and a mother. Elaine Daly is a Jane of all trades and her latest venture is a lovely project called hurr.tv, Malaysia's first and only online lifestyle channel and video streaming platform. Browse through the site and you'll find a myriad of shows that can cater to just about anyone and with relevant topics and the refreshing charm from much-loved local personalities, it'll be hard not to get hooked. We had a quick chat with Elaine on hurr new 'baby', a day in her life, relationship advice and what her goals for 2017 are.
Congratulations on hurr.tv! How did the idea come about?
It happened in February of this year where it was conceived to respond to the huge demand for quality online content that is both homegrown and original, with topics ranging from food to fashion to fitness. Having spent half of my life in mainstream media—from being in newspapers and magazines to films to even hosting a popular English morning talk show—it has been amazing to see how fast traditional television has been eclipsed by online on-demand video portals that provide five- to six-minute video clips.
How was the development stage for hurr.tv like?
Fast! In no time, I had to put together a team—a small one too—get creative and develop different shows that are both entertaining and interactive. Finally, we thought the time was right to launch our baby and so, with 12 shows and counting (including a reality series), hurr.tv was officially launched in in early December 2016.
Top three shows to catch on hurr.tv?
Makan Minum Kopi, Cakap Je and Style It Right.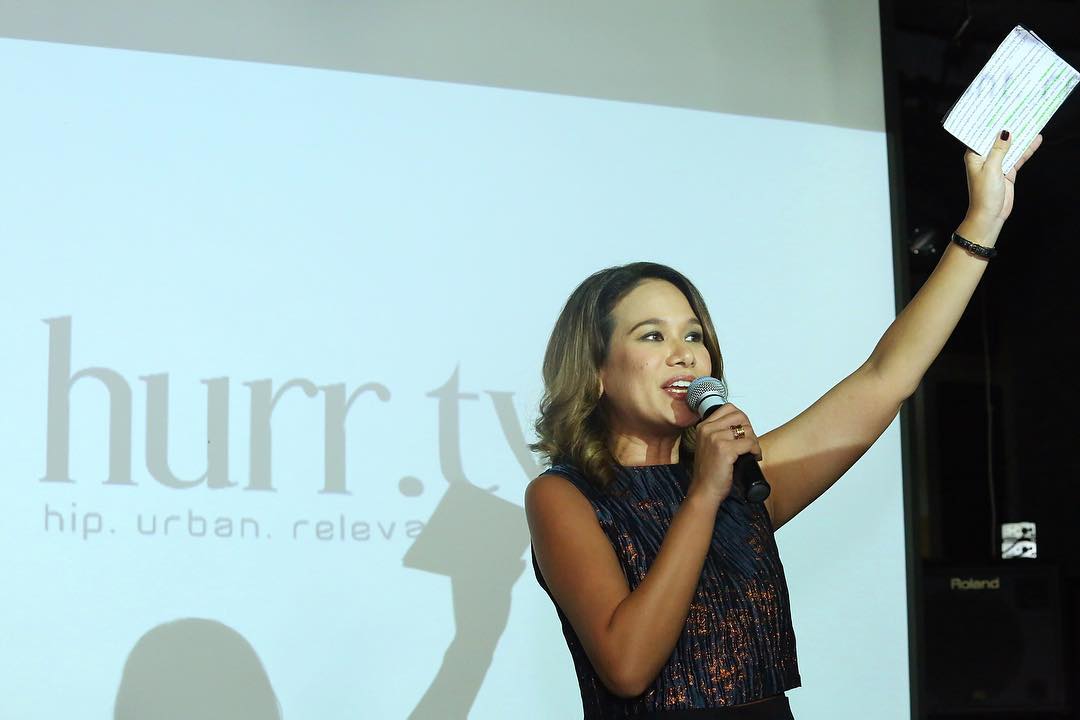 Describe a day in the shoes of Elaine Daly.
I'm training for a half marathon so I either run 5km or 7km every morning at about 6.30am then I come back to have breakfast with my family. Next, I start work by sorting out emails and sending WhatsApp messages to the team before going for meetings galore with the Miss Universe Malaysia team or the hurr.tv team. Then, it's organising the household chores and either attending events or at a shoot somewhere. By evening, I'm preparing dinner for the husband (I love to cook) and having my daily schedule with my daughter from 6pm to 8pm (it includes feeding her dinner, bathing her, and putting her to bed by 7.30pm). I usually go to bed at midnight—after browsing through my favourite websites.
What's the secret to maintaining a happy and successful relationship with your man?
The three C's, as advised by my mother. Communication, commitment and compromise are what keeps us going. And a whole lot of love and respect, of course.
The most important thing you've learnt since becoming a mother?
Unconditional love and patience.
With 2017 around the corner, any plans you can share with us for hurr.tv and Miss Universe Malaysia?
We have many new and exciting shows coming up in the first quarter of next year for hurr.tv. One of the things to watch out for, however, is the live streaming of the Miss Universe Malaysia 2017 finals on 23 February 2017. Otherwise, you can catch it on Astro's Diva Channel 702 and Diva HD Channel 723 to see who will be the new queen to succeed Kiran Jassal.
Speaking of a new queen, what does it take to be Miss Universe Malaysia 2017?
A woman who is independent, strong, empowering, and beautiful. Ultimately, she must have presence.
Finally, what are your goals for 2017?
To have hurr.tv become a great success by doubling our shows, building my team, perhaps adding another family member, and running a full 42km marathon!
Check out hurr.tv here or follow Elaine Daly on Instagram for her day-to-day updates.
Related stories:
#BuroBeKind: 7 Malaysian female celebs talk about cyberbullying
#BrunchwithBuro: Talking women empowerment and leadership
Nail Guide 2016: #BossGirls in the industry share what it takes to be entrepreneurs
| | |
| --- | --- |
| SHARE THE STORY | |
| Explore More | |