Where hasn't David Beckham been? Whether it was for a football match, attending events as a style icon or modelling work, the iconic British celebrity has travelled to various places. Of course, nothing beats home: London. He speaks to British Airways on everything travel-related and surprisingly, he still has places that are unchecked on his bucket list.
You fly all over the world for work—where is your favourite place to visit?
That's a tough one. New York and LA are pretty special but I also like Singapore (I love staying at Marina Bay Sands) Then again, can you ever beat Paris? I'd say it can be matched but not beaten. Of course, I love coming back to my home, London. It has everything you could ask for in a city.
What's your favourite London restaurant?
Restaurants in London are some of the best in the world, so it's difficult to pick only one. I'm really into pub lunches at the moment—The Cow in Notting Hill is great.
What do you enjoy doing in London with your family?
There is nothing better than walking my dog with the kids in Hyde Park. You feel you're in the heart of the greatest city in the world.
What's been your best holiday to date?
We had an incredible time in the Maldives for our last few Christmas holidays, it has it all for the whole family. I'm also a huge fan of Bali.
Where's your favourite US destination?
I've had so many great holidays in the US, especially with Victoria and the kids, but our most memorable holiday has been to Utah. The landscapes are breath-taking.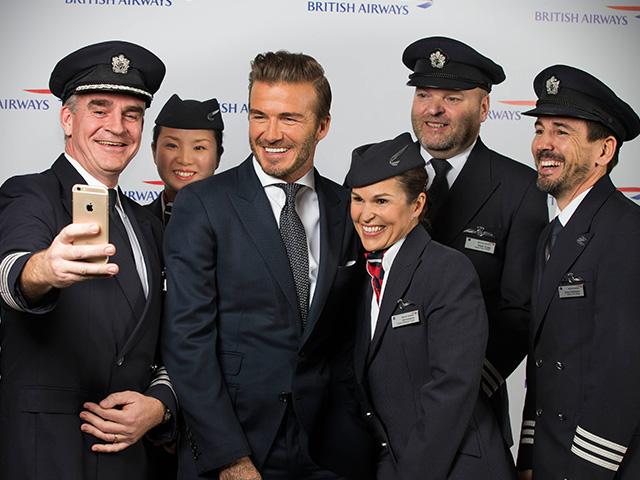 What's the most exhilarating live sport to watch?
Football of course! Though I also love basketball and tennis. There's always a great
atmosphere at Wimbledon. I would love to watch the Palio di Siena horse race in Italy one year. It's something I've always wanted to see.
Do you have a favourite sports stadium?
The Estadio Santiago Bernabeu in Madrid, Wembley Stadium in London and Old Trafford in Manchester are of course my personal favourites. They have all you could ask for as a player and a fan including scale and atmosphere. I have never been to La Bombonera in Buenos Aires but I'd love to see it. It's supposed to be amazing.
You travel a lot. Is there anywhere left on your bucket list?
I'm incredibly fortunate to have visited many places around the world. Antarctica for example, was pretty special and somewhere I will never forget. There are so many places still to see but it's difficult to pick out one in particular. I like to visit destinations where food is the central part of the journey so my next holiday will be somewhere I can try different cuisines.
Related stories:
Orlando Bloom reveals his best travel tips
First look at David Beckham for H&M Modern Essentials Spring 2016
| | |
| --- | --- |
| SHARE THE STORY | |
| Explore More | |