Chef Akira Back is a name not to be taken lightly of and his food is a cuisine unlike any other. It's modern yet traditional, fusion yet distinctive, and above all, cutting-edge. His brand of Japanese cuisine with a Korean twist has won the hearts—and palates—of many, including top celebrities such as Taylor Swift, Eva Longoria, The Olsen Twins and many others.
With notable appearances on TV shows (Iron Chef America, The Today Show, KBS' Success Mentor and many more) and an accolade of successful restaurants—Kumi Japanese Restaurant + Bar and Yellowtail Japanese Restaurant & Lounge in Las Vegas, Akira Back in both New Delhi and Jakarta—Kumi Japanese Restaurant + Bar and Yellowtail Japanese Restaurant & Lounge in Las Vegas, Akira Back in both New Delhi and Jakarta—under his belt, it might be surprising that his journey to cooking actually began from his earlier career in professional snowboarding.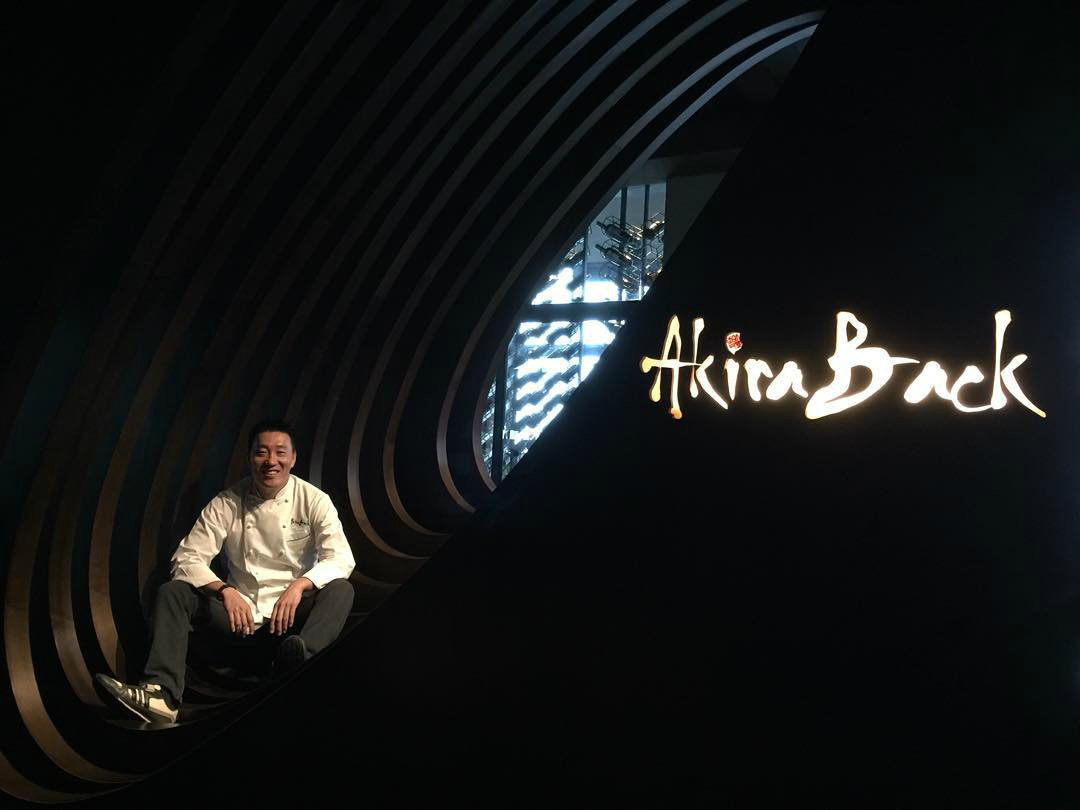 Suffice to say, his journey as a chef has been an amazing one and his next adventure is taking him to the Maldives where the PER AQUUM's resorts there—specifically PER AQUUM Niyama and PER AQUUM Huvafen Fushi—will be hosting him to cook private dinners for four groups of lucky diners as part of PER AQUUM's PULSE, a stream of immersive and exclusive experiences from A-list affairs to intimate celebrations. To coincide with the occasion, we managed to check in with him on his upcoming Maldivian stint, his career switch, and his philosophy on food.
What spurred you to switch from professional snowboarding to professional cooking?
I've actually never imagined or even dreamt of becoming a chef. Like any other extreme sports, professional snowboarding has its risks and I suffered a few injuries back in the day. So in between my recovery, I was interested in being a sushi chef and gave it a shot. Little did I know that being in the kitchen and 'playing' with food gave me the same feeling of freedom as it did on the slopes. I felt like I could really express myself through food but the most rewarding thing that really mattered (and still matters) to me was the reaction and gratitude of the audience; because as they enjoy my creation, it becomes a part of them too. To me, that's priceless.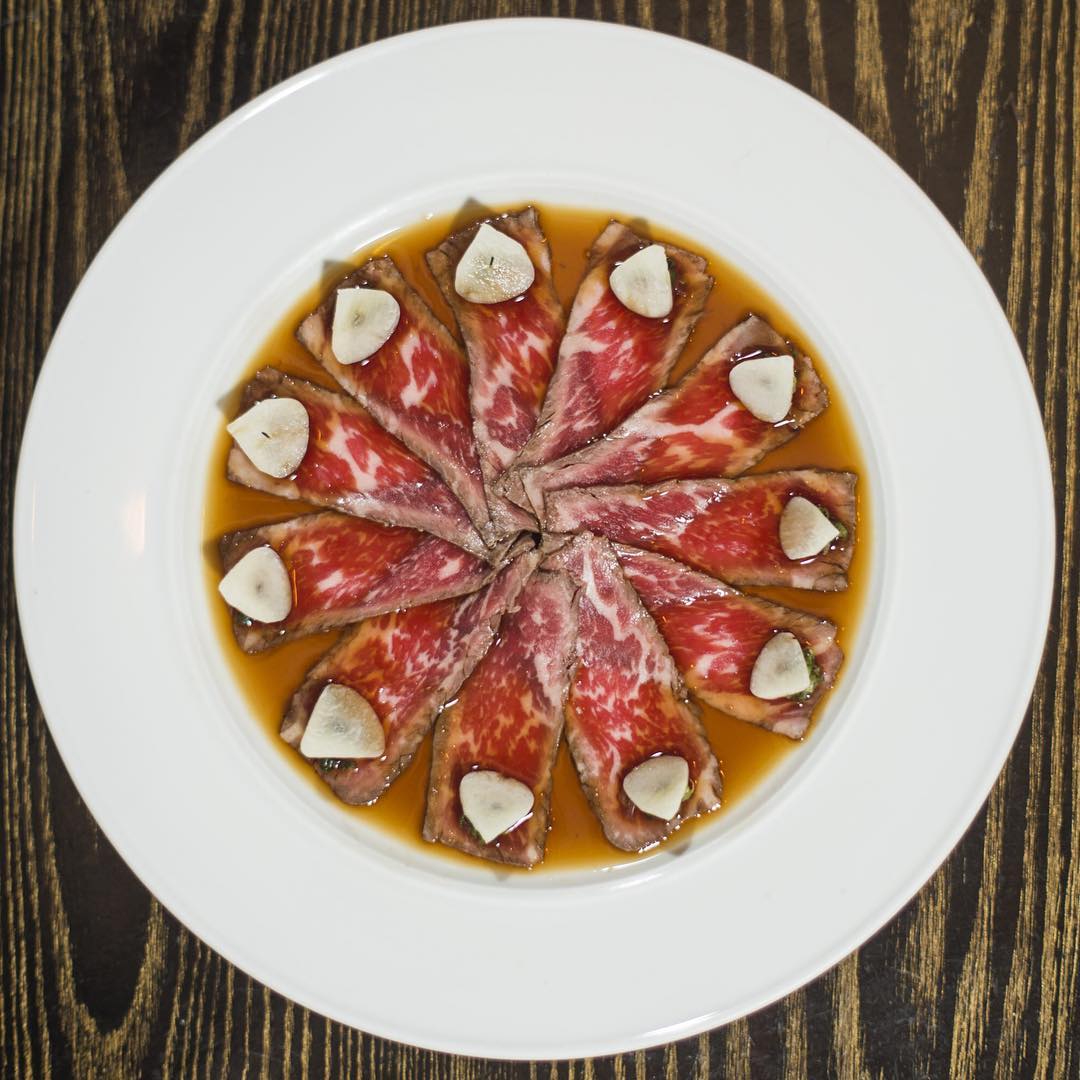 Describe your cooking style.
It's modern Japanese with a Korean essence. Growing up in the USA—this so-called melting pot of cultures—as a Korean native has also influenced my style of cooking.
Having trained with master chefs Nobu Matsuhisa and Masaharu Morimoto, what has been their best cooking advice to you?
Before techniques, tools and everything else, good ingredients are the core of good food.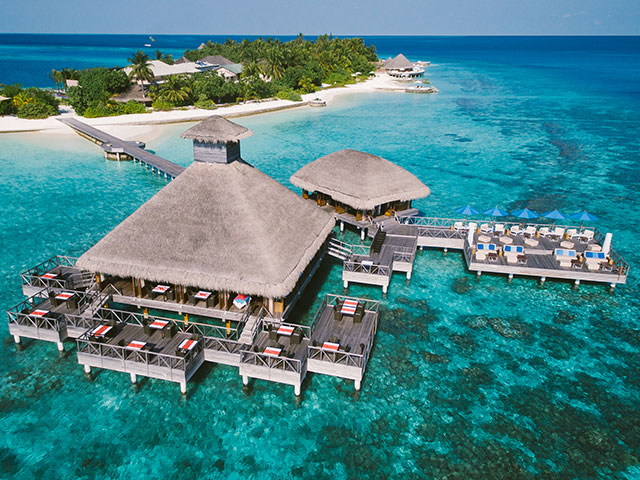 Give us a tidbit of what people can expect from your upcoming stint at PER AQUUM Niyama and PER AQUUM Huvafen Fushi in the Maldives.
I can't wait! Per AQUUM's PULSE experiences are already creating some waves. It will be my first time in the Maldives and I will be cooking a 12-course menu highlighting the journey of my life as a chef through my food. We'll be doing some Maldivian Tuna Fishing, visiting the Fish Market in Male and the Farmer's Market. I am really looking forward to discovering a whole new side of Asia.
What are some of your favourite ingredients to use and which ones are you looking forward to using in the Maldives?
Seafood has always been the highlight of my food so this is perfect! I enjoy cooking with the freshest fish or live shellfish very much and in the Maldives, it will be my first time sampling some of its ocean's offerings and I'm going to incorporate it into my cooking.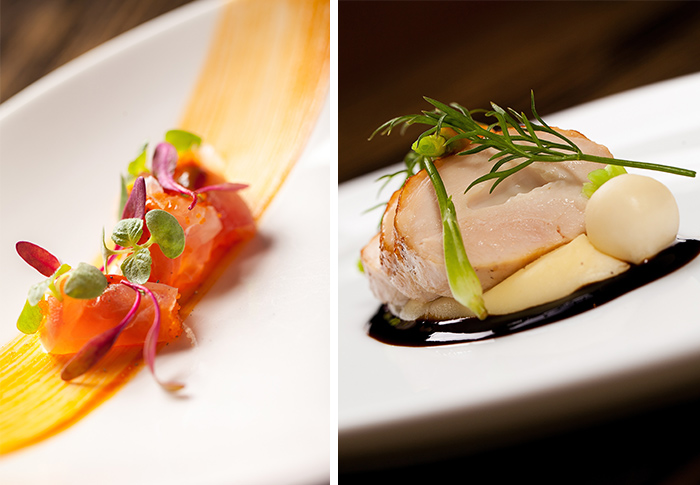 If you can eat only one dish for the rest of your life, what would it be?
Bibimbap. It contains a wide variety of vegetables and protein. At least this way, I'm sure I'll still be okay.
What is a challenge you face constantly as a chef?
Probably the same challenge as every chef around the globe—ingredients. But I don't really see it as a negative thing, it just makes me better at what I do.
Do you watch YouTube cooking videos? What are your thoughts about people now turning to the Internet for recipes instead of the traditional cookbooks?
Any form of media is a source of information, be it books or videos. But the best teacher for anything is experience. Whether it's being a chef in different kitchens or a customer in different restaurants, one should always learn.
Proudest moment in your career yet?
Every day is my proudest moment. Knowing my restaurants are running smoothly without me being present in each outlet across the globe.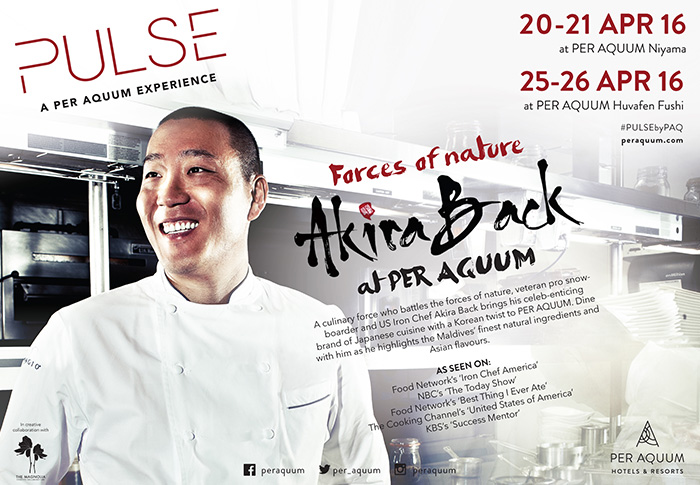 Chef Akira Back's 'Forces of Nature' special dinner prices start at USD220++ per person depending on venue. To reserve the experience or see more of this year's PULSE line-up, visit peraquum.com/pulse.
Related stories:
How to make Soba Maki with Chef Akira Back
Get away: 4 luxurious Malaysian resorts for your next staycation
Babe: Malaysia's first restaurant by a Michelin-starred chef
| | |
| --- | --- |
| SHARE THE STORY | |
| Explore More | |