Culture
Buro Book Club: Unwind and re-energise yourself with these books to take on the rest of 2020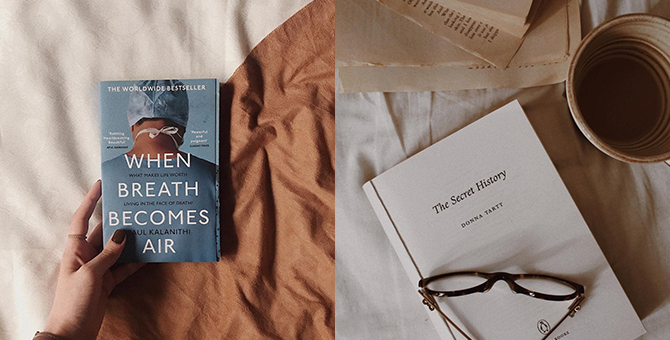 IF 2020 ALREADY FEELS LIKE YOU'RE STUCK IN A RUT, IF 2020 HAS JADED YOU IN MORE WAYS THAN ONE, AND IF YOUR 2020 NEW YEAR'S RESOLUTION OF READING MORE BOOKS IS YET TO BE REALISED—SOME OF US AT TEAM BURO HAVE A COUPLE OF BOOK RECOMMENDATIONS FOR YOU. bE IT TO INSPIRE OR RE-ENERGISE YOUR SYSTEM FOR THE SECOND HALF OF THE YEAR, THERE ARE TALES OF MAGICAL REALISM, QUIET BEAUTY AND EVEN POIGNANT AUTOBIOGRAPHIES—ALL TO GIVE YOU THAT MUCH-NEEDED DISTRACTION FROM THE WHITE NOISE OF LIFE AS WELL AS TO OFFER REFLECTION AND REINSTATE PURPOSE. haPPY READING!
Howl's Moving Castle by Diana Wynne Jones
"Truth be told, I haven't been reading as much as I'd like to. Yes, I'm a guilty tsundoku. It's a Japanese term to "describe a person who owns a lot of unread literature" and the fact that such a term exists shows that I'm not the only one. Perhaps it's because I'm reading the latest news and trends every day. Perhaps it's my inability to make time for it. Or maybe, it's the book's fault (laughs). After all, the last book that really made an impression was a beautiful Japanese literature piece titled The Housekeeper and the Professor. It's about a math professor (with a short term memory), a single mother, and human values represented in equations and formulas. (Another highly recommended read!)
"Incidentally, after rewatching Studio Ghibli's Howl's Moving Castle recently, I suddenly had the urge to re-read the book again. Diana Wynne Jones was one of my favourite authors growing up, and as a fan of fantasy novels, her mastery of world-building never failed to captivate me. And true enough, I was anxious to finish the book from the moment I started. It refreshed my hunger for reading novels. Let it be known that Jones (who sadly passed away in 2011) served as an inspiration to many fantasy novelists such as Neil Gaiman and even JK Rowling. While yes, it is a YA fantasy novel, I feel no shame in being proud of this book. If you're looking for magical escapism with endearing characters (particularly a stubborn, realistic and strong-minded female protagonist), give it a go! Spoiler: It's not as romantic as the Ghibli version, that's for sure. Meanwhile, I have a long list of recommended books to get started on." – Rachel Au, Editor
The Secret History by Donna Tartt
"While it isn't the most uplifting book that's classified under 'light reading', Donna Tartt's The Secret History is one I always reach out to for its intriguing characters and detailed prose. It's a murder mystery in reverse following the lives of rich scholars in the late '80s (think Gossip Girl albeit with more intellect and less fluff). The Secret History will bring you along on a visceral journey as you witness the characters' growth and destruction while they attempt to bear the weight of their actions. Beware: Tartt does use some extensive long-winded sentences that might make your head hurt (in a good way, of course)—but it's something you get used to once you're thrown into the world of Greek philosophy, the characters' near-obsession with beauty ('Beauty is terror. Whatever we call beautiful, we quiver before it.'), and the underlying macabre nature of it. With that, this book may just be the mid-year jolt you need after all." – Loh Wei Yeen, Deputy Editor
When Breath Becomes Air by Dr. Paul Kalanith
"This is one book that absolutely shattered me to pieces and made me whole again. In this best-selling autobiography (that was a finalist for the Pulitzer Prize for Autobiography), it follows the life and legacy of an incredibly talented neurosurgeon from Stanford University who is diagnosed with terminal lung cancer. In a twisted fate of doctor-turned-patient, Kalanith takes us on an emotional and honest journey through humanity's ultimate pursuit of meaning in life. It also sheds light on the incredible work medical professionals do, which I'm sure in our current climate, we can all appreciate a lot more. Get your tissues ready: you will tear up—or burst into tears at random hours of the day (sometimes at 3am in bed). But as gut-wrenching as it may sound, Kalanith's posthumous memoir is a goldmine for self-reflection, understanding the beauty of our own mortality and giving us the courage to live the life we want." – Marissa Chin, Editorial Assistant
Humankind: A Hopeful History by Rutger Bregman
"If you're constantly being bogged down by the doom and gloom these days, this might just be the pick-me-up you need right now. In his latest book, Humankind, the internationally bestselling author Rutger Bregman proclaims that people—instead of being selfish by nature or governed by self-interest—are more kind than cruel. While looking back at key moments in human history (which does have its shining moments), Rutger shares optimistic insight into a more hopeful human experience. While it might be a heavy, more technical read than what you're normally used to, this book still shares the universal message of looking on the bright side of things and celebrating kindness." – Brent Taalur Ramsey, Contributor
For more book recommendations, click here.
| | |
| --- | --- |
| SHARE THE STORY | |
| Explore More | |