13 February 2020, NO MAD – The Story of the Lifeboat Project @ REXKL
With ocean life facing bigger threats day by day, Jamie Allan, who is the founder of Dive Respect Protect, will give a speech on the importance of marine and environmental conservation on Earth. Guests will proceed to watch a 45-minute documentary featuring the joint collaboration between the government of Philippines and The Lifeboat Project to fight illegal fishing, specifically fishermen's practices of cyanide and dynamite fishing—these unlawful acts have destroyed coral reefs.
In hopes of revitalizing the ocean ecosystem, the team is committed to build a marine sanctuary in Coron and replant reefs in effort to sustain marine life and attain sustainable tropical fisheries.
Tickets are priced at RM15. All ticket sales will be donated to The Lifeboat Project. For more information, visit here.
Watch the trailer here.
---
Now – 22 February 2020, 27 Years of Lazarian Delights @ The Back Room, KL
The art exhibition, "27 Years of Lazarian Delights", tells the story of an explorer's return after 27 years of adventure in a planetary system, SOMIA.XYZ-G. He has brought back with him a series of drawings, objects, maps, and other ephemera as evidence. Take a look through the creative (and obsessive) mind of the individual's experience including acid lakes, fiery planes, suicide ceremonies, and more. Definitely one of the "when art meets science" worlds collide moments.
Watch the extraterrestrial trailer here.
Admission is free. For more information, visit here.
---
20 – 23 February 2020, Shakespeare Demystified: A Midsummer Night's Dream @ Kuala Lumpur Performing Arts Centre (klpac)
To all Shakespearens and theatre lovers, head over to the cosy spot for a night of entertainment featuring the use of masks and puppets in a play. The talented group (comprising six actors) will be playing all the roles from one of Shakespeare's most prominent plays, A Midsummer Night's Dream.
To ensure a high-quality production, KL Shakespeare Players (KLSP) has reached out to Teochew Opera puppeteer, Ling Goh, to guide the team on manipulating 15-inch tall iron-rod puppets. Aside from that, UK-based Simone Tani, founder of theatre company, Teatro Pomodoro, also gave pointers to the team on the incorporation of trance masks in the play.
Audience members are invited to join the Q&A session after the show. Directed by Lim Kien Lee, the movie's cast includes Lim Soon Heng, Lim Kien Lee, Grégory Henno, Johnny Gillett, Zul Zamir, and Teoh Jun Vinh.
Ticket price starts at RM40. For more information, visit here.
---
22 – 29 February 2020, ArtBox Exhibition 2020 @ Kuala Lumpur Performing Arts Centre (klpac)
Presented to you by Art Box PHM and The People of Asia, the event functions as a creative space to open networking opportunities for refugee artists to display their artworks and tell their stories. The art exhibition features a total of 35 paintings from 13 refugee artists, in hopes of sharing their experiences with the world through their art. The event includes talks, face painting and an auction.
Admission is free. For more information, visit here.
---
Now – 29 February 2020, SAM x ILHAM Project: 'The Body Politic and the Body' @ ILHAM Gallery
A collaboration between Ilham Gallery and Singapore Art Museum (SAM), the curated exhibition showcases a diverse selection of contemporary art pieces from Malaysian artists, introducing the topic of social and political body, an expression that each member of the society is part of the collective unit, yet individually, a subjective body.
A few artists' works at the exhibition include Ahmad Fuad Osman, Bayu Utomo Radjikin, chi too, Redza Piyadasa, Simryn Gill, Yap Sau Bin, Yee I-Lann, and many more. Head down to the gallery and relive the artworks created decades ago.
Admission is free. For more information, visit here.
---
Now – 29 February 2020, LOVE IS IN THE AIR @ ZHAN Art Space, Jaya One
In conjunction with February being the month of love, the curated event aims to share the personal stories of three different artists' experiences and interpretations on the subject of love.  Featuring over 65 artworks, the group exhibition showcases three homegrown talents' intriguing works, ranging from miniature artworks painted in the shape of an old 50-cent coin to cutesy illustrations to the incorporation of contemporary art in embroideries and textiles. The three artistes are Fariza Basri, Ng Wei Li, and Nadia Nizamudin.
Admission is free. For more information, visit here.
---
29 February – 1 March 2020 (Postponed to 4 – 5 July 2020), Panggung RIUH @ Rumah Tangsi, KL
LATEST UPDATE: Due to the ongoing coronavirus outbreak, the event, Panggung RIUH, has been rescheduled at a later date, 4 – 5 July 2020.
---
EXTRA RECOMMENDATIONS:
We know that it's still February, but ticket sales to these two shows mentioned below have begun and tickets are selling quick—so snap them up before it sells out:
4 – 5 April 2020, The Sleeping Beauty by St Petersburg Theatre Russian Ballet @ Istana Budaya, KL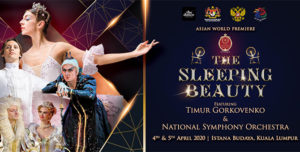 Image credit: Malaysian Philharmonic Orchestra, MPO
A once-in-a-lifetime event situated in Malaysia, the prestigious St Petersburg Theatre Russian Ballet will be visiting KL to perform the 130-year-old Sleeping Beauty production. Noted as one of the most challenging ballet productions ever made, the famed theatre remained dedicated to perform its original choreography by the great Marius Petipa. If you're a fan of the renowned theatre, you most definitely do not want to sit this one out.
Ticket price starts at RM188. For more information, visit here.
---
19 – 21 June 2020, Ballet Festival: The Nutcracker @ Petronas Philharmonic Hall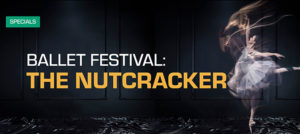 Image credit: Malaysian Philharmonic Orchestra, MPO
The pairing of ballet and classical music never goes wrong. Treat yourself to an enthralling play in the middle of the year—Tchaikovsky's Nutcracker is too iconic to miss out on, especially an exquisite performance on the "Dance of the Sugar Plum Fairy" segment!
Ticket price starts at RM141. For more information, visit here.
---
Don't forget to check out our monthly listing for concerts in KL this February 2020 here. A few artists to grace KL this month and next include Khalid, Raveena, GOT7, and more.
| | |
| --- | --- |
| SHARE THE STORY | |
| Explore More | |