Daniel Buren puts a kaleidoscopic spin onto the iconic Louis Vuitton building
When Fondation Louis Vuitton opened its doors in 2014, it took its place among some of the most iconic works of architecture in the 21st century. Finding its home in the city of Paris, the art and cultural institution designed by renown architect Frank Gehry falls in line with Louis Vuitton's commitment to contemporary creation and encouragement of innovative encounters. In its latest endeavour, the Fondation Louis Vuitton presents a temporary work by French conceptual artist Daniel Buren titled Observatory of Light.
"Daniel Buren has designed a grandiose project, pertinent and enchanting, the result of a real dialogue with Frank Gehry and his building. His work responds magnificently to the architecture, in line with his approach, going back to the 1970s, that sees a coming together of colours, transparency and light," says Bernard Arnault, President of the Fondation Louis Vuitton.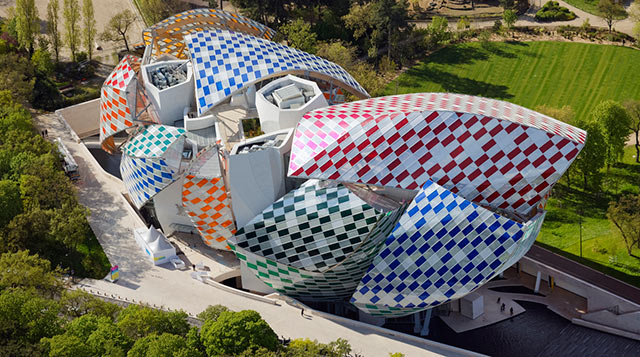 The 12 'sails', formed of 3,600 pieces of glass and an emblematic feature of the building, are covered in an array of beautiful coloured filters. Buren selected 13 colours for the project—coloured forms alternating with white stripes that will reflect onto the grounds surrounding the building, projecting a sea of colours that appear and disappear, ever-changing with the time of day and season.
Take a closer look at the Observatory of Light @ Fondation Louis Vuittion here:
You may also like...
Longchamp's Parisian townhouse morphed into a work of art
A look at Zaha Hadid's greatest works
Then 'Architecture of Density' in Hong Kong captured to stunning effect