Walking into 'Bejampong' at Artcube Gallery, viewers are immediately greeted by what appears to be a collection of designer handbags, rendered in wood. Recognisable by their silhouettes and logos- the double interlocking 'C's for Chanel in Aurora and floral Louis Vuitton signature embossed on Mawar stand out in particular—they simultaneously align with Anniketyni Madian's practice, through the prevalence of geometric, tribal patterns. Indeed, these stand-alone sculptures, which introduce audiences to a new body of works made over the better part of 2017, continue Anniketyni's established discourse into Malaysian craft traditions, and ways through which cultural heritage may be brought to contemporary audiences. The result? An exhibition that acts as both a survey show and a lens to the future.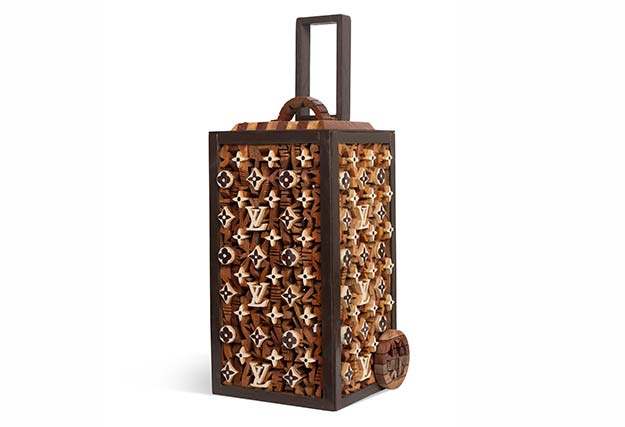 Born and raised in Kuching, Sarawak, Anniketyni moved to Peninsula Malaysia to study sculpture at UiTM. After graduating in 2009, she set up a studio and began work on a sculptural practice that has garnered acclaim both critical and commercial, both locally and around the world. Career highlights are participating in the esteemed Rimbun Dahan Residency, shortlisting in the Top 30 for the Sovereign Asian Art Prize (2016/2017) and being presented with the Young Guns Art Award. Additionally, Anniketyni has been invited to create several commissions and public sculptures; most notably a public sculpture for the Mall of Medini in Johor Bahru, a commission for the United Nations in Rome and a commission for the Corporate Art Award in Rome.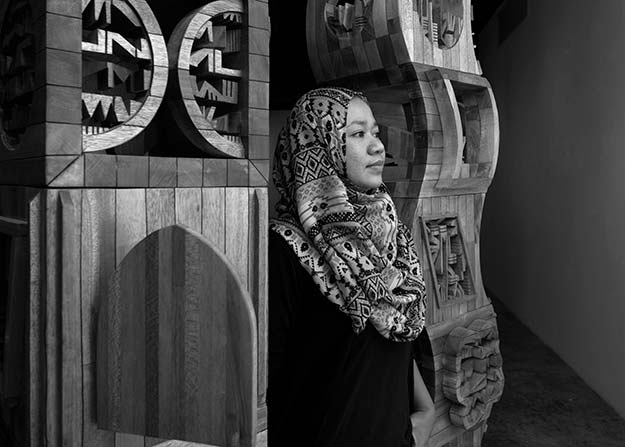 Audiences are taken by the subtle nuances of material exploration, commentary on the evolving role of craft tradition and insights into the traditions of the Iban that weave through Anniketyni's practice. Most recognisable within her practice to date has been the investigation of pua kumbu. Exclusively woven by Iban women, this waft textile merges motifs and designs drawn from the extensive canon of oral Iban literature with personal insights, to create rich tapestries often reserved for ceremony. Clear parallels exist between the production of pua kumbu and Anniketyni's practice: the utilisation of historical pattern and narrative combined with personal flair (here in the sharp, graphic lines she pares the patterns into) in an artistry that cements their maker's position within her society, whether that be in an Iban tribe or the Malaysian contemporary art world.
Over time, Anniketyni has refined her woodworking processes. Tracing the evolution of her pua kumbu styles is the clearest marker of this achievement. The ability to bend a material as inflexible as wood to her will, producing softly organic shapes and movement, speaks to a mastery over her chosen medium. Across Bandau Nulang, a 5.5 foot long wall hanging, the graphic tribal spires rise up in a gentle wave, curving along both horizontal and vertical planes. Remang Berarat curves long slices of carving inwards in an open circle, created from a slotted arrangement of straight and triangular wooden slices. New creative routes are plotted through the use of colour—coal blacks, ruby reds and hints of a delicious plum—as well as the introduction of sketches over the wood. These sketches are lifted straight from the stylised thick black marker sketches papering the walls of Anniketyni's studio, and cover Kelabu Papau. In featuring drawing on wood for the first time, in the form of mathematical equations, measurements and notes, along with inset blocks of clear resin, Kelabu Papau encompasses several new directions within a single sculpture.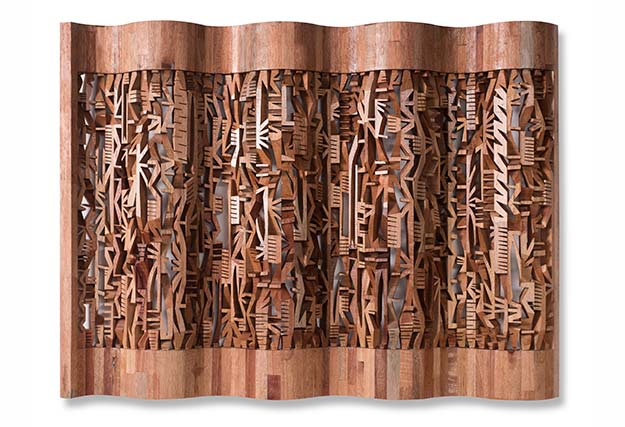 Anchoring 'Bejampong' are the sculptures Kayu Betimbau and Kayu Betimbau #2 which simultaneously act as a survey of her artistic journey to date, as well as a compass for future directions. Densely packed with details—cut out pua kumbu patterns, black butterflies posed mid-flight, subtly shaded panels of wood joined together—Kayu Betimbau and Kayu Betimbau #2 are a career 'highlight reel'. Each detail speaks to a particular sculpture or series from her past portfolio, and the ease with which she seamlessly merges quite disparate styles speaks strongly to Anniketyni's ability to handle the formal aspects of art creation: composition, form, tone and scale. Despite being static, a sense of movement pervades these three works. Standing before them, viewers are left with the impression that the charcoal butterflies might suddenly flit away, that the triangles composed of three types of wood (Badam, Meranti, Canggal) might suddenly whir into life, or the protruding circles might begin to stop and spin of their own accord.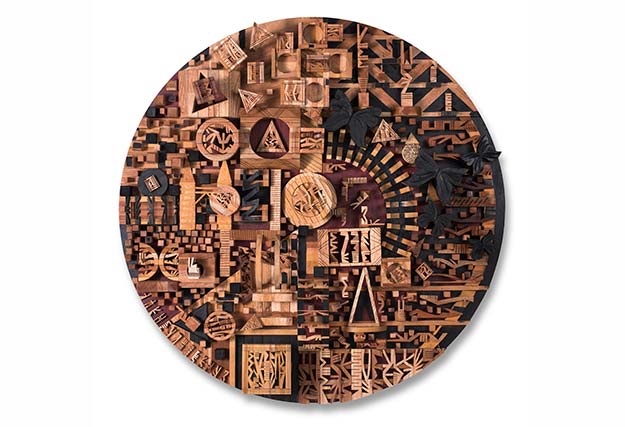 Walking through 'Bejampong' casts the impression that Anniketyni is allowing audiences a glimpse into her mind and practice, revealing who she is as both artist and person. It would appear that Anniketyni, who is today ranked as perhaps the foremost sculptor of her generation, is in a reflective mood, casting a look back at the elements that have built her into the artist she is today, as she anticipates the future. If the technical finesse, bold confidences and delightful visuals presented at 'Bejampong' are a yardstick of measure, the future looks bright indeed.
'Bejampong' is on from November 16th to December 31st at Artcube Gallery, 3-10 & 3-13, Level 3, Intermark Mall, The Intermark, 348 Jalan Tun Razak, 50400 Kuala Lumpur. Telephone Enquiries at 0321811787.
| | |
| --- | --- |
| SHARE THE STORY | |
| Explore More | |