There is fascist madness in my method when it comes to what I tote, sling, and wheel along when travelling. I pack modularly with colour-coded packs for travel documents, accessories, kids junk, meds, hiking kit etc. I've just about perfected the art of wearing everything brought; overpacking does not reside in my luggage. Just last week I was asked by an editor for my top 3 travel tips so I know I've got this—I know packing.
So, imagine the complete unraveling of me when 12 hours before Coldplay's A Head Full Of Dreams Bangkok concert, when I'm just about taking off on that Boeing 737-800 from KLIA for wherever my man Chris lays his guitar, I discover the concert tickets are nowhere on me. Not in any pack. Of any colour. Incidentally, I later discover that my underwear and sleepwear packs are mysteriously missing too, and let it be noted, along with the nicer parts of my personality at this stage. Yes, something strange was happening in Bangkok last weekend. Did you hear about the man running down Vibhavadi Road in full-nakedity on Sunday? He, like me on Friday, had lost his knickers and all cognitive function.
Just last week I was asked by an editor for my top 3 travel tips so I know I've got this—I know packing.
Anyway, to the rescue came a very resourceful, very dear friend (who shall not be named but you can follow him at @wanderhat on Instagram). I suspect his travel tips would work far better than mine. Proven by the fact that via his network of Very Useful People, my Coldplay tickets, stranded forlornly in KL, hopped on a later flight to Bangkok. Order was restored in my life. Thank you, Shambhala Spa at the Como Metropolitan, for your disposable undies.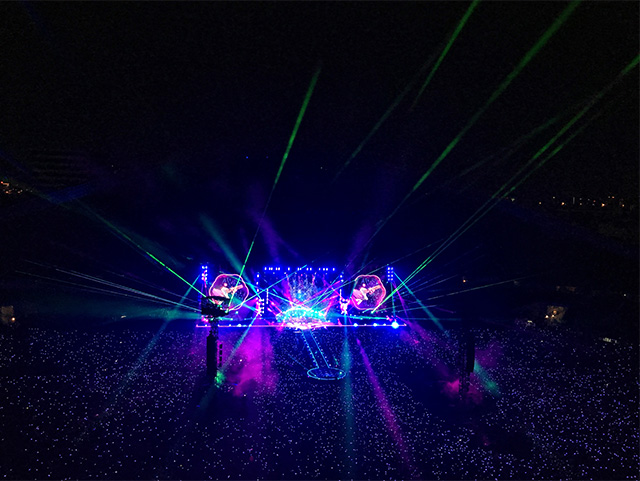 But really, Bangkok that weekend could only be about a singular band of four midway through a world tour of shimmering technicolour. Nothing would be ordinary even as a Puccini aria filled the stratosphere, to be followed only by Charlie Chaplin's iconic intonation from The Great Dictator. Cue fireworks. The sort usually reserved for a grand finale but here they heralded the coming of an early Chris-mas. Not to detract from the weight and talent of Will Champion, Jonny Buckland and Guy Berryman but really, every band needs a frontman and there can only be one Chris Martin spraypainting the crowd with his brand of hippy love vibes.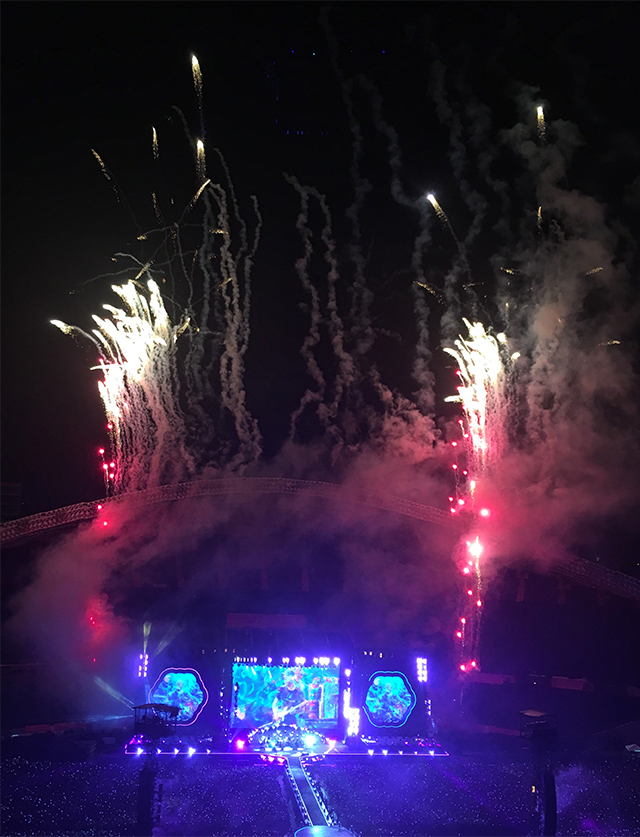 This was a masterclass in big stadium spectacle. Supersized balloons casually floating over the crowd, showers of sparkling confetti that later turned into a flock of birds, a stream of stars. Three giant video screens blazed psychedelic swirls and mandalas, then beamed monochoromatic animation with flying white doves. The laser beams fanned out like some discordant accordion, pulsing in vivid primary colours, criss-crossing in ingenious geometric art. Invisibly wielded like powerful lightsabers, they swished and stretched way up into the night sky. But the stars that night lay far lower to the ground. 60,000 Xylobands strapped around 60,000 wrists were programmed with tech wizardry to twinkle, synch, why, practically sing with choreographed light. We, the audience, created the colourful constellations. We were the wattage, the grandeur in this visual performancescape. This was intimacy on a majestic scale. Human hues in a tsunami of waving arms rising from a heaving ocean of a captivated people.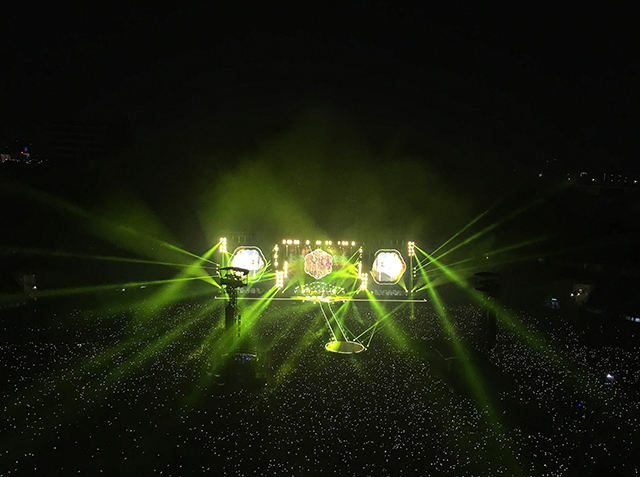 A Headful Of Dreams opened. And, oh, I think I landed in a world I hadn't seen… Then our skin and bones turned into something beautiful. And shiny. And Yellow. There was palpable joy as the aforementioned balloons off-orbited on an Adventure Of A Lifetime. My Chris on the piano with white pulsating energy and of A Sky Full Of Stars. Giant lyrics scribbled themselves over a giant screen in Something Just Like This. The hip hop inflections in Hymm For The Weekend. We soared to symphonic strings in the coolly infectious Viva La Vida. We roared in unison to The Scientist. There was the surprise of a sweet acoustic spot on a tiny third stage—In My Place—pared back, unadorned, and movingly lilting. Four boys who'd scaled dizzying electric heights to claim their spot in stadium megarockstardom, but showing here… they never really had to. And as he said in the emotionally haunting anthem that will always Fix It: "Nobody said it was easy, no one ever said it would be so hard. Oh, take me back to the start, Chris."
…there can only be one Chris Martin spraypainting the crowd with his brand of hippy love vibes.
Chris Martin, a visceral, emotional, spiritual life force of optimism and vitality. A whirling dervish catapulting down a catwalk, buoyant even when falling to the ground. He's almost just one of the boys you spent your miseducation at university with. With whom you stayed up all night rolling cigarettes, discussing Moliere. Ok, I never read Moliere. Discussing The Iliad. Cause you know he received that first in Greek and Latin. You've gotta love a man so cerebrally adventurous yet so apparently emotionally accessible. And unfailingly polite. He must've thanked us for being there a dozen times that night. An anti-rockstar who really does seem to care about being better rather than bigger but gloriously ends up being both. That something he writes from such an individual place in the depths of loneliness one night ends up a collective celebration sung along to by 60,000 people is almost messianic.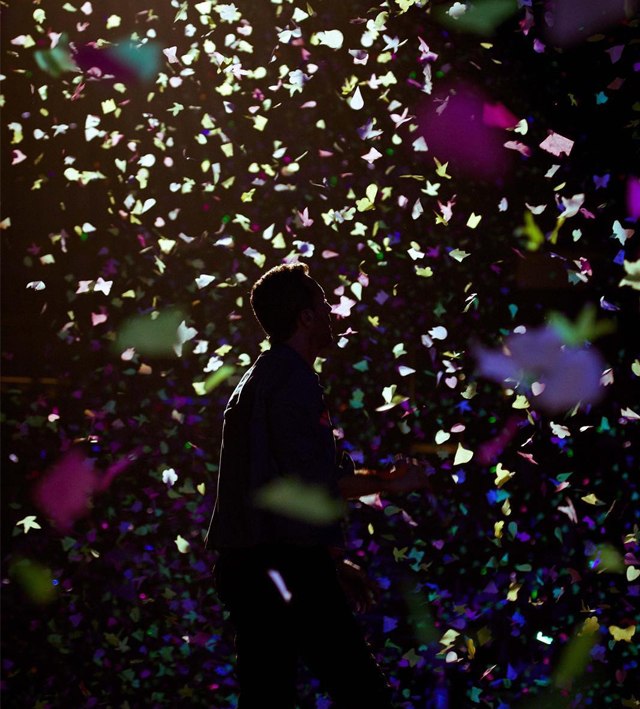 I remember sometime ago watching Chris playing Life On Mars on the piano in tribute to David Bowie. He was so quietly, almost incidentally caressing that keyboard. Jimmy Fallon was singing but really it was about Chris. YouTube it. Cause some people aren't really meant to walk this earth. They might be meant to inhabit our skies. They soar and sparkle, they're brilliant and rapturous. 'Life On Martin' would be quite a trip…
But back on earth and last weekend in Bangkok? I did lose my knickers and my mind but I left with a head, and heart, full of Chris Martin.
So, apparently I should say you can follow me on Instagram at @goddesshireenxxx.
Related articles:
Women of the world raise your right hand
| | |
| --- | --- |
| SHARE THE STORY | |
| Explore More | |