The adage "the eyes are the windows to your soul" couldn't be more true and if there's any part of your face that are the first to show signs of fatigue, stress and ageing, it's likely your peepers. Fun fact: the eyelids have the most delicate (read: thinnest) skin compared to the rest of the body—which is why rubbing and tugging hard on the eye areas (while removing makeup especially) are the biggest no-no's in our beauty books.
Another useful fact: your eyes show general signs of ageing the moment you hit 25. If you're hitting your mid-thirties and don't have a winning formula for your eyes just yet, it's high time to consider investing in one.
But we get it—looking for the perfect eye cream/serum/saviour is pretty much locating the proverbial needle in a haystack. A formula too rich might give you comedones (those stubbon tiny bumps that won't go away), while a ultra-lightweight formula won't make the slightest difference to your fine lines.
But here's where Shiseido's reputable Ultimune range comes in handy. The brand's award-winning technology in this range uses botanical ingredients such as Reishi mushroom to accelerate the skin's regenerative properties and keep it hydrated. The bestselling Ultimune Power Infusing Concentrate made headlines last year for all the right reasons, and this time around, Shiseido is making sure your eye areas get covered with the revamped Ultimune Power Infusing Eye Concentrate.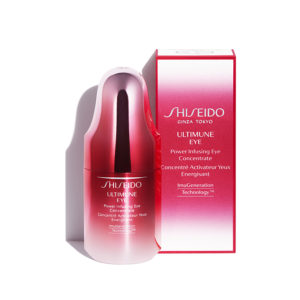 But here's the thing: the Ultimune Power Infusing Eye Concentrate isn't an eye cream per se. Think of it as an eye serum that has the same potent formula as the Ultimune Serum, but tailored to adhere to the delicate areas around the eyes.
In case you're doubting the point of having an eye serum in your routine, a few good reasons lie in the data. According to research done by the brand, this eye serum reduces friction damage—no thanks to the prodding motions you inflict on your eyes while removing that stubborn waterproof mascara—by 30%, and also helps with the five major problems that affect the eye contours i.e. puffiness, wrinkles, loss of firmness, roughness and dark circles.
Unlike an eye cream, the Ultimune Power Infusing Eye Concentrate leaves an invisible veil on the skin that isn't sticky or thick. For brighter eyes that don't betray your age, pair the eye serum with one of Shiseido's anti-ageing eye treatments (our favourite is the Benefiance Eye Cream).
Shiseido Ultimune Power Infusing Eye Concentrate is now available at all Shiseido counters.
| | |
| --- | --- |
| SHARE THE STORY | |
| Explore More | |