Skincare
How La Mer is expanding the legacy of its Miracle Broth
At the forefront of scientific innovation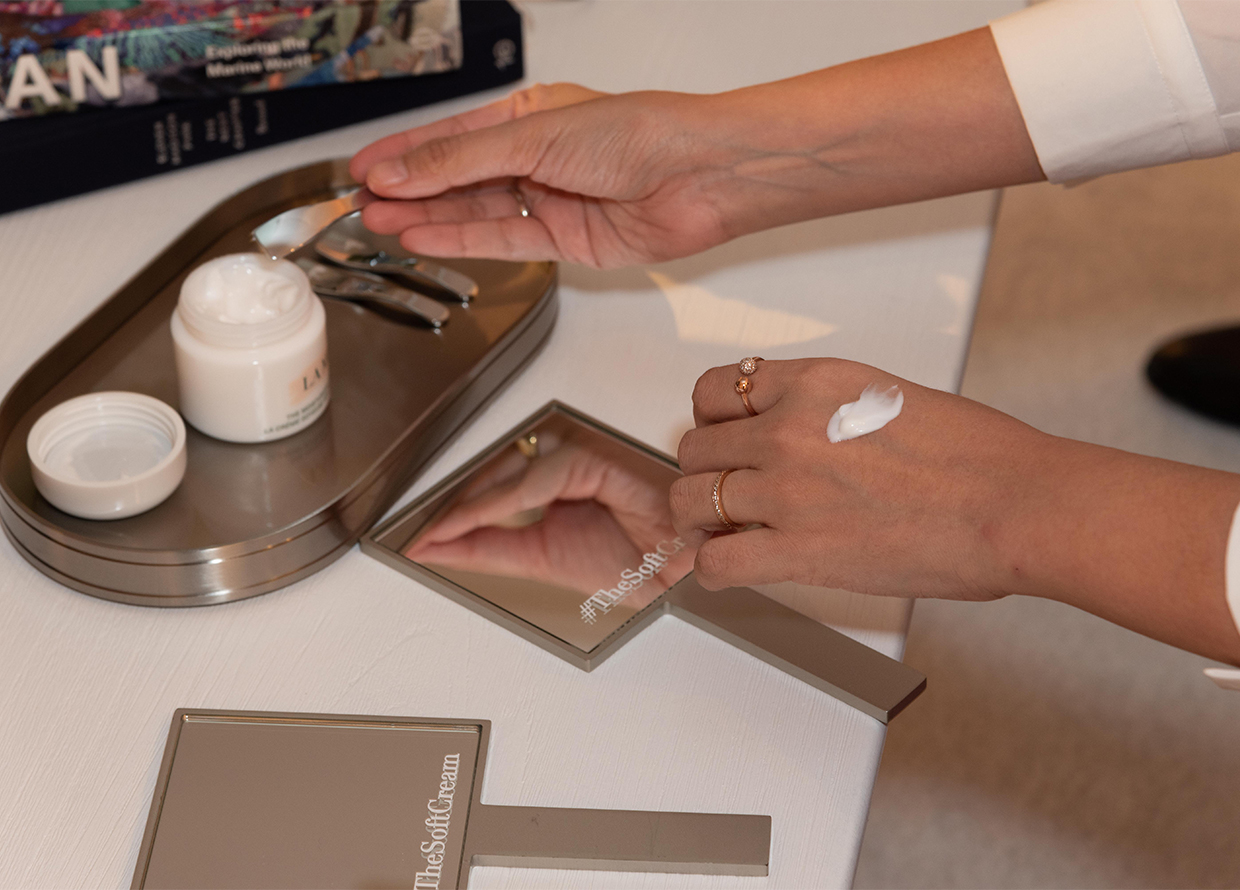 It is an intriguing story that's been told many times over—the discovery of La Mer's magical 'Miracle Broth' and its superior Crème de la Mer started back in the 1950s when aerospace physicist, Dr Max Huber, was involved in an accidental lab explosion and suffered devastating burns to his face.
In his quest to find a treatment to alleviate his pain, Huber discovered the self-regenerating properties of sea kelp after observing fishermen apply them to their wounds. He then proceeded to experiment on the underwater plant with a fermentation process that took 12 years before concluding the legendary, youth-generating formula used at the heart of all of La Mer's products to this day.
In the brand's continuous research on the Miracle Broth, a remarkable new activity has been revealed: the elixir activates the natural production of essential lipids inside the skin to encourage a rich and youthful lipidome. This discovery is now infused in the newly launched Moisturizing Soft Cream, featuring a powerful delivery system that helps resist signs of ageing from the inside out. Below, Dr Rocio Rivera, Global Senior Vice President of La Mer Product Development, shares how the new cream works.
View this post on Instagram
Tell us all about the new Moisturizing Soft Cream.
Our new cream deeply moisturises and comforts from deep within the skin, enriching it from the inside to visibly transform it on the outside. Skin takes on a firmer feel and a more lineless look. With a strengthened barrier, skin not only resists current signs of ageing but also helps prevent future signs.
The Moisturizing Soft Cream has powerful anti-ageing benefits that help create what we call a "soft skin effect." It instantly penetrates the skin with our youth-regenerating elixir—the Miracle Broth—for a refined, youthful look, renewed elasticity, and visible volume. From the first touch, skin is plumped and infused with healing moisture to help it better resist the future signs of ageing.
Featuring an advanced delivery system, our next-generation formula allows the Miracle Broth to reach the skin in the areas it needs most, energising skin for healthy-looking radiance.
What are the Multi-Sized Moisture Spheres in the formula, and what do they do to the skin?
Our recalibrated, high-energy, high-speed process combines potent activity and rich cream emollients to form Multi-Sized, Moisture Spheres. Miracle Broth is encapsulated within these spheres, which are held together by a thread of gentle cohesive bonds that help create the Moisturizing Soft Cream's unique and beloved soft texture. Billions of moisture spheres, now graduated in size, burst onto the skin with every touch to deliver healing moisture deep into the skin's surface, penetrating skin layer by layer with the potent effects of Miracle Broth, lipid-based crème emollients, and antioxidant lime tea. Upon application, the bonds break, and the spheres melt, helping deliver essential moisture to help heal dryness and renew the skin's moisture barrier to transform from the inside out for multi-dimensional skin softness.
View this post on Instagram
Can the cream be used to treat a myriad of skin issues?
Yes, all La Mer products are designed and tested to be safe for all skin types. However, individual skin conditions present unique circumstances, and reviewing products and ingredients with your medical professional is always important.
Is the cream suitable for the hot and humid conditions of Southeast Asia?
Yes! It is the perfect companion year-round and is suited to any routine, look, climate, and lifestyle. 
Can you tell us what went into the process of creating its texture? What factors did you consider? 
For years, touch has captured the imagination of scientists at the Max Huber Research Labs. From how we touch the product to how it touches us, it inspires us in everything we do. As an expert in sensory neurons and a trained Neuroscientist, the Max Huber Research Labs team and I look at skin feeling through texture and touch through a unique and scientific lens.
Our latest innovation was inspired by our founder Dr Max Huber's pioneering work. Our scientists dreamed of bringing the power of our iconic Crème de la Mer into a new luxurious experience and created the ultimate La Mer paradox in 2012: a soft, sumptuous formula that delivers healing moisture and elevated ageless benefits. Ten years after its original unveiling, The Moisturizing Soft Cream is still beloved worldwide for its rich yet weightless texture and ability to transform the look, feel and structure of the skin.
However, our scientists found a way to advance our legendary formula through new discoveries in our Multi-Sphere delivery system to help the skin renew and rebuild itself from the inside out. The result? Our new Moisturizing Soft Cream has been reformulated with incredible anti-ageing activity, allowing for even softer skin, and elevated ageless benefits faster than before. La Mer's Max Huber Research Labs has been a pioneer in the analysis of lipidomics. We know that lipids are critical to healthy, plump, and youthful-looking skin and that lipid production declines as we age, leaving the skin vulnerable to visible signs of inflammation and accelerated ageing. Environmental inflammation caused by external stressors, pollution, and other environmental aggressors can trigger the formation of lines and wrinkles and lead to sagging skin, age spots, lines, and wrinkles. Therefore, we set out to create an advanced formula that can be used by men and women of all ethnicities and skin types to deliver protection, repair, and prevention against signs of ageing while providing skin with transformational moisture.
As such, we were able to show that, inside your skin, Miracle Broth helps support vital lipids for lipid density on the inside, helping the skin look healthier on the outside.
In the future, what other innovations can we expect from the Max Huber Research Labs?
From the moment we launch an innovation, we continue to challenge ourselves to discover new and more advanced ways to transform skin and help it reach its fullest, ageless potential as our founder did. It's the persistence and insatiable spirit of every single scientist at the Max Huber Research labs that fuels years of research. We are constantly at the forefront of scientific innovation and discoveries, constantly advancing on new technologies and findings to help us unlock the maximum potential of the Miracle Broth.
For more beauty reads, click here.
| | |
| --- | --- |
| SHARE THE STORY | |
| Explore More | |