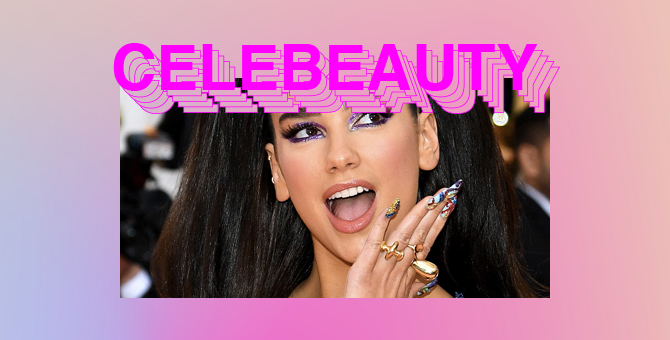 Dua Lipa's pick 'n mix manicure
Nail artist: Mei Kawajiri (@nailsbymei)
We absolutely adore Lipa's take on the holiday mani—it's bold, fun, and completely unique. Each finger features a different design, from the sacred heart, to roses, to an angel, and a woman in a pink robe. We don't know about you, but it's giving us major mani inspo.
Dua Lipa's heart-filled set
Nail artist: Mei Kawajiri (@nailsbymei)
The bad news is that the singer's aforementioned mix-and-match mani didn't last. The good news it that it was promptly replaced with this absolute beauty.
Ariana Grande's holiday engagement manicure
Barbie Ferreira's uncouth (but cool) manicure
Before you say it—no, we're not going to explain why the acrylics on the Euphoria star's index and middle fingers are missing. If you know, you know.
The vibrant, marbled, green French tips are the best way to scream 'It's December', without actually having to do so.
Megan Thee Stallion's lipstick gift-wrapped mani
The dramatic length. The lipstick shape. The bedazzled bow. What's not to love about this manicure? Colour us obsessed!
BRB—heading to the nail salon right now with this picture in-hand.
Bella Hadid's cutout holiday manicure
Nail Artist: Michina Koide (@michinails)
The supermodel's set is far from a traditional holiday mani, but we're obsessed with it nonetheless. The pink accents and the cutout details add just enough spice into the look.
Millie Bobby Brown's sparkly take on the French mani
Though some may argue that this glittery set is a little derivative, we have to disagree. Everything from the deep red glitter tip to the silver accent perfectly screams 'Santa!' without being too obvious—it's a perfect holiday manicure.
Christina Aguilera's Mario Kart-themed nails
The 'Beautiful' singer has kept her kids busy in quarantine with the help of Mario Kart—the only issue is... she's addicted. Don't believe us? Look at her nails!
She captioned the Instagram Story with "When the kids go to bed, I practise solo! And you know I had to match the nails."
Celebeauty: The best holiday celebrity manicures from last week
See what the stars are wearing on their talons this holiday season, from Barbie Ferreira's *cheeky* set to Dua Lipa's quick change