We're not quite over the matte lip trend just yet' thanks to Laura Mercier's all-new Velour Extreme Matte Lipstick
When it comes to matte lip colours' brands are undertaking the task of simplifying the application for beauty lovers out there. From liquid lipsticks to budge-proof lip powders' the gamut runs far and wide in this arena ever since the height of this trend. Laura Mercier is proving this sentiment right with their new Velour Extreme Matte Lipsticks that tick all the right boxes in our matte lippie HG checklist. 
This new lip pens come in a slim' twist-up bullet for ease of use and a seamless application. Thanks to a built-in shaper that customises its tip' the Velour Extreme Matte Lipstick offers precision lining and concise filling whether you're wearing it for everyday or to paint the town red. (Psst' you don't really need a lip liner with these lipsticks too!)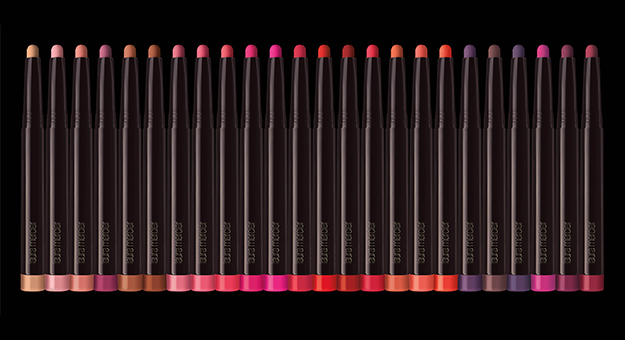 The high-impact matte formula is worth pointing out for a few good reasons: If you aren't a fan of matte lipsticks because of the feathering or bleeding that occurs over time' the Velour Extreme Matte Lipstick is your new go-to. The vibrant pigments in the formula will give your lips longwearing' full coverage with one stroke' plus it has mattifying powders to prevent it from drying on your lips. Rest assured that the lipstick is also fragrance-free' water- and transfer-resistant — no more worrying over reapplication after a meal. 
Available in 24 chic shades' the Velour Extreme Matte Lipstick can be worn in various ways. Here are some pro tips on taking your lip look to a whole new level:
1. Try an edgy gradient lip look by opting for two Velour Extreme Matte Lipstick colours — one in a darker tone than the other.
2. Apply the darker shade on the corner of your lips and the lighter shade in the center of your lips. Blend out any obvious lines for a chic ombré effect.
3. Alternatively' go for a nuanced finish with just one colour. 
4. Use your fingertips to apply the colour on your bottom lip first' then the top lip. Press the colour on the center of your lips outwards gently for a just-bitten look. 
Laura Mercier Velour Extreme Matte Lipsticks are now available at all Laura Mercier stores nationwide.