Troye Sivan proves that the mullet trend is far from over, Gwen Stefani recreates one of the iconic '90s looks and more
This week was chock-full of throwbacks—from Gwen Stefani's '90s getup to Troye Sivan's homage to the country men of the '80s, the celebs were up to all sorts of weird and wonderful things. Read on to find out all the beauty goss!
This week in hair
---
Troye Sivan is the latest celeb to hop on the mullet train
Another week, another mullet. The mullet trend is showing no signs of stopping as yet another star gets the big chop. Troye Sivan took to Instagram to share his latest hair makeover, and we have to say—it's a look.
Business in the front, party on the back has never rung more true. The cut works beautifully with Sivan's naturally curly texture, and the length of his tail is perfectly shoulder-grazing. The singer captioned his big reveal with "ur rat boy", which was subsequently met with resounding support. Even YouTuber Kurtis Conner shared his approval, stating "the mullet is good!!"
Watch the haircut in action in this teaser for Sivan's new single 'Easy' featuring Mark Ronson and Kacey Musgraves:
Bella Hadid sports an edgy platinum blonde pixie
The look Hadid is flaunting is undeniably fierce, which is just about what we've grown to expect from the model. While the model's angular features are accentuated with her beautiful makeup as usual, one thing that caught our eye was the textured, layered (and blonde) crop she's sporting!
The shoot is the work of Dior Homme's artistic director, Kim Jones, and the artwork adorning the background (and the fan she's holding) is the brainchild of artist Kenny Scharf.
While the whole look is a hit in our books, we especially think that the cut works beautifully with her face shape. Though it's unlikely that Hadid will switch up her trademark blunt, brown tresses, one can always dream!
Megan Thee Stallion wants your recommendations for black hair care
The rapper has given us a quick peek at her natural locks before, but this is the longest we've ever seen them! In a video on her Instagram, the 'Body' singer shared her plans to get her hair as long and healthy as possible, and asked for some stellar, tried-and-tested recommendations while she was at it.
READ: #BlackOwnedBeauty: Briogeo's founder Nancy Twine prides herself on inclusivity both in and out of her products
The video shows Thee Stallion's tresses looking beautifully conditioned, with extra body and bounce. However, we couldn't help but notice that while her hairstylist Kellon Deryck is playing with her hair, she's busy playing the popular (and controversial) story game, Episode. You heard it here first guys: Celebrities—they're just like you! They also download hilarious games they find on Instagram.
This week in skincare
---
Hailey Bieber gets real about her skin condition
If you've been keeping up with Bieber's Instagram Stories, you'll have noticed her speaking up about her perioral dermatitis. The skin condition presents as an inflammatory rash that occurs around the mouth, sometimes leaking a clear fluid discharge. It may spread up to the nose or eyes, at which point it becomes periorificial dermatitis.
Bieber took to her socials to give us a little more insight into the condition, saying: "I have something called perioral dermatitis which I've had for a few years now. It gets triggered by different things and usually shows up on my cheeks, around my mouth, or sometimes around and under my eyes. Some things that I noticed trigger it: trying a new product, a product that's too harsh, weather, masks, sometimes certain SPF. A huge dermatitis trigger is also laundry detergent! Have to use hypoallergenic/organic laundry detergent always."
"That's why for my skin, personally I go for super gentle anti-inflammatory products that will help soothe my skin and won't trigger a dermatitis breakout!" she continues. "It also took me getting the proper diagnosis from a dermatologist after stubbornly trying to treat it myself. Sometimes it gets so irritated only a prescription cream will calm it down."
This week in makeup
---
Gwen Stefani recreates one of the most iconic looks from her No Doubt days
Stefani took us all the way back to 1995 with this Instagram post. In the picture, she's wearing her signature red lip, a matching red mani, and a vintage-inspired ponytail. The look is lifted directly from her look in No Doubt's 'Just A Girl' video, complete with the iconic bedazzled white tank!
Of course, the star has given her look an update—one might clock the missing jewelled bindi in the 2020 get-up. Yes, the accessory which sparked many a debate on cultural appropriation has rightfully been exchanged for two cute teardrop gemstones under the eye. In addition, Stefani has also said 'goodbye' to her formerly pencil-thin brows, added a lot more gold to the get-up, and dialed back the smokey eye to make way for more dramatic lashes.
The timely throwback is Stefani's fitting attempt to 'reintroduce herself' just in time for the release of her new single... 'Let Me Reintroduce Myself'. Peep the fun promo picture here!
If you're feeling nostalgic, you can watch the original video here:
My Chemical Romance releases a makeup collection with HipDot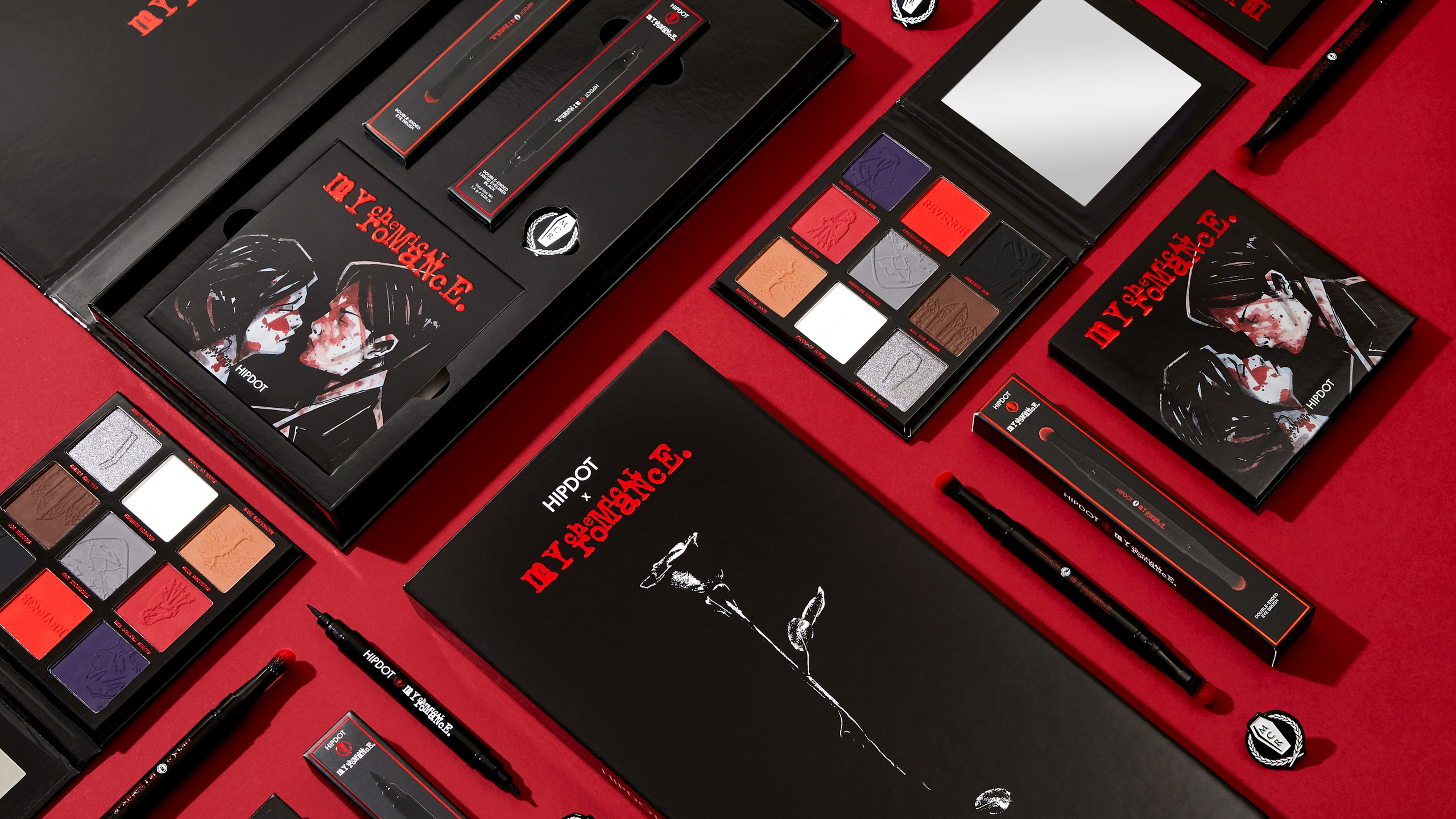 ICYMI: Earlier this week, the reigning 'Kings of Emo' (also known as My Chemical Romance) took to Instagram to announce their brand-new makeup collection. For all the details about the collaboration check out the link below:
READ: Killjoys, make some noise! My Chemical Romance has launched a makeup line
This week in tattoos
---
Madonna gets inked... and it's super sweet
You'd think that the Queen of Pop would have very few 'firsts' left on her bucket list (and you'd probably be right). That said, no one has done absolutely everything, and Madonna is no exception... until now.
Earlier this week, she shared a snap to Instagram of her at a tattoo parlour (mask on, of course). According to her caption, she's been inked for the very first time! What could be so special as to earn a space on Madonna's wrist? Her children, of course.
Her minimalist lettering spells out the initials of her six children: Lourdes, Rocco, David, Mercy, Estere, and Stelle. We think her new ink is a beautiful dedication to her true loves—what about you?
Find more beauty news here.