In this week's beauty headlines: Taylor Swift's 'Cardigan' look is a dream, Jeffree Star's latest apology is 10 minutes of clownery and more
This has been an eventful week, to say the least—from Taylor Swift's surprise album to Jeffree Star's last-ditch attempt at saving face, there's a good spread of headlines to sift through.
Read on so we can catch you up on all things beauty!
This week in hair
Taylor Swift's 'Cardigan' look was a DIY job
The singer released her eighth studio album Folklore on 23 July, and had fans reeling from a whole new surprise era of looks. In particular, the low-braided buns and curly fringe combo she sports in the video had fans rushing to replicate the look left, right and centre.
Luckily, it seems like this look is one that fans can recreate at home. She swiftly took to Instagram to explain that everything from her hair and makeup to her styling was a DIY approach—an effort to abide by the social distancing guidelines, which as good a reason as any.
This week in makeup
Euphoria scores an Emmy nomination for Outstanding Contemporary Makeup
It's well-deserved, too! You can find the complete list of nominations here, but the winner is only going to be announced on the 21 September 2020. That said, stans of the show are not going to be happy with a snub—the show started off a trend that has yet to die a year on, and served a plethora of strong looks that even we couldn't resist giving a try. In fact, we're not the only ones who couldn't shake the trend either...
Phoebe Bridgers channels Zendaya's Euphoria character in her latest Instagram post
Okay, so maybe it wasn't intentional, but the chunks of glitter dusting her cheeks are giving off major Rue vibes. The indie darling has kept herself busy the whole of quarantine doing literally anything she wants, from releasing her newest critically-acclaimed album Punisher to doing awkward karaoke to her own singles on Colbert. The best part? She hasn't changed out of her pyjamas for any of it.
The snap was a little 'teaser' for her latest single 'I Know The End', which is out now. Give it a watch and a listen—you won't regret it.
Selena Gomez's Rare Beauty pledges to raise USD$100 million over the next decade for mental health resources
Selena Gomez's Rare Beauty hasn't even launched yet and they're already committing to change—now that's what we call efficiency. The initiative will be led by Rare Beauty's Mental Health Council, which consists of 10 mental health experts and professionals, including:
Lindsay Peoples Wagner, Editor-in-Chief of Teen Vogue with experience in writing about politics, inclusion and health
Elyse Fox, a Director and Activist who connects communities and spreads awareness for her causes through @sadgirlsclub
Dr Marc Brackett, an Author, Professor and the Founder/Director of the Yale Center for Emotional Intelligence
Dr Jane Delago, the President and CEO of the Alliance for Hispanic Health
Justin Tranter, an activist whose work focuses on the LGBTQIA+ community
Katrina Gay, the director of Strategic Partnerships at the National Alliance on Mental Illness
Gretchen Rubin, the author behind Outer Order, Inner Calm, The Four Tendencies, Better Than Before and The Happiness Project
Dr Scott Rauch,  the President, Psychiatrist-in-Chief and Rose-Marie and Eijk can Otterloo Chair of Psychiatry at McLean Hospital
Kit Hayes, the creator of YouTube's Mental Health Initiative
Jennifer Cohen, Sephora's Vice President, Merchandising, Makeup
Ariana Grande's eyebrows are seriously Spock-inspired
Okay, so maybe Spock is a reach, but there's no denying that the elven/pixie-vibes are real with this one. Her new brows aren't too different from the short-and-straight shape she's always sported, but it seems like the ever-so-slightly curved tails are no more—they've been shaved off clean. We think she may be leaning into the fox-eye trend a little too much—what do you think?
This week in nails
Khloe Kardashian wears this season's biggest nail trend
Ice cream is best served... on fleek. Did that land? No? We'll show ourselves out. Anyway, pastel nails are in for the summer and we are absolutely loving it. Case in point: Khloe Kardashian's pastel peach claws that are seriously vibing—along with her neon pink liner and rainbow sweatshirt. Not a fan of this monotone look? Explore ombré finishes and upgraded French tips here to inspire your next trip to the  nail salon.
This week in YouTube Drama
Jeffree Star releases a non-apology video after a four-week hiatus
After the debacle that was Tati Westbrook's flaming video on Jeffree Star and Shane Dawson—coupled with Morphe recently cutting ties with Star, the YouTuber has attempted to apologise in a new video. Note: there's not much of an apology that's actually going on, in case you were wondering. 
Apart from a dubious apology to James Charles (he previously accused him of being a "predator" and "danger to society" in a separate video), Star also referenced the BLM movement and the horrific deaths of Breonna Taylor and Elijah McClain to avoid taking accountability for his actions. 
Here's how the Internet reacted to Star's apology video: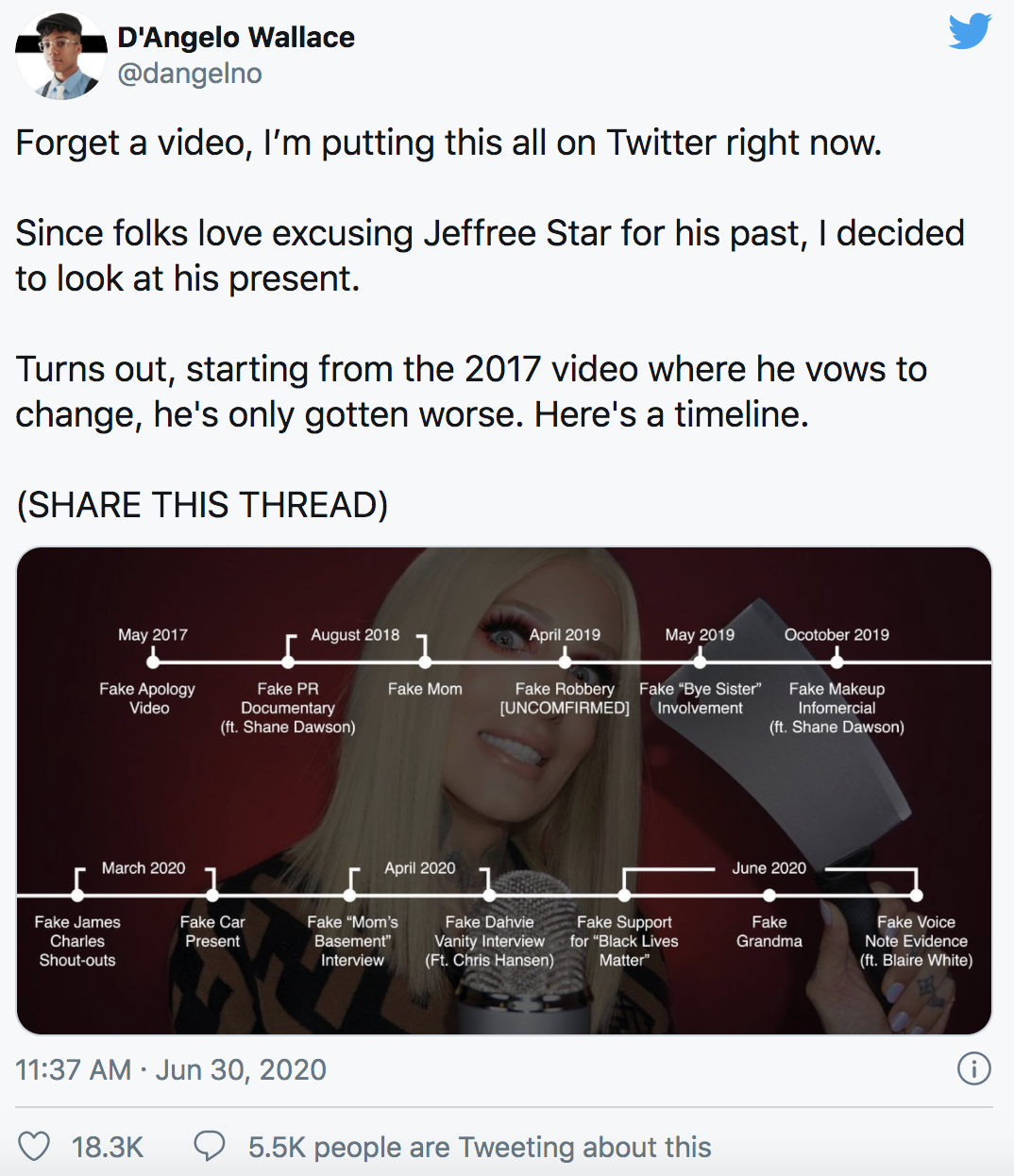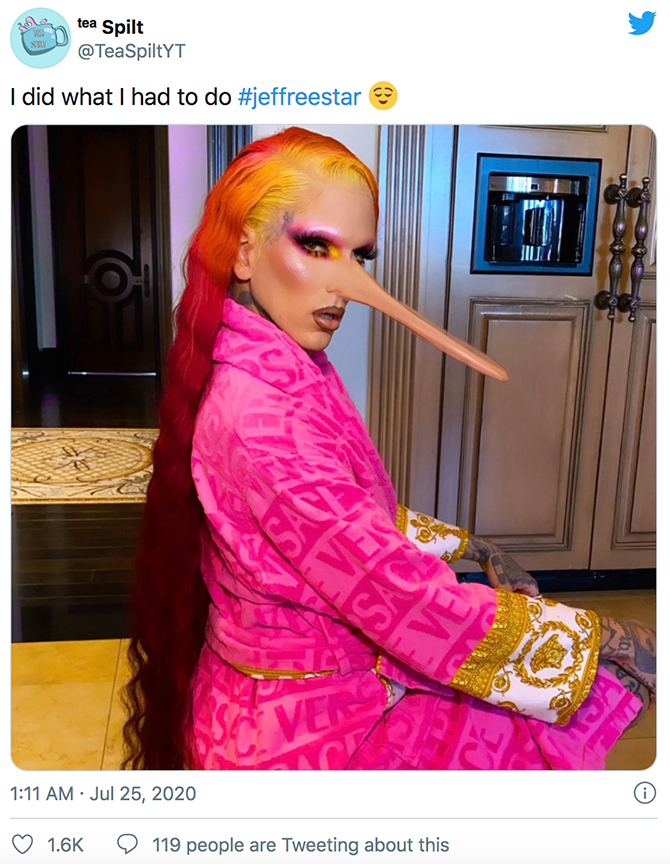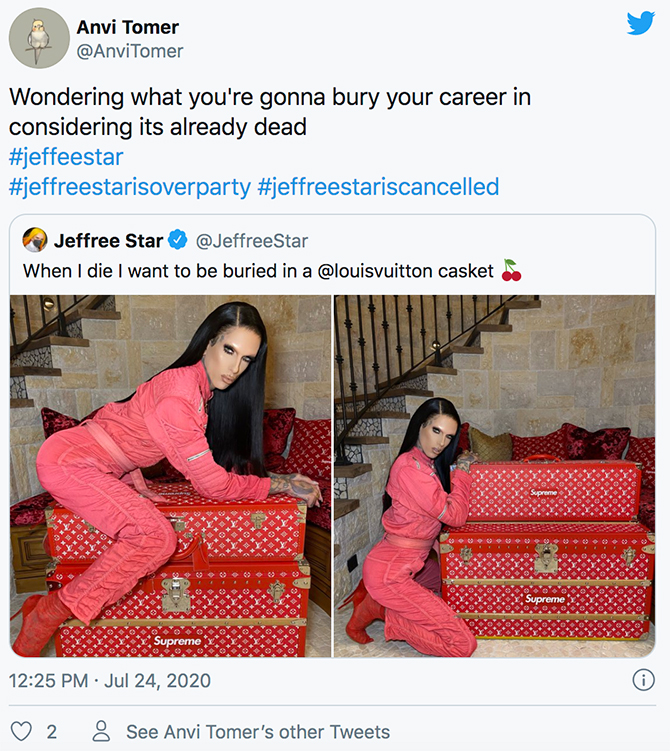 Read more beauty news here.