Makeup
Jasmine Suraya takes on the one-product makeup challenge while answering your burning beauty questions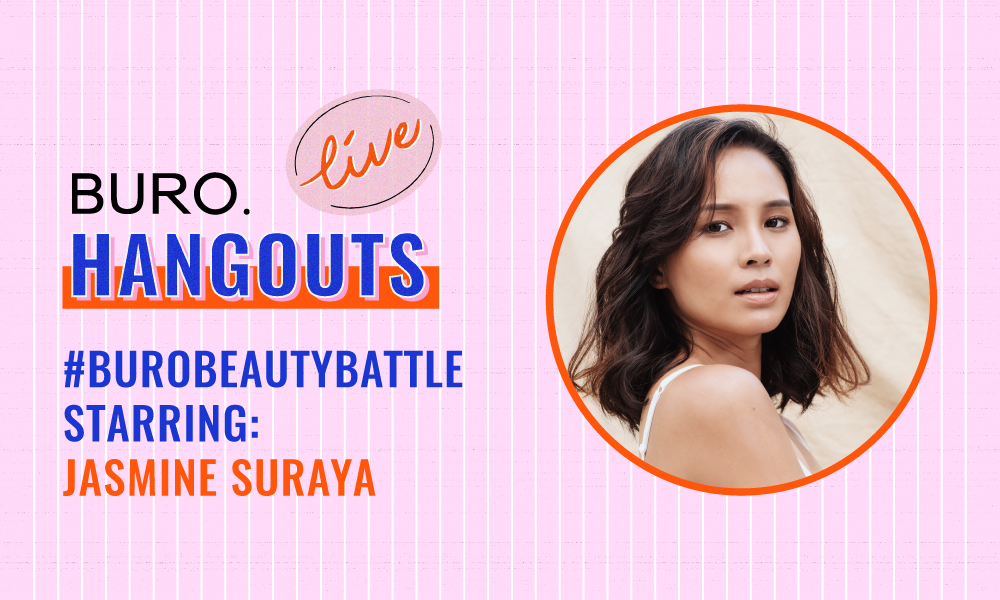 What happens when you're armed with nothing but an orange lippy and a base? A *lewk*. We challenged actress Jasmine Suraya to a one-product makeup challenge and got some valuable insight into her life behind the lens.
From her idyllic Raya plans to her go-to skincare saviours to how she's coping with self-isolation in the MCO, Jasmine tells all. Read on to scope out the highlights or watch the full challenge and the interview below!
Watch it here:
The highlights of our exclusive:
Jasmine on her makeup and skincare routine
On her beauty necessities…
"I need lipstick because whenever I go out—whether I go grocery shopping, or I meet my friends—I don't put makeup on but I always have lipstick on. It's because I always feel like I'm a bit of a fair skin tone, so a touch of colour will just make my face pop."
On her absolute favourite lippy at the moment…
"I use many different lipsticks, but what I like now is the Dior Lip Maximiser. It's very natural, the texture isn't too dry, it's long-lasting and it makes you look glossy and young. Plus, the colour is very elegant. So, that would be my favourite lipstick product right now."
On which product she would be if she had to pick one…
"I would say concealer—it's always in demand and I want to be in demand (laughs)."
On the oldest thing in her makeup bag…
"Do brushes count? Because this one from Make Up For Ever has lasted me (I think) seven years. It's a good investment—so many people say, 'Why would you spend (so much money) on a brush', but really, they last. Plus, a good brush gives you good texture for makeup on your skin. And apparently, a brush can last for more than 10 years."
On her skincare routine…
"I do believe that skincare is really important if you want to have good skin. It really depends on your skin type—whether it's dry, or oily, you should buy products that suit your skin specifically.
"If you go into my bathroom, there's a whole shelf filled with skincare. I think my favourite skincare product would be this oil-serum I'm using now. I like it a lot. That and moisturiser. I've also realised that face masks are really important to me recently—I used to not believe in masks but recently I've been religiously using masks every two days and it has done wonders for my skin.
"I used to have really bad pimples when I was in college, and I didn't have a skincare routine because I didn't believe in it back then… and I was too stingy to buy it. However, since then I've realised it's so important to take care of your skin."
On the perils of online shopping…
"Another thing for good skin is that there are a lot of people selling stuff online. I would personally advise against buying from there because sometimes you don't know what they contain—they're not certified."
On how the MCO has affected her skincare routine for the worse…
"I've just stopped removing my makeup. I mean, because I used to use this oil cleanser to remove my makeup but recently I've stopped using that. I've gotten more lazy since the MCO."
On her personal worst beauty looks to date…
"I don't know actually. Probably my eyeliner—when I was 13 years old, I was a super big fan of Avril Lavigne, and I would have all this eyeliner and I would wear a tie and I'd be like, 'Yo yo' (gesturing). I think in that period—my mother was quite horrified.
"Then I was a hippy when I was in college. I think the people who have viewed my Instagram know this, but at one point I was quite large, and I had this big afro hairdo. I was studying in Zambia at the time and I didn't wash my hair for three and a half months, so those were my hippy days. Hmm… memories."
On whether women really need makeup at all…
"I was asked this question the other day: 'Does a woman need to put on makeup to look beautiful?'. For me, I believe in energy. If you feel good on the inside it will reflect in your energy. This may be a stretch, but it's like if you have good intentions, people can feel it and if you have bad intentions they can feel that too. The same thing goes for makeup: If you want to put makeup on and you feel good, that gives out good energy to people. But, if you don't want to put on makeup and you feel good, that's fine too."
Jasmine on Ramadan and Raya
On how Ramadan went…
"I was quite shocked that I was very much more active when I was fasting. I was driving around and getting errands done! I didn't have much of a problem with fasting—and to be honest, a lot of people would think that when you've not eaten for 12 or 13 hours you'll feel hungry. Though, surprisingly—come buka puasa time—I didn't feel hungry. I just felt very thirsty, so what I did was I just had a large, cold iced water."
On what she was looking forward to post-Ramadan…
"So I can't go up to the rooftop to picnic and have my juice and stuff like that at 3 or 4pm because by the time it's 2pm I'm already quite lethargic. At that point I'm just like 'Oh god, I can't read'—I just feel really out of focus. So I'm looking forward to Raya when I can drink during the day.
"I'm going to wear my baju kurung (which I bought last year), I'm going to eat on my couch, I'm going to read, I'm going to sleep, I'm going to drive around to nowhere (probably to the grocery store) and I'm going to have a picnic on my rooftop. I'm thinking of getting grapes and juice and then just be on my rooftop and read my book. That's my plan."
On fasting during the MCO…
"I quite like fasting because you get up at five, get some work done till 9 or 10 (especially during the MCO) and then you sleep for an hour or two. You end up getting lots of work done in the morning and it's very calm."
Jasmine on how she's coping with the MCO
On unplugging and relaxing…
"It's nice—to be honest I've really enjoyed this whole MCO. It's given me time to relax, and I'm really liking this new normal. This sounds so mean but I think I'm an introvert, so I like the fact that there are no events or festivals because I don't feel obliged to go to (laughs). So yeah… I like it.
"I've been doing a lot of reflection during this MCO and I've realised that I can cut out a lot of the stuff that makes me quite unhappy. The things that I felt I needed to do because I'm in this industry—I can always find an alternative to do them."
On staying productive…
"So, I've started keeping a journal, which initially was quite weird to me because I don't believe in having a diary, but it's like practice—I just pen down any ideas that I have and it helps me prioritise my goals. For the past seven years I lived through one goal which is my career, and everything I did revolved around that. So someone recommended a journal so I don't lose track of things.
"Today I was jotting down my ideas—I have so many things that I want to do. I have started coming out with proposals for story ideas that I want to start producing, I also wanted to go into trading, do some YouTube stuff and other business ideas—there are so many ideas, so I wanted to have it in writing. I have the top 40 things that I want to focus on in the next year."
This interview has been edited for clarity and length.
| | |
| --- | --- |
| SHARE THE STORY | |
| Explore More | |