Makeup
Petr Simon Fridrich from Pat McGrath Labs shares his best makeup tips on and off the runway
Cue the makeover montage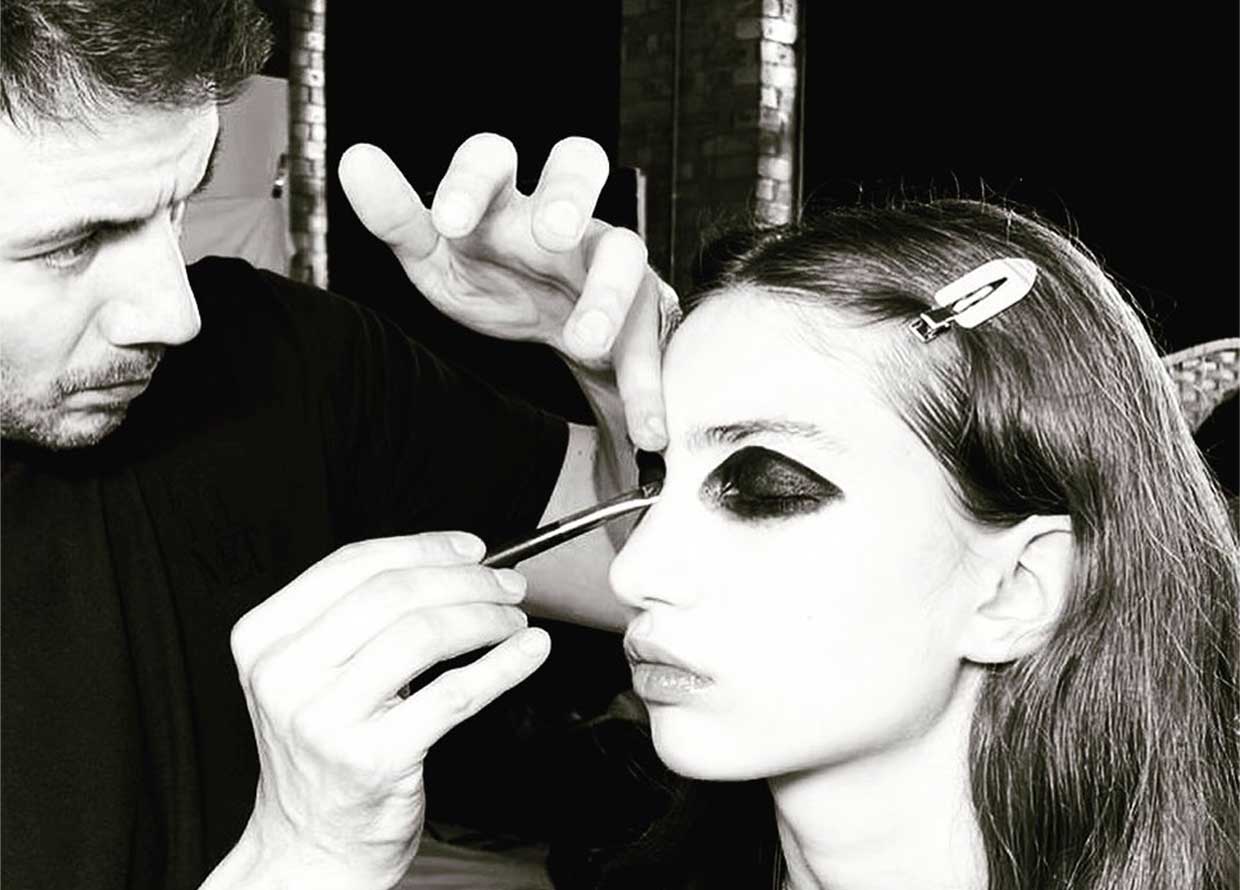 Sephora just hosted their SS23 Press Day, House of Sephora, and the event was packed with some of BURO's favourite beauty brands. One you may recognise, whether it be from fashion week or the red carpet, is Pat McGrath Labs. 
Dame Pat McGrath lends her name to the brand, which has garnered a significant cult following. Best known for its smooth, buttery eyeshadow formulas, luxuriously collectible packaging and beyond ethereal creations, the Pat McGrath Labs brand has earned its sterling reputation. Representing the brand on the day was Petr Simon Fridrich, the European Sales and Education Manager for Pat McGrath Labs.
View this post on Instagram
Of course, we couldn't pass up an opportunity to learn more about him and the brand. So, I sat down for a chat with the makeup artist while I got a full-on runway makeover. 
WATCH THE PROCESS HERE:
View this post on Instagram
The opportunity to get your makeup done by a professional does not come by often, so I was pretty much down to try anything. When Fridrich asked me how bold I was willing to go with the look he was about to create, all I said was "yes". 
The inspiration for this look comes from Versace's FW23 show—an intense graphic eye topped with lots of sparkle. The version that ended up on my face is more of an iridescent take on the reference, with the most beautiful blue-hued duochrome topping the inky kohl base. Needless to say, I didn't have plans for the evening before this little activity, but I definitely made some after!
GET THE LOOK:
Ahead, get a look behind-the-scenes at the biggest Fashion Week runways, and glean a few of Fridrich's best makeup tips:
On his must-have Pat McGrath product…
"The Skin Fetish Highlighter and Balm Duo. It just completes the look. I will just tap it onto the skin at the end and it's perfect!"
On his must-have makeup tool…
"A Q-tip and micellar water. When you're doing eyeliner, especially graphic liner, this is the one thing you need to get those really clean, beautiful lines looking crisp."
On McGrath's biggest makeup pet peeve…
"A sloppy, dull, matte and cakey finish for the base. She always likes a second skin-like finish."
On his (immense) talent for makeup…
"If I can do it, anyone can! It's all about how much you practise. It's just makeup, it's no big deal (laughs)."
View this post on Instagram
On his favourite person he's ever done makeup for…
"I would say it was before I worked for Pat. I worked on a movie production and I was doing makeup for Pierre Richard, who is a French actor. He is like a legend! It was a big honour to do his makeup. For women, I'd say Paloma Elsesser, the plus-sized model. That was when I was working on a show with Peter Phillips—before I started working with Pat. We did a Fendi show and at the time I didn't know who she was, but she was really nice! Mika Schneider was great as well."
On choosing between runway or editorial shoots…
"A bit of everything, I would say! We can be bold and creative in editorials. Most of the time on the runway it's about the skin, but we have done some really bold looks too. Runways can be fun as long as no one is standing right behind you yelling at you, saying they need their model in five minutes!"
View this post on Instagram
On the worst runway experience he's ever had…
"The worst one? It would be the ones without proper lighting and without lots of space backstage—with five other makeup artists behind you all trying to get their models out on the runway as soon as possible. It's so difficult to say which one because that has happened a lot!" 
On the importance of taking your time backstage…
"Our team is quite large, so Pat wants us to really take our time to make the skin look as perfect as possible, and she knows that it takes a lot of time to create a beautiful complexion. When we apply foundation, we apply it in very thin layers. You see, you could slap a full coverage foundation on your face, but then you would see all the texture of the skin and everything. With a medium coverage foundation like we have, it's buildable so you do it layer by layer, waiting for it to set in between, which takes a long time. You cannot realistically do so many models."
View this post on Instagram
On how facial structure can affect makeup…
"Asian eyes are great for any look because Asian features tend to be more flat than European ones. So, it's a better canvas for makeup. Graphic liners are the best on Asian eyes because you have enough space to draw out your shapes."
On the cultural differences in makeup trends across Asia…
"Some Asian cultures are very specific with what they are wearing. Like with eyeliner—if you go to China, the shapes they prefer are more downturned, which is quite unusual for Europe where everyone wants to be lifted. So, if you have Asian customers, it can be tricky to gauge what they want."
On his best tips for eyeliner…
"Look straight ahead when you're sketching out the shape. Whether it's a cat eye or a graphic eye, make sure your eyes are relaxed and looking straight forward so you can get the shape right."
View this post on Instagram
On his best tips for 2023's hottest runway trend: bleached brows…
"If your eyebrows are very dark with lots of pigment, it'll take some time to bleach them. I would use the purple shampoo to get rid of any yellow pigment and undertones to get that nice silver tone in your brows.
"If you want to cover your eyebrows, the easiest way is the best way for me. I would probably use soap. Brush soap through your brows in layers to get them very flat so that you can conceal them and powder them to set. Or, you could use a glue stick to stick down your eyebrows, which is a drag technique. I find that that can look very cakey, though. 
"You could also try some fake bleached brow mascara. You could probably find them online. I've seen a colleague of mine who used to work with me for Pat—she's dark-skinned, so her eyebrows are really dark, and she just used one of those mascaras and it looked perfect. They do it in five different shades, and it has really strong coverage, and it literally looks like you've bleached your eyebrows because you're coating each strand of hair the whole way through."
Find more beauty insiders like this here.
| | |
| --- | --- |
| SHARE THE STORY | |
| Explore More | |