Makeup
How does a blind girl do her makeup? Self-appointed 'blind TikTok teacher' Lucy Edwards weighs in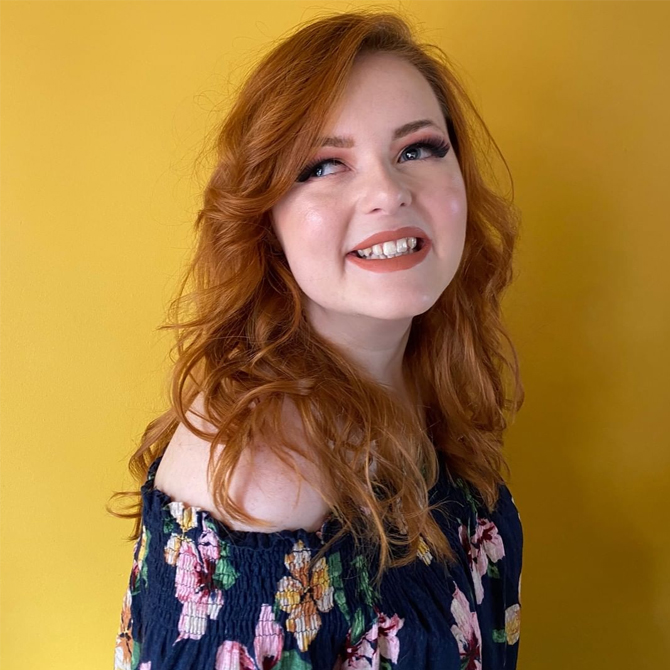 If you've ever struggled with your eyeliner, you're about to feel wholly inadequate. Lucy Edwards, a journalist and digital creator, has taken the internet by storm thanks to her #HowDoesABlindGirl series. Edwards suffers from a rare hereditary condition called Incontinentia Pigmenti, which caused her to go completely blind at the age of 17.
Now 24-years-old, Edwards has taken to social media to educate the masses about day-to-day life with a disability. Through her TikTok, YouTube, and Instagram, you can find accessible makeup, fashion, and lifestyle tutorials for all (with the occasional vlog thrown in here and there)—no mirror or working vision needed.
In an interview, the YouTuber explained what exactly inspired her to start her channel: "The YouTube community for blind beauty bloggers is small. When I was plunged into blindness, there were no resources for this kind of thing, and it took me hours and hours to learn how to do my make-up. But I've met people online who I can talk to, and get support from. And we can all be a network together."
"I thought it would be a good opportunity to show the world how capable a blind person can be," she continues. "I realised that not even some of my closest friends know how I do certain daily tasks."
Though her testimony highlights the unfortunate gap in accessibility both online and offline, we reckon it's safe to say that her efforts have paid off—the beauty fanatic's content has blown up on TikTok, with some of her videos having garnered over 11 million views. Sighted or not, you could learn a thing or two from Edwards' top-tier tips. For instance, watch her flawlessly apply winged eyeliner:
READ: The Power Flick: Winged eyeliner for four different eye shapes
The great tips don't stop at just her social media channels, either—Edwards has compiled all of her beauty hacks into a book, The Blind Beauty Guide. If you're looking for some help in navigating your blind (or sighted) makeup journey (and maybe ace a few no-mirror makeup challenges while you're at it), this is the guide for you!
As for how she managed at the beginning of her makeup journey as a blind girl with little-to-no resources, Edwards explains that it all comes down to muscle memory and a really organised makeup bag. Plus, a little help here and there doesn't hurt either! "It has taken years to get where I am today. My gorgeous sister, Alice, has described hours of otherwise inaccessible makeup tutorials to me over the years. It has become a hobby we do together," says Edwards.
READ: Wei Yeen Weighs In: Magnetic eyelashes, magnetic gel liner and adhesive eyeliner
The vlogger also wants to make one thing clear: Becoming blind doesn't automatically render you helpless, nor does it mean that you have to compromise on your beauty routine. "[When you're blind] you are very dependent on other people. And makeup for me, personally, means that I don't have to ask anyone about how my face looks any more," she asserts. "Because I know I've put my foundation on a certain way, and I've built up my routine so I know my cleansing routine and all that, I know that my face looks good without looking in the mirror."
"I don't have to ask someone, 'Do I look good today?' because I know that I do."
Find out more about Lucy and follow her journey through her TikTok, YouTube, and Instagram. Find more beauty stories here.
| | |
| --- | --- |
| SHARE THE STORY | |
| Explore More | |