Makeup
The dos and don'ts of lash extensions, according to a lash artist
All your FAQs, answered
Image: Moonsisters Lash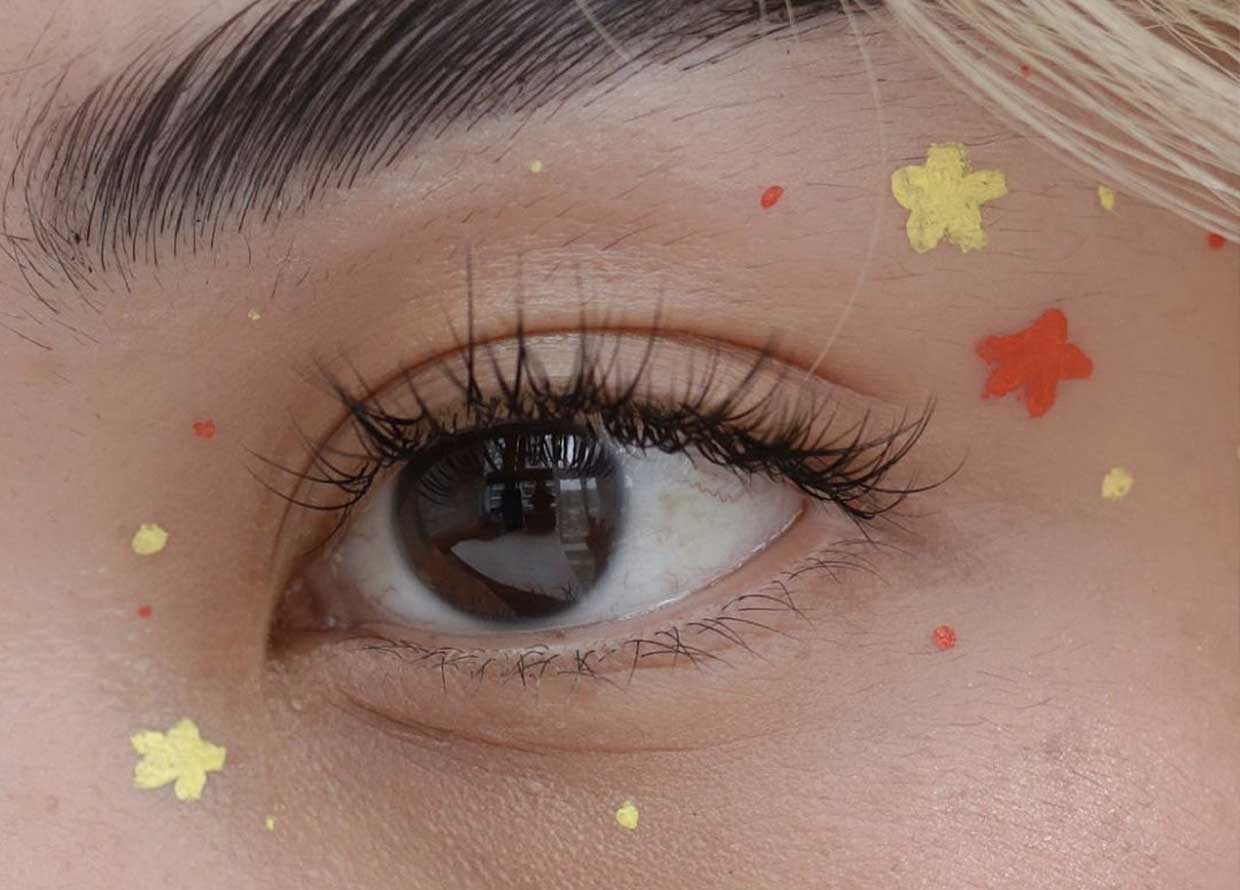 Thinking of getting lash extensions for the first time? We spoke to a lash expert to answer all of your burning FAQs.
A set of long, luscious lashes is the ultimate beauty accessory. Unfortunately, not all of us have been blessed with a naturally full, fluttery set. That said, for those who want the look, we bear good news—in our modern day and age, you can now buy yourself a set of voluminous peepers, either in the form of lash strips or, if you're looking for a slightly more permanent solution, eyelash extensions.
Now, we've already curated a guide to falsies, but we're yet to delve into the world of lash extensions. From what to look out for in a studio to what you have to know before your first appointment, we've covered it all ahead with Calleigh Yap, the co-founder of Moonsisters Lash Studio.
---
Get to know our expert:
Moonsisters Lash Studio is a female-owned business founded by two best friends. Calleigh is the co-founder, graphic designer and social media manager at Moonsisters Lash Studio. Ellyn Yeo, the founder, has years of experience as a makeup artist and has dabbled in fashion and design. The studio opened in September of 2022, and has quickly garnered a loyal clientele, which can be attributed to its high-quality and professional services, as well as its top-notch customer care.
---
View this post on Instagram
What should you know before getting lash extensions for the first time?
"It's important to do thorough research on eyelash extensions if you're thinking of getting your lashes done for the very first time! Read up on the process of it, how it works, the aftercare and more. Lash extensions require special tools, products and specialised training to ensure safe and good-quality results. Therefore, it's important to check out the lash artist's business page for their past works and customer reviews to see if they are compatible with your needs. Once you've decided on which lash artist to go for, consider asking them questions if you have any to clear any doubts!"
What are some red flags to look out for in lash studios?
"Customer service is very important! Lash studios should always make customers feel comfortable since you will be spending a good few hours with your lash artist in the studio. If you experience rudeness, lack of professionalism and just overall bad vibes from a studio, it's best to stay away. Another important note is to make sure that the artist isn't charging too little. Promotions are great but extremely low prices could also mean low-quality services and using cheap or harmful products, which could be damaging or even dangerous to your natural eyelashes and eyes."
View this post on Instagram
How can you keep your lash extensions in good condition for longer?
"We stand by keeping your lash extensions clean at all times. Clean lashes result in good retention! Makeup residue, dust, sweat and oil from eyelids will cause the glue to break down faster, which means the lash extension will fall off quicker. So, make sure to wash your lashes often with lash foam to keep them fresh and clean! Normal face wash may be too harsh for the glue, so it is highly recommended to invest in a lash foam. It is also recommended to brush your lash extensions daily twice, especially after showering to maintain the shape and fluffiness of the lash extensions. Also, avoid using heavy eye creams around the eye area so that they will not seep into the glue and cause it to break down faster than it should."
Can you wear makeup with lash extensions?
"Minimal eye makeup such as eyeliner and some eyeshadow is fine. But, it is a big no-no to apply mascara and any waterproof eye makeup on the lash extensions. It will be an absolute nightmare to remove the mascara and waterproof makeup and your lash extensions will definitely come off quicker. Always use an oil-free makeup remover like micellar water."
Why would you recommend getting lash extensions over falsies?
"Lash extensions are attached individually on each strand of natural eyelash and they are never glued to your eyelids. They can last for about six to eight weeks with good application technique from the lash artist and proper aftercare from the customer. Since everyone has different eye shapes, lash extensions can be customised in terms of length, thickness, curl and style. Besides, you get to wake up looking amazing every morning! Falsies, on the other hand, are more temporary, less customisable and generally just way more work. Remember how falsies used to dangle at the front of your eyes while you were on the dance floor? Yikes!"
View this post on Instagram
When should you not get lash extensions done?
"We strongly discourage customers that have recently undergone any sort of eye surgery—such as Lasik, double eyelid surgery, eyeliner tattoo and more—to get their lashes done. We don't want to risk any infections or discomfort during or after the service. It's safer to book an appointment six months after your eye procedure (with no recurring infections). Pregnant mothers (six months and above) are also not advised to get their lashes done too because some may be sensitive to the ingredients in the glue (cyanoacrylate), and the long hours of laying on the bed may cause back pain. Generally, people with especially sensitive eyes and skin should consider getting a patch test at the lash studio before getting their lashes done."
What kind of lash extensions are there?
"There are so many types of lash extensions out there. In general, there are three categories such as classic, hybrid and volume. The most natural-looking lash out there is the classic lash, which means attaching one singular extension to every single strand of your natural lashes. Volume lashes are just like their name—big voluminous lashes! Hybrid is, of course, a mix of classic and volume lashes.
"At Moonsisters Lash Studio, we mainly focus on providing soft, lightweight and natural-looking lash extensions as we feel like this style suits Asian eyes better. One of our signature styles is called 'Better Than Mascara', which is a wet-look style of lash. Wet-look lashes are created using a few strands of really light lashes to create a narrow closed fan, which gives the illusion of wet eyelashes. It looks really natural with just a tiny bit of volume!
How often should one get fills?
"It's recommended to keep your lash extensions looking pretty and full by getting infills every two to three weeks, depending on your lash condition. If, for some reason, your lash extensions shed faster than usual, your lashes may be in shedding season—meaning that your adult lashes are ready to regrow (just like our hair). In this case, it is recommended to re-do a new set or take a lash break and use an eyelash serum to help your lashes grow in healthier and stronger!"
View this post on Instagram
What should one avoid with lash extensions?
"Always resist the urge to pluck or remove your lash extensions. This can damage your natural lashes! Try not to touch your lash extensions too much because the germs and oil from your fingers may cause your extensions to fall off faster—or worse, it can lead to an eye infection! Try to schedule a lash removal service at your lash studio to get them professionally removed instead.
"A tip from us: If you must remove your lash extensions at home, use an oil-based make-up remover (cleansing balm works too) as if you are removing eye makeup, this can help loosen the glue on the extensions. However, please be gentle and try not to get the makeup remover into your eyes!"
How do you shower with lash extensions?
"The traditional eyelash extensions method will tell you not to get your lashes wet for a day or a week! This is actually not recommended in our studio. You should always prioritise hygiene, especially around your delicate eye area. Just shower as you normally would and invest in a lash foam to wash your eyelids and extensions! We use a lash bonder at the end of the service to solidify the glue which makes it safe to get wet on the day itself. Speak to your lash artist or studio to check the proper procedure as different lash artists and studios have their own methods."
View this post on Instagram
Moonsisters Lash Studio is located at Sentul Point, KL. They are appointment-based only—strictly no walk-ins or last-minute bookings. For their portfolio, pricing and booking info, follow them on Instagram. Find more beauty stories like this here.
| | |
| --- | --- |
| SHARE THE STORY | |
| Explore More | |