Consider it an early Christmas gift as Nars' Winter line-ups continue with yet another creative collaboration featuring photographer Man Ray
Man Ray was often considered a surrealist photographer, who has a way of mixing different forms of photography and presenting his subjects in an interesting black-and-white light. His work is a celebration of art and life. He joins the calibre of other notable artists such as Sarah Moon and Charlotte Gainsbourg to have a limited edition release with Nars for Holiday 2017. The collection boasts of an imaginative palette of bolds and brights as well as vivid lip glosses, ethereal highlighters and metallic bronzers.
François Nars gives us an insight into the man that is Man Ray and why the Nars Holiday 2017 collection is a unique composition of beauty.
When you think about Man Ray black and white imagery comes to mind. How do you connect this with makeup and why was it important to bring this type of art to the forefront for your fans?
To me, something brilliantly coloured can look great represented in black and white. The lack of colour forces you to see something deeper in the object, but often just as beautiful. Makeup is similar. It's not always about colour on the face. A very graphic, lined eye or defined lip creates a look that isn't about colour at all. And, of course, some makeup-black eyeliner or a very dark red lip against pale skin-can appear almost black and white.
With the collaborations, we highlight artists to our fans who have something unique to say about women and beauty. It goes beyond the idea of solely makeup. Man Ray was very much into beauty, but not in a conventional, boring way. It is that aesthetic and unique approach to beauty that we love to introduce to the public.
How did you create a colour collection based on Man Ray's black and white photographs?
For me, part of the fun of looking at old black and white photographs is imagining what makeup colours and textures were used. Of course the models are wearing colour-probably black eyeliner, powder, dark lip colour-only we can't see it. I also like to imagine what colours Man Ray might have been drawn to if he was working today. And, almost as important, is the aesthetic and vision of beauty that Man Ray represented - it is bold and moody, and a little irreverent and edgy. That's what we have tried to capture in the shades of this collection.
How did you select the Man Ray images you used in the collection?
It was by pure instinct, love, and attraction. There were many incredible still lifes that I was drawn to, but ultimately I went for images that included faces or bodies because they were more relatable from a beauty perspective. I also wanted to use some of Man Ray's most iconic images-the glass tears, for example-first, because while many people might recognise the image, they may not know that it was Man Ray who created it, and also because as beauty images go, it's perfection.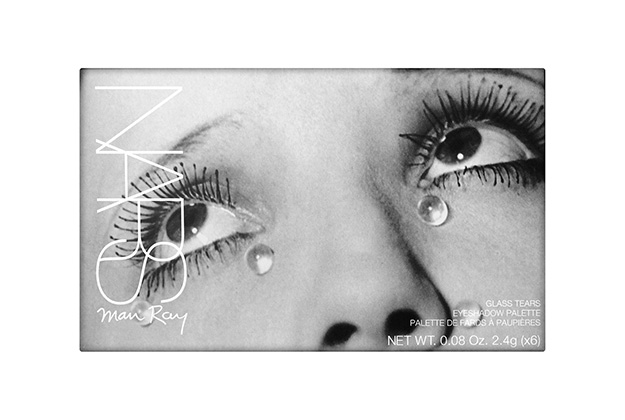 What do you think made Man Ray so different from other artists of his time?
He photographed almost everything, but from his own unique point of view. He didn't limit himself in any way to photographing only women or still lifes or landscapes or Paris.
While some photographers became known for one thing or another, Man Ray did it all but in a very abstract way. It was quite modern and different. Even a simple portrait became almost as intellectual as a painting. This is what makes his work so special and recognisable.
Man Ray was captivated and inspired by the female body and produced a lot of iconic female imagery. What do you think about his approach?
It completely fascinated me. Man Ray's incredible way of photographing the female body was both new and different for the time. His photographs are almost like drawings - very graphic but always very elegant.
Were there any particular Man Ray photographs that really captured your attention?
The ones of Kiki de Montparnasse were my favourites. This was probably due to the fact that they were most related to makeup, which was my focus when I first moved to Paris.
Nars Man Ray Holiday 2017 collection is now in stores at Nars Cosmetics counters in Suria KLCC, Pavilion KL, Mid Valley Megamall, Sunway Pyramid and Parkson Gurney Plaza.