Beauty
Blackpink's Jennie's hairstylist shares how she uses the Dyson Supersonic hair dryer and Airwrap styler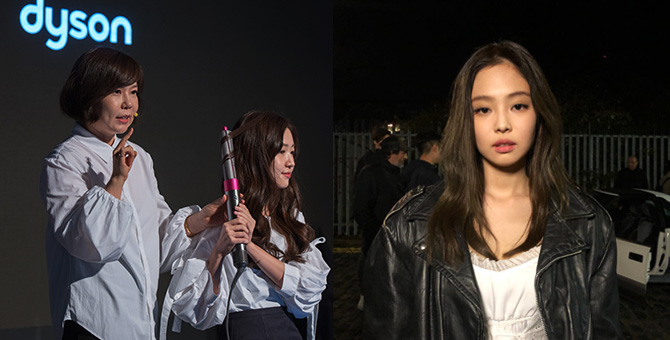 Did you know you can easily create the popular Korean C curl by using the smoothing brush attachment with the Dyson Airwrap styler? Yes, even if you have short hair. The trick, according to Dyson Hair Artist Park Je Hee, is to use the smoothing brush in a forward direction or else it'll have the opposite effect and make the hair look flat, and the cheeks will look more on the plump side. Trust Park on this. After all, the hair stylist, who co-owns Comme Nana hair salon in Seoul, has a personal clientele that includes Blackpink's Jennie and actress Hyojin Kong.
"Yes, Blackpink's Jennie prefers to use the Dyson Supersonic hair dryer when she comes to my salon as it helps prevents heat damage," said Park.
Heat damage, however, isn't a distress faced by K-pop stars alone. "Many of my customers were worried about hair damage if they were to style their hair every day with heat products," said Park during the Dyson Hair Science 3.0 event that was held in Seoul. It's a common concern of most, if not all, women when it comes to taking care of their hair. Dyson has spent over six years and almost £100m in the research, design, and development of its range of Personal Care technology. Two simple words: hair science.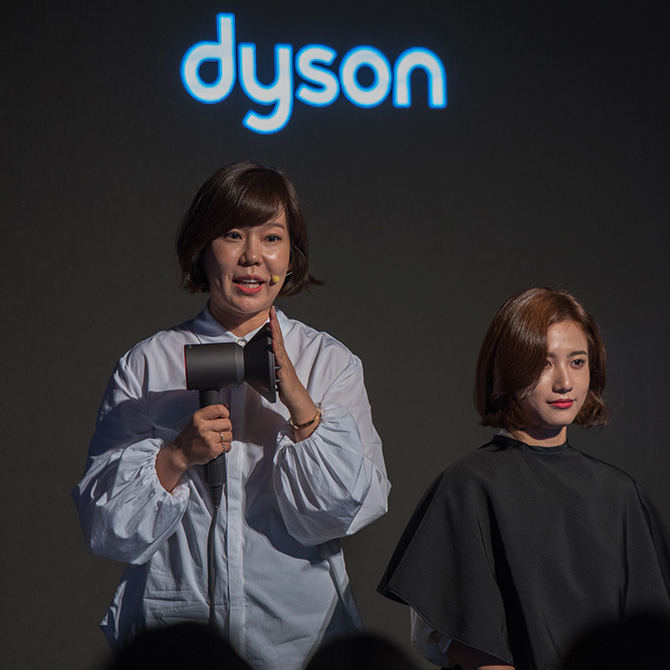 That meant: nearly 1,625 kilometres of hair were tested, around 400 women from each of the selected countries took part in a global hair study, and even the Airwrap styler alone took 642 prototypes before the final one was approved for consumers.
And it was the kind of consumers Dyson wanted to cater to (80 per cent of the study participants) that said their hair is damaged; and:
99% of the cause of that is due to the heat from styling products, UV damage from the sun, chemical damage from shampoo and stress.
60% of them believed caring for the scalp can improve the hair's health.
40% of them said, with no better alternative, they'd rather air dry their hair to protect it.
Side note: Don't worry; Park's tips and tricks are coming. Stay with me.
We're all aware that the constant use of hair dryers, straighteners, and curling irons—and its excessive temperatures—could lead to overheating, smoking and drying out of hair. But how? Consider the image below captured by the Dyson team using SEM (scanning electron microscope).

When your hair is wet, or even damp, the hair strands have swelled up due to the water absorption. Hence, the outer cuticle layer is slightly rougher and, thus, easier to damage or, worse, break. This is why it's important to treat the hair gently with the right combination of both heat and airflow, allowing it to regain its dry strength and original shape. When it's exposed to extreme heat instead, the hair is susceptible to irreversible extreme heat damage, making it weaker and less shiny. Dyson has two answers: The Supersonic hair dryer and the Airwrap styler. Both do more than just dry hair and create curls, especially with the introduction of new attachments for both machines, for more specific needs. As a sneak peek of what the new attachments can do, here's how Park uses them.
WITH THE DYSON SUPERSONIC HAIR DRYER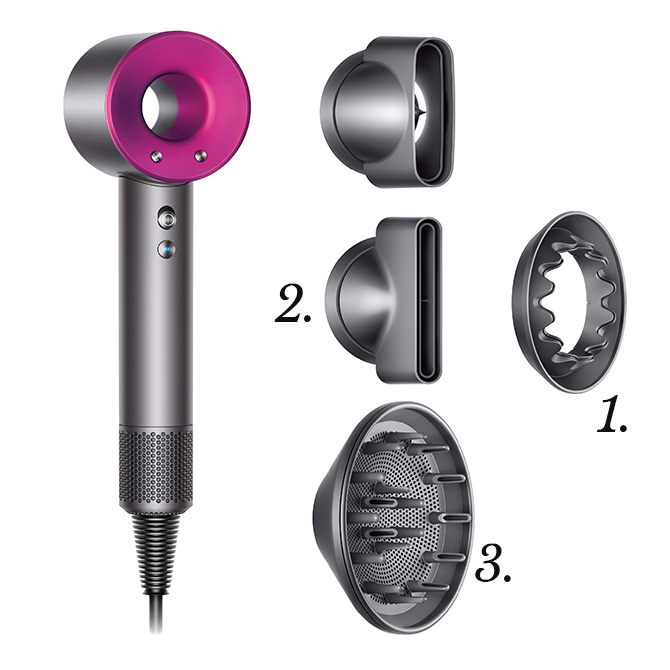 1. Gentle air dryer:
For fast yet gentle styling for fine hair and sensitive scalps, as well as to help prevent colour fade.
What Park says:
"The Supersonic hair dryer, on its own, produces an airflow that's vastly strong that might hurt the scalp and cause a lot of flyaways (which, in turn, could cause hair loss. The gentle air dryer solves this. The energy output is the same, but it doesn't hurt the scalp. I did let my female celebrity clients try it, and they said they feel less heat and more comfortable with the gentle air dryer attachment."
How to use it, according to Park:

1. Lift the hair upwards.

2. Blow dry the roots for a gentle volumising effect.

3. For the ends, keep twisting them while blow-drying them in a top-to-bottom direction.

*It's gentle enough for pets too, and men who use it will experience fewer flyaways.
2. Re-engineered diffuser:
For even diffusion to help define curls and reduce frizz. Also, it now possesses a two-tiered mesh system for a more even distribution of airflow; and longer prongs to channel uninterrupted airflow to the roots.
Three ways to use it, according to Park
| | |
| --- | --- |
| | Dry your hair with the diffuser facing upwards for natural, soft, wavy hair. |
| | Hover the diffuser against your head to let the heat help hold your curls |
| | To create volume at the top of your head, hold it against your crown and twist the diffuser from left to right. |
3. Re-engineered styling concentrator:
Now thinner and wider for improved precision and controlled styling. Great for a smooth, straight finish or a bouncy blow dry.
How to use it, according to Park:

1. Using a brush, comb downwards while blow-drying the top part of the hair.

2. Mid-way down, twist the hair with the brush before continuing to blow dry the remaining part.

*This will help create a nice curl to frame your face.

Tip: Apply a hair essence before blow-drying the hair to make it look shiny and sleek.
WITH THE DYSON AIRWRAP STYLER
The new attachments for the Supersonic hairdryer are already available in Malaysia, but for the Airwrap styler's new-and-improved attachments, the Dyson Hair Science 3.0 event in Seoul was only a mere preview for the world. No further details of its launch have been announced but stay tuned!
So what exactly is new? Well, essentially: longer curling barrels (both 30mm and 40mm) for those with longer hair to save time, and a smaller brush for those with shorter hair or to create bangs with a slight curl.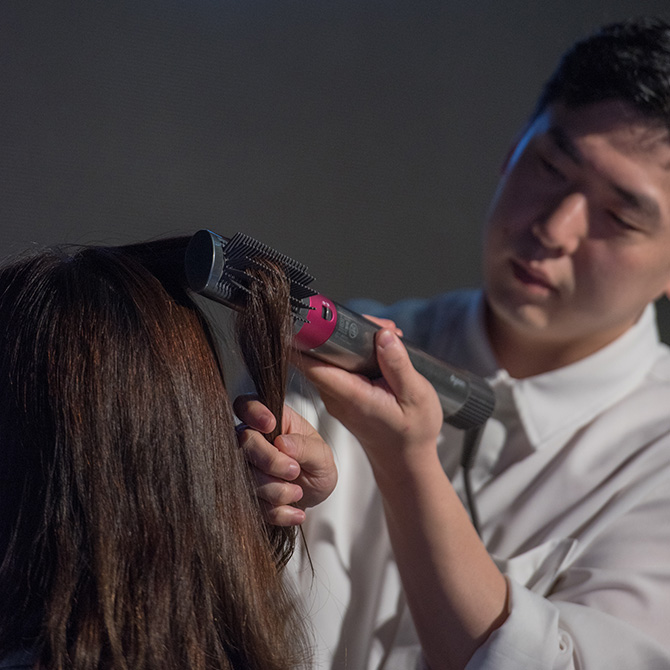 Park's tips for using the Dyson Airwrap Styler:
1. "Before styling, be sure to spray the hair with some water to ensure it retains at least 30 per cent of moisture."
2. "When using the barrel, and once the hair has "magnetically" wrapped around it, leave it for around 10 seconds before pressing the push button. Cool down the strand for 5 to 7 seconds before proceeding to the next part."
3. "Song Hye Kyo loves very loose curls. To achieve this popular Korean hairstyle, use the 40mm barrel."
4. "To create the popular Korean S curl, I recommend the 30mm barrel for stronger and tighter curls; and the 40mm barrel for natural, loose curls."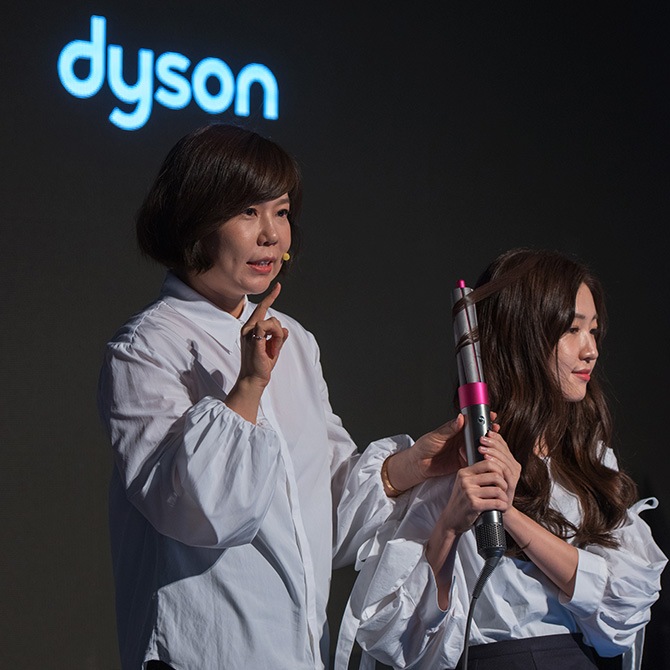 5. "How to make the curls last longer: "Pre-treatment" is important, and by that, I mean applying a little hardening type of mousse when the hair is still slightly damp and then brushing it down before styling your hair. All the Korean celebrities do this."
6. "Solidifying the base (pre-treatment) is really important to make the style last longer, but of course, sometimes, you can't help it when it comes to hot and humid weather like in Malaysia and Singapore. In those cases, I'd use dry shampoo to cover the oil and add back some volume."
7. "Don't sleep with product still in your hair. Whether it's dry shampoo or mousse, as long as you use product on your scalp, you should shampoo your hair latest between 10pm and 1am."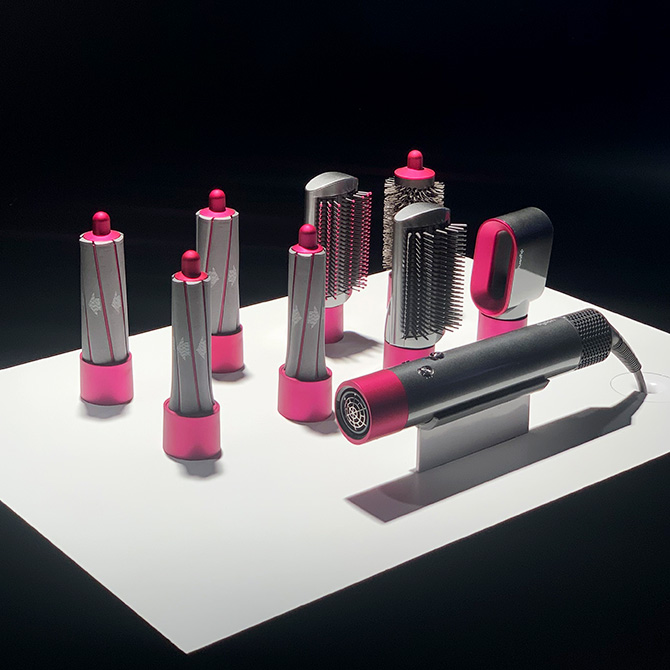 "As you know, we're never satisfied with where we are with our technology. We're constantly looking at ways to improve our machines and the way they perform," said Sam Burrowes, Advanced Design Engineer at Dyson, at the Dyson Hair Science 3.0 event.
"Developing new attachments for the Dyson Supersonic hair dryer and Dyson Airwrap styler demanded significant research, design and development, and countless hours of testing across a diverse range of hair types. As we do with all Dyson technology, we believe in testing our machines obsessively in each market, and only releasing them once we are truly satisfied with their performance. These new attachments [for the Airwrap styler] will be available in Malaysia soon, so stay tuned for details!"
The new Dyson Supersonic attachments are sold together with the hair dryer at RM1,799 via shop.dyson.my, Dyson Demo outlets and other major retail partners.
| | |
| --- | --- |
| SHARE THE STORY | |
| Explore More | |